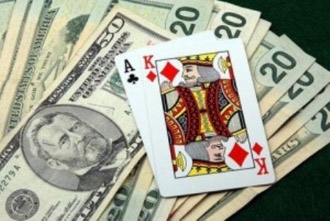 Turning online poker into a career
Let us say that you are a good solid online poker player. You have worked on your game solidly for several months and you feel that you have a really good angle on the game. You would like to play the game for a living and as a career but you are not sure where to start. Well firstly I believe that you need to establish some sort of base camp for a career. This is to know of a level that you can beat and beat very well.
You may want to play NL100 but with $100 buy-ins then you can lose a bankroll very quickly or at least the bankroll that you would have set to one side to play levels like NL10 and NL25. If you don't know that you can beat a certain level in online poker then you are gambling. I believe that if you want to turn poker into a career then you need to have some sort of base camp to work from.
What is my minimum earn rate?
Let us say that you know that you can beat NL10 very well and in fact so well that you can be considered to be crushing your level. Let us say that you beat this level for around 10ptbb/100 which is more than feasible and the best players at this level achieve this. That is around $2/100 hands. Now the key to play this level profitably so that it is worth your time is to increase the volume by adding tables. This is easier to do in full ring because of the very low VPIP (Voluntary Put Money into the Pot) percentage (number of hands played).
So if you can play ten tables at 75 hands/hour then you should be making around $17/hr once you reach ten tables. Any rewards that you make should counter the times when you don't reach ten tables quickly or you have to sit out for whatever reason on some tables. So it would be safe to assume that you could make $15/hour here. This isn't great money but it is a start and 40 hour working weeks gives you a $30,000/year income. This is what I mean by establishing a good base camp to work from.
If you know that the minimum that you can make is $30,000/year then you can start there and look to progress. The next level may be NL20 or NL25 and it would certainly be possible to replicate an earn rate of 10ptbb/100 at NL20. This would effectively double your earn rate to $30/hour and $60,000/year. If you could achieve this then you would have a solid base of $60,000 year to work from playing no higher than NL20. All this of course supposes that you can get this amount of action and that your game is good enough.
Stay under the radar
As a low stakes player then you stay under the radar. Nobody knows that you are making very good money at these levels and nobody really cares anyway. The poker press is quick to report on poker tournament and higher stakes cash games. You will not get much by way of credibility online on forums simply because of the levels that you play. If you can convincingly beat say NL25 for say 8ptbb/100 then you will be making $4/100 hands. If you can manage ten tables of action here at full ring then you will see around 750 hands per hour and that equates to $30/hour. This is seriously good money when you consider how few people make any kind of profits in online poker.