Although other places do exist for you to host a poker blog, none are more easy to use or popular as the 888poker community's blogging system. With thousands of users sharing their poker blogs, poker articles and adventures with the millions of readers, you will always have something new to read as far as blogs are concerned. You also can write a blog to share your own poker experience and insight if you wish to help others. You might want to put in a progress graph to show how you have been doing lately.
Why should you join the leading poker community?
Reading Poker Blogs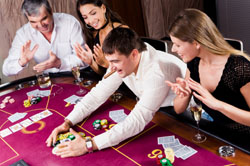 There are a wide variety of poker blogs that you can read to enjoy yourself as a member of such friendly online poker community as 888 poker community. There is also support for multiple languages, so if English is not your native language, you will be able to read the blogs of users in your native language. Through reading other peoples' poker blogs, and commenting, you will be able to extend your poker network, giving you more friends to play with. This can be useful if you find people who live near you in real life.
The variety of poker blogs means that there is always something new to write about. Some people take on the £50 to £10,000 challenge – this is a great way to make new friends and poker contacts. You can watch the players journeying upwards towards their goals, perhaps inspiring you in the process to reach your own goals. Other people post information about freerolls and special tournaments so you can get even more value for your money.
Writing Poker Blogs
If you are more of a writing person than a reading person, you might be interested in writing a poker blog for the 888poker community to enjoy. Good ideas of what to blog about include goals and targets you have set for yourself, and progress towards achieving them. You can also post screenshots of great hands you have had to show off.
Whether you prefer to read or write poker blogs, the 888poker community is bound to have something for you.