Online poker is a casino card game of chance, high risk and luck. All poker players can be divided into two groups, those who believe that poker is a game of pure luck and chance, and those who are sure that it is a game of skill and luck has little to do with it.
Is There Luck in Poker?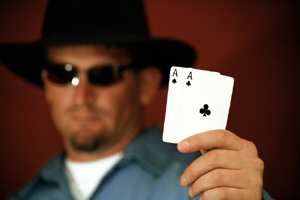 By definition, skill is a facility or dexterity acquired or enhanced through practice and experience, while luck is a chance or fortune. Skill in poker in particular means any player's ability to read an opponent, dexterity to adjust to gaming environment and ability to analyze and make right decisions. Over many years in the top poker tournament circuit it has been proven by professional poker players like Hellmuth, Brunson, Chan and others that poker is a game of skill.
Faces of poker winners change over the years, but the fact about skill remains the same. If this is so, than what is luck in poker and where it comes from? Some people think that skill generates luck, so superb skill is rewarded with fortuity. In case this is true, it means that good cards are drawn to players that practice a lot to be able to make right decisions by analyzing the hands the played in the past and the hands they opponents had.
How to Win in Online Poker
Winning a game of poker is not as difficult as it can seem. But still you will need certain skills to win and not to lose. Online poker is a game played without being able to see the opponent and it could be anyone, so the range of players in any online poker room is expansive and practice is a must for anyone. In any poker game skill influences luck by proper timing. Standard poker rules are applied in all online poker sites.
Cards are dealt randomly so reaction time affects which card falls from the deck. So, luck is a part of success and it can be manipulated by skilled players. While some people think that experienced players put themselves in a position to get lucky, it is obvious that avid players avoid situations where luck has too much of an influence on the outcome of the game. In order to win, you have to practice a lot and be sure that luck is on your side.