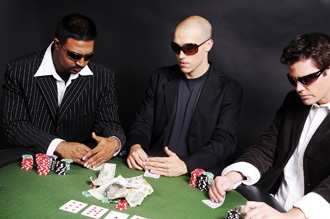 Positions on the Poker Table
There are many poker strategies and techniques that players study, but many players forget to learn the fundamentals of poker position. This is an interesting fact because poker position is such a necessity for a poker player's success. Understanding position can be a make or break in winning a poker tournament. Most people have watched tournaments like the World Series of Poker, the World Poker Tour, Aussie Millions, the World Series of Poker Europe, and the Australia New Zealand Poker Tour, as they are all huge money tournaments. If you listen to the commentators during these tournaments you will hear them talk about poker position. Daniel Negreanu, a poker big-time poker star, is an expert on poker position. In Negreanu's training videos, he focuses a large amount of time speaking about poker position because position is vital.
Poker Position: Early
Remember there are 3 principal poker positions that are called the early, middle, and late positions. The early position is the position that is in the two following seats next to the Small Blind and Big Blind. Some other poker terms you should know are the position know as 'under the gun', which is the position immediately after the big blind. In this position you should only raise the absolute highest quality of hands you have. Take this scenario; if you have an A/K then you should raise. Do not limp if you can avoid it because it may cost you post-flop, particularly when you are the first to act against an opponent who is raising.
Poker Position: Middle
This position is located between the big blind, small blind, and the button. You rarely hear the truth about how difficult this position can be. When you are in this position, you should play a tight game. If you have a stellar hand then you can limp, particularly if the early position has already limped. Be careful with big raises with mediocre hands. If you do not have a high value hand, you should try not to make big raises because your opponents that play after you will act after you, post-flop.
Poker Position: Late
This position is the cut-off position. To rephrase, this position is the last before the button. The button is the person who is dealing the cards, also known as the dealer. The late position is where you should be making all of your substantial raises. You can also limp in this position with any combination of hands. You may also change your hand selection since you are the last person to act post-flop. The biggest advantage of the late position is that you have all the information about each of your opponents. In poker, knowledge is power.
You should always try to use your position to your advantage. You should keep in mind the cards of all your opponents, when they get them, and where their position is in relation to you. The poker table position is essential when you get into tournament games with high blinds. For example, if you have a J/10 as your hand, you will be able to raise with similar types of hands off suit, given that you have outs or as some professional poker players say – a semi-bluff. If your opponents fold, you will round up their chips with little energy!