Bluff and you could win big!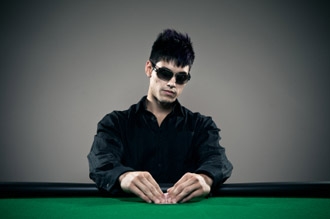 The act of bluffing distinguishes poker from other card games. The bluff is used to deceive your opponents about how strong your hand really is. Talented No-Limit Hold'em players have developed their bluffing ability through experience and practice. Poker aficionados know that winning the pot does not always require the best hand. And this is where the bluff can really turn up the heat.
Bluff and Have Fun
Part of what makes No-Limit Texas Hold'em so much fun for players is the bluff. Novice players usually have a tough time when it comes to bluffing as they may feel anxious when they attempt to bluff. However, as beginners become more comfortable with bluffing they have a tendency to bluff out of control. A general rule that beginners should adhere to is that the bluff should only be used if there is a reason to do it. Additionally, even if a bluff does not work in one hand, the decision to bluff could be used in future hands to confuse your opponents.
The Bluff in Action
Bluffing is generally used to win a pot that would not have been taken without the bluff. Here is an example to illustrate: an opponent decides to raise before the flop and you decide to call with a 7H/8H. The flop comes with a 6C/KS/9H and you decide to call your opponent's bet as you are trying to get a straight. Then the Turn gives a JH, making a heart flush for you. Next, your opponent checks, you choose to bet and your opponent calls. Now the River gives a 2C and you do not get your straight. But, your opponent might be wondering if you got your straight so he/she checks you. If you check now you probably won't have any chance of winning with your weak hand so a bluff might be in order.
Now, you decide to bet and your opponent calls with a pair of tens for the win. It is a let-down that your bluff didn't work but you can use your decision to bluff in later hands. Your opponents are aware that you bluffed on the River with a poor hand so you most likely will go for it when you do have a strong hand. Bluffing is a good strategy as it can win you pots that could not have been won otherwise as well as causing confusion among your opponents. Confused opponents will put you in a more favorable position for taking bigger pots with better hands.
Build Pressure with Bluffing
Bluffing can make your opponents feel more pressure as they know you can bluff. They may re-evaluate their decisions as they are aware you can bluff with a weak hand and a weak hand will not always cause you to call or fold. In addition, if you successfully bluff, your opponents may start to play worse or "tilt", giving you an opportunity to win the pot.
Bluff with Caution
You should not bluff on every occasion. If your opponent raises before the flop then checks on the River, your bluff will be more likely to succeed as your opponent has shown weakness. Also, it is better to bluff against one opponent rather than several because it is easier to make one opponent fold with your bet as opposed to making several opponents fold to your bet. Additionally, your bluffs should keep with the style of the rest of your hand. Consistency throughout your hand will make your bluffs more plausible to your opponents. As in the case of your failed bluff; the other players know you bluffed with a bad hand so it is not hard to believe that you will try and take the pot with a strong hand.
In an effort to win a pot that would not be won, beginners will bluff on the River. Say a player has a K/Q and raises before the flop while the opponent calls and then checks the flop and now the Turn is A/10/8/8. The River comes with a 4 and the community cards are now A/10/8/8/4 and the player decides to bet. The opponent has two 5s and is suspicious as to why the player bet on the River and not the flop. The player's bluff is in vain because it was not in the same style as the rest of the hand. The opponent will observe this and probably sniff out the player's bluff.