Many beginning online poker players wonder how important it is to use a strategy when playing Texas Holdem poker online. They see their favourite players on TV playing recklessly and it seems to be working for them, so they wonder why they can't do the same. What they don't understand, though, is that the players who play poker on TV may look reckless, but they are actually following a strategy that works for them.
How Important is a Strategy in Texas Holdem?
It is almost impossible to make any progress playing Texas Holdem (or even Omaha Hi) without having a profitable strategy. You may be able to make some money winning a few hands without a strategy and playing the cards as they come to you, but if you want to be successful in the long term and make consistent money, you will need a poker strategy. No amount of poker tips or analysis of poker hands will take you to the top of the online poker world – you need a strategy.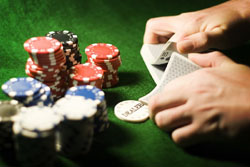 It's not that difficult to develop a strategy that works for you either. As long as you have a basic understanding of poker online, you can start developing a basic strategy, playing with it in online poker tournaments, tweaking it, and making it profitable. After all the development is done, you can use it on other forms of poker and adapt it to those as well. If you give it a try, you will see it is a lot easier than you think.
If you want to be a successful online poker player, especially if you are going to be focusing on Texas Holdem, you will need to have a rock solid strategy that you can follow. Too many players think they can just rely on the skills they think they have and play the game one hand at a time, but to achieve real success you have to plan things out and implement a poker strategy. A profitable poker strategy is not that hard to develop and follow, so there is no reason why you should be playing without one. Develop a strategy, practice with it, and make big money at your favourite poker sites.