An award-winning actor
A poker player
A World Series of Poker bracelet winner
An icon.
That's how many might know Jennifer Tilly, with poker becoming even more a part of her life over the last decade.
The star of many films not only plays poker on televised games but is also the long-time girlfriend of well-known poker pro Phil "Unabomber" Laak.
Tilly may be one of the best-known poker players among the Hollywood crowd and brings plenty of skills to the tables.
Here's a look at some of her career highlights.
Table of Contents
Hollywood Actress
Before becoming a significant name in poker, many recognised Tilly for her work in film and television. She was born in Los Angeles and later grew up in British Columbia.
Her mother was a teacher and former actor herself. That love of the arts would run in the family as Tilly's sister Meg would also become an actress.
After high school, Tilly attended Stephens College in Missouri, earning a degree in theatre. One of her first roles came in 1983 on the CBS show Hill Street Blues, and she also had a guest role in Cheers.
She went on to appear in several other television shows and films in the coming years.
The Fabulous Baker Boys in 1989 provided a breakthrough role.
In 1994, Tilly earned an Oscar nomination for Best Supporting Actress in Woody Allen's Bullets Over Broadway.
In 1997, she played opposite Jim Carrey in the comedy Liar, Liar.
Her timing and unique voice have made Tilly an especially great fit for comedies.
Many horror fans also may recognise the actress as the voice of Tiffany, the serial killer in the popular Chucky films. Animation viewers may remember hearing her voiceas the character of Bonnie Swanson on Family Guy, a role she'd had since 1999.
Many TV, film, and Broadway roles have continued for this acclaimed actress. Away from the Hollywood spotlight, a life in poker was also in the works beginning in the 2000s.
She offered a unique description of her relationship with the game.
Poker Life
Like acting, gambling ran a bit in the Tilly family as well. Her father enjoyed gambling and poker and introduced her to the game initially.
A role in the 1989 film Let It Ride also added to her interest. The comedy focuses on an unsuccessful gambler who experiences a day where he can't seem to lose.
Eventually, a relationship with Laak allowed her to jump into poker even more. He tutored Tilly in the game's finer points, and her skills sharpened in the coming years.
"When I first met Phil, I really wanted to go to the casinos and play. So, I had an ulterior motive for going out with him," she told PokerListings.
"I didn't want to go by myself because it was so intimidating. You go into the casinos, and it's all men."
Cult of Chucky screening with @jennifertilly. It was scare-tas-tic!

? pic.twitter.com/fx8pVitAh3

— Phil Laak (@PhilLaak) September 29, 2017
WSOP and WPT Success
Apparently, Tilly shook off those reservations and played in various events, including televised celebrity events throughout the 2000s. She now regularly mixes it up with some of the biggest names in the game.
Tilly made some major headlines in poker and beyond. In June 2005, she topped a field of 601 to win the World Series of Poker Ladies Championship for $158,625.
The win put Tilly on the poker map, and fans began taking notice. She wasn't just the latest Hollywood celebrity trying to dabble in poker and be seen on camera.
Tilly has real skills, and she proved that on a major stage.
The same year she also won a special World Poker Tour Ladies event. She and Laak also appeared in the World Series of Poker Tournament of Champions video game in 2007.
Like many, she was caught up in the poker boom. Tilly even once noted that she was more interested in poker than acting in the mid-to-late-2000s.
The WSOP win seemed to fittingly give Tilly more confidence in her skills at the poker table.
"I was astonished too," she told Jay Leno on the Tonight Show. "As it started to approach the moment where I thought I might possibly be winning a new piece of jewellery, I was freaking out.
"And you know, I had almost all the chips, I had like 1,300 chips, and the other girl had maybe, um, 57 chips.
"And I was like, I know because I'm on ESPN and the cameras are on me, there's going to be some way I'm going to lose my entire stack in one hand. But it didn't happen."
Televised Live Poker Regular
Tilly has become a regular in prestigious tournament series, including the WSOP each summer in Las Vegas. Some of her television appearances included the following shows:
Poker After Dark
Poker Night in America
Celebrity Poker Showdown, and others
Her chit chat, humour, and fun attitude have made her a favourite for TV poker producers. She may not play to make a living and still acts in several film and television projects.
But Tilly has a genuine love of the game.
Like many, Tilly apparently loves the challenge and the fun of chasing a big tournament score. She has quite a few of those and now has more than $1 million in live poker winnings.
One of her bigger wins beyond the WSOP includes winning a $1,050 side event in 2006 at the Bellagio Five Diamond World Poker Classic for $39,480. In 2010. Tilly also won a $5,180 event at the Bellagio for $124,455.
More big finishes followed, and poker fans should see even more of Tilly at the televised poker tables in the coming years.
She still has a passion for the game.
Even after taking some time away from card playing in 2020 to focus more on acting, Tilly returned in January 2021.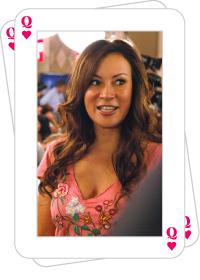 While stage acting in London, Tilly apparently couldn't stay away from betting and buffing.
She offered a unique description of her relationship with the game while playing at a significant European poker event.
"I just started missing poker so much," she said. "It's like that really bad boyfriend that treats you horribly. But once in a while, he's really nice, so you're like, 'Oh my god.'
"You're just trying to get that wonderful feeling back. And that's what poker is like when you win, there's nothing like it."