888poker Blast Jackpot SNGs are one of the most exciting online poker games. Players can win up to 10,000 times their buy-in!
On 8th of August, three players jumped into a $50 buy-in game. Imagine their surprise when the prize pool was revealed – it was a whopping $500,000!
They had hit the top multiplier of their buy-in with the maximum payout:
$350,000
$100,000
$50,000
BLAST games are super-quick, with only two opponents between you and the top payout.
Player Pelaps from Canada had only been registered on the site for five months. They outlasted valyspk04 (2nd) and vicuska12344 (3rd) to take home the top prize of $350,000!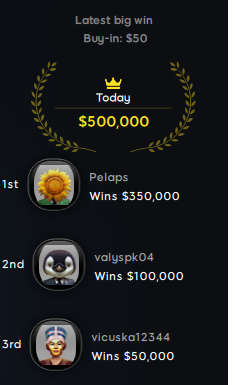 The three fortunate players bought in for only $50 each when they hit the $500,000 jackpot prize pool!
1. First-place player "Pelaps" from Canada took home the bulk of the large prize pool to the tune of $350,000!
2. Second-place finisher "valyspk04" from Romania received a respectable $100,000 payday for their $50 buy-in.
3. Our third-place player "vicuska12344",from Hungary walked away with $50,000 for their efforts.
How to Register for a BLAST Jackpot SNG
Here's how to join a BLAST SNG game in four easy steps:
Check the poker lobby for BLAST
Join a game where a random draw selects the prize pool.
Once three players register, the game starts.
Play your SNG as usual – no automatic all-in and no timer - with a possible prize pool of up to 10,000 x your buy-in!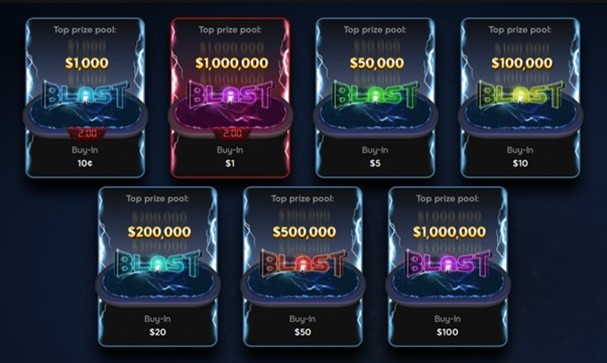 Players get a starting stack based on the prize pool.
The bigger the prize pool, the more chips you get!
The blind levels in BLAST Jackpot games are based on the prize pool.
The bigger the prize pool, the longer the blind levels.
Play our exciting BLAST SNGs today, and you could be laughing all the way to the bank!
Let Team888's Vivi Saliba show you how!