Blast Jackpot poker games are one of the hottest tickets on 888poker, where our players can win up to 10,000 times their buy-in! The games are super-fast, and players only have to beat two opponents to take home the top prize.
We're kicking off 2023 right with another bit hit. In January, three lucky players on the dot-COM client hit a $50K prize pool in a $5 buy-in BLAST game. This prize money was a mammoth 10K times the $5 buy-in!
The three fortunate players had bought in for only $5 each when they hit the $50,000 jackpot prize pool!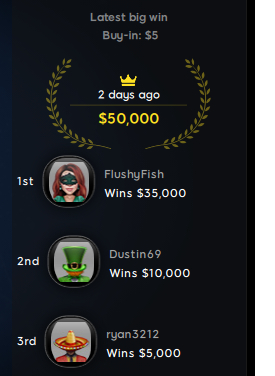 1. First-place player "FlushyFish" took home the bulk of the large prize pool- to the tune of $35,000!
2. Second-place finisher "Dustin69" received a tidy $10,000 payday for their $5 buy-in.
3. Our third-place player, "ryan3212", walked away with $5,000 – which was nothing to sneeze at, given the affordable $5 buy-in.
Players Flocked to the 888poker BLAST Tables in 2022!
In 2022, on the dot-COM poker client, 888poker awarded over $130,000,000 in prize money in Blast Poker games. The buy-ins ranged from a tiny 10 cents all the way up to $100.
The games were a mixture of FAST Blast and regular Blast tournament structures. Several Blast SNG winners in 2022 hit it big, with the top prize pool topping out at $100,000.
Here are the top five prize pools on the dot-com 888poker client in 2022:
Tournament Name

Buy-in

Winnings

(incl. prizes)

$10 BLAST

$10

$100,000

$2 to $20K Blast

$2

$20,000

$5 to $50K Blast

$5

$50,000

$5 to $50K Blast

$5

$50,000

10c FAST Blast - 300 Chips

$0.10

$1,000
And in 2021, three players hit the $1,000,000 jackpot, $700K for first, $200K for second and $100K for third place.
Could we hit the $1 million jackpot again in 2023?
We Listened to our Players in 2022!
We listened our players in 2022 and implemented crucial changes to make the game more enjoyable and seamless.
Based on your feedback, we removed the TIMER and ALL-IN features from one of our most popular Sit & Go games.
Now, there is no automatic 'all-in'.
The game will run like a regular SNG until only one player is left standing as the victor.
Check out more info on the new BLAST here.
How to Play BLAST Jackpot Games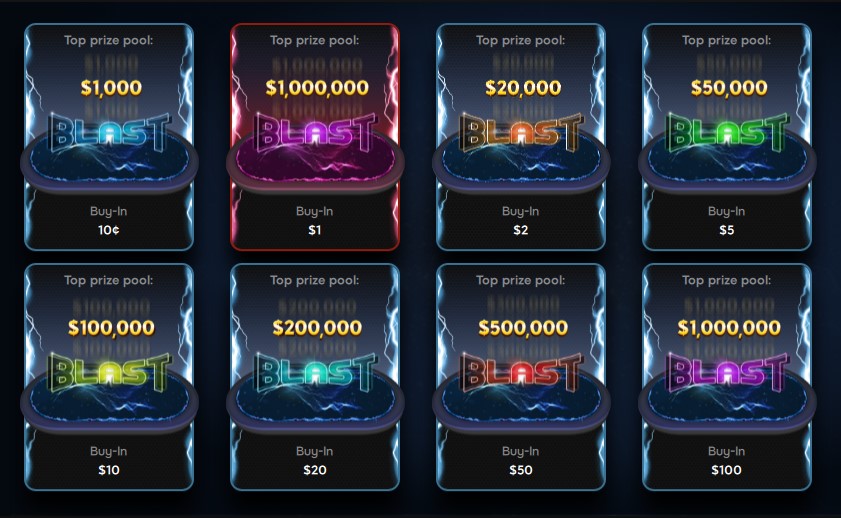 Here's how to quickly jump into a BLAST SNG game:
Check the poker lobby for BLAST SNG games.
Join a table where a random draw selects the prize pool.
Once three players register, the game starts.
Play your SNG as usual – no automatic all-in and no timer!
A possible prize pool of up to 10,000 x your buy-in is up for grabs!
Players receive a starting stack based on the prize pool. The bigger the prize pool, the more chips you get.
The blind levels in BLAST Jackpot games are determined according to the prize pool. The bigger the prize pool, the longer the blind levels.
Make 2023 your year to run the tables with our Blast Poker SNGs!
If you're still in need of more instructions and tips on how to play BLAST Jackpot Sit & Go's, watch 888poker ambassador Vivian Saliba's explanation below: