Poker night wouldn't be complete without a table, playing cards, and chips. But you may need a few more items when those friends head over to play some cards. Getting your poker room just right might mean a few extra purchases to make things just right.
From racks to dealer buttons and more, here's a look at some items to include in a home game. These poker accessories will make your poker night the next-best thing to heading to Las Vegas.
Table of Contents
1. Chip Racks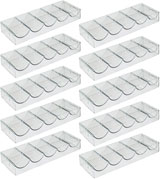 This low-cost poker accessory adds an authentic casino look to any home poker room. They make it easy to organise a chip set and efficiently pass chips out to players at the game.
Each rack features five slots holding 20 chips each for a total of 100 chips per rack.
Beyond that, a set of acrylic racks can make it much easier to store those chips. For those who play often, it's much easier to just keep a cabinet or shelf devoted to your poker set.
Are you friends ready to play? Simply pull out a few racks of chips and the game is ready to go.
Chip racks are pretty inexpensive. This Brybelly set of 10 can be had for just $12.99 and holds a total of 1,000. They're of decent quality and offer plenty of bang for the buck.
2. Dealer Button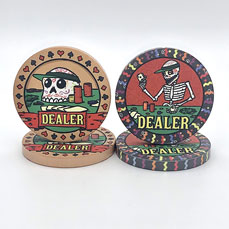 Dealer buttons are also a must for any home poker room. They help keep the action going and is a normal part of games like Texas Hold'em and Omaha. Many chip sets come with a dealer button. But there are also several options for those players looking to upgrade.
Some buttons up the ante as far as material, from plastic to metal and more with designs and other images. Dealer buttons can also be acrylic with patterns built into the centre. Others come in larger sizes and are more the size of a hockey puck.
Those who enjoy playing tournaments with friends can even find dealer buttons with a built-in clock. They also have a screen that can show blind levels and other information for the game.
These buttons are perfect for running a small tournament and usually come with a sound feature letting players know that the blinds are up.
This stylised Nevada Jacks set of two dealer buttons above can make for an curious conversation for about fifteen bucks apiece. The Mexican Dia de Los Muertos design brings something unique to the tables.
Hopefully, your cards aren't dead as well.
3. Chip Cases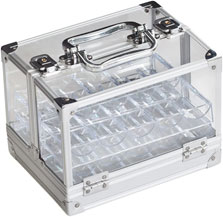 Many chip sets already come with a carrying case. But for those who might want something of higher quality have plenty of options. There are many types to choose from, including metal, wood, and one with latches.
An acrylic holding case might be a perfect fit for a player who already has a set of acrylic cases and runs regular games. Simply load up the case with racks full of chips for easy storage or transport.
The case above from GSE Games and Sports ($32.99) makes for an excellent option. The sturdy case includes a nice handle and locking latches.
You may feel like a casino's head of security with a couple of these in your game room.
4. Dealer Tray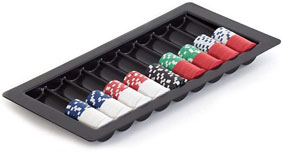 Whether you have a dealer at your house game or not, your table might have a spot for a dealer tray. If it does, a tray can offer an easy way to store some chips during a game.
A dealer tray is a relatively inexpensive poker accessory to add to your table. And you may even have a friend who'd rather deal than put his cash at risk.
This tray from GSE receives decent reviews and costs only $10. Make sure to measure the opening on your table before purchasing a tray so that you know it will fit.
5. Drink Coasters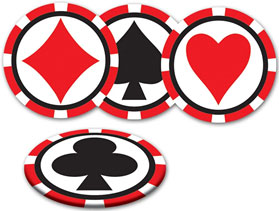 While many poker tables have built-in cup holders, they don't always hold up well. Some may be too shallow to hold beverages. Also, some tables have holders built right into the rail. This feature can make playing at the table awkward.
Players may feel that their cocktail is right in front of their chips and kind of in the way. So, a side table or TV tray might work better for those drinks.
In that case, you may need coasters. And if you play on the kitchen table, it could be a necessity!
When looking for a coaster, consider the design and ambience of your poker room. Colour matching might be the way to go. Marble or stone coasters may add a cool look to your scene.
If you're going for a more poker and casino look, the set above from Beistle can be an affordable low-cost option. The bright poker chip and card-suit design seems perfect for any poker room.
And at only $6 for a set of four, the price is undoubtedly right.
6. Poker Side Tables
Are you looking to avoid the coaster conundrum altogether?
Perhaps a few poker side tables are in order?
These are popular in most casino poker rooms. Players can wheel them next to the table while keeping the tables away from the action. They work well as they're specifically for poker games.
Complete with cupholders, they can not only hold drinks but also snacks and maybe even your poker cash. These tables above from Mrc Poker ($110) can add class to your room.
The wheels make it easy to move into position, and the stainless steel cup holders not only do the job but look pretty cool.