No home poker room or night out playing with friends would be complete with a decent poker chip set. And those with a big budget may be looking for a high-quality poker chip set that's more on the expensive side.
The good news is that finding a poker chip set is only a click or two away. Many online outlets offer more expensive custom-made and high-end chips.
Chip collectors will also find a few out of reach for most players' bankrolls. But it's still fun to check out, nonetheless.
Here's a look at some expensive poker chip sets, from artistic collector's items to high-end usable sets that will undoubtedly impress.
Table of Contents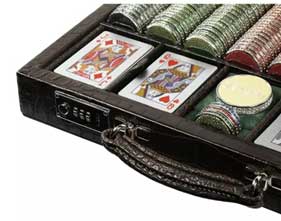 Get ready to open up the wallet for this expensive chip set. British retailer Geoffrey Parker Sells the specialised product, They have been creating handmade gaming options since 1961.
This set features completely customisable options. It comes in an attractive and luxurious alligator leather case, including Swarovski crystals.
You can upgrade the entire setup to include diamonds and rubies – with an uptick in price, of course.
The chips themselves also feature unique colours and patterns. These stand out more than traditional mass-produced products. In 2017, the World's Most Expensive Gifts on Channel 4 in the UK featured a similar set.
Live like a high roller with this luxurious set.
Stahl Meteorite Poker Set, $150,000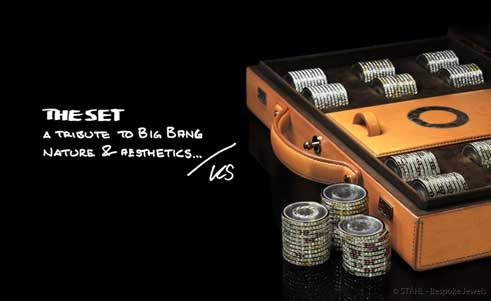 The name says it all with a price is truly out of this world. The set not only features gem-encrusted poker chips but actual pieces of an 800,000-year-old meteorite in Sweden.
The insane bullet points for these uber-expensive poker chips go on and on:
Manufactured by Stahl of Sweden
Chips are covered in 18-karat white gold.
They also include plenty of bling: exquisite diamonds.
Burmese rubies
Sri Lankan sapphires
The set comes with 120 chips in a case of Swedish calf and reindeer calf suede. Buyers will also find two sets of playing cards. But those seem kind of an afterthought considering all the other amenities.
At this price point, these chips probably aren't for just breaking out and playing with friends. Rather than housing them in your poker room, a safe might be in order.
This set brings new meaning to the term "diamond flush."
Cartier Poker Set, $7,500 (may also be at higher prices)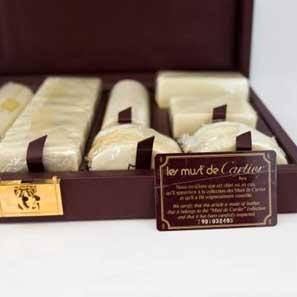 Nothing quite says class like Cartier. The French watch and jewellery maker has been crafting luxury items since 1847.
In the 1980s, that production also included this handsome set of faux-ivory poker chips.
The chips come in a rigid burgundy leather case, which includes a golden metal logo closure. A "Must de Cartier, Paris" metal plate is also visible on the inside. The cool white plaques included only add to the "poker night in Monaco" vibe.
This set is undoubtedly not one that a player would find on Amazon. These limited-edition sets were made in Italy and are exceedingly rare.
They will cost quite a bit but do come up on auction and resell sites.
This poker set from UK luxury designer Lancelot Lancaster White (LLW) is impressive – and expensive. Poker friends will marvel at the brilliant craftsmanship,
This chip set is truly a work of art.
The chips feature unique colours. A stylised LLW design complete with card suits appears on the edge of each chip.
The unique Mysterio luxury poker box includes a unique Bramah lock and a sterling silver maker's plate concealing a secret compartment.
Cast silver handles on each side of a chip stack make tray removal easy, and each tray features the LLW logo.
Many of the components are also coated in gold, adding to the luxurious look.
These are one-of-a-kind sets registered to each owner and look so lavish you might not even want to play with them.
Playing with the Buckingham set would undoubtedly qualify as a special occasion.
Cartier Mother of Pearl Poker Box, $30,000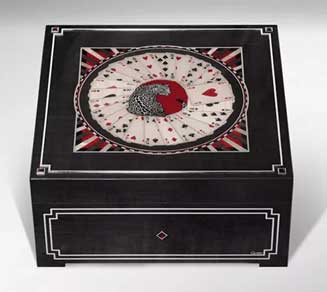 Perhaps you already have a nice set of poker chips but only need to upgrade your case. Cartier once produced this fine poker chip box.
The lid truly stands out with a cheetah surrounded by a stylised playing card design.
The box is made of sycamore wood and mother-of-pearl marquetry, and finding one isn't easy.
Priced originally at $7,500, some sites have listed them as high as $30,000. But most online retailers and auction sites don't have one.
If you've longed for a Cartier, this item might not be first on the list. But a Cartier poker box could truly be a conversation starter before you release that inner poker cheetah at your next tournament.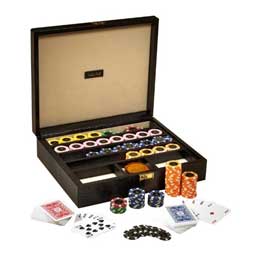 This 320-chip set adds a touch of class to any home poker room. These chips may be a bit expensive but come with plenty of elegance.
They may be pricey. But this legitimate set is one that many players can afford and play with as intended.
The chips are of high quality, but the wooden case, handmade in Italy, really stands out.
The case features fine suede-lined, black lizard-embossed leather.
It even comes with a lock.
This case would fit right in with any man (or woman) cave, a perfect companion to your cigar humidor, perhaps.
Based in New York, Scully and Scully has been selling high-quality, handcrafted wooden home furnishings since 1934.
Get in the poker action in style with this poker set.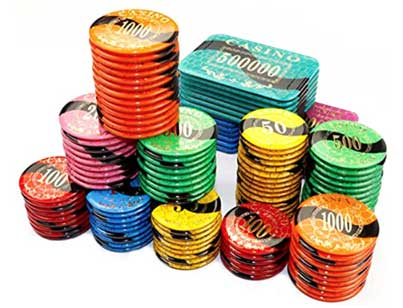 Players looking for a presentable set but not quite in the Cartier range may want to check these out. A Crystal poker chip set is relatively easy to find at retailers like Amazon. But you and your poker buddies won't confuse it with the typical run of the mill mass-produced poker chips.
These chips boast unique colours, a slick design, and an Asian dragon theme.
They will make your friends feel like they're playing at an elegant casino in Macau.
Looking to raise the stakes? The set also comes with some European-style plaques, making this set even more impressive.
The 11.5-gram chips come with a hefty price tag, but players will appreciate the real casino quality.
Let loose that inner dragon with these chips as you square off against friends.