The ability to easily find quality poker chips came with the explosion of poker in the 2000s. Finding a good set for battling some friends in your poker room is as simple as searching on the Internet.
Check out our web story about perfect poker chips.
There are now great chip sets for almost any type of chips to please any taste, game, or budget.
When making that purchase for some authentic poker chips for your home games, it's essential to keep a few things in mind:
Budget – Know how much you're willing to spend. Prices can vary widely depending on the chips.
Colour – Colours can range from the traditional like white, red, blue, and black to more obscure shades like baby blue, yellow, and orange.
Design – Whether your interest revolves around Harley Davidson motorcycles, NFL football, or anything else, it's a good bet there's a chip for it.
Quality – You may determine chip budget by the type of poker chips you choose. There are four types of chips: plastic, composite/clay, ceramic, and metal. Plastic chips are the cheapest and will be generally left out here. The most popular are composite/clay and ceramic. Metal chips are the rarest, and finding them is difficult.
Size – How many chips will you need? That's another thing to consider before ordering our chips. Chips generally come in sets ranging from 200 to 1,000.Consider your own home game before making a purchase.
With all that in mind, here's a look at some poker chip sets that offer some quality for any poker night with friends.
Cheap Poker Chip Sets ($100 and under)
Suppose your poker chip bankroll is more penny-ante poker than high stakes. As noted above, vintage-style plastic chips are cheap. They don't function well as a regular option for serious poker players.
Here are a few options to consider -
Cost: $99
Number of Chips: 500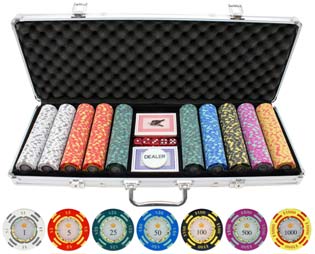 This excellent quality casino-style set has fantastic bold design elements and unique colours. These are some premium 13.5-gram chips that receive high reviews among buyers.
Many of these traditional, lower-cost chips tend to look similar with not much in the way of differing design. That's not the case with the JPC Crown set.
You'll find seven different denominations, and each chip comes with a bit of royalty.
They boast that fabulous crown and shiny interior ring.
Hopefully, you'll be the kind of the poker table with these chips the next time you square off against friends.
Cost: $89.95
Number of Chips: 500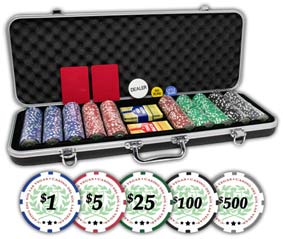 This set is quite a deal for this number of chips. Da Vinci is a long-time poker manufacturer and offers plenty of bang for the buck.
The 11.5-gram chips feature an "olive leaf" design with the Da Vinci shield in the middle of each.
For a low-cost offerings, there are five denominations in a heavy duty, durable plastic case. The box prevents dents and scuffs seen in some aluminium alternatives.
For a home game player with a budget, this Da Vinci set is one of those you can't beat. With any luck, you'll make up the Price in that first night, breaking them out to play.
Midrange Poker Chip Sets ($100 to $199)
Here are some higher-quality poker chips if your budget is a bit higher. These would be great options for that next poker night home game.
Cost: $119.99
Number of Chips: 300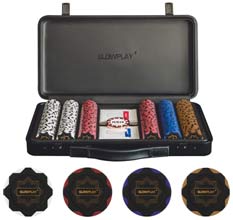 This company consists of poker lovers who also happen to be aviation engineers and graphic designers. That fact translates into some exquisite design options.
These 14-gram Nash chips are a perfect example of that. It's a smaller set featuring the following –
Four denominations
Aa sleek carrying case in bold contrast to the traditional aluminium designs
Quality plastic playing cards
A great-looking dealer button
These chips will be a welcome invitation to your poker room.
Cost: None, 888poker Gold Tokens
Number of Chips: 300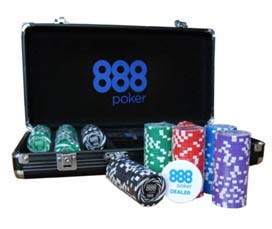 Poker players who have accumulated some 888poker Gold Tokens can cash those in at the 888 Shop for this quality set.
The set comes in traditional colours with sleek 888 design elements.
The set also comes with a dealer button and two high-quality decks of cards. Players can sport their favourite online poker brand with this professional poker set.
High-end Poker Chip Sets (over $200)
Do your budget and tastes call for something a bit more extravagant? Here are a few options that would complement any stylish poker room.
These quality poker chips raise the bar for that next home game.
Cost: $299
Number of Chips: 500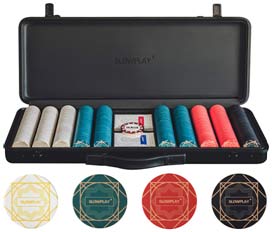 These highly-stylised ceramic chips not only look sleek but have a great feel when in a player's hands. Slowplay offers four denominations of 10-gram chips with unique artistry and design.
That desire for unique design carries over to the two sets of plastic playing cards. Slowplay has also ramped up the traditional poker chip carrying case.
This sleek black design features a highly durable outer shell of German polycarbonate material.
There's also a leather handle and interior, and the metal red and white dealer button has an upscale look.
As the company notes about this set: "The streamlined lines and simple geometric composition perfectly combine the grandeur of the roaring 1920s and contemporary simplicity to elevate the poker experience to a new level."
There is also a 300-chip version for $219.99.
Cost: $229.99
Number of Chips: 1,000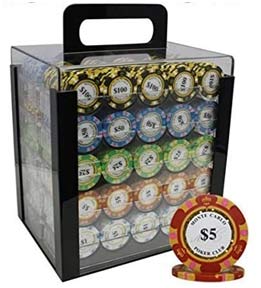 Play like a Monaco high roller with these Monte Carlo chips as you live that poker dream. Are you looking for a large number of quality, authentic poker chips? You'll find a deal with this custom-built acrylic carrying case.
The 14-gram chips have a unique, multi-coloured design and come in seven denominations.
The Monte Carlo set is quite a value. It also includes ten acrylic racks, two decks of playing cards, and a dealer button.
These are heavier chips, with some weight when tossing them in a pot or when riffling. You may not be living that high stakes European poker lifestyle, but these chips will at least make you feel like a big deal.
On the Go Chip Sets
This small set fits perfectly into a backpack or suitcase for a vacation or day trip.
Here are a couple of inexpensive chip sets that are perfect when a spur of the moment poker game might be in order.
Cost: $71.90
Number of Chips: 320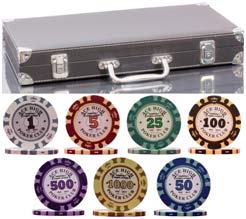 This sleek, leather carrying case makes poker on-the-go effortless and convenient. The chips come in seven denominations and an "Ace High Poker Club" design.
The set includes –
Two decks of plastic cards
Dealer button
Poker felt for spreading on a table to get the action going
This set is ideal for packing in the car for a game on the road.
Cost: $29.95
Number of Chips: 200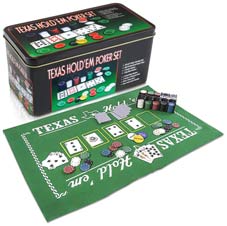 You probably won't be hosting in any major tournaments with this set. But a small game will undoubtedly be perfect for this travel set.
The Gamie set has everything to get that game going:
Five chip denomination
Two decks of cards, dealer button
A poker felt for some realism
The tin box makes it easy to carry with you.
Additional Poker Chip Items
Here are a few extra items that might add significantly to your poker night for a great poker experience.
Cost: $12.95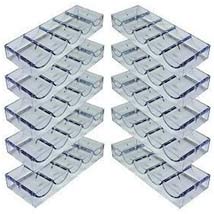 While most casino style chip racks come with a carrying case, many players might play more in a home poker room. Chip racks, like in a casino, make storage and distribution easy.
These acrylic racks will undoubtedly get the job done. Each package contains ten chip racks and makes for a bargain buy.
Cost: $69.95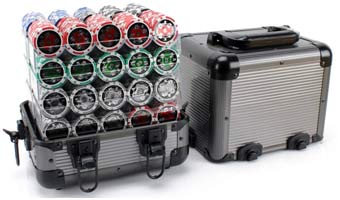 For those who regularly take quite a few chips on the go, this carrier might be a must. The durable aluminium design carries 1,000 chips (10 racks).
The thick interior, corner protection, and latches help avoid chip spillage. This carrier is the Cadillac of carrying large numbers of poker chips.
Price: $24.95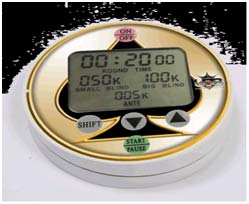 Tournament players will love this item. Not only is it a dealer button, but it also helps manage the entire tournament.
Time ticks away in each level as the button rotates around the table. Players will easily find the blind levels and antes on the large LCD display. It also boasts an alarm that sounds when the blinds go up.
Customise your tournament with 19 pre-programmable rounds. There is a specific "K" function for larger events with chip values in the thousands.
Whether your home game features five or six players or brings in two or three-table tournaments, there are chip sets to meet any need.
Frequently Asked Questions
What are some things to keep in mind when purchasing a poker chip set?
Determine your own needs. A weightier chip will add to the "real" casino feel when riffling or dropping chips in the pots.
Better chips will feel better and also be easier to stack. Colours and design are a personal preference. But there are quality chip sets for almost any budget.
What are poker chips mainly made of?
Most players buy clay/composite chips and ceramic chips. There are some other options like plastic and metal. Plastic chips are cheap and don't play well. Metal chips are more difficult to find.
Ceramic chips are sleek and allow for more customisable options. Both clay composite and ceramic can make for a great gaming experience. For the complete ins and outs of poker chips, click here.
Are there poker chip accessories that would be nice to add to my poker room?
Chip racks can make for an excellent addition as well as the following items –
Quality carrying cases
Card protectors
Dealer buttons
Cut cards, and more.
These can add to your home game and make that night with friends like a fun game on the Las Vegas Strip.
Can I find a chip set to fit the design elements of my home poker room?
Yes, there are chip sets with many designs and graphics. Those looking for something a bit more unique may expect to pay more. These sets might not be one of the more popular mass-produced poker sets.
That said, you will find plenty of images, colours, and other options for poker chips. Some are even customisable to suit any poker room ambience.