A lot of people debate which is the more prestigious poker tournament – the World Poker Tour or the European Poker Tour. While there is no way to accurately conclude which is the more prestigious tournament, there are a few differences that set them apart.
What Is The More Prestigious Poker Tournament – the WPT or the EPT?
Focus – WPT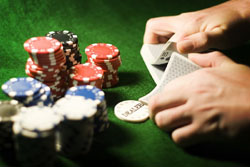 The WPT has events all around the world. They have events in North America and Europe. Professional and amateur poker players alike travel from all around the world to play in these tournaments. There is no telling who you might find in the field of any of these poker tournaments. One unique feature of the WPT is the fact that final tables only have 6 players, as opposed to the 8 that is more common in other major poker tournaments. Unlike the WSOP, the WPT is a Texas Hold'em poker only tournament – Omaha Hi and other forms of the game are not played. The WPT was also one of the first organisations to introduce ladies-only tournaments, which brought in a very large female player pool.
Focus – EPT
The EPT, on the other hand, is limited to locations in Europe. While foreign players do travel and play in these events, the field is usually comprised mainly of European players. The EPT has not been around as long as the WPT, so their TV following is not as big. Like the WPT, EPT events are Texas Hold'em only. The EPT uses the standard 8 player format for their final tables, much like the WSOP and other major poker tournaments.
All in all, both the WPT and the EPT are prestigious poker tournaments. They both attract the best players from around the world and provide an arena to see how their skills match up against each other. If you are looking for a poker tournament to play in, or even just to watch, you can't go wrong with either one. They provide some of the best poker competition in the world. Check out your poker room or your favourite poker sites to see if it is possible to win an entry into one of these excellent tournaments.