In 2017, we sent five teams to the WSOP. Each group consisted of a captain, wingman and qualifier. The competition was fierce, but Team Brazil's, Joao Sousa Monteiro came out on top, finishing in 583rd place for $22,449.
Seeing as he qualified for the event via a $30 satellite, his survival to Day 4 of the 2017 World Series of Poker (WSOP) Main Event was all that more remarkable. In addition to the cash, Monteiro also took home a package to the 2018 WSOP Main Event, courtesy of 888poker.
This year, all members of the team with the most points will receive a package for the 2019 WSOP Main Event – this is huge!
The teams have been carefully assembled with the addition of a team from Spain. The captains from the UK, Canada, Brazil, Germany, Sweden and Spain are primed and ready to play on the biggest stage in poker tournament series.
The wingmen will be chosen before the contest ends on June 4th. And, each 2018 WSOP Main Event package winner – from all eligible regions - will have the chance to join their respective teams for a once-in-a-lifetime opportunity.
Racking Up the Points
This year's system of survival will be based on a point system. At the end of the tournament day, each surviving team member will receive points according to the table below.
The points will be added up for each team, and the player with the chip lead will also get a daily bonus - equal to the team's daily points total.
The team qualifier player, who is the last player standing, will receive a 100-point bonus.
| Day | Points | Team Max | Chip Lead Bonus |
| --- | --- | --- | --- |
| 1 | 10 | 30 | 30 |
| 2 | 20 | 60 | 60 |
| 3 | 30 | 90 | 90 |
| 4 | 40 | 120 | 120 |
| 5 | 50 | 150 | 150 |
| 6 | 60 | 180 | 180 |
| 7 | 70 | 210 | 210 |
| 8 | 80 | 240 | 240 |
| 9 | 90 | 270 | 270 |
| 10 | 100 | 300 | 300 |
| Last player standing | | | 100 |
Now, without further ado, here are this year's 8-Team Captains.
Vivian Saliba (Team Brazil)
Vivian Saliba may be one of the latest additions to our poker team of ambassadors, but she is by no means a shrinking violet. As proven by her win in the 888poker London Ladies event, she has the poker chops to play hard and win big.
Having started her poker career playing Pot Limit Omaha and then transitioning to No Limit Hold'em, she has shown her determination to be a poker pro. Team Brazil are the defending champs – with Joao Sousa Monteiro taking home the prize in 2017 - and as such will do everything within their power to win back-to-back.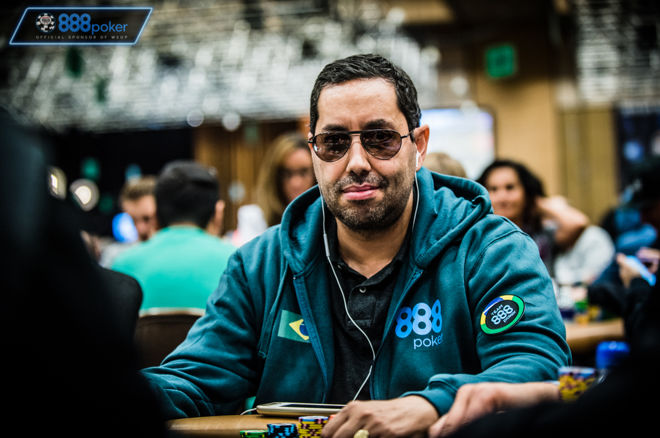 Parker "Tonka" Talbot (Team Canada)
Parker "TonkaaaaP" or "Tonka" Talbot has become one of Twitch's hottest poker streamers – broadcasting his poker play every week on his channel - twitch.tv/tonkaaaap. With thousands of viewers hanging on his every word, Tonka has solidified his status as a relevant voice in the poker world.
And, he is more than just talk, having racked up over $386,000 in live tournament winnings. He has the determination and desire to take this title, so the other teams need to up their game.
Martin Jacobson (Team Sweden)
Team Sweden is headed by our latest acquisition as 888poker ambassador, Martin Jacobson. Mostly known for his 2014 WSOP Main Event title, he has added another $6.5 million to the $10 million received for the bracelet win. Martin is also a staunch philanthropist as a major supporter of the poker charity REG (Raise for Effective Giving).
However, as charitable as he might be, he leaves all that at the door when it comes to playing poker. The other teams should be under no misconception, he is here to win – perhaps even another WSOP ME bracelet to go with the one he already has.
Dominik Nitsche (Team Germany)
Dominik Nitsche's career has gone from strength to strength. In a country where talented players grow on trees, he has managed to stand out from the rest. He came to the 2017 WSOP with 3 bracelets, hunting that fourth one. It wasn't to be.
However, at the 2017 WSOPE, Nitsche would not be denied. He battled a field of some of the best players in the world in the €111,111 NLHE High Roller for One Drop event to secure that elusive 4th bracelet. Since then, he has racked up another $2.7 million in winnings.
This team will be a challenge for the competition.
Marti Roca (Team Spain)
Now we come down to the new kids on the block. Team Spain is the dark horse. After all, Marti Roca de Torres had only played smaller tournaments in his native Spain before his monumental win in the 2017 WSOPE Main Event.
That win changed his life and breathed life into the dream of becoming a poker pro and making it a career rather than a hobby. Can Team Spain win? Quite possibly. For this Spaniard, it could definitely be on the cards.