Once again, we at 888poker are changing the game! Last year, we introduced BLAST events, which are super-turbo Texas hold'em sit and goes played four-handed. Traditionally our BLAST events have lasted five minutes, but now we're introducing Fast BLAST tournaments where the timer runs out after just two minutes.
It's the perfect option for those players who feel the need for speed!
How Does a BLAST Event Work?
The prize pool of each BLAST is determined based on a draw that takes place at the beginning of each poker tournament and varies between two and 10,000 times the buy-in of the selected BLAST Sit & Go. BLAST SnGs offer different buy-ins to choose from: 10¢, $1, $5, $15 and $30.
Once the tournament starts, which happens just as soon as four players are registered, the BLAST timer starts the countdown. When the BLAST timer runs out, all the remaining players are all in until there's a single winner. Each BLAST player receives a starting stack of 1,500 chips regardless of the drawn prize pool multiplier.
The blind structure and prize pool distribution of each BLAST Sit & Go is determined according to the multiplier that was assigned to the BLAST Sit & Go.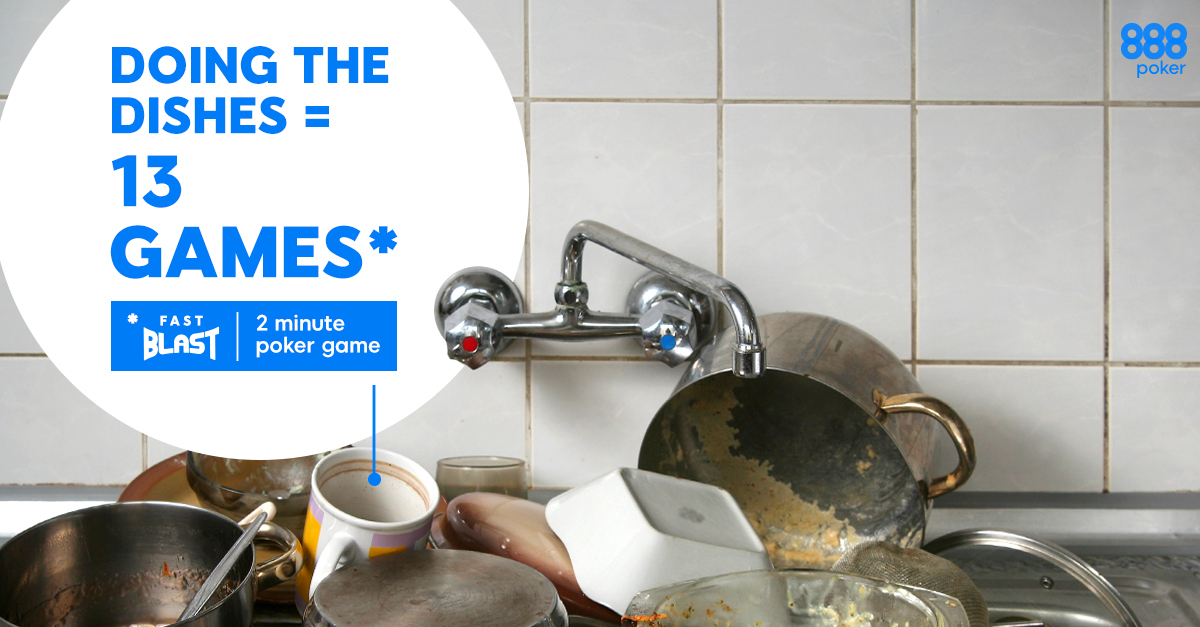 Aside from regular BLAST events, we're also known for tying them in to timely promotions. For example, one promotion taking place right now gives players a chance to win their way to Las Vegas just by playing $10 BLAST events!
Put up $10, hit the 1,250x multiplier, and you could win a $12,500 package into the 2017 World Series of Poker Main Event. It's just one of a half dozen ways players can win their way to the WSOP via 888poker.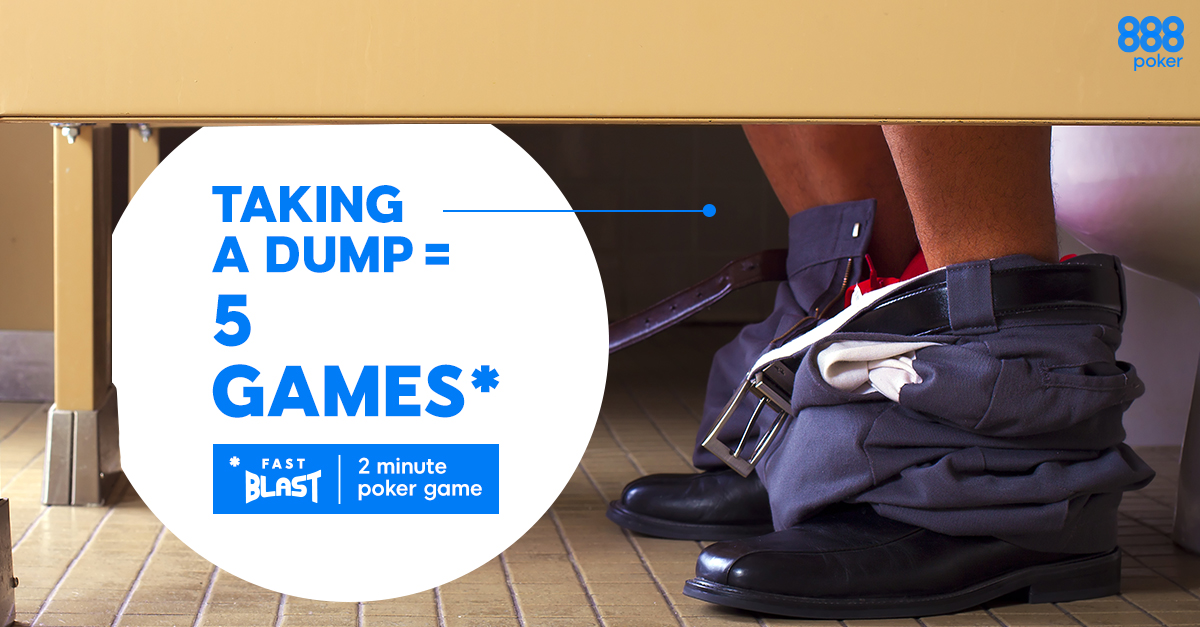 Things You Can Do in Two Minutes or Less
It takes just two minutes to play a Fast BLAST, which means you could play approximately 15 games in the same amount of time it'd take you to do the dishes. Assuming it takes five minutes to either have sex or take out the dog, you could squeeze in 2.5 Fast BLAST games! Heck, some people could even fit in 17 games while relieving themselves on the toilet!
Here are eight other things you can do in less than two minutes:
- Water a plant
- Clean a toilet bowl
- Make your bed
- Listen to any song on this list
- Refresh your Twitter feed
- Watch a movie trailer
- Place a bet on the roulette wheel
- Score 15 points playing basketball… well, if you're Stephen Curry
Or you can play one of 888poker's new Fast BLAST events. The choice is up to you!
How to Register for a BLAST Sit & Go
It's easy. First, click on the BLAST tab which you'll find on the far right of the tab bar at the top of 888poker's main lobby. Under this tab, you'll find all available BLAST Sit & Go buy-ins. It really is that simple.