888poker gets back into the ring this November with the return of the Knockout Games Series.
From 26 November through 12 December, players will have the chance to play affordable buy-in tournaments boasting over $1 Million in guarantees!
The highlight of the KO Games series is the very affordable $25 buy-in, multi-flight $200,000 GTD Mystery Bounty Main Event – Overlay Edition (KO Games #29). This event will feature a whopping top mystery bounty of $20,000!
Day 1's of the Main Event will commence on 5 December, with Day 2 taking place on 11 December. The final table will be the following day, on 12 December.
Also on the schedule is the $200K GTD multi-flight Mystery Bounty (Event: KO Games #19) with a $162 buy-in. Day 1's of this event will start on 28 November, with Day 2 happening on 4 December. The final table will take place on 5 December.
Both final tables in these tournaments will be live-streamed on the 888pokerTV Twitch channel, along with the Opening Event.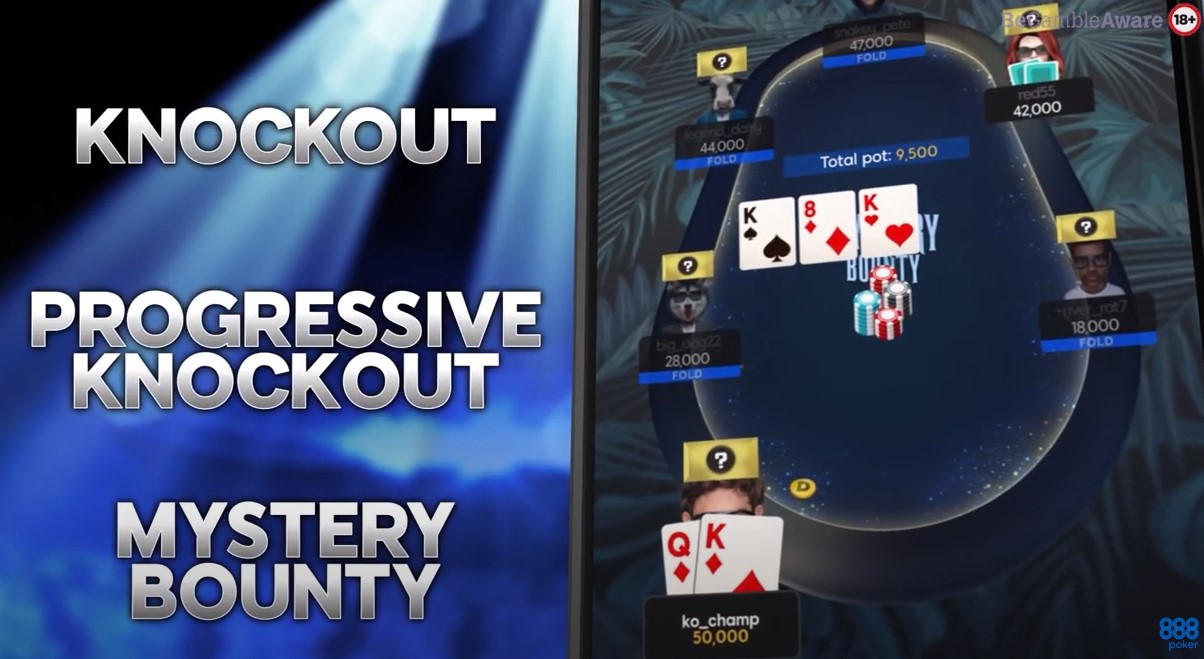 Check out the full terms and conditions of this series here.
How to Get Your FREE Knockout Tickets
The Knockout Series will host 29 events with affordable buy-ins and over $1,000,000 in guaranteed prizes.
Knock out an opponent, and you could walk away with cash in your pocket even if you don't make it into the money!
Here's how to step it up in the ring:
Play daily freerolls for a chance to win a Qualifier ticket.
Qualify via satellites to the Main Event for as little as one cent!
Buy in directly for only $25!
Win a Qualifier ticket via the Snowmen Festival Knockout Challenge
You can also get free tickets by watching our StreamTeam ambassadors as they play during the series.
Make sure to follow the 888poker social media channels for up-to-date info and more ways to get tickets for free:
Knockout Games Series Full Schedule
Date

GMT

KO Games Series Tournaments

Buy-in

GTD

26.11

17:30

$10,000 KO Games –

Sunday PKO Rumble 22

$22

$10,000

26.11

18:00

$10,000 KO Games –

Sunday PKO Rumble 215

$215

$10,000

26.11

18:30

$40,000 KO Games #01 –

Mystery Bounty Mini Opening

$55

$40,000

26.11

19:00

$15,000 KO Games –

Sunday Mystery Bounty 22

$22

$15,000

26.11

19:00

$120,000 KO Games #02 –

Mystery Bounty Opening

$109

$120,000

26.11

19:30

$50,000 KO Games #03 –

Mystery Bounty High Roller

$525

$50,000

27.11

17:30

$6,000 KO Games –

PKO Rumble 22

$22

$6,000

27.11

18:30

$12,000 KO Games –

Mystery Bounty 55

$55

$12,000

27.11

18:30

$5,000 KO Games #04 –

PKO Mini

$11

$5,000

27.11

19:00

$8,000 KO Games –

Mystery Bounty 22

$22

$8,000

27.11

19:30

$15,000 KO Games #05 –

PKO

$109

$15,000

28.11

16:30

$200,000 KO Games #19 –

Mystery Bounty (Day 1)

$162

-

28.11

17:30

$6,000 KO Games –

PKO Rumble 22

$22

$6,000

28.11

18:00

$20,000 KO Games #06 –

Super KO 6-Max

$320

$20,000

28.11

18:30

$5,000 KO Games #07 –

Super KO 6-Max Mini

$33

$5,000

28.11

18:30

$12,000 KO Games –

Mystery Bounty 55

$55

$12,000

28.11

19:00

$8,000 KO Games –

Mystery Bounty 22

$22

$8,000

28.11

19:30

$200,000 KO Games #19 –

Mystery Bounty (Day 1)

$162

-

28.11

22:30

$200,000 KO Games #19 –

Mystery Bounty (Day 1)

$162

-

29.11

16:30

$200,000 KO Games #19 –

Mystery Bounty (Day 1)

$162

-

29.11

17:30

$6,000 KO Games –

PKO Rumble 22

$22

$6,000

29.11

18:00

$8,000 KO Games –

PKO Rumble 215

$215

$8,000

29.11

18:30

$12,000 KO Games –

Mystery Bounty 55

$55

$12,000

29.11

18:30

$5,000 KO Games #08 –

KO Mini

$33

$5,000

29.11

19:00

$8,000 KO Games –

Mystery Bounty 22

$22

$8,000

29.11

19:30

$12,000 KO Games #09 –

KO

$109

$12,000

29.11

19:30

$200,000 KO Games #19 –

Mystery Bounty (Day 1)

$162

-

29.11

22:30

$200,000 KO Games #19 –

Mystery Bounty (Day 1)

$162

-

30.11

16:30

$200,000 KO Games #19 –

Mystery Bounty (Day 1)

$162

-

30.11

17:30

$6,000 KO Games –

PKO Rumble 22

$22

$6,000

30.11

18:30

$12,000 KO Games –

Mystery Bounty 55

$55

$12,000

30.11

18:30

$10,000 KO Games #10 –

Mystery Bounty Mini

$17

$10,000

30.11

19:00

$8,000 KO Games –

Mystery Bounty 22

$22

$8,000

30.11

19:30

$25,000 KO Games #11 –

Mystery Bounty

$109

$25,000

30.11

19:30

$200,000 KO Games #19 –

Mystery Bounty (Day 1)

$162

-

30.11

22:30

$200,000 KO Games #19 –

Mystery Bounty (Day 1)

$162

-

1.12

16:30

$200,000 KO Games #19 –

Mystery Bounty (Day 1)

$162

-

1.12

17:30

$6,000 KO Games –

PKO Rumble 22

$22

$6,000

1.12

18:30

$12,000 KO Games –

Mystery Bounty 55

$55

$12,000

1.12

18:30

$10,000 KO Games #12 –

PKO Turbo Deep 6-Max Mini

$22

$10,000

1.12

19:30

$12,000 KO Games #13 –

PKO Turbo Deep 6-Max

$109

$12,000

1.12

19:30

$200,000 KO Games #19 –

Mystery Bounty (Day 1)

$162

-

1.12

22:30

$200,000 KO Games #19 –

Mystery Bounty (Day 1)

$162

-

2.12

16:30

$200,000 KO Games #19 –

Mystery Bounty (Day 1)

$162

-

2.12

17:30

$6,000 KO Games –

PKO Rumble 22

$22

$6,000

2.12

18:30

$12,000 KO Games –

Mystery Bounty 55

$55

$12,000

2.12

19:00

$8,000 KO Games –

Mystery Bounty 22

$22

$8,000

2.12

19:30

$200,000 KO Games #19 –

Mystery Bounty (Day 1)

$162

-

2.12

22:30

$200,000 KO Games #19 –

Mystery Bounty (Day 1)

$162

-

2.12

01:30 (+1)

$200,000 KO Games #19 –

Mystery Bounty (Day 1)

$162

-

3.12

13:30

$200,000 KO Games #19 –

Mystery Bounty (Day 1)

$162

-

3.12

16:30

$200,000 KO Games #19 –

Mystery Bounty (Day 1)

$162

-

3.12

17:30

$10,000 KO Games –

Sunday PKO Rumble 22

$22

$10,000

3.12

18:00

$10,000 KO Games –

Sunday PKO Rumble 215

$215

$10,000

3.12

18:30

$40,000 KO Games #14 –

Mystery Bounty Mini

$55

$40,000

3.12

19:00

$15,000 KO Games –

Sunday Mystery Bounty 22

$22

$15,000

3.12

19:00

$30,000 KO Games #15 –

Mystery Bounty

$109

$30,000

3.12

19:30

$50,000 KO Games #16 –

High Roller Mystery Bounty

$525

$50,000

3.12

19:30

$200,000 KO Games #19 –

Mystery Bounty (Day 1)

$162

-

3.12

22:30

$200,000 KO Games #19 –

Mystery Bounty (Day 1)

$162

-

3.12

01:30 (+1)

$200,000 KO Games #19 –

Mystery Bounty (Day 1)

$162

-

4.12

13:00

$200,000 KO Games #19 –

Mystery Bounty Turbo (Day 1)

$162

-

4.12

15:00

$200,000 KO Games #19 –

Mystery Bounty Turbo (Day 1)

$162

-

4.12

17:00

$200,000 KO Games #19 –

Mystery Bounty Turbo (Day 1)

$162

-

4.12

17:30

$6,000 KO Games –

PKO Rumble 22

$22

$6,000

4.12

18:30

$3,000 KO Games #17 –

PKO 6-Max Mini

$11

$3,000

4.12

19:00

$8,000 KO Games –

Mystery Bounty 22

$22

$8,000

4.12

19:00

$200,000 KO Games #19 –

Mystery Bounty Hyper (Day 1)

$162

-

4.12

19:30

$15,000 KO Games #18 –

PKO 6-Max

$55

$15,000

4.12

21:00

$200,000 KO Games #19 –

Mystery Bounty (Day 2)

-

$200,000

5.12

16:30

$200,000 KO Games #29 –

Mystery Bounty

MAIN EVENT (Day 1)

$25

-

5.12

17:30

$6,000 KO Games –

PKO Rumble 22

$22

$6,000

5.12

18:00

$20,000 KO Games #20 –

Super KO

$320

$20,000

5.12

18:30

$5,000 KO Games #21 –

Super KO Mini

$33

$5,000

5.12

18:30

$12,000 KO Games –

Mystery Bounty 55

$55

$12,000

5.12

19:00

$8,000 KO Games –

Mystery Bounty 22

$22

$8,000

5.12

19:00

$200,000 KO Games #19 –

Mystery Bounty (Final Table)

-

-

5.12

19:30

$200,000 KO Games #29 –

Mystery Bounty

MAIN EVENT (Day 1)

$25

-

5.12

22:30

$200,000 KO Games #29 –

Mystery Bounty

MAIN EVENT (Day 1)

$25

-

6.12

16:30

$200,000 KO Games #29 –

Mystery Bounty

MAIN EVENT (Day 1)

$25

-

6.12

17:30

$6,000 KO Games –

PKO Rumble 22

$22

$6,000

6.12

18:00

$8,000 KO Games –

PKO Rumble 215

$215

$8,000

6.12

18:30

$12,000 KO Games –

Mystery Bounty 55

$55

$12,000

6.12

18:30

$5,000 KO Games #22 –

PKO DeepStack Mini

$33

$5,000

6.12

19:00

$8,000 KO Games –

Mystery Bounty 22

$22

$8,000

6.12

19:00

$12,000 KO Games #23 –

PKO DeepStack

$109

$12,000

6.12

19:30

$200,000 KO Games #29 –

Mystery Bounty

MAIN EVENT (Day 1)

$25

-

6.12

22:30

$200,000 KO Games #29 –

Mystery Bounty

MAIN EVENT (Day 1)

$25

-

7.12

16:30

$200,000 KO Games #29 –

Mystery Bounty

MAIN EVENT (Day 1)

$25

-

7.12

17:30

$6,000 KO Games –

PKO Rumble 22

$22

$6,000

7.12

18:00

$20,000 KO Games #24 –

PKO

$320

$20,000

7.12

18:30

$12,000 KO Games –

Mystery Bounty 55

$55

$12,000

7.12

19:00

$8,000 KO Games –

Mystery Bounty 22

$22

$8,000

7.12

19:30

$200,000 KO Games #29 –

Mystery Bounty

MAIN EVENT (Day 1)

$25

-

7.12

22:30

$200,000 KO Games #29 –

Mystery Bounty

MAIN EVENT (Day 1)

$25

-

8.12

16:30

$200,000 KO Games #29 –

Mystery Bounty

MAIN EVENT (Day 1)

$25

-

8.12

17:30

$6,000 KO Games –

PKO Rumble 22

$22

$6,000

8.12

18:30

$12,000 KO Games –

Mystery Bounty 55

$55

$12,000

8.12

18:30

$10,000 KO Games #25 –

PKO Turbo Deep Mini

$22

$10,000

8.12

19:30

$12,000 KO Games #26 –

PKO Turbo Deep

$109

$12,000

8.12

19:30

$200,000 KO Games #29 –

Mystery Bounty

MAIN EVENT (Day 1)

$25

-

8.12

22:30

$200,000 KO Games #29 –

Mystery Bounty

MAIN EVENT (Day 1)

$25

-

9.12

16:30

$200,000 KO Games #29 –

Mystery Bounty

MAIN EVENT (Day 1)

$25

-

9.12

17:30

$6,000 KO Games –

PKO Rumble 22

$22

$6,000

9.12

18:30

$12,000 KO Games –

Mystery Bounty 55

$55

$12,000

9.12

19:00

$8,000 KO Games –

Mystery Bounty 22

$22

$8,000

9.12

19:30

$200,000 KO Games #29 –

Mystery Bounty

MAIN EVENT (Day 1)

$25

-

9.12

22:30

$200,000 KO Games #29 –

Mystery Bounty

MAIN EVENT (Day 1)

$25

-

9.12

01:30 (+1)

$200,000 KO Games #29 –

Mystery Bounty

MAIN EVENT (Day 1)

$25

-

10.12

13:30

$200,000 KO Games #29 –

Mystery Bounty

MAIN EVENT (Day 1)

$25

-

10.12

16:30

$200,000 KO Games #29 –

Mystery Bounty

MAIN EVENT (Day 1)

$25

-

10.12

17:30

$10,000 KO Games –

Sunday PKO Rumble 22

$22

$10,000

10.12

18:00

$10,000 KO Games –

Sunday PKO Rumble 215

$215

$10,000

10.12

18:30

$20,000 KO Games #27 –

Super KO

$33

$20,000

10.12

19:00

$15,000 KO Games –

Sunday Mystery Bounty 22

$22

$15,000

10.12

19:00

$100,000 KO Games #28 –

Mystery Bounty

$109

$100,000

10.12

19:30

$200,000 KO Games #29 –

Mystery Bounty

MAIN EVENT (Day 1)

$25

-

10.12

22:30

$200,000 KO Games #29 –

Mystery Bounty

MAIN EVENT (Day 1)

$25

-

10.12

01:30 (+1)

$200,000 KO Games #29 –

Mystery Bounty

MAIN EVENT (Day 1)

$25

-

11.12

13:00

$200,000 KO Games #29 –

Mystery Bounty

MAIN EVENT Turbo (Day 1)

$25

-

11.12

15:00

$200,000 KO Games #29 –

Mystery Bounty

MAIN EVENT Turbo (Day 1)

$25

-

11.12

17:00

$200,000 KO Games #29 –

Mystery Bounty

MAIN EVENT Turbo (Day 1)

$25

-

11.12

17:30

$6,000 KO Games –

PKO Rumble 22

$22

$6,000

11.12

18:30

$12,000 KO Games –

Mystery Bounty 55

$55

$12,000

11.12

19:00

$8,000 O Games –

Mystery Bounty 22

$22

$8,000

11.12

19:00

$200,000 KO Games #29 –

Mystery Bounty

MAIN EVENT Hyper (Day 1)

$25

-

11.12

21:00

$200,000 KO Games #29 –

Mystery Bounty

MAIN EVENT (Day 2)

-

$200,000

12.12

19:00

$200,000 KO Games #29 –

Mystery Bounty

MAIN EVENT (Final Table)

-

-