888poker LIVE 2019 Upcoming Event:
888poker LIVE Bucharest Festival 2019
5-Star Intercontinental Hotel, Bucharest 4th – 10th March 2019
For more details on this event, click here.
As 2018 ends, we are already looking ahead to some great 888poker LIVE stops across Europe. The tour aims to make this our biggest and best year yet as we continue to grow and break records.
We're also excited to announce the return of both the Shot Clock and Big Blind ante in our events, which helps accelerate the game, allowing all players to play more and enjoy the game.
Finally, we can confirm that the winners of each 888poker LIVE Main Event will win a package to the 2019 World Series of Poker Main Event, just like James Williams did when he won the 888poker LIVE Festival London in early December.
That means you could win your way to the WSOP Main Event also through winning 888poker LIVE tournaments!
Right now, several stops are confirmed on the schedule with the possibility of more to come. Additionally, we're proud to announce that once again 888poker will return as a sponsor for the 2019 World Series of Poker!
The Historic 50th Annual WSOP
Poker's most famous festival will run from May 28 through July 16, 2019, at the Rio All-Suite Hotel & Casino in Las Vegas. The full schedule hasn't been finalised, but WSOP officials have revealed several tournaments including the $500 buy-in "Big 50."
To celebrate their 50th anniversary, the WSOP is making everyone's initial entry into that event rake-free. All $500 of the entry will go entirely to the prize pool (Anyone who re-enters pays the standard rake, including re-entries into another flight). The Big 50 features four starting flights where players begin play with a whopping 50,000 in chips with 12, 50-minute levels on Day 1. The WSOP has a $5 million prize pool guarantee, as well as ensuring the winner claims $1 million for the Big 50.
All told, the 2019 WSOP is expected to award more than $200 million in prize money, and you'll be able to win your way there exclusively on 888poker!
888poker Live London Kick Off (February 7-10, 2019)
888poker LIVE will return to Aspers Casino at Westfield Stratford City in February!
If December's event is any indication, it'll be another massive success. You might recall that field attracted 656 runners, and as mentioned above, British pro and cash game specialist James Williams took it down for £121,000 ($154,269).
Others who cashed the tournament were former November Niner Antoine Labat (3rd - $73,025), Fernando Pons (13th - $10,224), 888poker Ambassador Ana Marquez (22nd - $6,645), and reigning WSOP Main Event champ John Cynn (36th - $4,600).
Here's a look at all those who won titles at the festival as reported on PokerNews, who also provided live updates from the Main Event:

888poker LIVE Bucharest Festival 2019 (4th – 10th March 2019)
Still freshly charged from our 2019 Kickoff event in London, we're heading east to Bucharest for our first festival of the year.
Powered by PokerFest, the Bucharest Festival promises to be first-class. Starting from the 4th of March opening event with a €230 buy-in for a swell €50,000 guarantee, the festival will peak when players from around the world compete in the main event beginning 6th of March: an €888 buy-in for a guaranteed prize pool of €300,000!
In addition to the cash winnings, the Main Event champion will also walk away with a prize package to this year's WSOP Main Event in Las Vegas.
All of our outstanding 888poker ambassadors will be attending the festival: Dominik Nitsche, Vivian Saliba, Martin Jacobson, and Ana Marquez. So join us for a week of incredible poker and top-notch fun.
888poker LIVE Barcelona (May 22nd - June 3rd, 2019)
Barcelona, Spain has a rich poker history, especially in regard to tournaments held at Casino Barcelona, which is where we'll be headed at the beginning of summer, which should once again lead into the annual WSOP in Las Vegas.
In 2018, we guaranteed $1 million in prize pools, which was crushed over the course of 20 events. Both the €220 Opening Event and €2,200 High Roller featured €100K GTD prize pools. The former drew a record 829 entries (surpassed the 720 runners from 2017) and saw Luka Cencelj and Anton Malinovskii chop it up for €24,650 ($28,899) and €23,300 ($27,316) respectively.
Meanwhile, the High Roller saw Argentina's Maria Lampropulos top a 113-entry field to win €54,112 ($62,614). 888poker Ambassador finished in 10th place for €5,500 ($6,364), while Ana Marquez placed 12th for the same amount.
The 2018 888poker LIVE Barcelona €1,100 Main Event drew 709 entries, which easily surpassed its €500K GTD by creating a €709,000 ($822,974) prize pool. The tournament ended with Romania's Adrian Constantin on top for €114,025 ($132,354), though Spain's Joel Isla took home the same amount after a heads-up chop.
It was a great return on investment for Constantin, who had qualified for the Main Event for just €110 in a live satellite as Casino Barcelona!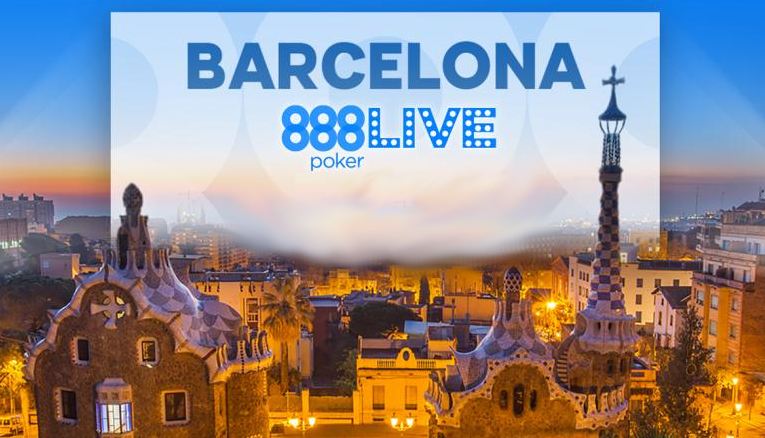 888poker LIVE Vienna (October 3-7, 2019)
For the first time since 2017, 888poker is headed back to Montesino Casino in Vienna is set to play host to the 888poker LIVE Vienna in October. Full details on the stop should become available soon, but we can confirm things will culminate with an €888 buy-in, €300K GTD Main Event, which is sure to be one of the venues biggest and best tournaments of the year.
Battle of Malta (October 15-21, 2019)
In 2018, 888poker joined forces with the Battle of Malta, a €550 buy-in Main Event boasting a €1,000,000 GTD prize pool – double from the year before! In 2017, the Battle of Malta drew 2,074 entries to become the largest poker tournament ever held in Malta.
That was crushed in 2018 as 3,816 entrants created a €1,850,760 ($2,108,696) prize pool. The tournament was ultimately ended in a deal with Frenchman Julien Stropoli coming out on top for €168,500 ($191,983). However, he didn't get the most money as runner-up Maxime Caneve secured €192,000 ($218,758) in the deal.
The Battle of Malta, which is 2015 won a European Poker Award for "Best Low Buy-in Tournament in Europe," is one of Europe's premier tournaments and a can't miss for any poker enthusiast, especially with a long list of affordable side events.
888poker LIVE Festival (November 2019)
Details will be coming in the near future but mark your calendars for November as 888poker LIVE will return to Aspers Casino at Westfield Stratford City for another great festival.
Remember, you can win your way to an 888poker LIVE events through our online Qualifiers for as little as 1¢. Play in our round-the-clock satellite tournaments and climb your way to the top for a minimal investment.