This May, we're heading to Barcelona, the chic, cosmopolitan capital of Catalonia, Spain, for our next 888poker LIVE stop!
The latest 888poker LIVE tournament series will run from 10 through 22 May at the prestigious Casino Barcelona, with a €1,100 buy-in multi-flight Main Event capping things off from 17 - 22 May.
The 888poker Team Ambassadors and Streamers will be in attendance as we celebrate our third live poker series of the year! Also, some prominent influencers will be joining the crew along with other well-known personalities.
Highlighting the event will be the €1,100 buy-in multi-flight Main Event, with Day 1A kicking off on 17 May.
There will be four Day 1s, with Day 1D Turbo taking place on 20 May.
The final day of the Main Event will happen on Monday, 22 May, and the entire Main Event will be live streamed from Barcelona.
In addition to the Main Event live streaming, we will also stream an exclusive Sit & Go with special guests.
During the 888pokerTV live streams, we'll have exclusive giveaways and host special freerolls on the 888poker client! Make sure to check our socials for info regarding the dates and times.
Bag Your Perfect Poker Main Event Trip!
The 888poker LIVE Barcelona Festival Main Event will run from 17 – 22 May, featuring a €1,100 buy-in.
Players can get in on the action for pennies via our 888poker online satellites and qualifiers.
But you'd best be quick as the last online satellites are running this Sunday, 7 May!
Bear in mind that there will also be live satellites to the Main Event at the location.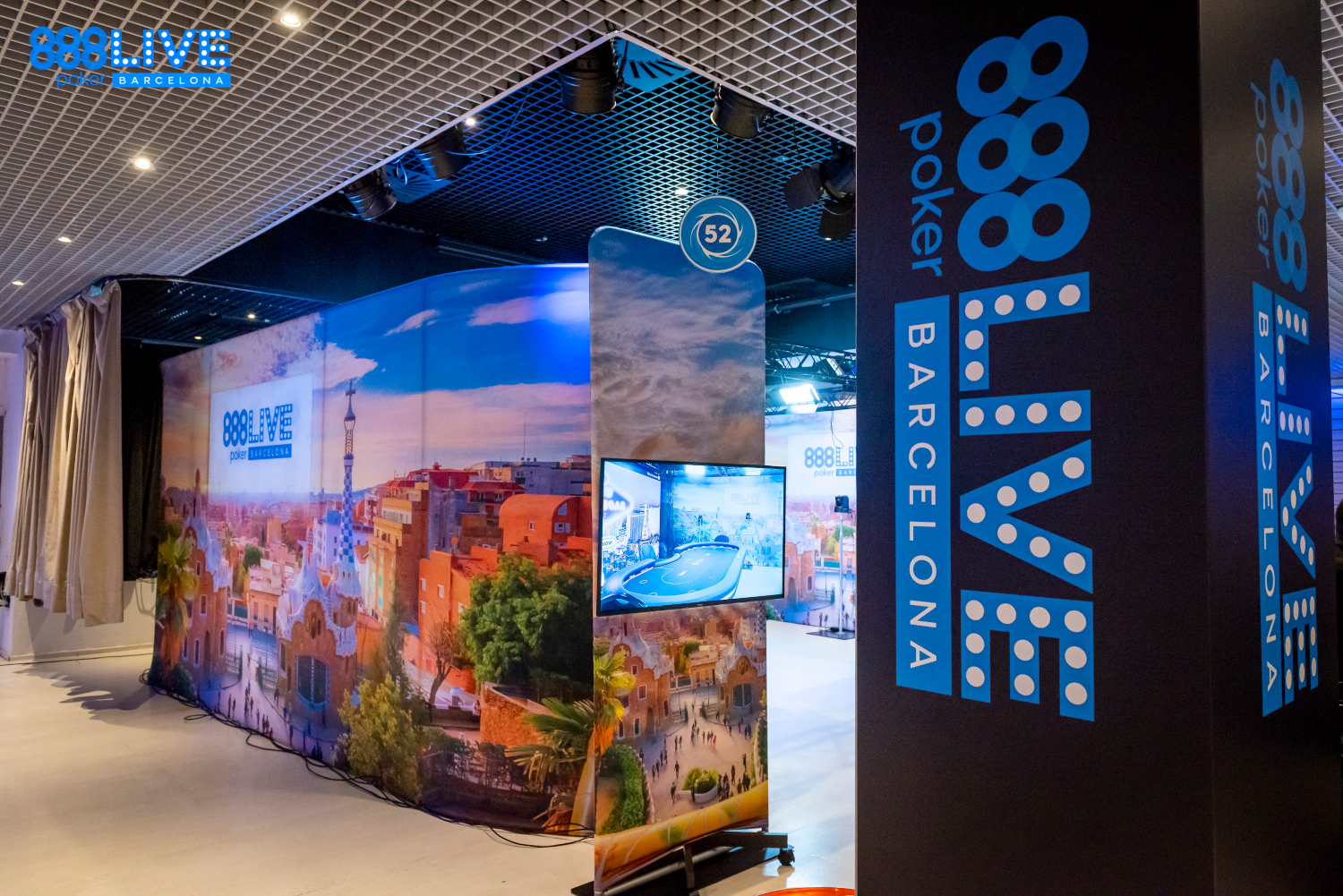 Play your way to the top!
Enter a series of satellites with buy-ins starting at just 1₵.
OR
Get straight to business!
Register directly to the $109 Qualifier to win a $2,300 package to 888poker LIVE Barcelona 2022
Qualifier Event:
What: 888poker LIVE Barcelona Main Event Qualifier
Where: "Tournaments" tab > "Live Events" tab
Buy-in: $109
Prize: $2,300 888poker LIVE Barcelona 2022 Package:
€1,100 ($1,200) buy-in to the 888poker LIVE Barcelona Main Event
$600 for hotel accommodation (during the ME period)17 – 22 May
$500 travel money paid into your 888poker account.
888poker LIVE Barcelona – More than Just a Main Event!
No doubt, 888poker LIVE Barcelona's Main Event is the Main Attraction, but the side events are nothing to sneeze at, either!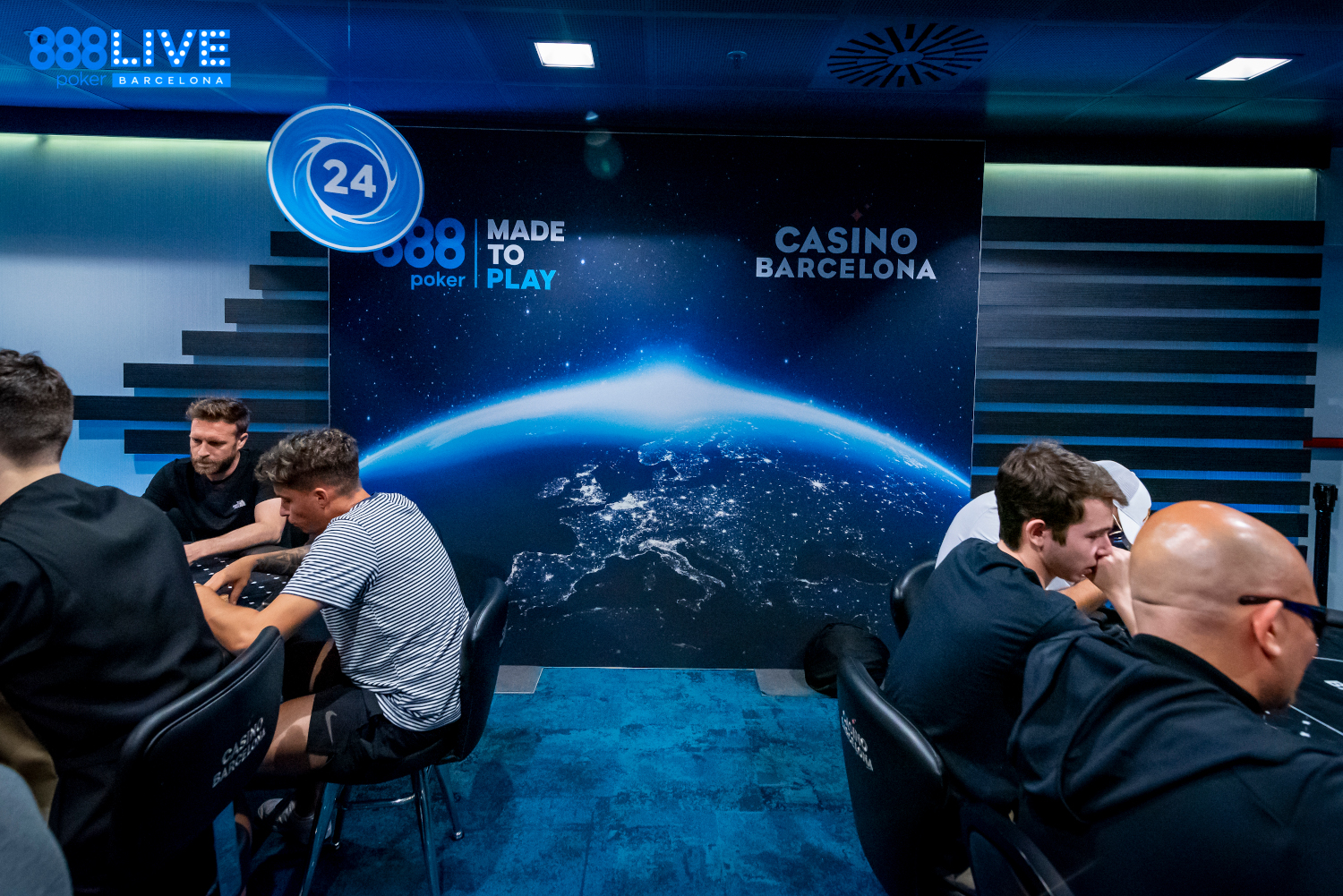 The multi-flight Opening Event runs from 11 May to 14 May and has an affordable €200 buy-in. You can also play the €50 live satellites to bag a seat on the cheap to any of the five Day 1s.
And, if you're feeling frisky, the €5,000 buy-in Super High Roller promises to attract some notables. With €500 buy-in live satellites, this could be your one chance to make a name for yourself playing the pros.
We haven't forgotten you bounty event lovers, with the €165 buy-in Mega Knockout (10/5 @ 17:00) and €330 buy-in Mystery Bounty (Day 1 - 16/5 @ 18:00) tournaments to scratch that itch!
Check out the full 888poker LIVE Barcelona schedule below -
Date

Hour

Event

Buy-In

Service Fee

10-5

17:00

The Mega Knockout

[50€ Bounty]

100 + 50€

15€

10-5

20:00

Turbo Satellite to Opening Event 1A

45€

5€

11-5

16:00

Turbo Satellite to Opening Event 1A or 1B

45€

5€

11-5

18:00

888poker LIVE Barcelona Festival –

Opening Event Day 1A

200€

20€

11-5

20:00

Turbo Satellite to Opening Event 1B

45€

5€

12-5

17:00

888poker LIVE Barcelona Festival –

Opening Event Day 1B

200€

20€

12-5

19:00

The Mayhem

80€

8€

12-5

21:00

STEP 2 Main Event

200€

20€

13-5

14:00

Turbo Satellite to Opening Event

45€

5€

13-5

15:00

888poker LIVE Barcelona Festival –

Opening Event Day 1C

200€

20€

13-5

18:00

The Rumble

100€

15€

13-5

22:00

888poker LIVE Barcelona Festival –

Opening Event Day 1D Turbo

200€

20€

14-5

11:00

888poker LIVE Barcelona Festival –

Opening Event Day 1E Turbo

200€

20€

14-5

15:00

888poker LIVE Barcelona Festival –

Opening Event FINAL

200€

20€

14-5

17:00

The Triple Threat

100€

15€

14-5

20:00

The Mini Shot Turbo

45€

5€

15-5

16:30

Satellite Super High Roller

460€

40€

15-5

17:00

The Mid Shot

150€

15€

15-5

20:00

Super High Roller Day 1

5,000€

300€

16-5

21:00

STEP 2 Main Event

200€

20€

16-5

16:30

Satellite High Roller

370€

30€

16-5

17:00

Super High Roller Day 2

5,000€

300€

16-5

18:00

Mystery Bounty Day 1 [150€ Bounty]

150 + 150€

30€

16-5

20:00

High Roller Day 1

2,000€

200€

17-5

21:00

Super Satellite to Main Event Day 1A

100€

10€

17-5

16:00

Super High Roller Final Day

17-5

16:00

Super Satellite to Main Event Day 1A or 1B

100€

10€

17-5

17:00

Mystery Bounty Final Day [150€ Bounty]

17-5

17:00

High Roller Day 2

2,000€

200€

17-5

18:00

888poker LIVE Barcelona Festival

ME Day 1A

1,000€

100€

17-5

19:00

The Turbo Deepstack

70€

7€

17-5

21:00

Super Satellite to Main Event Day 1B

100€

10€

18-5

16:00

Super Satellite to Main Event Day 1B

100€

10€

18-5

16:00

High Roller Final Day

17-5

17:00

888poker Made to Play

60€

6€

18-5

18:00

888poker LIVE Barcelona Festival

ME Day 1B

1,000€

100€

18-5

21:00

Super Satellite to Main Event

100€

10€

19-5

16:00

Super Satellite to Main Event

100€

10€

19-5

18:00

888poker LIVE Barcelona Festival

ME Day 1C

1,000€

100€

19-5

20:00

Omaha Pot Limit

100€

15€

19-5

21:00

Turbo Super Satellite to Main Event

100€

10€

20-5

11:00

888poker LIVE Barcelona Festival

ME Day 1D Turbo

1,000€

100€

20-5

16:00

888poker LIVE Barcelona Festival

ME Day 2

1,000€

100€

20-5

19:00

Highlander Mystery Bounty

100€

15€

21-5

16:00

888poker LIVE Barcelona Festival

ME Day 3

21-5

16:00

The Big Shot

300€

33€

21-5

18:00

The Ladies Event

50€

5€

22-5

16:00

888poker LIVE Barcelona Festival

ME Final DAY

22-5

17:00

Closer

150€

15€