The WPT DeepStacks, which kicked off on 888poker back on Sunday, November 28, wrapped up its 28-event schedule on Tuesday, December 21. The high-stakes online poker series catered to a combined 15,660 entrants and awarded $3,415,810 in prize money.
Winners hailed from such countries as Finland, Romania, Germany, Russia, Malta, Belarus, Ireland, Ukraine, Brazil, Canada, Moldova, Andorra and the United Kingdom.
The UK was the best-performing countries, having claimed five titles ?!
Here's a breakdown of number of titles by country:
United Kingdom = 5
Belarus = 4
Germany = 3
Russia = 3
Romania = 2
Brazil = 2
Ukraine = 2
Malta = 1
Ireland = 1
Vietnam = 1
Canada = 1
Finland = 1
Moldova = 1
Andorra = 1
Panxetillo Wins WPTDS Main Event for $184,320
The focal point of the series was the WPTDS $1,050 buy-in $1,000,000 GTD Main Event, which hosted Day 1 flights from December 5-20.
The survivors of each returned for Day 2 at 19:00 GMT on Monday, December 20. All told, 1,024 entrants surpassed the $1 million guarantee by creating a $1,024,000 prize pool.
Day 2 had 175 players return to action, though only 117 of them would get paid. After "Theelwild" bubbled in 118th place, players were in the money.
Some of those to earn a payday were the following players –
"IHaveNoBoss" (96th - $2,252.80)
Robin "Inho" Ylitalo (91st - $2,252.80)
888poker Ambassador Vivian "Vivi.888." Saliba (69th - $2,764.80)
"oldfandango" (54th - $3,276.80)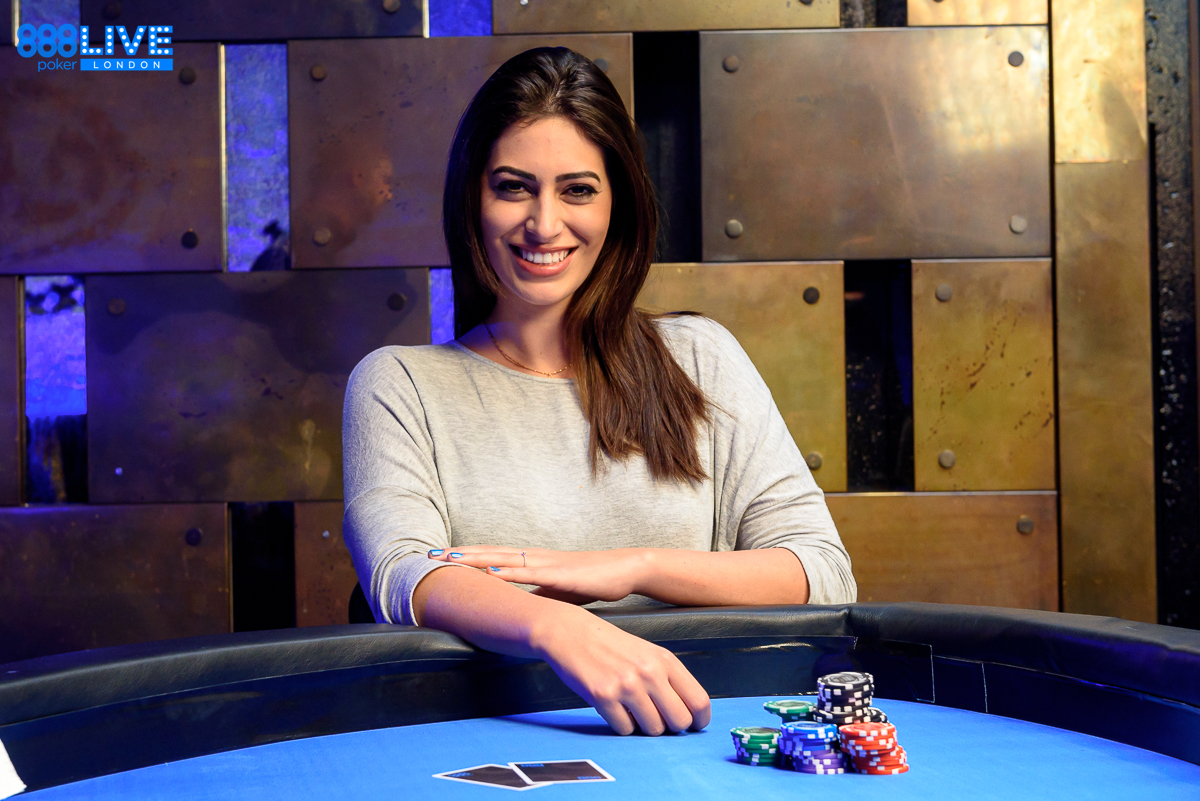 According to updates from the event, provided by PokerNews, the start-of-the-day chip leader, Malta's "FedorFolds", bowed out in 53rd place in Level 27 (5,000/10,000/1,250).
It happened when "selouan1991" raised to 16,000 from middle position and Ilya "pokanuktus" Pavlov called from the button.
"FedorFolds" defended from the big blind and the flop fell 10♥9♠2♥.
Two checks saw Pavlov bet 16,000 and "FedorFolds" check-raised to 56,000. That inspired "selouan1991" to check-jam for 320,904, and Pavlov folded.
"FedorFolds" call off for 243,478 with the 2♦2♠ for a set of deuces, ahead of his opponent's 10♣9♣ two pair.
The A♣ turn changed nothing, but the 9♦ did. Both players filled up with the nines-full-of-tens of "selouan1991" being the better full house.
Others to fall before the final table were "Kannwas" (43rd - $3,686.40), "kory1977" (29th - $4,198.40), "Lucky_Frutti" (20th - $4,710.40), and "CPUOr" (11th - $10,752).
WPTDS Main Event Day 2 - Final Table
Day 2 came to an end when "ingeruRO14", the winner of Event #24: $20,000 Mini PKO 6-Max, bubbled the final table in 10th place.
It was the result of his A♥4♠ failing to hold against the 10♥8♥ of Jerry "Perrymejsen" Odeen all in preflop after the board ran out 9♣8♣2♥8♠6♣.
On Tuesday, the remaining nine players returned to play out the final table. The live stream commentators were David Tuchman and Nick Wealthall, featuring special guests Vince Van Patten and Matt Savage of the World Poker Tour (WPT).
The final table contained a quartet of Brazilian players, who all made the final five along with Andorra's Gerard "Panxetillo" Carbo.
Jesse "jessecesar" Cesar Fonseca dispatched two of his fellow countrymen before Carbo dusted Rodrigo "Seijistar" Seiji in third place.
Carbo began heads-up play with a nearly 2:1 chip lead, and it took just one hand for him to get it in against Cesar Fonseca.
It happened in Level 39 (70,000/140,000/17,500) when Carbo min-raised holding the A♣J♠ and Cesar Fonseca defending with the 5♥4♦.
Cesar Fonseca checked the 4♠A♦3♠ flop and called when Carbo bet 200,000.
The former then check-called a bet of 700,000 from the latter on the 10♣ turn.
The A♥ paired the board on the river.
Cesar Fonseca check-called off his short stacked and wound up finishing in second place for $133,120.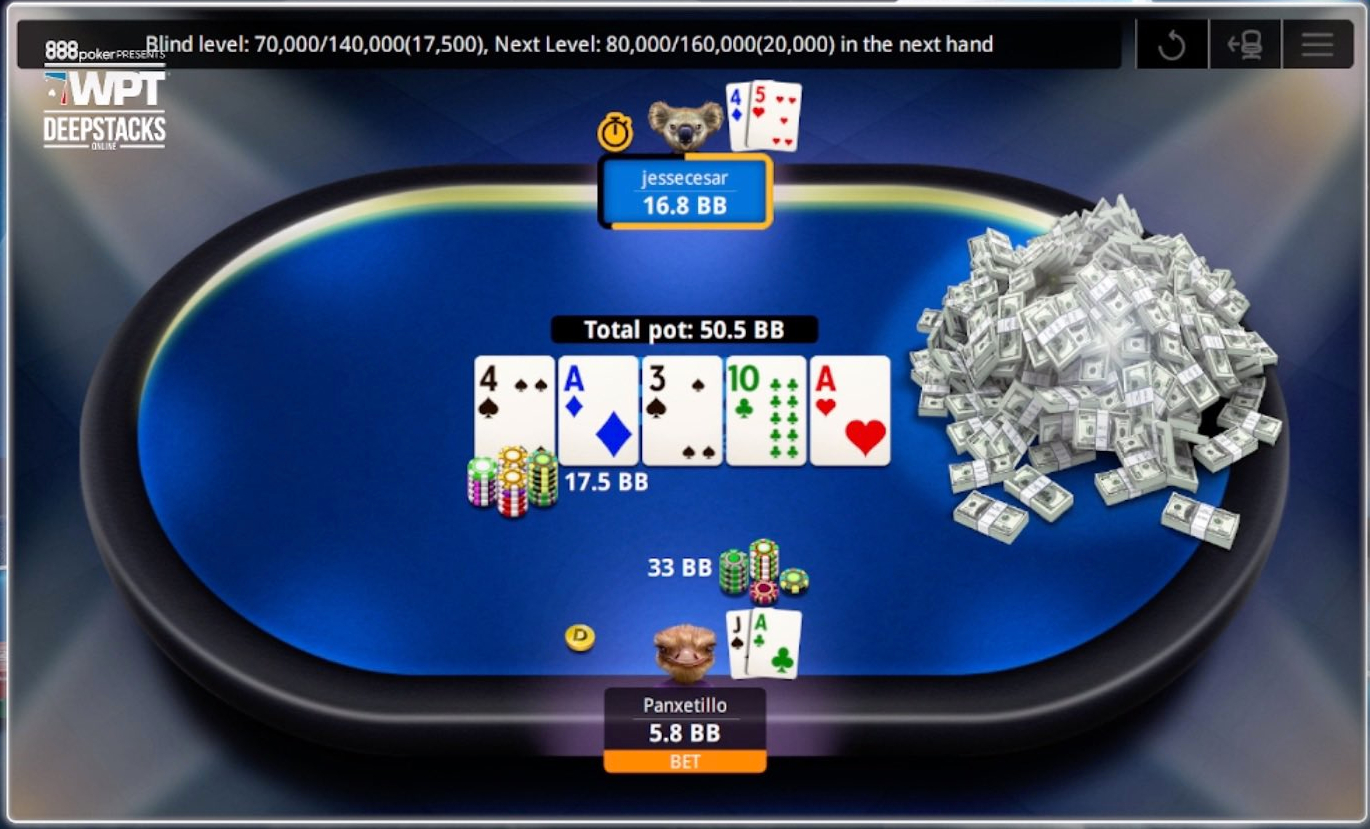 WPT DeepStacks Main Event Final Table Results
1st – Gerard "Panxetillo" Carbo (Andorra) … $184,320
2nd – Jesse "jessecesar" Cesar Fonseca (Brazil) … $133,120
3rd – Rodrigo "seijistar1" Seiji (Brazil) … $99,328
4th – Rodrigo "selouan1991" Selouan (Brazil) … $74,240
5th – Dalton "daltonhb" Hobold (Brazil) … $51,609.60
6th – "BetBetFck" (Ukraine) … $41,369.60
7th – Jerry "Perrymejsen" Odeen (Sweden) … $31,129.60
8th – "brudii030" (N/A) … $20,992
9th – "ShinyMew2" (Malta) … $12,800
Brazil's daltonhb Wins Event #21: PKO 8-Max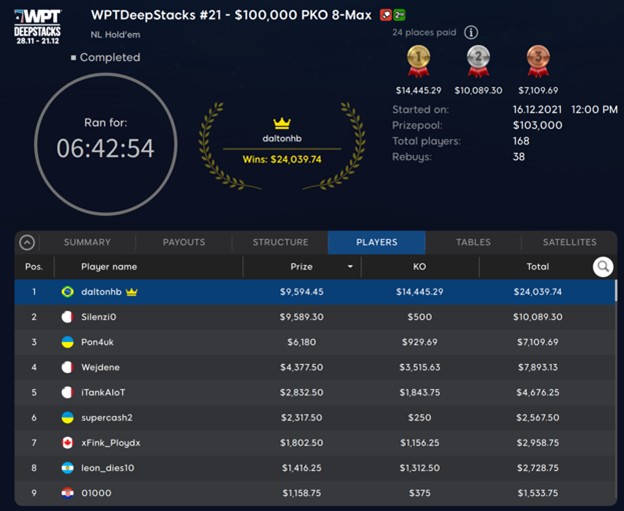 On Thursday, December 16, the $525 buy-in, $100K GTD WPTDeepStacks Event #21: PKO 8-Max attracted 168 players. They rebought 38 times, which surpassed the guarantee by creating a $103,000 prize pool.
The bounty and regular prize pools comprised this amount with the top two dozen finishers getting a piece of the latter.
Among those to earn a payday were the following players –
Event #9: $200,000 PKO champ "GritinhO_Dzi" (23rd for $643.75 + $843.75 in bounties)
"pactamah23" (19th for $643.75 + $312.50 in bounties)
"Farrugia_1" (17th for $643.75 + $843.75 in bounties)
"koray1977" (12th for $1,158.75 + $187.50 in bounties)
"iTankAloT" (5th for $2,832.50 + $1,843.75 in bounties)
"Pon4uk" (3rd for $6,180 + $929.69 in bounties)
The final two players – Brazil's "daltonhb" and Malta's "SilzenziO" – each locked up $9,594.45 in prize money. But each had their eyes firmly fixed on winning and collecting an even bigger $14,445.29 PKO bounty.
After 6 hours and 42 minutes of play, the Brazilian prevailed to win the title and earn a total payday of $24,039.74.
Watch below how "GritinhO_Dzi" (23rd) took down Event #9: $200,000 GTD PKO! ?
WPT DeepStacks Event #21 Final Table Results
1st – "daltonhb" (Brazil) … $24,039.74
2nd – "SilenziO" (Malta) … $10,089.30
3rd – "Pon4uk" (Ukraine) … $7,109.69
4th – "Wejdene" (Malta) … $7,893.13
5th – "iTankAloT" (Malta) … $4,676.25
6th – "supercash2" (Ukraine) … $2,567.50
7th – "xFink_Ploydx" (Canada) … $2,958.75
8th – "leon_dies10" (Argentina) … $2,728.75
9th – "01000" (Croatia) … $1,533.75
In other Thursday action, "cupidon85" out of Belarus topped a 392-entry field (325 unique + 67 rebuys) in the $160 buy-in Event #22: $50,000 Mini PKO 8-Max.
He won $4,924.50 plus a $5,494.23 PKO bounty for a total payday of $10,418.73.
Canada's DosPoochies Wins Super High Roller for $80K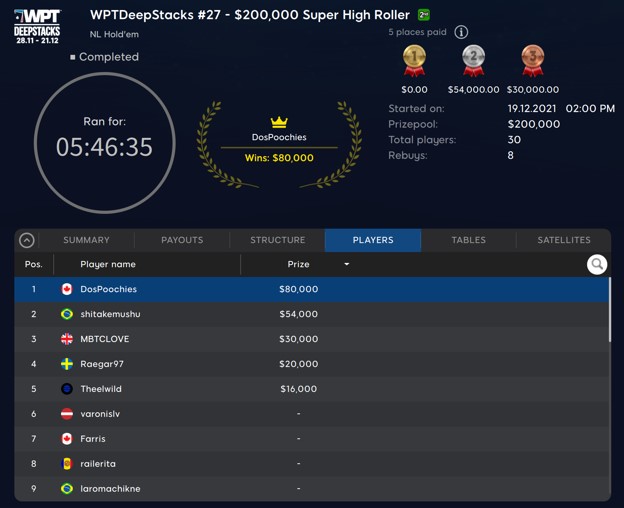 On Sunday, December 19, the biggest buy-in of the series took place in the $5,200 buy-in Event #27: $200,000 Super High Roller. It saw 30 players rebuy eight times.
Among those to compete but fall short of making the money were Niklas "tutten7" Åstedt, "kiskutya23", and bubble boy "varonislv", just to name a few.
The top five got a piece of the $200,000 prize pool, and the tournament reached its conclusion after 5 hours and 46 minutes of play.
That is when Canada's "DosPoochies", a regular on 888poker, bested Brazil's "shitakemushu" in heads-up play to claim the title and $80,000 first-place prize.
WPT DeepStacks Event #27 Super High Roller Final Table Results
1st – "DosPoochies" (Canada) … $80,000
2nd – "shitakemushu" (Brazil) … $54,000
3rd – "MBTCLOVE" (United Kingdom) … $30,000
4th – "Raegar97" (Sweden) … $20,000
5th – "Theelwild" (N/A) … $16,000
WPT DeepStacks Winners
Date

Tournament

Buy-in

Entries

Prize Pool

Winner

Country

Prize

11/28/21

Event #1: $200,000

Opening Event

$525

359

$200,000

Korpisoturi2

Finland

$40,540

11/28/21

Event #2: $50,000

Mini Opening Event

$55

986

$50,000

Blahaj

Romania

$7,740

11/30/21

Event #3: $75,000

PKO

$215

319

$75,000

pactamah23

Germany

$13,161.57

11/30/21

Event #4: $30,000

Mini PKO

$55

683

$34,150

SuperQ22

Russia

$4,571.04

12/2/21

Event #5: $75,000

Marathon

$440

165

$75,000

tsikimellon

Malta

$16,076.61

12/2/21

Event #6: $40,000

Half Marathon

$109

407

$40,700

stonen555

Russia

$7,851.03

12/4/21

Event #7: $75,000

6-Max

$320

232

$75,000

hacki1414

Germany

$17,250

12/4/21

Event #8: $20,000

Mini 6-Max

$33

742

$22,260

INCRDBLUCKER

Belarus

$3,599.73

12/5/21

Event #9: $200,000

PKO

$525

320

$200,000

GritinhO_Dzi

Brazil

$40,500.49

12/5/21

Event #10: $50,000

Mini PKO

$55

1,040

$52,000

NeverBeenGay

Ireland

$7,029.02

12/7/21

Event #11: $100,000

High Roller

$2,100

55

$110,000

SpielerKind

Ukraine

$25,300

12/7/21

Event #12: $50,000

Mini High Roller

$215

286

$57,200

hacki1414

Germany

$12,143.56

12/9/21

Event #13: $80,000

PKO 8-Max

$440

223

$93,660

Dr.Larik

Belarus

$20,433.62

12/9/21

Event #14: $30,000

Mini PKO 8-Max

$88

530

$42,400

StokieLoki

United Kingdom

$6,165.16

12/11/21

Event #15: $80,000

PKO

$215

340

$80,000

Ilovetyumen

Russia

$16,283.14

12/11/21

Event #16: $30,000

Mini PKO

$55

796

$39,800

Fisheris

United Kingdom

$5,652.01

12/12/21

Event #17: $200,000

Crazy 8

$888

250

$200,000

eggyTOSSER

United Kingdom

$43,500

12/12/21

Event #18: $50,000

Mini Crazy 8

$55

945

$50,000

R2Rka

Ukraine

$9,350

12/14/21

Event #19: $100,000

9-Max

$320

286

$100,000

alainliam

Vietnam

$21,230

12/14/21

Event #20: $30,000

Mini 9-Max

$55

609

$30,450

UNDERHER

Belarus

$5,569.46

12/16/21

Event #21: $100,000

PKO 8-Max

$525

206

$103,000

daltonhb

Brazil

$24,039.74

12/16/21

Event #22: $50,000

Mini PKO 8-Max

$160

392

$58,800

cupidon85

Belarus

$10,418.73

12/18/21

Event #23: $100,000

PKO 6-Max

$440

206

$100,000

AlwaysTimed

N/A

$24,905.08

12/18/21

Event #24: $20,000

Mini PKO 6-Max

$33

913

$27,390

ingeruRO14

Romania

$4,577.81

12/19/21

Event #25: $200,000

Big Shot 109 ME

$109

1,846

$200,000

brido50

United Kingdom

$27,620

12/19/21

Event #26: $75,000

Mini Main Event

$55

1,402

$75,000

BlueMind

United Kingdom

$10,957.50

12/19/21

Event #27: $200,000

Super High Roller

$5,200

38

$200,000

DosPoochies

Canada

$80,000

12/21/21

Event #28: $1,000,000

Main Event

$1,050

1,024

$1,024,000

Panxetillo

Andorra

$184,320