At 888poker, we're boosting the BLAST Leaderboards daily prize pool to $10,000 from 17th to 24th of September– double its normal size!
The leaderboards allow players to pit their wits against each other in a race to the top.
And now the stakes are even greater, with daily prizes totalling $10K!
BLAST games three-handed Sit & Go's with a twist. The prize pools are randomly generated, with the total payouts based on the buy-in and a prize multiplier.
Now with the Blast Leaderboards, 888poker players can win extra prizes by playing these games and climbing the ranks on the board.
Win, and you could be in the race to receive a piece of the $10,000 in daily prizes.
Check the full terms and conditions here.
How to Join a BLAST Leaderboard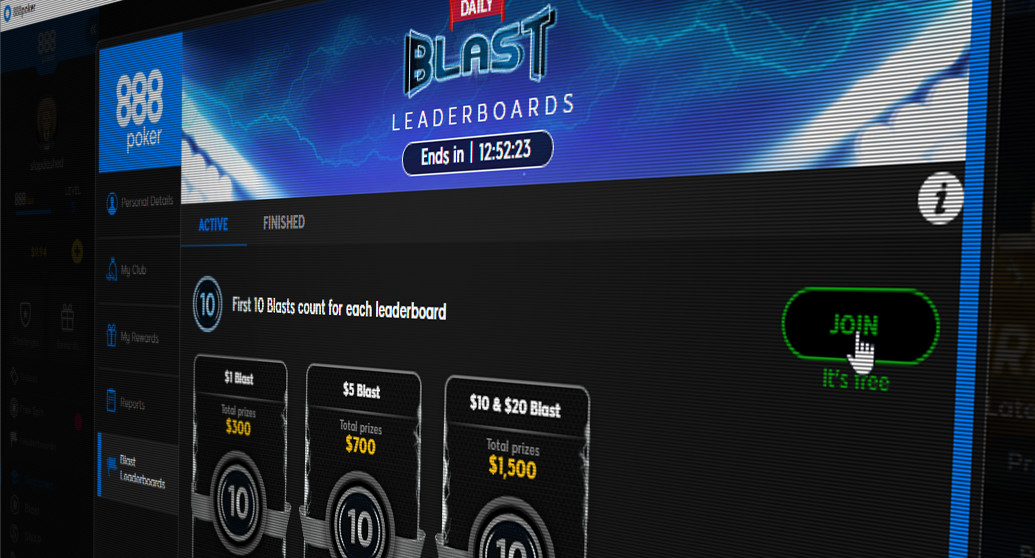 Simply choose between a 10-game or 30-game leaderboard or both!
Remember, only the first ten or thirty BLAST games of the day will count towards your leaderboard ranking.
Click on 'LEADERBOARDS' in the BLAST lobby in the 888poker client.
NEXT, click the JOIN button on the leaderboard of your choice (10 games/ 30 games).
PLAY to start a BLAST game in the desired leaderboard.
WIN ranking points after each game – 2 points for 1st place, 1 point for 2nd or 3rd place.
Points are multiplied by the BLAST Multiplier to determine your rank on the leaderboard.
CHECK your position on the LIVE LEADERBOARDS.
Top-ranked players win a portion of the $10,000 prize pool.
We'll see you at the BLAST Leaderboard races!