Spring is in the air as our 888poker XL Spring Series 2022 kicks off on 22 May and will run through 7 June.
The series is jampacked with affordable buy-in tournaments across 37 events culminating with a $500,000 GTD Main Event!
The buy-ins start as low as $11, with the majority ranging between $16.50 and $55.
With an overall $1,500,000 in guarantees, what's not to like about this made to play online poker series at 888poker!
The highlight of the XL Spring Tournament Series will be the $250 buy-in $500,000 GTD Main Event. Read on to find out how you can get your ticket for FREE!
The Early Birds Catch XL Spring Freeroll Tickets!
Starting 15 May, players can participate in freerolls and satellites to most series tourneys.
Get in on the action with our no-ticket XL Spring Series Freeroll, offering loads of seats to the $500,000 XL Spring Main Event! The Daily Freerolls will award cash and tickets to the Main Event.
Looking for another way to bag a seat on the cheap? Qualify via 888poker's daily satellites starting from as little as 1 cent!
This series promises to deliver on the following three exciting offers:
Affordable buy-ins
More than $1,500,000 in guaranteed prizes
$500,000 Main Event
Make sure to check the terms and conditions for eligibility on the above offers.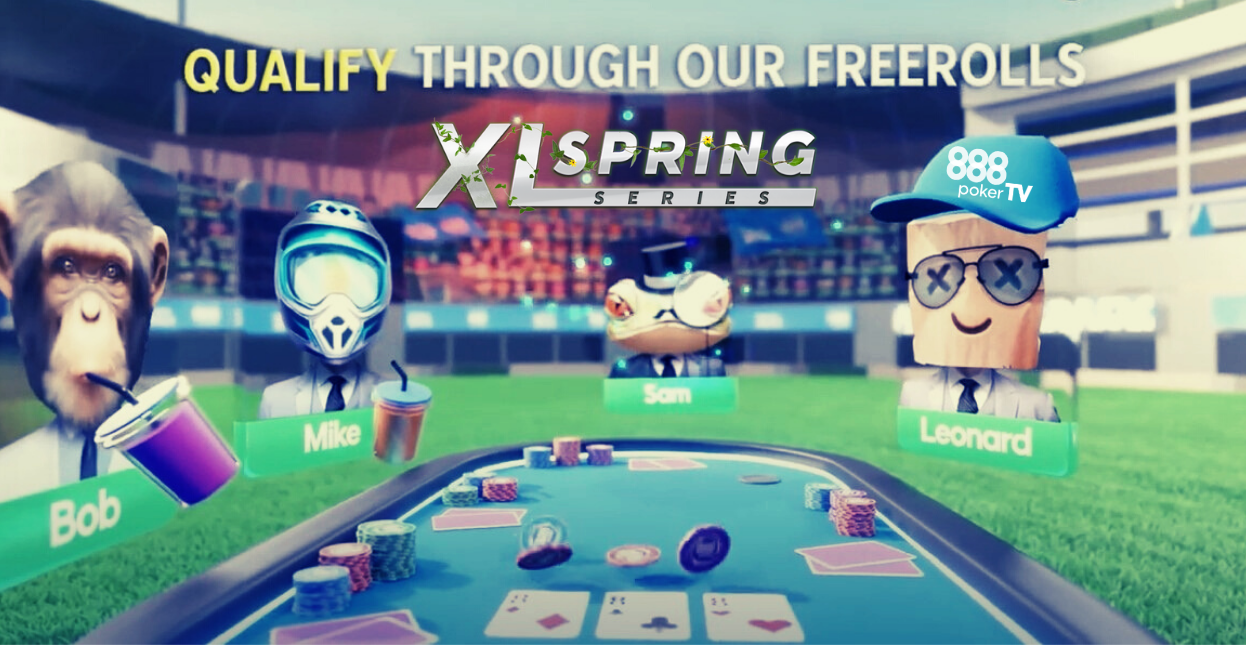 XL Spring 888pokerTV Action
Highlighting the series is the $500,000 GTD Main Event, which will be live-streamed on our Twitch 888pokerTV channel, where viewers can watch the action as it happens:
Live Stream Dates:
Mon 30/5 XL Spring 17 - $120,000 Tune Up Final Table
Tue 7/6 XL Spring 37 - $500,000 Main Event Final Table
XL Spring Series Schedule 2022
Check out the full XL Spring schedule below.
Which ones will you be playing this spring?
| | | | | |
| --- | --- | --- | --- | --- |
| Date | Time [GMT] | Event Name | Buy-in | GTD |
| Sun 22.5 | 16:00 | XL Spring - $15,000 PKO Triple Threat 11 | $11 | $15,000 |
| | 17:00 | XL Spring - $40,000 PKO Triple Threat 55 | $55 | $40,000 |
| | 18:00 | XL Spring #01 - $120,000 Opening Event | $109 | $120,000 |
| | 20:00 | XL Spring - $20,000 PKO Triple Threat 33 | $33 | $20,000 |
| Mon 23.5 | 18:00 | XL Spring #02 - $25,000 PKO 6-Max | $88 | $25,000 |
| | 19:00 | XL Spring #03 - $15,000 Mini PKO 6-Max | $44 | $15,000 |
| | 20:00 | XL Spring #04 - $10,000 Late PKO 6-Max | $22 | $10,000 |
| Tue 24.5 | 18:00 | XL Spring #05 - $25,000 Freezout | $215 | $25,000 |
| | 19:00 | XL Spring #06 - $10,000 Mini Freezout | $55 | $10,000 |
| | 20:00 | XL Spring #07 - $10,000 Late Freezout | $109 | $10,000 |
| Wed 25.5 | 18:00 | XL Spring #08 - $30,000 PKO | $109 | $30,000 |
| | 19:00 | XL Spring #09 - $12,000 Mini PKO | $16.50 | $12,000 |
| | 20:00 | XL Spring #10 - $10,000 Late PKO | $33 | $10,000 |
| Thu 26.5 | 18:00 | XL Spring #11 - $30,000 PKO 8-Max | $160 | $30,000 |
| | 19:00 | XL Spring #12 - $20,000 Mini PKO 8-Max | $55 | $20,000 |
| | 20:00 | XL Spring #13 - $15,000 Late PKO 8-Max | $22 | $15,000 |
| Fri 27.5 | 18:00 | XL Spring #14 - $25,000 DeepStack | $55 | $25,000 |
| | 19:00 | XL Spring #15 - $12,000 Mini DeepStack | $16.50 | $12,000 |
| | 20:00 | XL Spring #16 - $10,000 Late DeepStack | $33 | $10,000 |
| Sat 28.5 | | No Events - Champions Football Final | | |
| Sun 29.5 | 16:00 | XL Spring - $15,000 PKO Triple Threat 11 | $11 | $15,000 |
| | 17:00 | XL Spring - $40,000 PKO Triple Threat 55 | $55 | $40,000 |
| | 18:00 | XL Spring #17 - $120,000 Tune Up | $109 | $120,000 |
| | 20:00 | XL Spring - $20,000 PKO Triple Threat 33 | $33 | $20,000 |
| Mon 30.5 | 18:00 | XL Spring #18 - $25,000 8-Max | $88 | $25,000 |
| | 19:00 | XL Spring #19 - $15,000 Mini 8-Max | $44 | $15,000 |
| | 20:00 | XL Spring #20 - $10,000 Late 8-Max | $22 | $10,000 |
| Tue 31.5 | 18:00 | XL Spring #21 - $50,000 PKO | $320 | $50,000 |
| | 19:00 | XL Spring #22 - $20,000 Mini PKO | $55 | $20,000 |
| | 20:00 | XL Spring #23 - $20,000 Late PKO | $109 | $20,000 |
| Wed 1.6 | 18:00 | XL Spring #24 - $30,000 PKO 8-Max | $109 | $30,000 |
| | 19:00 | XL Spring #25 - $12,000 Mini PKO 8-Max | $16.50 | $12,000 |
| | 20:00 | XL Spring #26 - $10,000 Late PKO 8-Max | $33 | $10,000 |
| Thu 2.6 | 18:00 | XL Spring #27 - $25,000 PKO 6-Max | $215 | $25,000 |
| | 19:00 | XL Spring #37 - $500,000 Main Event (Day 1) | $250 | |
| | 19:00 | XL Spring #28 - $20,000 Mini PKO 6-Max | $55 | $20,000 |
| | 20:00 | XL Spring #29 - $10,000 Late PKO 6-Max | $22 | $10,000 |
| | 21:00 | XL Spring #37 - $500,000 Main Event (Day 1) | $250 | |
| Fri 3.6 | 17:00 | XL Spring #30 - $25,000 DeepStack | $55 | $25,000 |
| | 19:00 | XL Spring #37 - $500,000 Main Event (Day 1) | $250 | |
| | 19:00 | XL Spring #31 - $12,000 Mini DeepStack | $16.50 | $12,000 |
| | 20:00 | XL Spring #32 - $10,000 Late DeepStack | $33 | $10,000 |
| | 21:00 | XL Spring #37 - $500,000 Main Event (Day 1) | $250 | |
| Sat 4.6 | 18:00 | XL Spring #33 - $30,000 Knockout | $109 | $30,000 |
| | 19:00 | XL Spring #37 - $500,000 Main Event (Day 1) | $250 | |
| | 19:00 | XL Spring #34 - $12,000 Mini Knockout | $16.50 | $12,000 |
| | 20:00 | XL Spring #35 - $15,000 Late Knockout | $55 | $15,000 |
| | 21:00 | XL Spring #37 - $500,000 Main Event (Day 1) | $250 | |
| Sun 5.6 | 16:00 | XL Spring - $15,000 PKO Triple Threat 11 | $11 | $15,000 |
| | 17:00 | XL Spring #37 - $500,000 Main Event (Day 1) | $250 | |
| | 17:00 | XL Spring - $40,000 PKO Triple Threat 55 | $55 | $40,000 |
| | 20:00 | XL Spring - $20,000 PKO Triple Threat 33 | $33 | $20,000 |
| | 20:00 | XL Spring #37 - $500,000 Main Event (Day 1) | $250 | |
| | 20:00 | XL Spring #36 - $50,000 High Roller | $525 | $50,000 |
| | 23:00 | XL Spring #37 - $500,000 Main Event (Day 1) | $250 | |
| Mon 6.6 | 16:00 | XL Spring #37 - $500,000 Main Event (Day 1) | $250 | |
| | 20:00 | XL Spring #37 - $500,000 Main Event (Day 2) | | $500,000 |
| Tue 7.6 | 19:00 | XL Spring #37 - $500,000 Main Event(FT) | | |