Our 888poker Blast Jackpot games are getting a fresh new look with exciting updates! We've listened to you, the player, and know that you're going to love the changes.
Based on your feedback, we have removed the TIMER and ALL-IN features from the popular Sit & Go game.
So now, there is no automatic 'all-in'. Instead, the game will play out like a regular SNG until only one player is left standing as the victor.
Check out more info on the new BLAST here
More Reason to Get in on BLAST Action
With more control over the outcome of your game, your chance to win massive BLAST jackpots is even more in your hands.
Here's a quick refresher course on BLAST rules:
Remember, BLAST Sit & Go is an exciting Sit & Go game where players compete for a randomly drawn prize pool – up to 10,000 times your buy-in!
The higher the prize pool multiplier – the more chips you get, and the longer the blind levels.
The blind structure and prize pool distribution are set according to the BLAST SNG multiplier.
As soon as 3 players have registered in a game, a draw takes place to determine the prize pool.
How to Register for a BLAST Jackpot SNG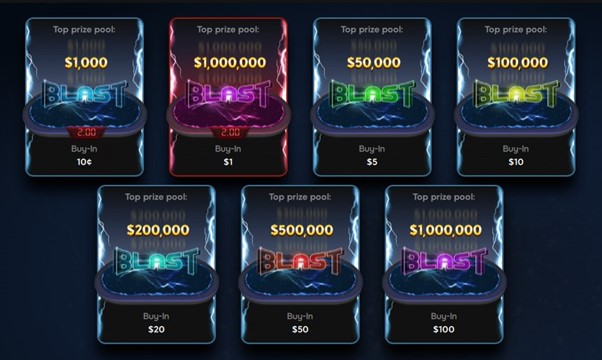 Here's how to quickly and easily join a BLAST SNG game:
Check the poker lobby for BLAST
Join a game where a random draw selects the prize pool.
Once 3 players register, the game starts.
Play your SNG as usual – no automatic all-in and no timer - with a possible prize pool of up to 10,000 x your buy-in!
Players get a starting stack based on the prize pool. The bigger the prize pool, the more chips you get
The blind levels in BLAST Jackpot games are determined according to the prize pool. The bigger the prize pool, the longer the blind levels.
Get in there and bag your piece of our exciting, revamped BLAST SNGs!