We're saying a big thank you to our players at 888poker with a year-end massive Happy Holidays sale on select tournaments!
As we close out two decades as one of the top online poker sites, we're running an entire series of exclusive events with buy-ins slashed by up to 50% off.
And we're not skimping on the guarantees with over $250,000 up for grabs.
Big Guarantees and Big Mystery Bounty Action
The Happy Holidays sale will run from 19-26 December on selected tournaments, including our new Mystery Bounty events that are all the rage.
The $100,000 GTD Mystery Bounty Main Event promises to be the biggest draw of the series with a discounted $55 buy-in (originally $109).
Kicking off on Christmas Day, 25 December, at 19:00 GMT, the Main Event final table will be live-streamed on the 888pokerTV Twitch channel at 20:00 GMT on 26 December.
So, after you've made room for that leftover Christmas dinner, make time to tune into a Boxing Day poker live stream feast!
See the full terms and conditions of this offer here.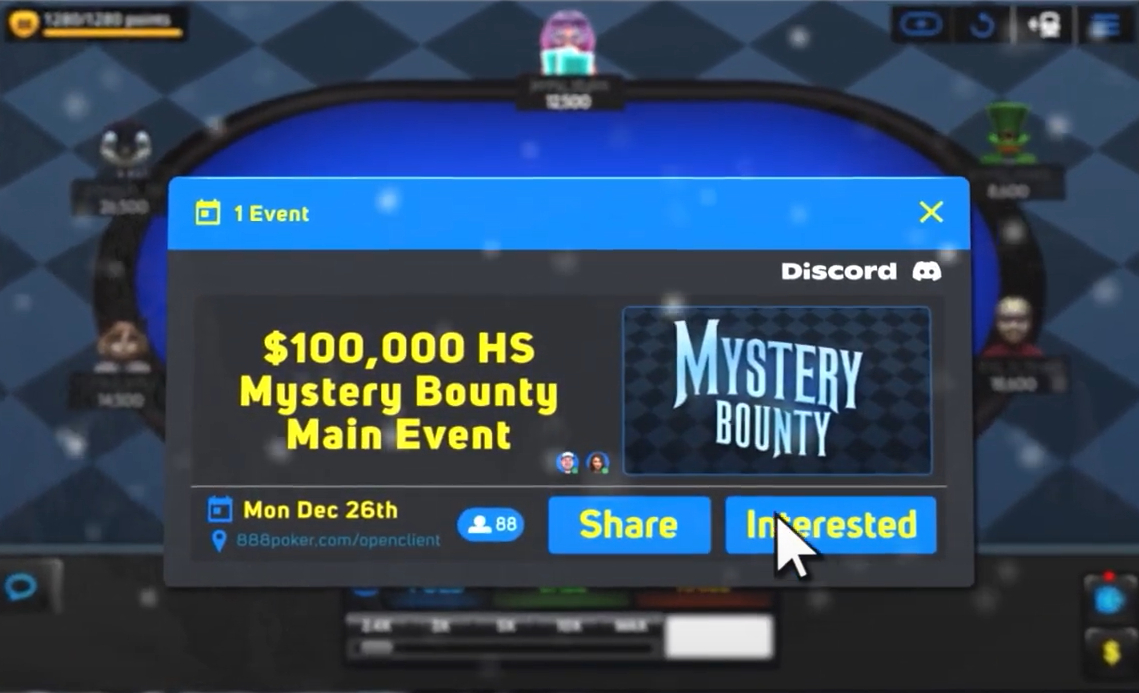 With all the gift-giving happening this holiday season, why not treat yourself to slashed buy-ins with huge guarantees in our Happy Holidays celebrations?
Full Serving of Happy Holidays Sale Menu
Also on our Happy Holidays Sale menu are the following two tourneys designed to keep the festive cheer rolling along.
Both Mystery Bounty events are massively discounted up to 50% with the guarantees kept intact. And, you'll have the chance to bag a decent-sized bounty even if you don't make it into the money!
22/12 -- $15K -- Holiday Sale Mystery Bounty 55 -- 18:30 -- $27.50 -- $55
25/12 -- $40K -- Holiday Sale Mystery Bounty High Roller -- 19:30 -- $265 -- $525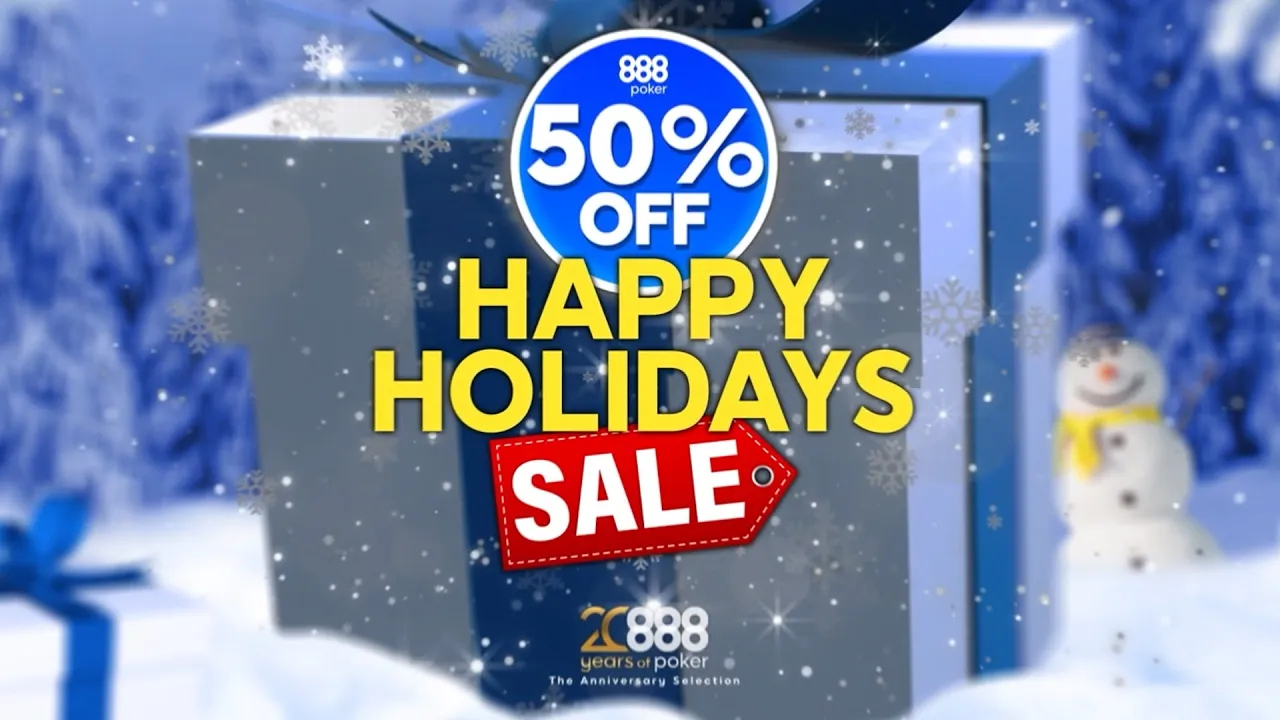 Now, check out the full schedule of discounted buy-in action in our Happy Holidays Sale:
Date

Tournament name

Time

GMT

GTD

Sale

Buy-in

Regular

Buy-in

19/12

$10,000 Holiday Sale

Monday Big Shot 215

18:00

$10,000

$109

$215

19/12

$10,000 Holiday Sale

Mystery Bounty 22

19:00

$10,000

$11

$22

20/12

$8,000 Holiday Sale

PKO Rumble 22

17:30

$8,000

$11

$22

20/12

$15,000 Holiday Sale

Big Shot 320

18:30

$15,000

$160

$320

21/12

$10,000 Holiday Sale

Mystery Bounty 11

17:00

$10,000

$5.50

$11

21/12

$12,000 Holiday Sale

Mystery Bounty 109

19:30

$12,000

$55

$109

22/12

$15,000 Holiday Sale

Big Shot 320

18:30

$15,000

$160

$320

22/12

$15,000 Holiday Sale

Mystery Bounty 55

18:30

$15,000

$27.50

$55

23/12

$6,000 Holiday Sale

Big Shot 33

16:00

$6,000

$16.50

$33

23/12

$8,000 Holiday Sale

PKO Rumble 109

17:00

$8,000

$55

$109

25/12

$100,000 Holiday Sale

Mystery Bounty Main Event

19:00

$100,000

$55

$109

25/12

$40,000 Holiday Sale

Mystery Bounty High Roller

19:30

$40,000

$265

$525

25/12

$5,000 Holiday Sale

Mystery Bounty 6-Max 55

21:15

$5,000

$27.50

$55