The annual World Series of Poker (WSOP) attracts players from around the world, and while they all come with the hopes of capturing a coveted gold bracelet, their plans and preparation vary greatly. Some players go for a single event, such as this year's record-breaking Big 50, while others grind all seven weeks.
For four-time WSOP bracelet winner and 888poker Ambassador Dominik Nitsche, he's used to the latter, though this year he changed things up a bit for the 50th Annual WSOP.
"I already left Vegas to take a break," the German pro said. "I was there for all the early action, and I'll be back just in time for the Main Event, of course."
So, what's keeping Nitsche from the 2019 WSOP?
"I'm currently on the way to Germany to finish working on DTO Poker," he explained. For those that don't know, DTO Poker is "Your Personal Poker Trainer" that pairs the convenience of your mobile device with expert strategy input from Nitsche.
While Nitsche left the WSOP early, he did spend a month in Vegas playing the Poker After Dark 888poker II Week, as well as some $10,000 High Rollers at ARIA. He finished third in two of them for $46,400 and $51,200, and also took eighth in the World Poker Tour Baccarat Crystal Tournament of Champions for $42,570.
Poker on the Brain
While Nitsche is busy with his business venture, Vegas doesn't stray far from his mind.
"I used to be a big fan of staying at a house with friends but since I stopped playing the whole summer. I just stay at Vdara with my girlfriend," Nitsche said when asked about his accommodations whenever he comes to town. "It's a good place to spend three weeks."
Unlike his fellow 888poker Ambassadors Martin Jacobson, who last year revealed they like to strike a healthy balance between poker and "real life" during the summer, Nitsche only has one thing on his mind.

"I don't do much outside of playing poker," he admitted. "With the schedule as packed as it is, you can play pretty much every day from noon to midnight."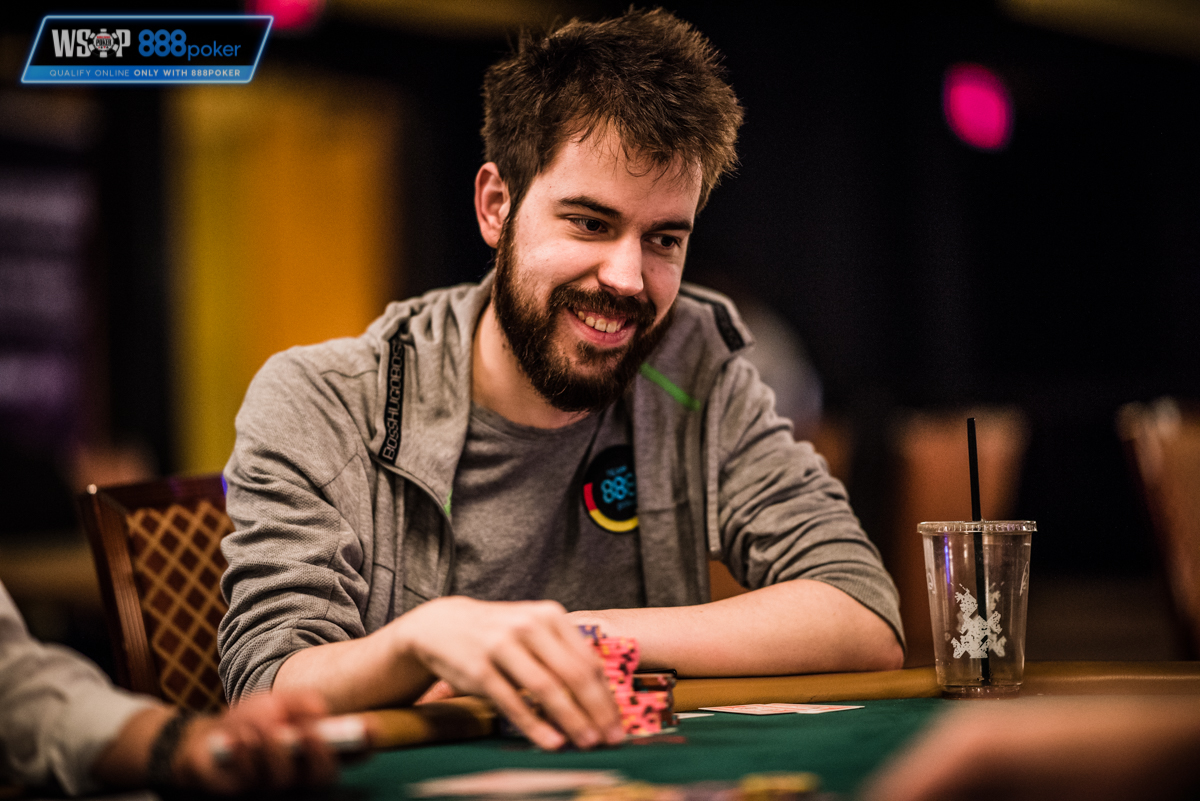 That begs the question – what does Nitsche do to get ready for the unrelenting daily grind?

"I wake up and get ready for the tournament," he said simply. "Depending on whether it starts at 11a.m. or 2 p.m. that leaves me with a few hours to take care of other stuff that's going on in my life. Usually, I then play until past midnight."
Surely Nitsche makes time to blow of a little steam, maybe with a refreshing drink or experiencing the nightlife from time to time?
"No time," he said matter-of-factly. "Too much money to be made."
Some of the Best Food in the World
That said, even Nitsche has to eat, and he does have a preference.
"Vegas has some of the best sushi restaurants in the world," he stated citing Yui Kabuto as his favourite. "I just wish I had more time to go."
He also likes Lamai for Thai food, Partage for French cuisine, and Sparrow + Wolf for international modern. Other dishes he enjoys are ramen, tapas, hot and juicy crawfish, and the Oyster Bar at Palace Station.
So, how does Nitsche get from place to place while in Vegas?
"Uber," he said. "I used to rent a car, but if you stay on the Strip, I don't think it's necessary really."
While he prefers to stay on the Strip, Nitsche also encourages first-timers as well as 888poker qualifiers, to venture out.
"Explore off-Strip Vegas. Especially food and restaurants are just much better off strip. Cheaper too."
For more on Nitsche and his poker adventures, be sure to follow him on both Twitter and Instagram @DominikNitsche.