888poker would like to thank all our players for making this happen! We've hit 100K YouTube subscribers, and it's all down to you! We're proud to have made this achievement with high-quality and super-fun poker content on our channel.
We're inviting you to an exclusive $5,000 freeroll to celebrate this monumental occasion. Simply keep it locked to our YouTube channel for the password. We also have other exciting events planned to make this even more of a celebration!
Name: 'YouTube 100K Subscribers Celebration Freeroll'
Date: Saturday, 4th February @ 20:30 GMT
Make sure you're SUBSCRIBED and have notifications turned on to ensure you get the password when we release it on our community page.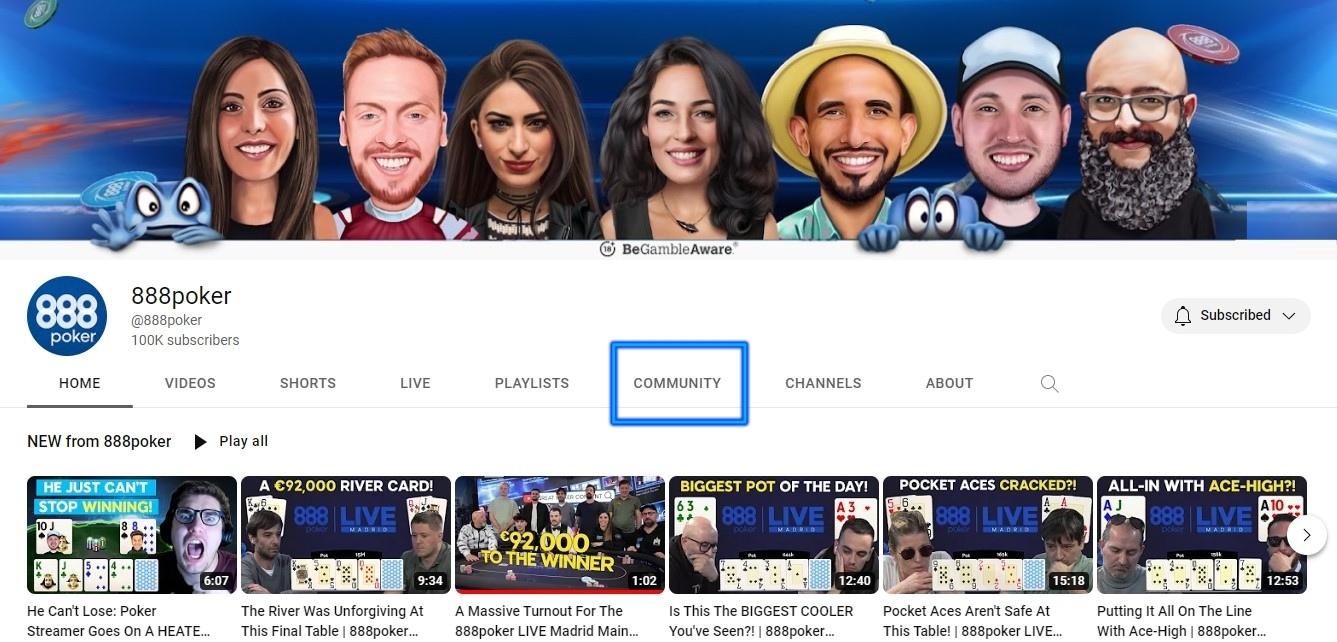 What You'll Find on the 888poker YouTube Channel
The 888poker YouTube channel is where you can find a wide variety of poker videos – from educational to entertaining.
So, if it's poker content you're after, you've come to the right place. Subscribe to @888poker to never miss out on the latest news, promotions and poker strategy.
We've got tonnes of content to keep you happy on the 888poker YouTube channel. Whether new to the game or longer in the tooth, you'll find something to suit your poker needs.
Poker Tutorials
Our poker tutorials will be beneficial for newer players. Here you'll find helpful videos that span a wide range of topics. From navigating the poker client to choosing the right game – it's all at your fingertips.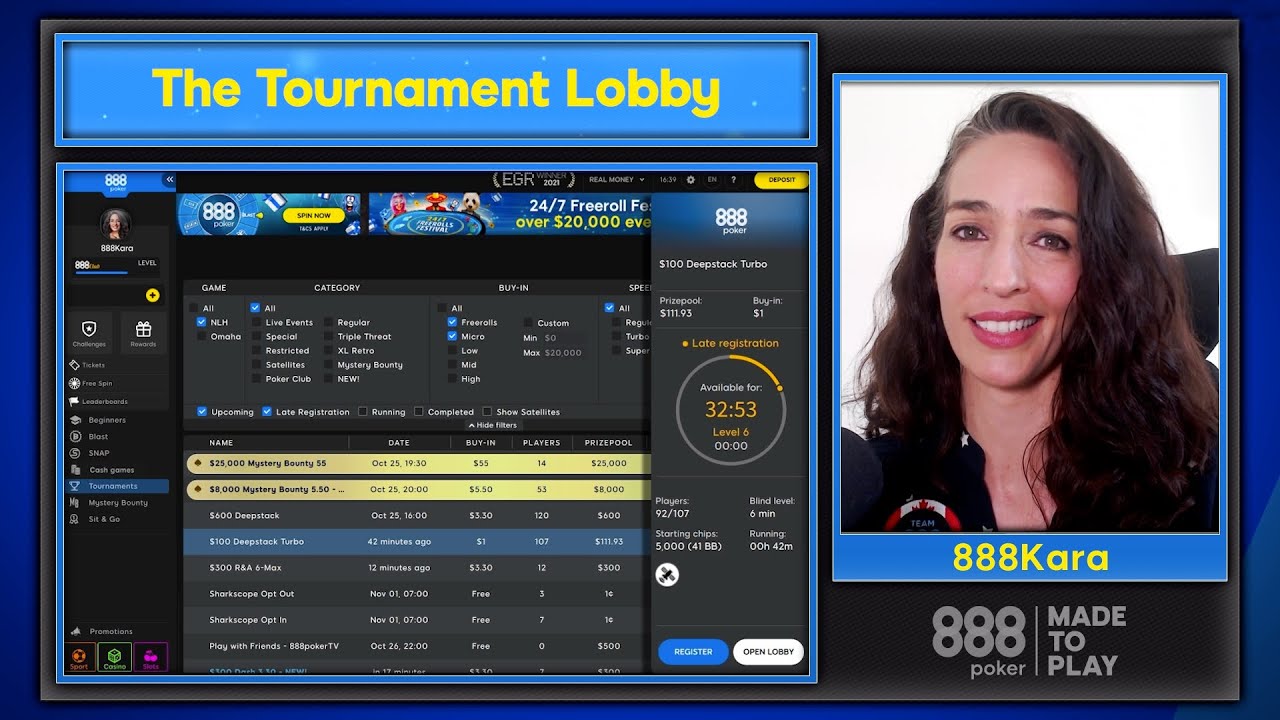 Ask A Poker Pro
No one wants to look green at the poker table. So, in our Ask A Poker Pro series, you get answers to long-awaited questions. Our seasoned, experienced pros open the doors to many difficult questions players may have and respond honestly and helpfully.
Focus Fridays
If it's specific, in-depth knowledge that ticks all your boxes, then Focus Fridays is the ticket. Team888 ambassadors and streamers strip back the mystery behind topics like the following –
Micro Stakes Tournament Strategy
Analysing Ranges for Deepstack Tournaments
PLO Hand Selection
ICM Explained
Blast Off
For sheer, competitive fun, nothing beats our new Blast Off series. Team888 players face off in BLAST SNGs and try to win as many as possible. It's clean competition, which the players take very seriously. These bragging rights are coveted!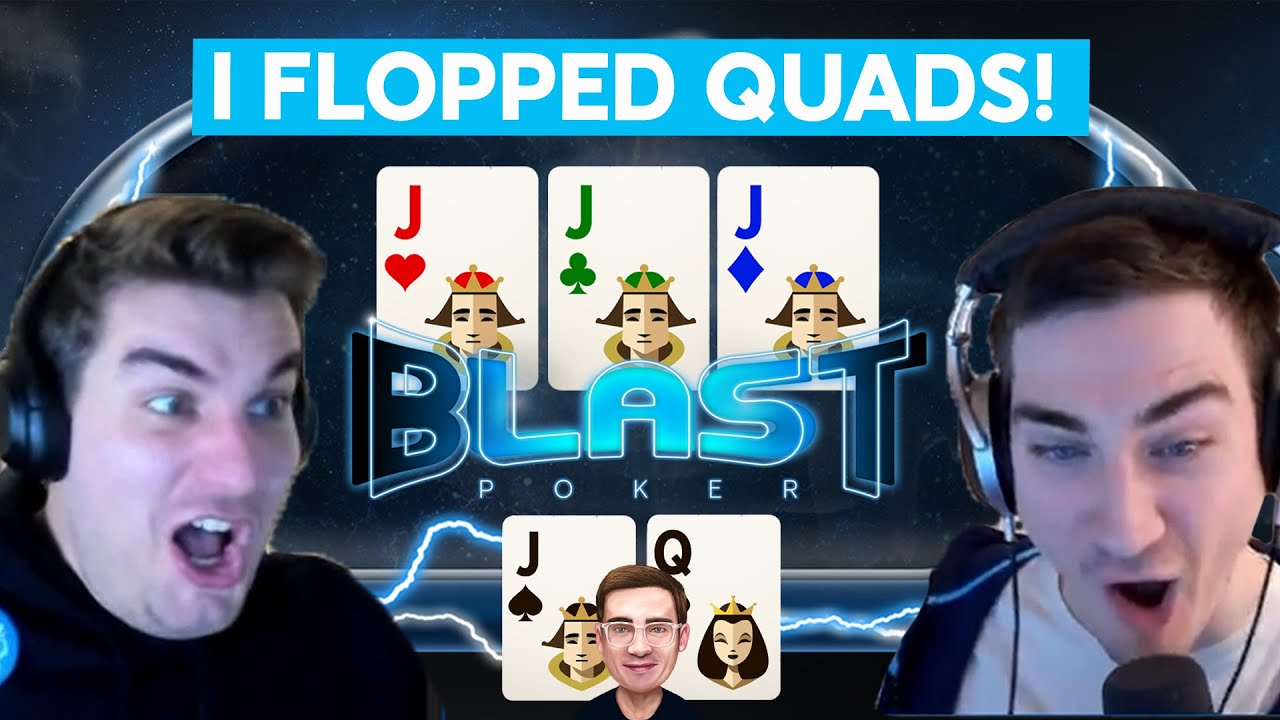 Made to Learn
For the poker basics with some more advanced content, our Made to Learn series contains strategy tips to help improve your game. Our 888poker ambassadors step up to the plate to share their in-depth knowledge of the game.
Along with the above playlists, check out the 888poker YouTube shorts for bite-sized 888poker LIVE event snippets.
You'll also find quick pick-me-up poker strategy tips and hand clips that will have your head spinning!
Make sure to join our 88poker YouTube family by subscribing to the channel and checking out all the great content on offer – for free!