888poker LIVE is heading back to Bucharest, Romania, this August 2023 for our next 888pokerLIVE stop.
From the 8th through the 14th of August, the 888pokerLIVE Bucharest series will take place at the prestigious 888poker Room, supported by PokerFest.
Bucharest is also known as the Little Paris of the East, with a long, diverse and rich cultural history. The city has a vibrant nightlife.
But for poker players interested in upping their culture stakes, Bucharest has its fair share of art museums, landmarks, and monuments.
Back to the poker felt, the action kicks off on 8th August with Day 1A of the €220 buy-in Opening Event.
But the highlight of the series is the €888 buy-in Main Event, starting on 10th August.
There will be four Day 1s, including a Day 1D Turbo:
10/8 @17:00 --- Day 1A
11/8 @17:00 --- Day 1B
12/8 @17:00 --- Day 1C
13/8 @11:00 --- Day 1D
The Main Event will be live-streamed during the series with freerolls, giveaways and compelling commentary.
Live Stream Schedule
Saturday, August 12th - Mystery Bounty Final Day (starting at 20:00)
Sunday, August 13th – Main Event Day 2 (starting at 17:30)
Monday, August 14th – Main Event Final Day (starting at 15:00)
Get Your 888poker LIVE Bucharest Package for 1 Cent!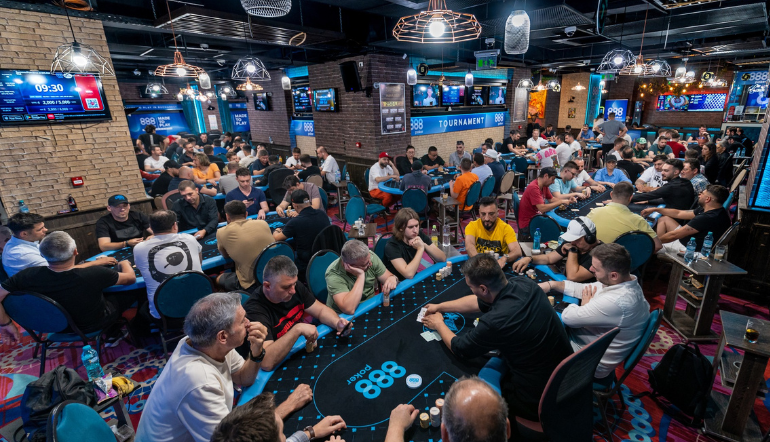 There are a few ways to secure a seat or luxury package to this fantastic event for as little as one cent!
Play our $109 Qualifiers to win a Bucharest Festival package worth $2,000.
Enter a series of (starting at) one-cent online satellites to work your way up to the top!
$2,000 888poker LIVE Bucharest Festival Main Event Package:
€888/$950 buy-in to the 888poker LIVE Bucharest Festival Main Event
$550 for 4 nights' accommodation
$500 for travel expenses
888poker LIVE Kit
888poker LIVE Bucharest Schedule
The series will kick off on Tuesday, 8th August, with the €230 buy-in Opening Event Day ! A. With three Day 1s, Day 2 will take place on 10th August.
Also on the menu are the following enticing tournaments –
11/8/2023 --- Mystery Bounty Da 1A - €180+ €150 buy-in
12/8/2023 --- Ladies Event - €55 buy-in
11/8/2023 --- The Big Shot - €330 buy-in
Check out the entire tournament series schedule below:
Date

Time

Event Name

Buy-In

8/8

18:00

888poker LIVE Bucharest Festival –

Opening Event Day 1A

220 EUR

8/8

21:00

The Turbo Deepstack

88 EUR

9/8

18:00

888poker LIVE Bucharest Festival –

Opening Event Day 1B

220 EUR

9/8

20:00

Omaha Pot Limit

115 EUR

9/8

22:00

888poker LIVE Bucharest Festival –

Opening Event Day 1C Turbo

220 EUR

10/8

15:00

888poker LIVE Bucharest Festival –

Opening Event FINAL

220 EUR

10/8

17:00

888poker LIVE Bucharest Festival –

ME Day 1A

888 EUR

11/8

17:00

888poker LIVE Bucharest Festival –

ME Day 1B

888 EUR

11/8

20:00

Mystery Bounty Day 1

[150 EUR Bounty]

180 + 150 EUR

12/8

17:00

888poker LIVE Bucharest Festival –

ME Day 1C

888 EUR

12/8

20:00

Mystery Bounty Final Day

[150 EUR Bounty]

12/8

21:00

The Ladies Event

55 EUR

13/8

11:00

888poker LIVE Bucharest Festival –

ME Day 1D Turbo

888 EUR

13/8

17:30

888poker LIVE Bucharest Festival –

ME Day 2

13/8

19:00

The Big Shot

330 EUR

14/8

15:00

888poker LIVE Bucharest Festival –

ME Final DAY

-

14/8

18:00

Closer

165 EUR