888poker LIVE makes its final stop of 2023 on the live poker circuit in the second largest city in the West Midlands – Coventry! From 20-29 October 2023, we'll host the 888poker LIVE Coventry series at Grosvenor Casino Coventry, located in the CBS Arena, also called the Coventry Arena.
The Coventry Building Society (CBS) Arena is an award-winning facility based right in the heart of the UK.
Players will get access to a variety of experiences, including poker, at this first-ever 888poker event in Coventry.
The highlight of the series is the multi-flight £888 buy-in £500,000 GTD Main Event.
Day 1A will kick off on 25 October at 12pm GMT, with Day 1B happening on 26 October at the same time. Day 1C and 1D Turbo will play out on 27 October at 12pm and 8pm GMT, respectively.
Here are a few other tourneys to keep an eye on –
£440 buy-in multi-flight Mystery Bounty – 20-22 October
£5,000 buy-in Super High Roller – 23 -24 October
£110 buy-in Ladies Event – 20 -21 October
For those looking for a bargain, you'll be able to satellite into several of the scheduled events online at 888poker and at the casino.
Check out the full 888poker LIVE London Festival info HERE.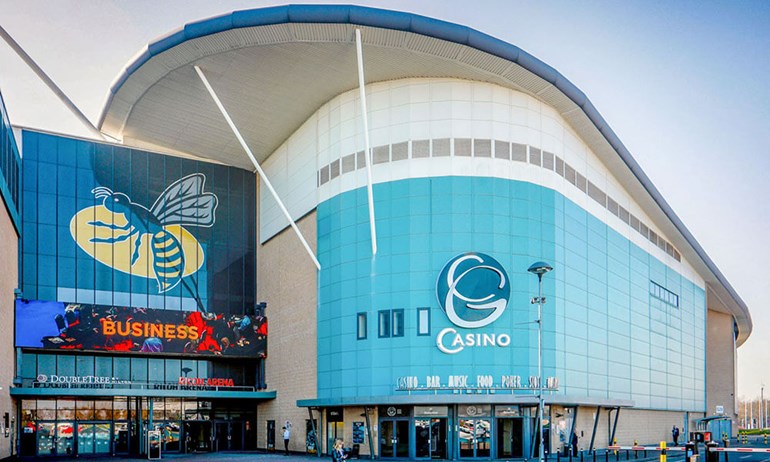 Watch the 888poker Coventry Action LIVE!
We'll also live stream specific tournaments and cash games featuring 888poker ambassadors and personalities/ influencers on our 888pokerTV Twitch channel.
Join us for exclusive freerolls and giveaways during the live coverage.
Check out the live stream schedule below:
| | |
| --- | --- |
| Date | Live Stream |
| Thurs, 26/10 | High Roller – Day 2 |
| Fri, 27/10 | Cash Game Stream |
| Fri, 27/10 | Ambassadors & Influencers S&G |
| Sat, 28/10 | Main Event -Day 2 |
| Sun, 29/10 | Main Event -Day 3 |
(Hours are subject to change. So, make sure to follow our social media for updates.)
Bag Your Main Event Package for Pennies!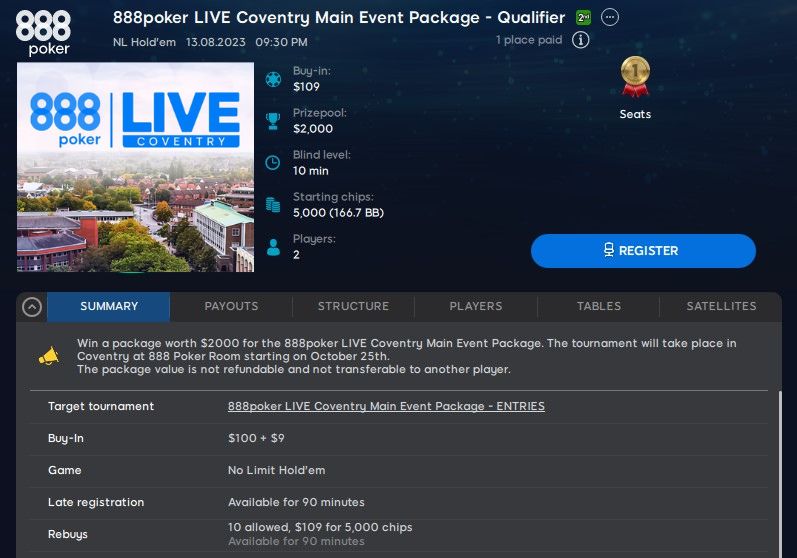 Play our satellites for as low as 1 penny and work your way up to an 888poker LIVE Coventry Main Event package worth $2,000!
You can buy directly into any of our Main Event Package Qualifiers for only $109.
We'll also have $55 Seat-Only Qualifiers for the Main Event.
Here's what's in the 888poker LIVE Coventry luxury package –
£888 ($1,130) Seat Entry to £500K GTD 888poker LIVE Coventry Main Event
$500 for four night's accommodation
$370 for travel expenses
888poker LIVE Kit
If it's tickets to the Mystery Bounty Opening Event, we have you covered there as well with $22 satellites running now.
What: 888poker LIVE Coventry MB Opening Event Satellite
Where: "Tournaments" Section > "Live Events" Section
Buy in: $22
Prize: £440 - 888poker LIVE Coventry Mystery Bounty Opening Event – Seat Only
H2: 888poker LIVE Coventry Series Schedule
Check out the full 10-day tournament schedule below:
Date

Start Time

Event name

Entry Fee

20-Oct

4pm

Mystery Bounty

Opening Event 1A

£200+£200

+£40

6pm

Ladies 888 Event

Day 1

£100+£10

21-Oct

2pm

Ladies 888 Event

Day 2

£100+£10

4pm

Mystery Bounty

Opening Event 1B

£200+£200

+£40

9pm

Mystery Bounty

Opening Event Day 1C Turbo

£200+£200

+£40

22-Oct

12pm

Mystery Bounty

Opening Event Day 2

£200+£200

+£40

4pm

The Big Shot 1A

£300+£30

23-Oct

3pm

Super High Roller

£2,850+£150

4pm
The Big Shot 1B
£300+£30

9pm

The Big Shot 1C Turbo

£300+£30

24-Oct

12pm

The Big Shot 1D Turbo

£300+£30

1pm

Super High Roller Day 2

£2,850+£150

5pm

The Voyage Turbo

DeepStack

£200+£20

4pm

The Big Shot Day 2

£300+£30

25-Oct

12pm

888poker LIVE Coventry

Main Event Day 1A

£800+£88

3pm

High Roller

£1,888+£112

5pm

The Big Shot Day 3

£300+£30

26-Oct

12pm

888poker LIVE Coventry

Main Event Day 1B

£800+£88

1pm

High Roller Day 2

£1,888+£112

27-Oct

12pm

888poker LIVE Coventry

Main Event Day 1C

£800+£88

8pm

888poker LIVE Coventry

Main Event Day 1D Turbo

£800+£88

28-Oct

11am

888poker LIVE Coventry

Main Event Day 2

£800+£88

2pm

The Dragon

£500+£50

29-Oct

12pm

888poker LIVE Coventry

Main Event Day 3

£800+£88

12.30pm

The Dragon Day 2

£500+£50

3pm

The KO Closer

£200+£200

+£40