PokerListings The Festival Online Series returns to 888poker from 19 March through 13 April. Make sure to save the date for this not-to-be-missed poker series with an overall $1,000,000 guaranteed!
The action kicks off on 19 March and will culminate on 10 April with Day 2 of the multi-flight $215 buy-in $200,000 GTD Main Event. The series ends on a high note on 13 April with the essential Afterparty!
The big highlights this time around are several Mystery Bounty events occurring throughout the Festival Online Series.
The jewel in the crown is the $200K GTD multi-flight Main Event with a $215 buy-in. Day 1 will start on 6 April and run up until Day 2 on 10 April.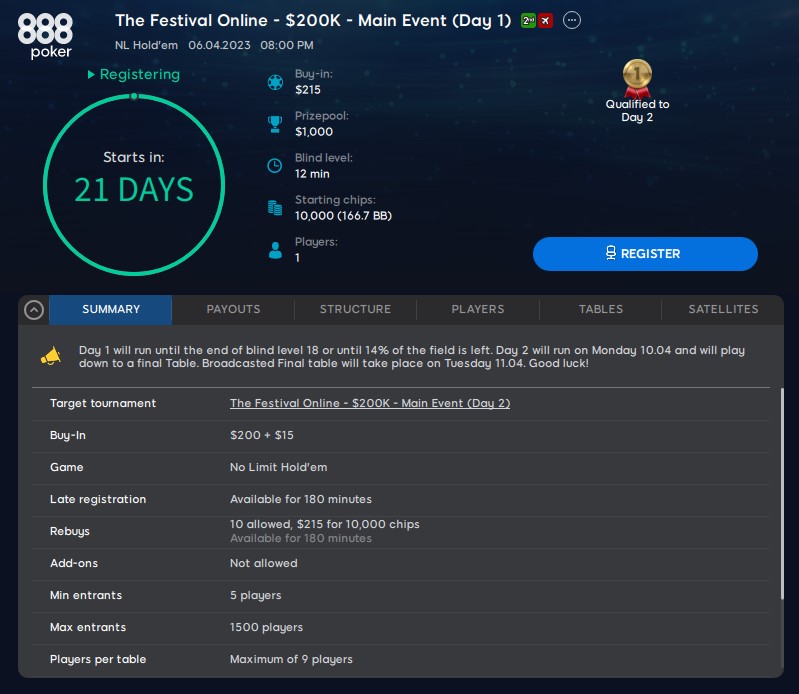 The Main Event final table will be live-streamed on our 888pokerTV Twitch channel on 11 April along with these events -
20/3 @20:00 GMT - The Festival Online – $100K GTD Mystery Bounty Opening Event Final Table
28/3 @20:00 GMT - The Festival Online – $150K Texas PKO 8-Max Final Table
11/4 @20:00 GMT - The Festival Online – $200K Main Event Day Final Table
PokerListings The Festival Online Schedule
Here are some events to keep your eye on during the series -
Sunday 19/3 @ 19:00 GMT -- $109 buy-in -- $100K GTD Mystery Bounty Opening Event
Thursday 23/3 @ 18:30 GMT -- 55 buy-in -- $20K GTD Mystery Bounty 8-Max
Sunday 2/4 @ 19:00 GMT -- $109 buy-in -- $100K GTD Sunday Big Shot 109
Check out the full schedule below –
Day

Tour Name

Buy in

Time (GMT)

GTD

Sunday 19.3

The Festival Online –

PLO Mystery Bounty Opening Event

$55

18:30

$5,000

The Festival Online –

Mystery Bounty Opening Event

$109

19:00

$100,000

The Festival Online –

Mystery Bounty Mini

Opening Event

$22

19:00

$25,000

The Festival Online –

Mystery Bounty High Roller

Opening Event

$525

19:30

$40,000

Tuesday 21.3

The Festival Online –

PLO R&A

$55

18:30

$4,000

The Festival Online –

Snap 6-Max

$33

19:00

$5,000

Thursday 23.3

The Festival Online –

Mystery Bounty 8-Max

$55

18:30

$20,000

The Festival Online –

PKO Turbo Deepstack

$109

19:00

$15,000

The Festival Online –

Texas PKO Day 1

$160

19:00

-

The Festival Online –

Texas PKO Day 1

$160

21:00

-

Friday 24.3

The Festival Online –

Texas PKO Day 1

$160

17:00

-

The Festival Online –

Texas PKO Day 1

$160

19:00

-

The Festival Online –

Texas PKO Day 1 Turbo

$160

21:00

-

Saturday 25.3

The Festival Online –

Texas PKO Day 1

$160

17:00

-

The Festival Online –

Texas PKO Day 1

$160

19:00

-

The Festival Online –

Texas PKO Day 1 Turbo

$160

21:00

-

Sunday 26.3

The Festival Online –

Texas PKO 8-Max Day 1

$160

15:00

-

The Festival Online –

Texas PKO 8-Max Day 1

$160

17:00

-

The Festival Online –

Micro PLO 8-Max

$11

17:00

$3,000

The Festival Online –

PKO 8-max

$22

19:00

$12,000

The Festival Online –

Texas PKO 8-Max Day 1

$160

19:00

-

The Festival Online –

High Roller PKO 8-Max

$525

19:30

$40,000

The Festival Online –

Texas PKO 8-Max Day 1 Turbo

$160

21:00

-

The Festival Online –

Texas PKO 8-Max Day 1 Hyper

$160

22:30

-

Monday 27.3

The Festival Online –

Texas PKO Day 1 Turbo

$160

14:00

-

The Festival Online –

Texas PKO Day 1 Turbo

$160

15:30

-

The Festival Online –

Texas PKO Day 1 Turbo

$160

17:00

-

The Festival Online –

Texas PKO Day 1 Hyper

$160

18:00

-

The Festival Online –

Texas PKO Day 2

-

20:00

$150,000

Tuesday 28.3

The Festival Online –

PLO 6-Max

$55

18:30

$2,000

The Festival Online –

Mystery Bounty

$22

19:00

$15,000

The Festival Online –

Texas PKO 8-Max Final Table stream

-

19:00

-

Thursday 30.3

The Festival Online –

Texas Super KO

$109

17:00

$12,000

The Festival Online –

Texas Low Roller

$22

17:30

$10,000

Sunday 2.4

The Festival Online –

Sunday Big Shot 11

$11

17:00

$15,000

The Festival Online –

Sunday Big Shot 109

$109

19:00

$100,000

The Festival Online –

PLO R&A Low Roller

$22

19:00

$3,000

The Festival Online –

Sunday High Roller

$525

19:30

$40,000

Tuesday 4.4

The Festival Online –

Mystery Bounty 6-Max

$55

18:30

$18,000

The Festival Online –

Mini Mystery Bounty 6-Max

$22

19:00

$15,000

Thursday 6.4

The Festival Online –

PKO 8-Max

$109

17:00

$12,000

The Festival Online –

Mini PKO 8-Max

$22

17:30

$10,000

The Festival Online –

Main Event Day 1

$215

19:00

-

The Festival Online –

Main Event Day 1 Turbo

$215

21:00

-

Friday 7.4

The Festival Online –

Main Event Day 1

$215

17:00

-

The Festival Online –

Main Event Day 1

$215

19:00

-

The Festival Online –

Main Event Day 1 Turbo

$215

21:00

-

Saturday 8.4

The Festival Online –

Main Event Day 1

$215

17:00

-

The Festival Online –

Main Event Day 1

$215

19:00

-

The Festival Online –

Main Event Day 1 Turbo

$215

21:00

-

Sunday 9.4

The Festival Online –

Main Event Day 1

$215

15:00

-

The Festival Online –

Main Event Day 1

$215

17:00

-

The Festival Online –

Micro Mystery Bounty Closing

$55

17:00

$5,000

The Festival Online –

Main Event Day 1

$215

19:00

-

The Festival Online –

Mini Mystery Bounty Closing

$22

19:00

$25,000

The Festival Online –

High roller PKO Closing

$525

19:30

$40,000

The Festival Online –

Main Event Day 1 Turbo

$215

21:00

-

The Festival Online –

Main Event Day 1 Hyper

$215

22:30

-

Monday 10.4

The Festival Online –

Main Event Day 1 Turbo

$215

14:00

-

The Festival Online –

Main Event Day 1 Turbo

$215

15:30

-

The Festival Online –

Main Event Day 1 Turbo

$215

17:00

-

The Festival Online –

Main Event Day 1 Hyper

$215

18:00

-

The Festival Online –

Main Event Day 2 (ITM)

-

20:00

$200,000

Tuesday 11.4

The Festival Online –

Main Event -

Final Table stream

-

19:00

-

Thursday 13.4

The Festival Online –

Afterparty

$109

19:30

$15,000