Between November 28 and December 2, 888poker will head to Aspers Casino in London for the 888poker LIVE London Festival. The jewel in the crown of the series the $1,400 buy-in Main Event, boasting a £500,000 guarantee.
Aspers is fast becoming the most prominent poker venue in London, and if you are in the UK, it is worth checking out, so why not try and qualify for this event on the cheap?
I am the co-author of Poker Satellite Strategy, and in the book, we cover all the essential aspects of satellite tournaments. However, every satellite is unique, and with each one, the strategy does differ slightly.
So, today I am going to look at how to adjust in the upcoming qualifiers for this event.
Going for the Seat-Only Satellites
Right now, in the 888poker lobby, you can see $33 satellites to win a seat only, where two places are guaranteed. You can rebuy twice, start with 3,000 chips and the late registration is 90 minutes.
Perhaps the most important thing to extract from all that information is that this is a seat only satellite, which is one of the rarer forms of satellite. This fact means, if you win, you have to cover your own travel expenses rather than the operator providing them as part of a bigger package.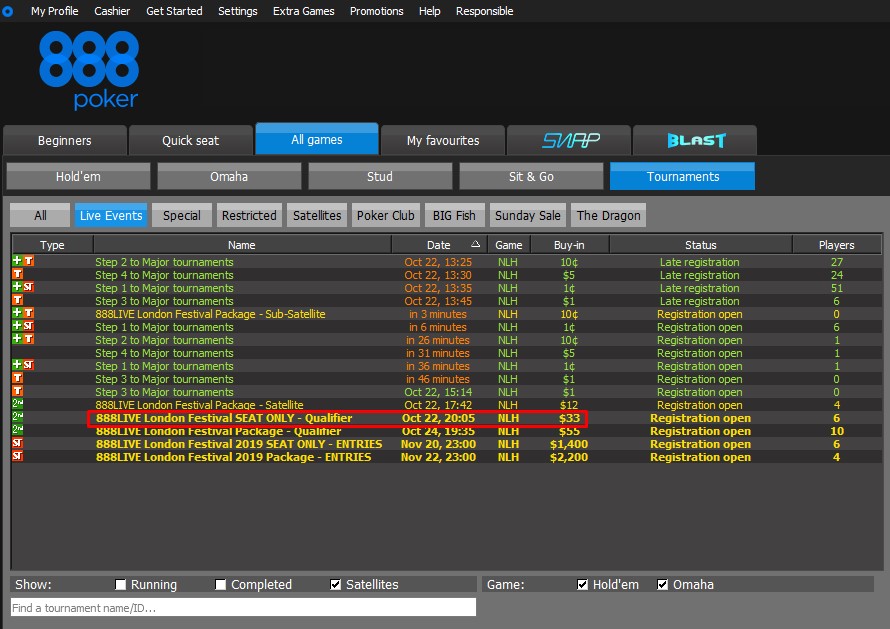 The upside of "seat only" is that in general it is easier to win a seat. More players will win because you don't need additional players to cover the cost of travel expenses. They are ideal for events in big cities where a lot of people can get there easily.
What this also means is that the player pool will be quite small and mostly consist of people who can get to London in a snap. This likely means this will be a quite soft field, only composed of locals.
This tourney is also a 'must play' satellite, meaning the seat cannot be transferred, and multiple seats cannot be won. Therefore, the field will be softer than some satellites, The structure will put off people who make their living in satellites from playing with the hopes of converting the seat to its cash value.
To Rebuy or Not to Rebuy?
The buy-in is $33 with two rebuys available. In some satellites I would advocate thinking of this as a $99 satellite and that rebuys must be expected to be used. However, in practice, I think you will find that most of the field will be in for one bullet. So, you can choose how you approach it based on your own bankroll requirements.
You can late register for up to 90 minutes, which would get you to the 250/500 blind level or six big blinds if you jump in at the last moment. If you are a decent deep-stack player, you should register at the start because we have made a reasonable assumption this will be a soft satellite. That way, you can win a lot of chips early.
However, if you are good at short stack play and don't mind variance, registering late is instantly profitable in terms of your equity. We explain why in more detail in Poker Satellite Strategy, but in simple terms, the name of the game is outlasting X-number of players. When you register at the last minute, half the field has already been eliminated, you just have a lot of ground to make up from the beginning.
Basic Satellite Strategy
Usually, satellites play a lot tighter than other tournaments. While it is true that you should adopt a lower variance style in this one, it would be a mistake to play too tight. If nobody rebuys one in 46 players will win a ticket. If most rebuy, one in 15 will.
Either way, the average stack will be 140,000 (from a starting 3,000) on the bubble, which means that you are going to have to accumulate a stack. In Poker Satellite Strategy, we provide a comprehensive guide to specify when you should be playing to build or preserve chips. But until you read that, know that you should be looking at getting a stack near 140,000 in this tournament.
It is usual to start folding and stalling when you are near the bubble with a healthy stack in a satellite. Once you do have around 140,000 in this one, you should not take any unnecessary risks.
However, as only two seats are guaranteed in this event, the bubble might be a short-handed affair with just three or four players. In these scenarios, it is harder to coast to a seat as the blinds come around fast.
So, look for some well-timed spots to be aggressive if it seems like the momentum could shift. If, however, the shorter stacks look like they could blind away and you could get a seat without much involvement, that is the better route to take.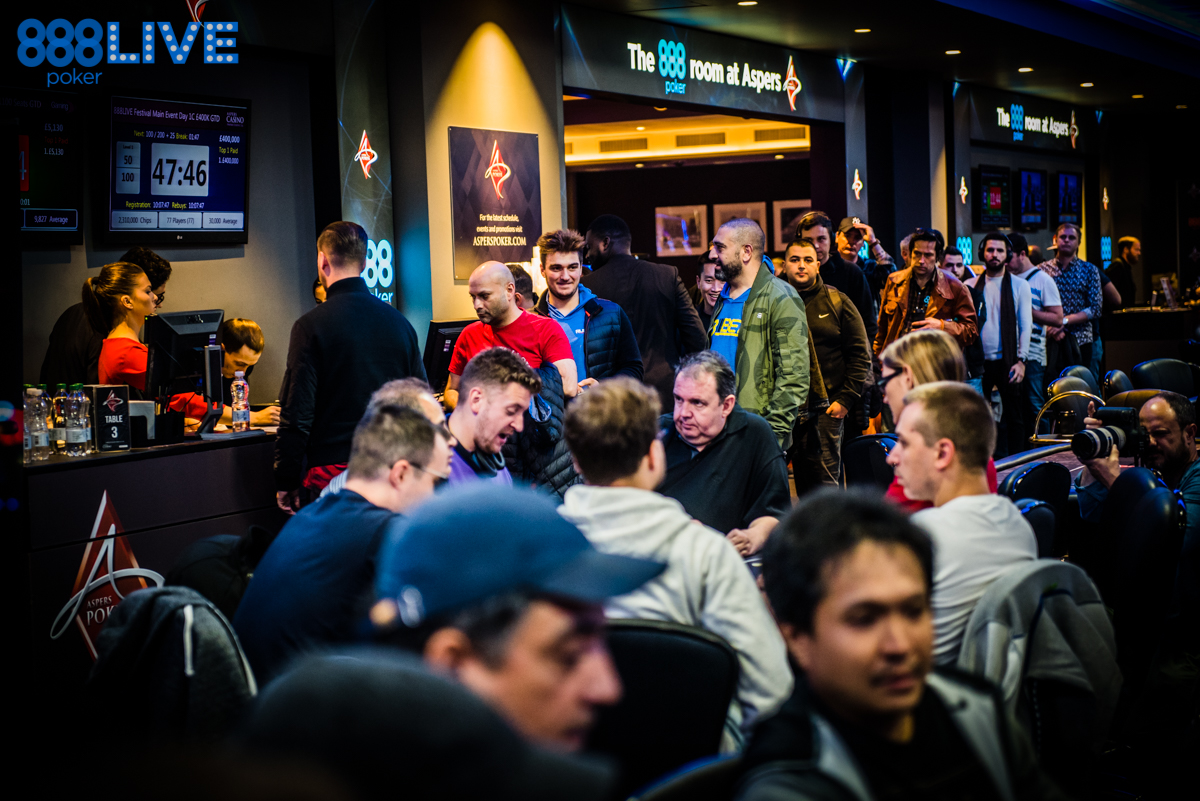 Satellites are a relatively simple format, but there is still a lot of nuance in them, and much of that comes from the type of satellites. Game selection is massive in satellites, and without doubt, the most critical consideration in the 888poker LIVE London qualifiers is the fact they are seat only satellites.
If you are interested in qualifying for a lot of different events, we cover every aspect of how to qualify for big tournaments in Poker Satellite Strategy.
Until then, good luck in the 888poker LIVE London satellites