888poker LIVE returned to Bucharest for its penultimate live outing in 2023. With a multi-flight Main Event along with several side events on the table, it was shaping up to be a star event of the summer.
In fact, the Main Event crushed with a whopping 191 entries stacking up to create a prize pool of €138,898.
And it was local lad Viorel Gavrila who found himself heads-up for the title in the €888 buy-in 888poker LIVE Bucharest Main Event.
​​It was a magical scenario when Viorel squeezed his hole cards, revealing two black aces. His heads-up opponent, Admir Qinami, looked equally excited when he looked down at pocket Kings and quickly moved all-in.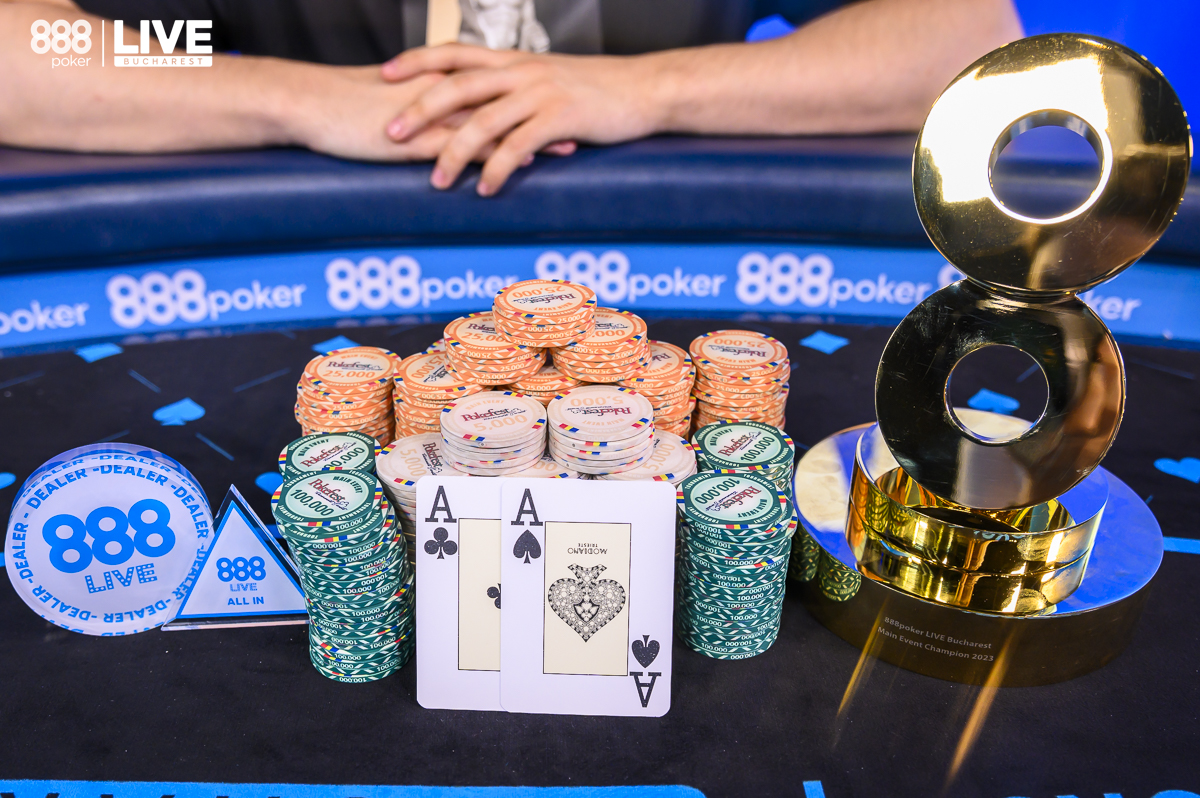 That incredible play resulted in Gavrila raising the 888poker LIVE trophy for his native Romania and taking home a €30,000 paycheck, upping his lifetime tournament earnings to over $250,000.
Admir may have lost one of the most cruel heads-up match-ups, but he had a fairy tale journey himself to the tournament. He won his seat in an 888poker LIVE Passport freeroll on the 888poker app - running that up into a €19,500 payday.
This series was especially important and unique as it was the very first live tournament series in our newly-branded 888poker Room Bucharest!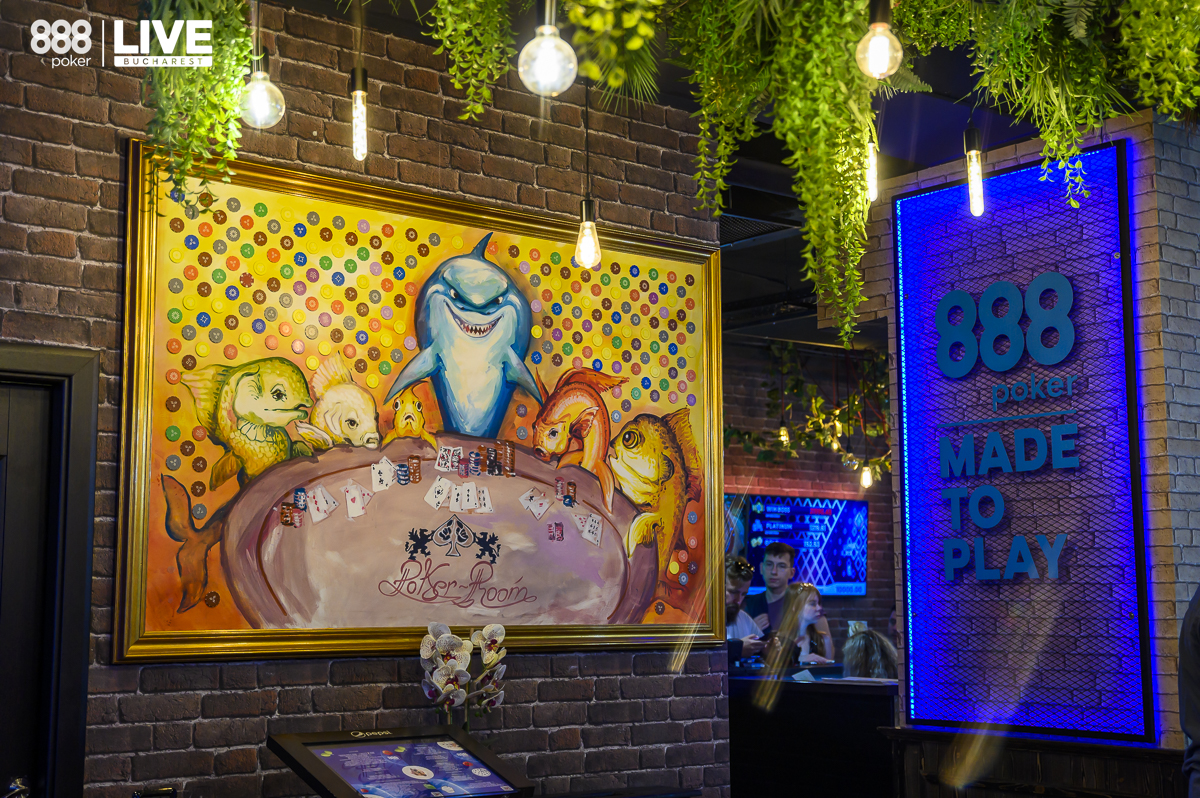 888poker LIVE Bucharest – Day 1A
A total of 52 players entered Day 1A of the 888poker LIVE Bucharest Main Event. Only 23 bagged and tagged for Day 2, scheduled for Saturday, 12 August.
Romanian player Vasile Zagon topped the chipstacks for the day with 427,500 in chips.
In fact, half of the top ten stacks on Day 1A were from Romania.
Israeli player Gregory Telman was hot on Zagon's heels with 410,000 in chips.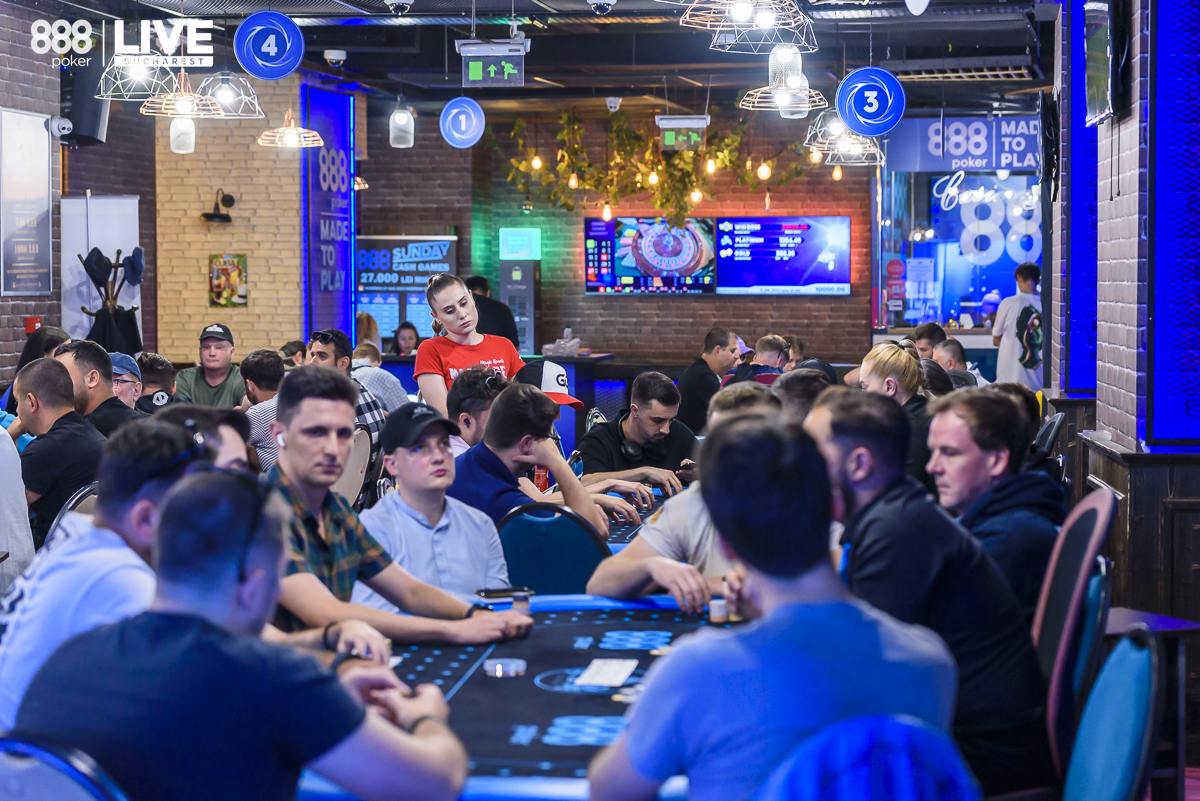 888poker LIVE Bucharest – Day 1B
Day 1B saw fifteen players punch their ticket to Day 2 of the 888poker LIVE Bucharest Main Event. 888poker Ambassador Ian Simpson flew overnight from Newcastle and took his seat at the same table as fellow teammate Nick "eastyyy22" Eastwood.
Simpson dropped down to 50,000 from his 88K starting stack but got healthy again – courtesy of a pocket Kings and his teammate eastyyy22.
After winning a three-way all-in with Kings, he busted Eastwood with Ace-King versus Nick's pocket Tens.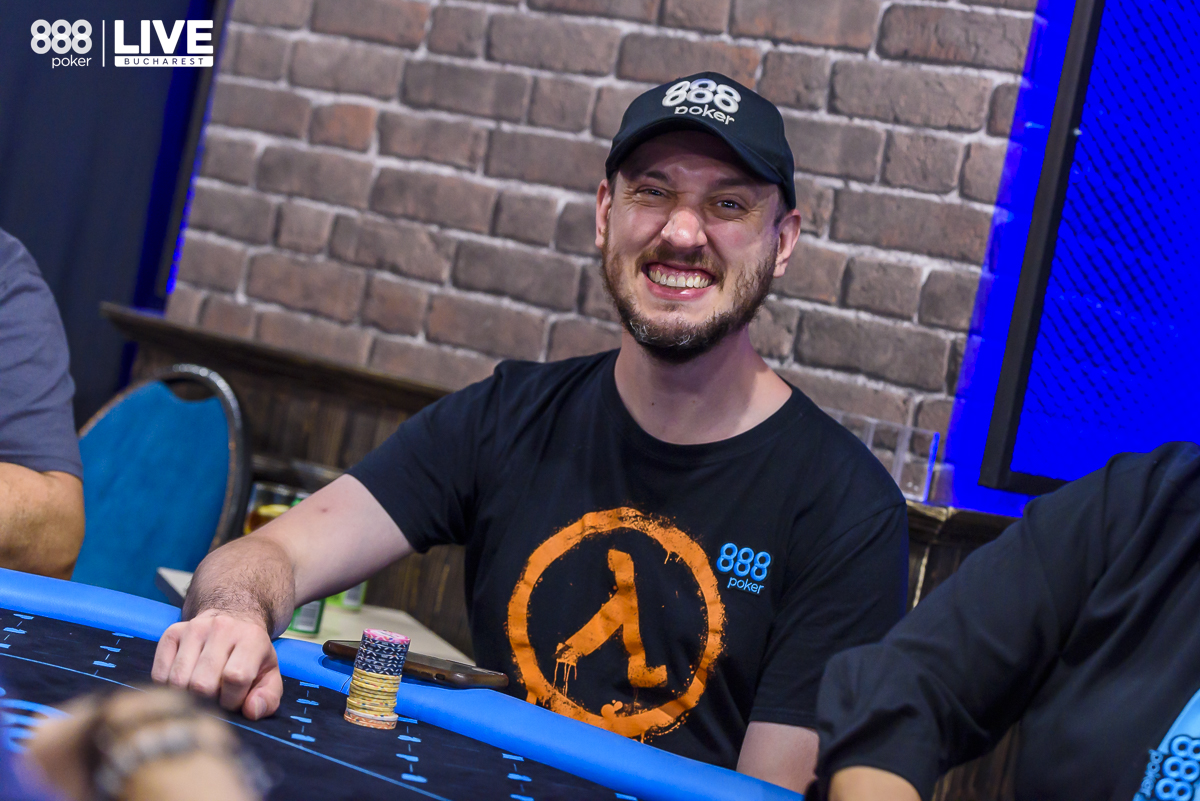 Ian bagged a top-five stack of 312,000 going into Day 2.
Romanian Alexandru Marcu led the Day 1B players with 486,000.
888poker LIVE Bucharest – Days 1CD
Eighty-eight players packed the 888poker Room Bucharest in what was the largest flight of the series. Thirty-six survived the melee to make it to Day 2.
Among those on the poker felt were one 888poker ambassador and three 888 StreamTeam players. Team 888's Lucia Navarro [106,000] and Ricardo "mat3us" Mateus [124,000] managed to make Day 2.
However, native countryman Andrei Cosmin and Nick Eastwood (firing his second Day 1 bullet) both busted. Nick made it extremely close, getting knocked out in 38th place.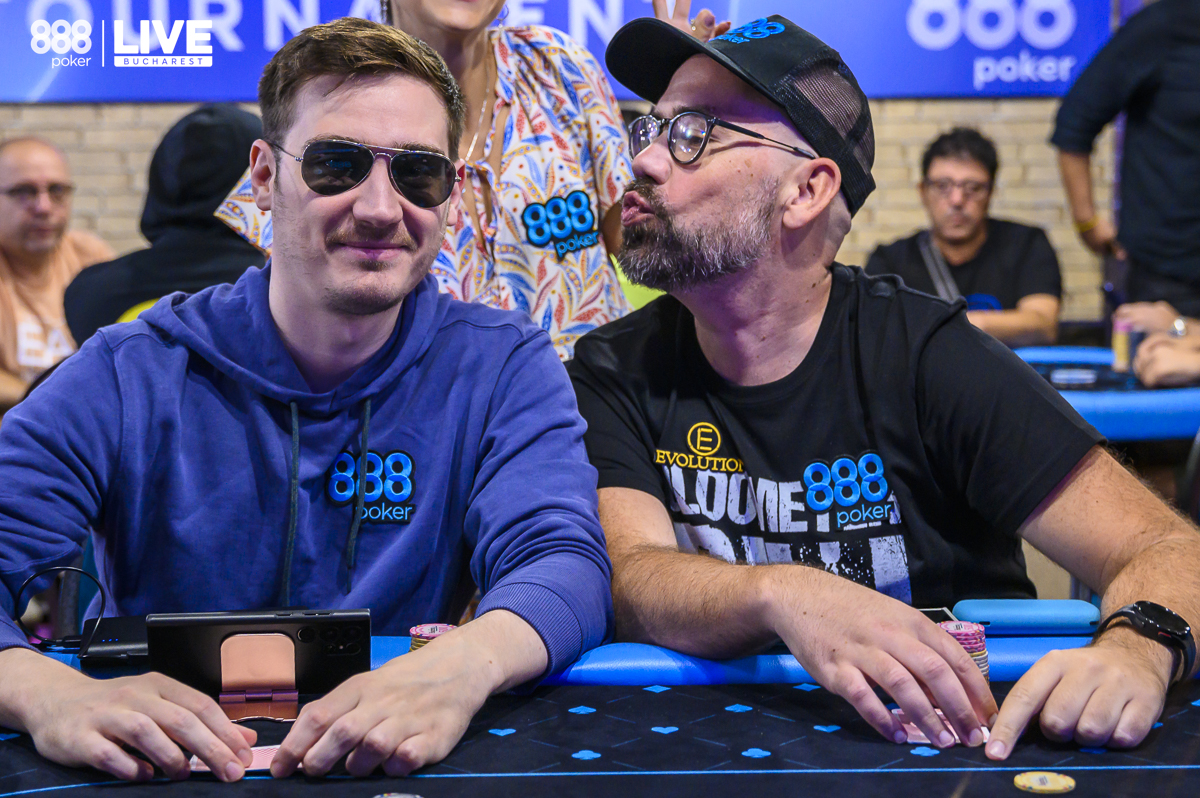 888poker LIVE Bucharest – Day 2
As we headed into Day 2, the following 888poker players were in the running:
Ian Simpson --- 324,000
Ricardo Mateus --- 124,000
Lucia Navarro --- 106,000
The Main Event attracted 191 entries, creating a prize pool of €138,898. The min-cash was €1,800, with 24 players getting paid.
The winner would walk away with €30,000 and the coveted 888poker LIVE trophy.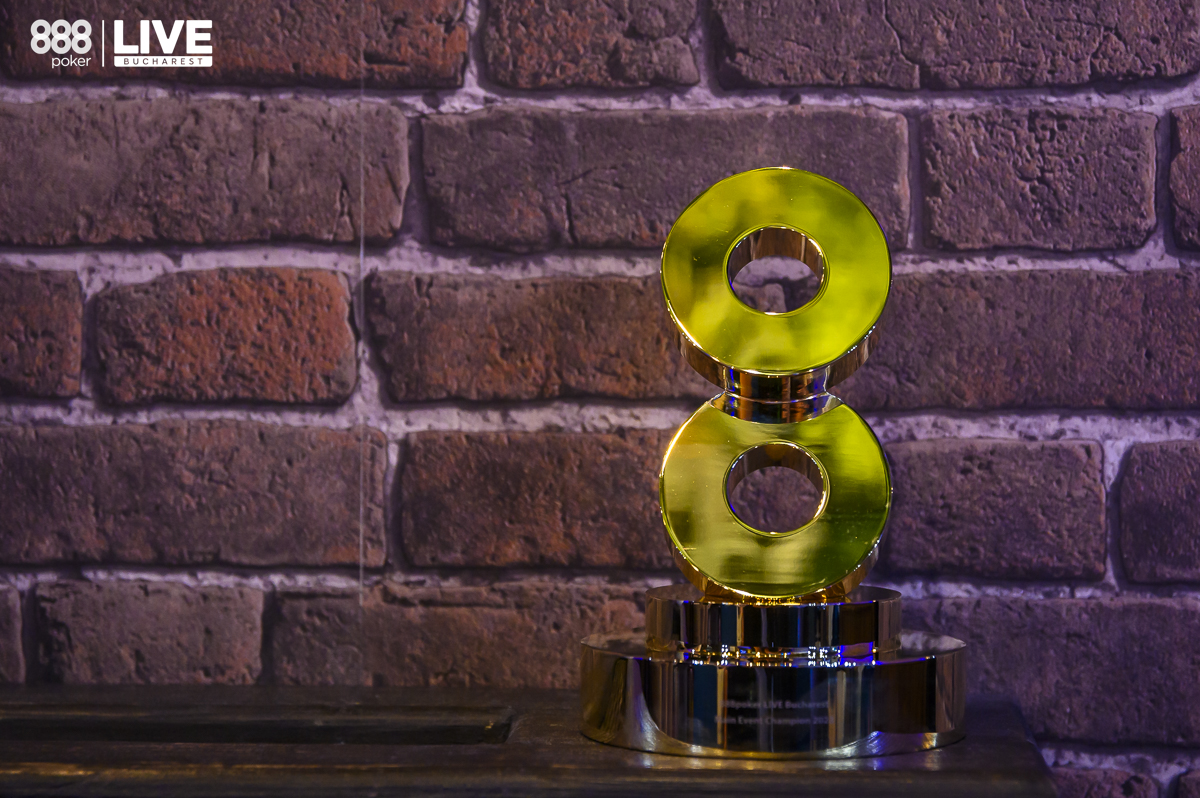 Here's the payout schedule:
Place

Prize

Place

Prize

1

€ 30,000

10-11

€ 3,150

2

€ 19,500

12-13

€ 2,800

3

€ 14,500

14-15

€ 2,500

4

€ 11,500

16-17

€ 2,200

5

€ 9,200

18-20

€ 2,000

6

€ 6,900

21-24

€ 1,800

7

€ 5,300

8

€ 4,000

9

€ 3,500
Seventy-four took their seats at the start of Day 2, joined by ten late registrations for a total of 191 total entries.
2022 888poker LIVE Madrid Main Event champion Abel Aspas had a monster runaway start on Day 2. But he busted in 20th place, well short of the final table for €2,000.
Team888 also didn't fare well, with Ricardo Mateus finishing the day in 74th. Lucia Navarro hung on longer but fell short of the money in 50th place.
On a quick side note, Lucia jumped into The Big Shot, which kicked off at 19:00 GMT the same day – and binked it!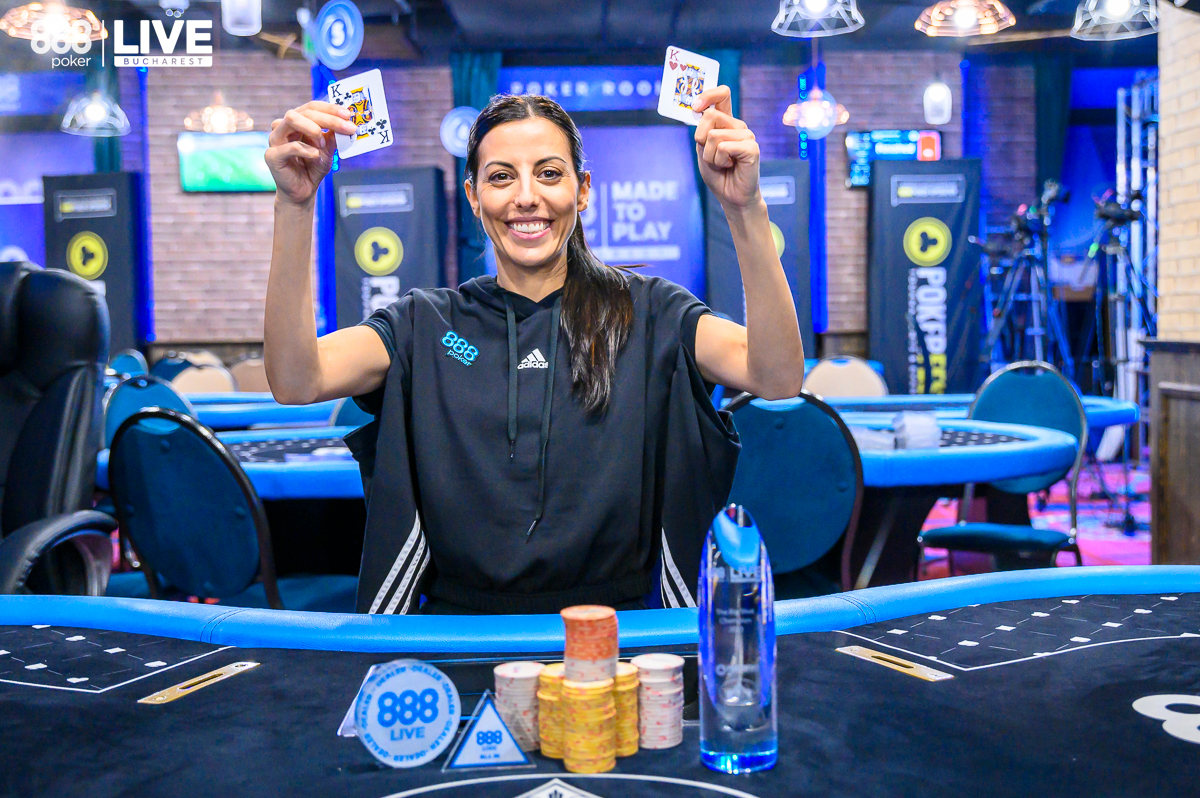 888poker ambassador Ian Simpson had a healthier stack going into Day 2, managing to build it into a top 3 rank at one point. Unfortunately, his run ended when he got his JJ in good against an opponent's 77.
A seven on the flop all but sealed his fate, and he was out in 26th place, two spots short of the money.
As expected, Romanians dominated the final nine as we headed to the final day of action. But Albanian Admir Qinami held a 2:1 chip lead over the second-place player Viorel Gavrila.
COOL FACT: Admir won his seat in an 888poker LIVE Passport freeroll on the 888poker app!
Final Table Chip Counts
| | | | |
| --- | --- | --- | --- |
| Rank | Player | Country | Chip Count |
| 1 | Admir Qinami | Albania | 4,650,000 |
| 2 | Viorel Gavrila | Romania | 2,700,000 |
| 3 | Marius Gicovanu | Romania | 2,600,000 |
| 4 | Konstantinos Vatseris | Greece | 2,250,000 |
| 5 | Andrii Zaika | Ukraine | 1,565,000 |
| 6 | Razvan Belea | Romania | 1,510,000 |
| 7 | Gheorghe Velcea | Romania | 735,000 |
| 8 | Maksims Gorbacs | Romania | 715,000 |
| 9 | Alexandru Marcu | Romania | 300,000 |
888poker LIVE Bucharest – Final Table
Action at the final table resumed the following day with nine hopefuls looking to bag the top prize of €30,000. The remaining players are all guaranteed at least €3,500.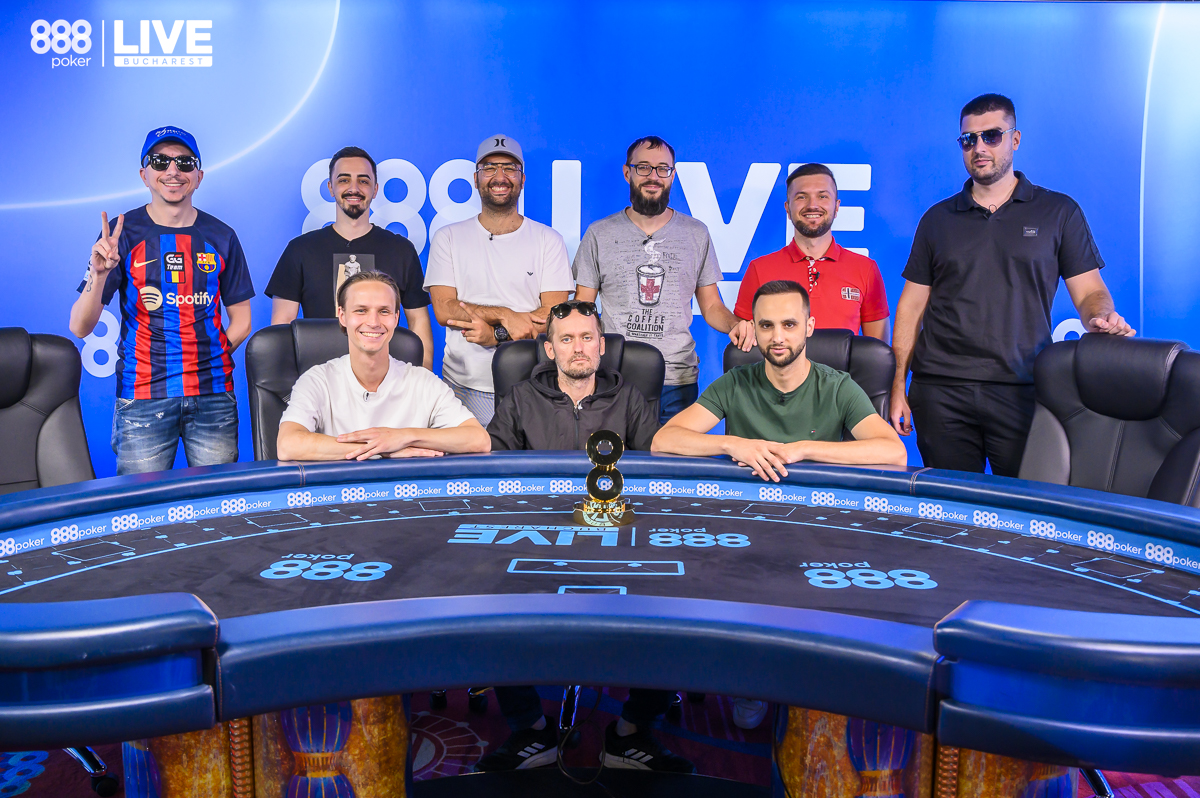 First to leave the table was Alexandru Marcu, who had made the final nine as the shortstack sitting on 6 BB. He ran his J9-suited into Viorel Gavrila's ATo, which held.
Marcu was eliminated in ninth for €3,500.
Maksims Gorbacs got low on chips, so he made a move with T9o with a 245K stack. But his timing couldn't be worse as he was called – and dominated - by Gicovanu's QTo.
He walked away with €4,000 for his 8th-place finish.
The only Greek player in the pack was next to receive his marching orders. Konstantinos Vatseris moved all-in behind Marius Gicovanu's raise and Viorel Gavrila's call on the button.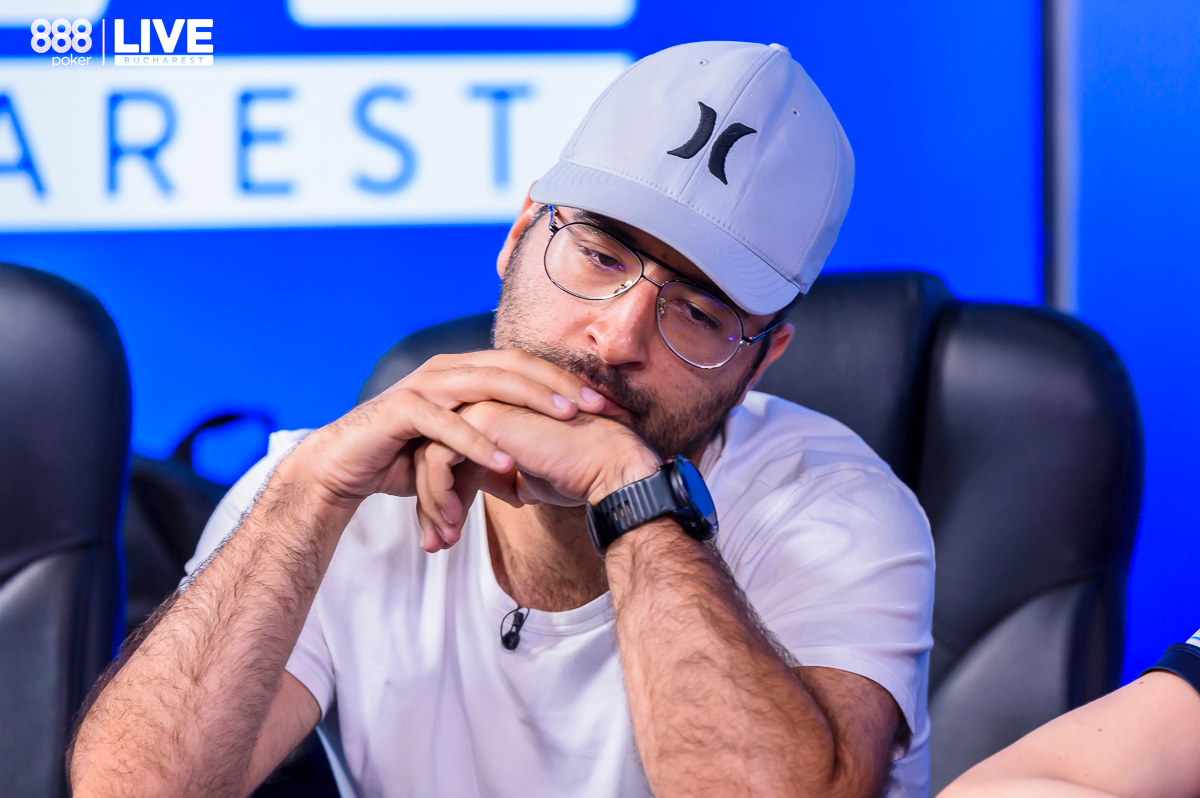 Marius found the fold, but Viorel called with AcTc, putting Vatseris' QQ at risk. An ace on the turn sent Konstantinos to the rail in seventh for €5,300.
Up next to punch his ticket to an early dinner was Gheorghe Velcea. Viorel Gavrila was going for his third knockout when he called Gheorghe's all-in holding KK. Velcea held AQo, but the flop, turn and river provided no help.
Gheorghe Velcea found himself on the rail in 6th place for €6,900.
With stacks getting shallower, Razvan Belea felt the pressure to shove from the big blind with KJ-suited. But Admir Qinami was not raising UTG with air. He had the goods in the form of pocket JJ, which held, increasing his chip lead.
Good game to Razvan Belea, who walked away in 5th for €9,200.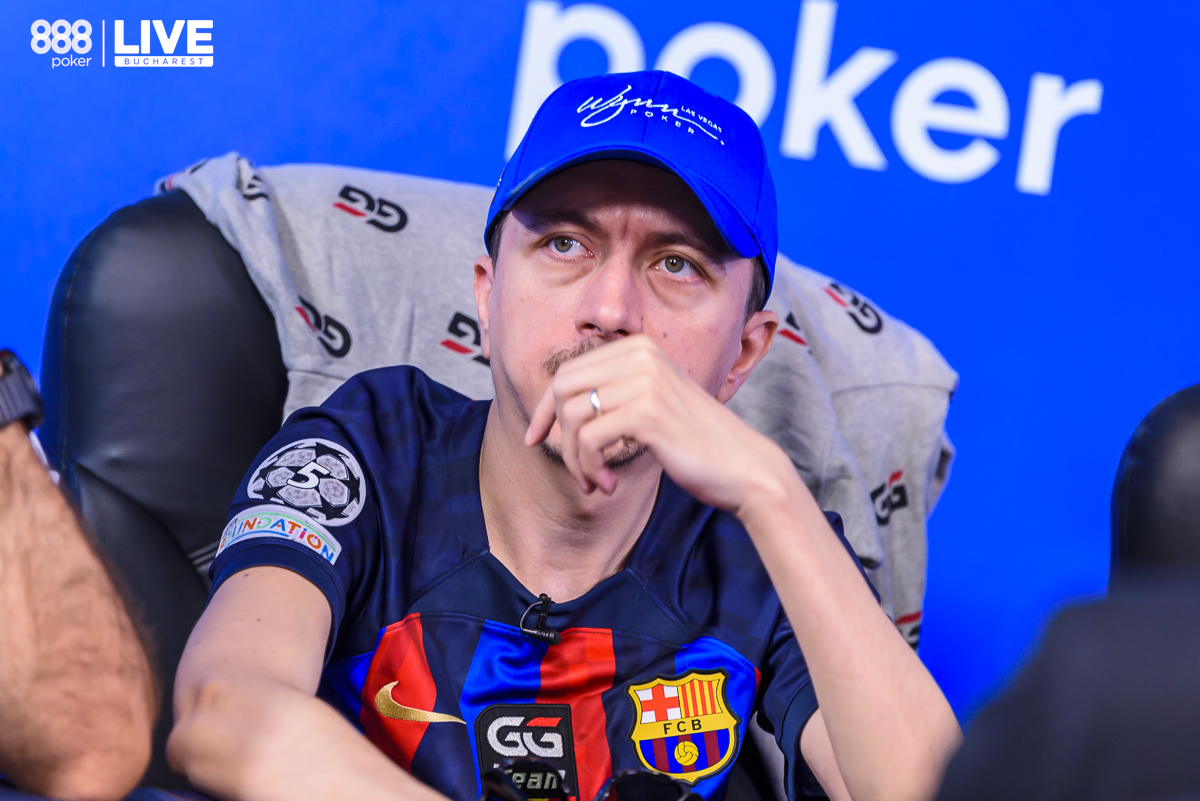 Andrii Zaika had entered the final table fifth in chips. He was able to ladder up one spot with his fourth-place finish for €11,500.
Viorel Gavrila claimed another victim knocking out Zaika when his A8o held versus his opponent's KJo. Andrii was out in fourth.
Taking us to heads-up action was the bust out of Marius Gicovanu. He ran his pocket 99 into Gavrila's pocket JJ for a classic showdown.
The 4h-8s-Qc-5h-6s runout was of no assistance and Marius headed to the door, our in third-place for €14,500.
888poker LIVE Bucharest – Heads-Up Action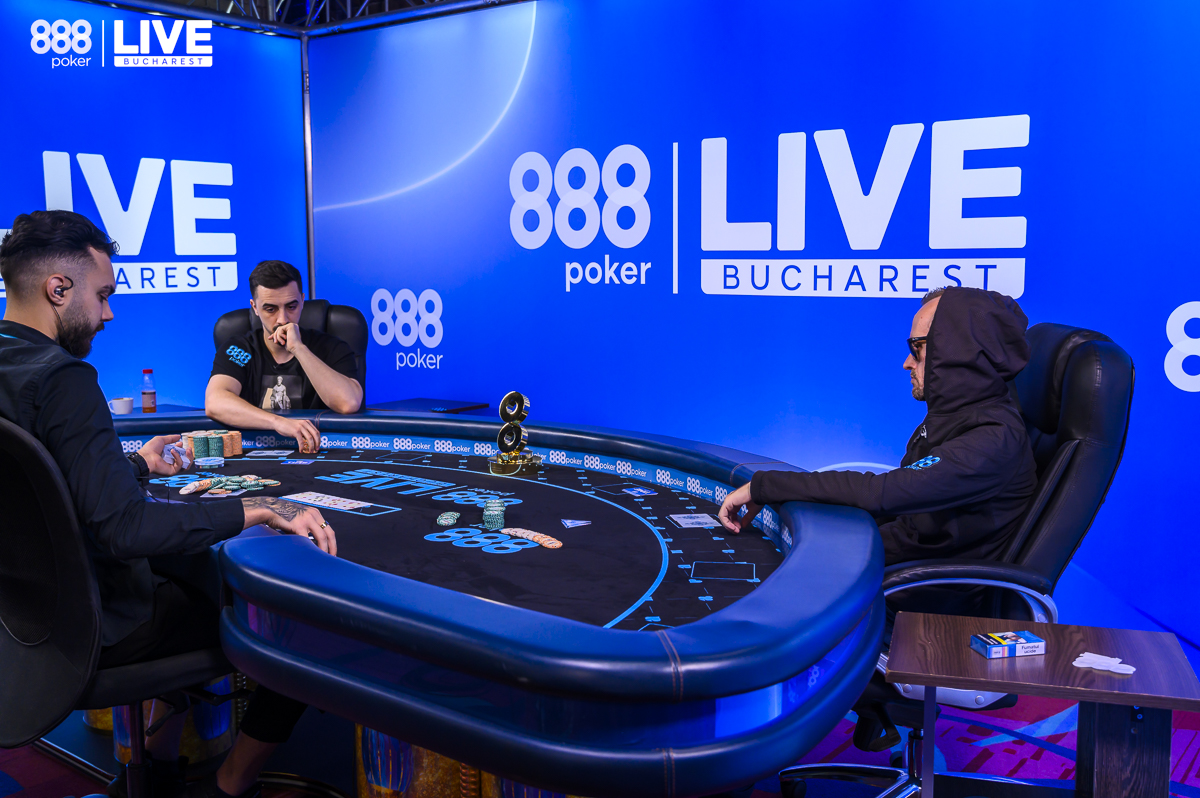 It took less than four hours to get down to heads-up action. Viorel Gavrila had a 1.5:1 slight advantage at the start of play:
Viorel Gavrila -- 10,070,000
Admir Qinamial -- 6,740,000
After a little shy of one hour of heads-up play we had crowned an 888poker LIVE champion. At one point, Admir snatched the lead from Viorel, but he quickly gave it back when Viorel flopped two-pair versus Admir's gut-buster and turned flush draw.
Minutes later, Admir Qinami was all-in with KK for his tournament life. But, unfortunately for him, his opponent Viorel Gavrila had the goods with his pocket AA.
The board runout was quick and painless, bringing no surprises and Viorel Gavrila was our latest 888poker LIVE Bucharest Champion!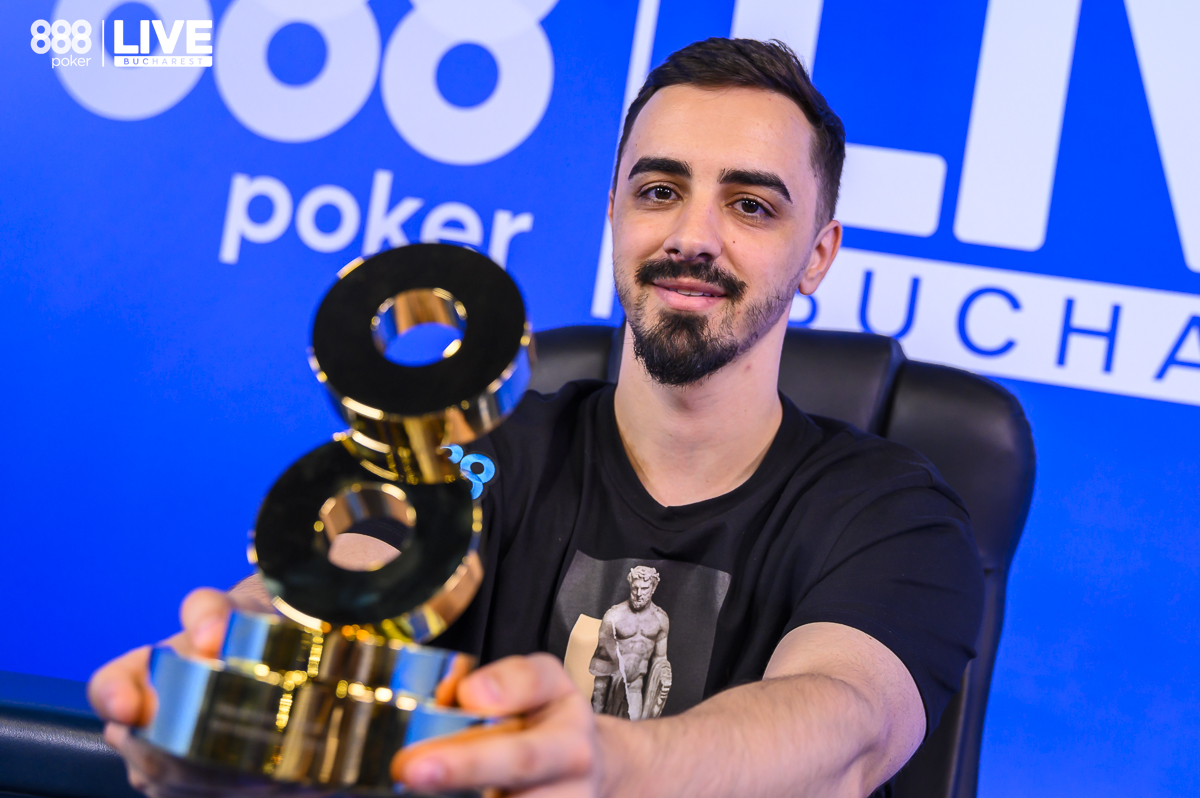 888poker LIVE Bucharest Main Event - Final Table Results
| | | | |
| --- | --- | --- | --- |
| Place | Player | Country | Prize |
| 1 | Viorel Gavrila | Romania | € 30,000 |
| 2 | Admir Qinami | Albania | € 19,500 |
| 3 | Marius Gicovanu | Romania | € 14,500 |
| 4 | Andrii Zaika | Ukraine | € 11,500 |
| 5 | Razvan Belea | Romania | € 9,200 |
| 6 | Gheorghe Velcea | Romania | € 6,900 |
| 7 | Konstantinos Vatseris | Greece | € 5,300 |
| 8 | Maksims Gorbacs | Latvia | € 4,000 |
| 9 | Alexandru Marcu | Romania | € 3,500 |