Close out the summer poker season the right way with 888poker's biggest tournament event of the year – the XL Autumn Series!
This much-anticipated tournament series boasts a whopping $2,000,000 in guarantees, including a $500K GTD multi-flight Main Event.
We've jampacked the schedule with even more affordable buy-in tournaments, boasting massively attractive guarantees across 34 events!
The excitement kicks off on 17 September and will run through 3 October. The highlight of the series is the $250 buy-in $500K GTD multi-flight Main Event.
Day 1s start on 27 September with daily tourneys, ending on 2 October with Day 2. The final table will take place the following day, on 3 October.
The XL Autumn Mystery Bounty Opening Event gets the ball rolling on 17 September, boasting a $120K GTD prize pool with an affordable $109 buy-in!
Also on the menu is the $162 buy-in $200,000 GTD multi-flight Mystery Bounty tournament. Day 1s commence on 20 September and will run until 24 September. Day 2 will happen on the 25th, with the final table on the 26th.
With buy-ins starting as low as $5.50 and the rest mainly ranging between $5.50 and $55 – this is one massive online poker series you don't want to miss!
And while you're running good in these events, check out the 888pokerTV live streams of the following three XL Autumn tournaments:
18/9 --- XL Autumn $120,000 GTD Mystery Bounty Opening Event #2
26/9 --- XL Autumn $200,000 GTD Mystery Bounty Event #20
3/10 --- XL Autumn $500,000 GTD Main Event #34
See below for info on how to get your ticket for FREE on our social media channels and via the 888pokerTV live streams and StreamTeam Twitch channels!
Get XL Autumn Series Tickets for FREE!
We've got plenty of ways to get your XL Autumn tourney tickets for free or as low as one cent.
Check out the 888poker client for daily satellites, starting from just one cent!
Play the no-ticket XL Autumn Series Freeroll for free $500K GTD Main Event tickets!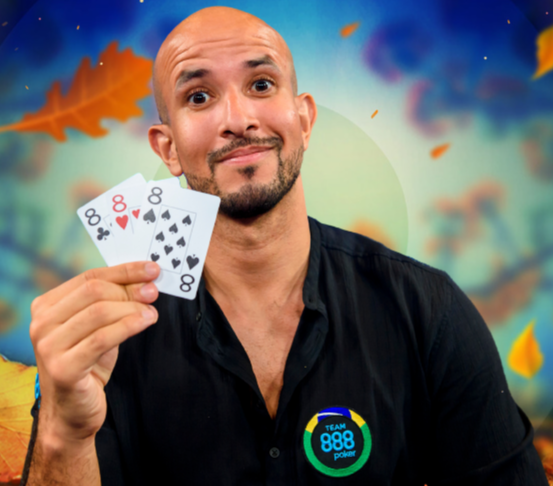 Follow our social media pages and participate in contests where you can bag XL Autumn Main Event and other tickets.
Our ambassadors and StreamTeam members will stream during the series with more ticket giveaways!
Keep your socials locked to our Discord and Instagram for more ways to win.
This series delivers on three enticing offers:
Very affordable buy-ins
$2,000,000 in guaranteed prize pools
$500,000 GTD Main Event
Check the terms and conditions for eligibility for the above promotions.
H2: XL Autumn Series Schedule and Special Events
During the series, we'll have two hugely attractive multi-flight tournaments:
27/9 – 3/10 --- $250 buy-in $500K XL Autumn Main Event
20/9 – 26/9 --- $162 buy-in $200K XL Autumn Mystery Bounty
And kicking things off right on 17/9 is the $109 buy-in $120K XL Autumn #02 - Mystery Bounty Opening Event.
Check out the full XL Autumn schedule below:
Date

Time

GMT

Tournament Name

Buy-in

GTD

17.09

15:00

$10,000 XL Autumn -

Sunday Big Shot 33

$33

$10,000

17.09

16:00

$8,000 XL Autumn -

Sunday Mystery Bounty 11

$11

$10,000

17.09

16:30

$10,000 XL Autumn -

Sunday PKO Rumble 22

$22

$10,000

17.09

17:00

$12,000 XL Autumn -

Big shot 215

$215

$10,000

17.09

17:30

$35,000 XL Autumn #01 -

Mystery Bounty Mini Opening

$55

$35,000

17.09

18:00

$18,000 XL Autumn -

Sunday Mystery Bounty 22

$22

$16,000

17.09

18:00

$7,000 XL Autumn -

Sunday Mystery Bounty 5.5

$5.50

$7,000

17.09

18:00

$120,000 XL Autumn #02 -

Mystery Bounty Opening

$109

$120,000

17.09

18:30

$35,000 XL Autumn #03 -

High Roller Opening

$525

$35,000

18.09

16:00

$8,000 XL Autumn -

Mystery Bounty 11

$11

$8,000

18.09

17:30

$12,000 XL Autumn -

Mystery Bounty 55

$55

$12,000

18.09

18:00

$12,000 XL Autumn #04 -

PKO Mini

$22

$12,000

18.09

18:30

$12,000 XL Autumn #05 -

PKO

$109

$12,000

19.09

16:00

$8,000 XL Autumn -

Mystery Bounty 11

$11

$8,000

19.09

16:30

$6,000 XL Autumn -

PKO Rumble 22

$22

$6,000

19.09

17:00

$15,000 XL Autumn #06 -

Mystery Bounty Mini High Roller

$55

$15,000

19.09

18:00

$10,000 XL Autumn -

Mystery Bounty 22

$22

$10,000

19.09

18:30

$20,000 XL Autumn #07 -

Mystery Bounty High Roller

$320

$20,000

19.09

18:30

$8,000 XL Autumn -

PKO Rumble 109

$109

$8,000

20.09

16:00

$8,000 XL Autumn -

Mystery Bounty 11

$11

$8,000

20.09

17:30

$12,000 XL Autumn -

Mystery Bounty 55

$55

$12,000

20.09

18:00

$12,000 XL Autumn #08 -

6-Max Mini

$22

$12,000

20.09

18:30

$15,000 XL Autumn #09 -

6-Max

$109

$12,000

20.09

18:30

$200,000 XL Autumn #20 -

Mystery Bounty (Day 1)*

$162

-

20.09

21:30

$200,000 XL Autumn #20 -

Mystery Bounty Turbo (Day 1)*

$162

-

21.09

16:00

$8,000 XL Autumn -

Mystery Bounty 11

$11

$8,000

21.09

16:30

$6,000 XL Autumn -

PKO Rumble 22

$22

$6,000

21.09

17:00

$200,000 XL Autumn #20 -

Mystery Bounty Turbo (Day 1)*

$162

-

21.09

17:30

$15,000 XL Autumn -

Thursday Big Shot 320

$320

$15,000

21.09

18:00

$10,000 XL Autumn -

Mystery Bounty 22

$22

$10,000

21.09

18:00

$15,000 XL Autumn #10 -

Super KO

$55

$15,000

21.09

18:00

$5,000 XL Autumn #11 -

Super KO Mini

$8.80

$5,000

21.09

18:30

$8,000 XL Autumn -

PKO Rumble 109

$109

$8,000

21.09

18:30

$200,000 XL Autumn #20 -

Mystery Bounty (Day 1)*

$162

-

21.09

21:30

$200,000 XL Autumn #20 -

Mystery Bounty Turbo (Day 1)*

$162

-

22.09

16:00

$8,000 XL Autumn -

Mystery Bounty 11

$11

$8,000

22.09

16:30

$6,000 XL Autumn -

PKO Rumble 22

$22

$6,000

22.09

17:00

$4,000 XL Autumn -

Mystery Bounty 8.80

$8.80

$4,000

22.09

17:00

$200,000 XL Autumn #20 -

Mystery Bounty Turbo (Day 1)*

$162

-

22.09

17:30

$12,000 XL Autumn -

Mystery Bounty 55

$55

$12,000

22.09

18:00

$12,000 XL Autumn #12 -

PKO Turbo Deep Mini

$22

$12,000

22.09

18:30

$12,000 XL Autumn #13 - P

KO Turbo Deep

$109

$12,000

22.09

18:30

$200,000 XL Autumn #20 -

Mystery Bounty (Day 1)*

$162

-

22.09

19:30

$3,500 XL Autumn -

PKO Rumble 55

$55

$3,500

22.09

21:30

$200,000 XL Autumn #20 -

Mystery Bounty Turbo (Day 1)*

$162

-

23.09

15:30

$200,000 XL Autumn #20 -

Mystery Bounty (Day 1)*

$162

-

23.09

16:00

$8,000 XL Autumn -

Mystery Bounty 11

$11

$8,000

23.09

16:30

$6,000 XL Autumn -

PKO Rumble 22

$22

$6,000

23.09

17:00

$4,000 XL Autumn -

Mystery Bounty 8.80

$8.80

$4,000

23.09

17:30

$12,000 XL Autumn -

Mystery Bounty 55

$55

$12,000

23.09

18:00

$10,000 XL Autumn -

Mystery Bounty 22

$22

$10,000

23.09

18:30

$200,000 XL Autumn #20 -

Mystery Bounty (Day 1)*

$162

-

23.09

18:30

$10,000 XL Autumn -

PKO Rumble 109

$109

$10,000

23.09

21:30

$200,000 XL Autumn #20 -

Mystery Bounty Turbo (Day 1)*

$162

-

23.09

23:00

$200,000 XL Autumn #20 -

Mystery Bounty Hyper (Day 1)*

$162

-

24.09

12:30

$200,000 XL Autumn #20 -

Mystery Bounty (Day 1)*

$162

-

24.09

15:00

$10,000 XL Autumn -

Sunday Big Shot 33

$33

$10,000

24.09

15:30

$200,000 XL Autumn #20 -

Mystery Bounty (Day 1)*

$162

-

24.09

16:00

$8,000 XL Autumn -

PKO Rumble 109

$109

$8,000

24.09

16:30

$10,000 XL Autumn -

Sunday PKO Rumble 22

$22

$10,000

24.09

17:00

$12,000 XL Autumn -

Big Shot 215

$215

$10,000

24.09

17:30

$35,000 XL Autumn #14 -

Mystery Bounty

$55

$35,000

24.09

18:00

$18,000 XL Autumn -

Sunday Mystery Bounty 22

$22

$16,000

24.09

18:00

$7,000 XL Autumn -

Sunday Mystery Bounty 5.5

$5.50

$7,000

24.09

18:00

$10,000 XL Autumn #15 -

Mystery Bounty Mini

$11

$10,000

24.09

18:30

$200,000 XL Autumn #20 -

Mystery Bounty (Day 1)*

$162

-

24.09

18:30

$35,000 XL Autumn #16 -

HR Turbo Deep

$525

$35,000

24.09

18:30

$25,000 XL Autumn #17 -

Mystery Bounty

$109

$25,000

24.09

21:30

$200,000 XL Autumn #20 -

Mystery Bounty Turbo (Day 1)*

$162

-

24.09

23:00

$200,000 XL Autumn #20 -

Mystery Bounty Hyper (Day 1)*

$162

-

25.09

16:00

$8,000 XL Autumn -

Mystery Bounty 11

$11

$8,000

25.09

17:30

$12,000 XL Autumn -

Mystery Bounty 55

$55

$12,000

25.09

18:00

$12,000 XL Autumn #18 -

Big Shot Mini

$22

$12,000

25.09

18:30

$12,000 XL Autumn #19 -

Big Shot

$109

$12,000

25.09

20:00

$200,000 XL Autumn #20 -

Mystery Bounty (Day 2)

-

$200,000

26.09

16:00

$8,000 XL Autumn -

Mystery Bounty 11

$11

$8,000

26.09

18:00

$10,000 XL Autumn -

Mystery Bounty 22

$22

$10,000

26.09

18:00

$15,000 XL Autumn #21 -

Turbo Deep Mini High Roller

$55

$15,000

26.09

18:30

$20,000 XL Autumn #22 -

Turbo Deep High Roller

$320

$20,000

26.09

18:30

$8,000 XL Autumn -

PKO Rumble 109

$109

$8,000

26.09

19:00

$200,000 XL Autumn #20 -

Mystery Bounty (FT)

-

-

27.09

16:00

$8,000 XL Autumn -

Mystery Bounty 11

$11

$8,000

27.09

16:30

$6,000 XL Autumn -

PKO Rumble 22

$22

$6,000

27.09

17:30

$12,000 XL Autumn -

Mystery Bounty 55

$55

$12,000

27.09

18:00

$12,000 XL Autumn #23 -

Super KO Mini

$22

$12,000

27.09

18:30

$12,000 XL Autumn #24 -

Super KO

$109

$12,000

27.09

18:30

$500,000 XL Autumn #34 -

Main Event (Day 1) *

$250

-

27.09

21:30

$500,000 XL Autumn #34 -

Main Event Turbo (Day 1) *

$250

-

28.09

16:00

$8,000 XL Autumn -

Mystery Bounty 11

$11

$8,000

28.09

16:30

$6,000 XL Autumn -

PKO Rumble 22

$22

$6,000

28.09

17:00

$500,000 XL Autumn #34 -

Main Event Turbo (Day 1) *

$250

-

28.09

18:00

$10,000 XL Autumn -

Mystery Bounty 22

$22

$10,000

28.09

18:00

$5,000 XL Autumn #25 -

PKO 6-Max Mini

$5.50

$5,000

28.09

18:30

$20,000 XL Autumn #26 -

PKO 6-Max

$320

$20,000

28.09

18:30

$8,000 XL Autumn -

PKO Rumble 109

$109

$8,000

28.09

18:30

$500,000 XL Autumn #34 -

Main Event (Day 1) *

$250

-

28.09

21:30

$500,000 XL Autumn #34 -

Main Event Turbo (Day 1) *

$250

-

29.09

16:00

$8,000 XL Autumn -

Mystery Bounty 11

$11

$8,000

29.09

16:30

$6,000 XL Autumn -

PKO Rumble 22

$22

$6,000

29.09

17:00

$4,000 XL Autumn -

Mystery Bounty 8.80

$8.80

$4,000

29.09

17:00

$500,000 XL Autumn #34 -

Main Event Turbo (Day 1) *

$250

-

29.09

17:30

$12,000 XL Autumn -

Mystery Bounty 55

$55

$12,000

29.09

18:00

$12,000 XL Autumn #27 -

Big Shot Mini

$22

$12,000

29.09

18:30

$10,000 XL Autumn #28 -

Big Shot

$109

$12,000

29.09

18:30

$500,000 XL Autumn #34 -

Main Event (Day 1) *

$250

-

29.09

21:30

$500,000 XL Autumn #34 -

Main Event Turbo (Day 1) *

$250

-

30.09

15:30

$500,000 XL Autumn #34 -

Main Event (Day 1) *

$250

-

30.09

16:00

$8,000 XL Autumn -

Mystery Bounty 11

$11

$8,000

30.09

16:30

$6,000 XL Autumn -

PKO Rumble 22

$22

$6,000

30.09

17:00

$4,000 XL Autumn -

Mystery Bounty 8.80

$8.80

$4,000

30.09

17:30

$12,000 XL Autumn -

Mystery Bounty 55

$55

$12,000

30.09

18:00

$10,000 XL Autumn -

Mystery Bounty 22

$22

$10,000

30.09

18:30

$10,000 XL Autumn -

PKO Rumble 109

$109

$10,000

30.09

18:30

$500,000 XL Autumn #34 -

Main Event (Day 1) *

$250

-

30.09

21:30

$500,000 XL Autumn #34 -

Main Event Turbo (Day 1) *

$250

-

30.09

23:00

$500,000 XL Autumn #34 -

Main Event Hyper (Day 1) *

$250

-

01.10

12:30

$500,000 XL Autumn #34 -

Main Event (Day 1) *

$250

-

01.10

15:00

$10,000 XL Autumn -

Sunday Big Shot 33

$33

$10,000

01.10

15:30

$500,000 XL Autumn #34 - Main Event (Day 1) *

$250

-

01.10

16:00

$8,000 XL Autumn -

Sunday Mystery Bounty 11

$11

$10,000

01.10

16:00

$8,000 XL Autumn -

PKO Rumble 109

$109

$8,000

01.10

16:30

$10,000 XL Autumn -

Sunday PKO Rumble 22

$22

$10,000

01.10

17:30

$35,000 XL Autumn #29 -

Mystery Bounty

$55

$35,000

01.10

18:00

$18,000 XL Autumn -

Sunday Mystery Bounty 22

$22

$18,000

01.10

18:00

$7,000 XL Autumn -

Sunday Mystery Bounty 5.5

$5.50

$7,000

01.10

18:00

$25,000 XL Autumn #30 -

Mystery Bounty Mini

$22

$25,000

01.10

18:30

$35,000 XL Autumn #31 -

High Roller

$525

$35,000

01.10

18:30

$25,000 XL Autumn #32 -

Mystery Bounty

$109

$25,000

01.10

18:30

$500,000 XL Autumn #34 -

Main Event (Day 1) *

$250

-

01.10

21:30

$500,000 XL Autumn #34 -

Main Event Turbo (Day 1) *

$250

-

01.10

23:00

$500,000 XL Autumn #34 -

Main Event Hyper (Day 1) *

$250

-

02.10

14:00

$500,000 XL Autumn #34 -

Main Event Turbo (Day 1) *

$250

-

02.10

15:30

$500,000 XL Autumn #34 -

Main Event Turbo (Day 1) *

$250

-

02.10

16:00

$8,000 XL Autumn -

Mystery Bounty 11

$11

$8,000

02.10

17:00

$500,000 XL Autumn #34 -

Main Event Turbo (Day 1) *

$250

-

02.10

17:30

$12,000 XL Autumn -

Mystery Bounty 55

$55

$12,000

02.10

18:00

$10,000 XL Autumn -

Mystery Bounty 22

$22

$10,000

02.10

18:30

$15,000 XL Autumn #33 -

After Party

$109

$15,000

02.10

18:30

$500,000 XL Autumn #34 -

Main Event Hyper (Day 1) *

$250

-

02.10

20:00

$500,000 XL Autumn #34 -

Main Event (day 2)

-

$500,000

03.10

16:00

$8,000 XL Autumn -

Mystery Bounty 11

$11

$8,000

03.10

17:30

$12,000 XL Autumn -

Mystery Bounty 55

$55

$12,000

03.10

18:00

$10,000 XL Autumn -

Mystery Bounty 22

$22

$10,000

03.10

18:30

$10,000 XL Autumn -

PKO Rumble 109

$109

$10,000

03.10

19:00

$500,000 XL Autumn #34 -

Main Event (FT)

-

-
*Dates and times subject to change