From 9 through 25 October 2022, 888poker is turning back the clock in our XL RETRO Series! This tournament event is an all-time favourite with players. So, we're bringing it back with a massive twist that we know you'll love!
This time around, we're going all retro in the latest edition of our XL Series.
As one of our classic, favourite 888poker tournaments, the multi-flight Main Event will boast a massive $500,000 guarantee, featuring an affordable $250 buy-in.
Massive Guarantees with Mystery Bounty Twist!
This October's XL Retro Series will tally up a total of over $1.7 million guaranteed across twenty-seven very cool tournaments. In addition to these series events, there will be RETRO versions of our regular PKO Rumble and Big Shot tourneys.
The new kid on this old school block is the Mystery Bounty, featuring a $200K GTD. This event is sure to draw in the crowds with the chance to win big!
Sun 16/10 @18:00 -- XL Retro #13 - Mystery Bounty -- $215 buy-in -- $200K GTD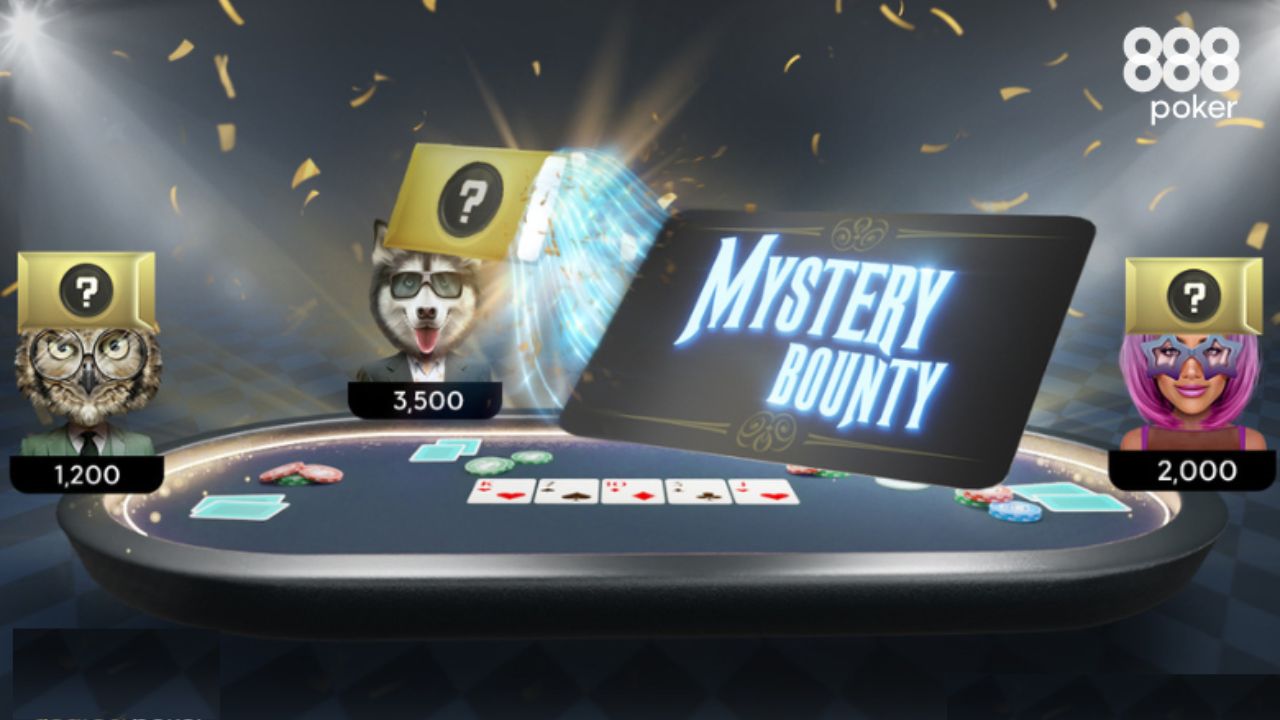 Another excellent tournament during the series is the XL Retro #26 Super High Roller, happening on 23 October at 18:00 GMT. This event features a $2,100 buy-in with a $150K GTD prize pool.
Check out all the retro tournaments in the series below.
XL Retro Live Streams and Giveaways!
On Tuesday, 25 October, we will live stream the Main Event final table on our Twitch 888pokerTV. The stream will feature giveaways and a special freeroll.
Here's the full live streaming schedule:
Oct 10 – 20:00 GMT - $120,000 XL Retro #01 - Mega Deep Opening Event Final Table + Giveaways
Oct 17 – 20:00 GMT - $200,000 XL Retro #13 - Mystery Bounty + Giveaways
Oct 25 – 20:00 GMT - $500,000 XL Retro #27 - Main Event Final Table + Freeroll + Giveaways
You can also check out the 888pooker StreamTeam and ambassador Twitch channels, where they will be playing events throughout the series. They will be giving away free tickets on top!
See the full line-up here: StreamTeam and Ambassador Twitch Streams.
Check out the complete XL RETRO schedule below:
Date

Time

Event

Buy-in

GTD

Sun 09.10

18:00

$120,000 XL Retro #01 - Mega Deep Opening Event

$109

$120,000

18:30

$45,000 XL Retro #02 - Whale Opening Event

$525

$45,000

19:00

$15,000 XL Retro #03 - Mini Mega Deep Opening Event

$33

$15,000

Mon 10.10

16:00

$6,000 XL Retro Big Shot 11

$11

$6,000

16:30

$12,000 XL Retro PKO Rumble 22

$22

$12,000

17:30

$12,000 XL Retro Mystery Bounty 55

$55

$12,000

18:00

$20,000 XL Retro #04 - Tornado 8-Max

$109

$20,000

18:30

$3,000 XL Retro #05 - BlowFish 8-Max

$11

$3,000

Tue 11.10

16:00

$6,000 XL Retro Big Shot 11

$11

$6,000

16:30

$12,000 XL Retro PKO Rumble 22

$22

$12,000

17:30

$12,000 XL Retro Mystery Bounty 55

$55

$12,000

18:00

$20,000 XL Retro #06 - Crocodile PKO

$320

$20,000

18:30

$8,000 XL Retro #07 - SwordFish PKO

$33

$8,000

Wed 12.10

16:00

$6,000 XL Retro Big Shot 11

$11

$6,000

16:30

$12,000 XL Retro PKO Rumble 22

$22

$12,000

17:30

$12,000 XL Retro Mystery Bounty 55

$55

$12,000

18:00

$15,000 XL Retro #08 - Lightning 6-Max

$109

$15,000

18:30

$6,000 XL Retro #9 - Mini Lightning 6-Max

$33

$6,000

Thu 13.10

16:00

$6,000 XL Retro Big Shot 11

$11

$6,000

16:30

$12,000 XL Retro PKO Rumble 22

$22

$12,000

17:30

$12,000 XL Retro Mystery Bounty 55

$55

$12,000

18:00

$20,000 XL Retro #10 - Hurricane

$109

$20,000

18:30

$4,000 XL Retro #11 - CatFish

$16.50

$4,000

Fri 14.10

16:00

$6,000 XL Retro Big Shot 11

$11

$6,000

16:30

$12,000 XL Retro PKO Rumble 22

$22

$12,000

17:30

$12,000 XL Retro Mystery Bounty 55

$55

$12,000

Sat 15.10

16:00

$6,000 XL Retro Big Shot 11

$11

$6,000

16:30

$12,000 XL Retro PKO Rumble 22

$22

$12,000

17:30

$12,000 XL Retro Mystery Bounty 55

$55

$12,000

18:00

$45,000 XL Retro #12 - Volcano PKO

$1,050

$45,000

Sun 16.10

18:00

$200,000 XL Retro #13 - Mystery Bounty

$215

$200,000

18:30

$45,000 XL Retro #14 - Whale 8-Max

$525

$45,000

19:00

$20,000 XL Retro #15 - Mini Mystery Bounty

$33

$20,000

Mon 17.10

16:00

$6,000 XL Retro Big Shot 11

$11

$6,000

16:30

$12,000 XL Retro PKO Rumble 22

$22

$12,000

18:00

$15,000 XL Retro #16 - Monsoon

$55

$15,000

18:30

$3,000 XL Retro #17 - BlowFish

$11

$3,000

Tue 18.10

16:00

$6,000 XL Retro Big Shot 11

$11

$6,000

16:30

$12,000 XL Retro PKO Rumble 22

$22

$12,000

17:30

$12,000 XL Retro Mystery Bounty 55

$55

$12,000

18:00

$20,000 XL Retro #18 Crocodile KO

$320

$20,000

18:30

$8,000 XL Retro #19 - Big Fish KO

$33

$8,000

Wed 19.10

16:00

$6,000 XL Retro Big Shot 11

$11

$6,000

16:30

$12,000 XL Retro PKO Rumble 22

$22

$12,000

17:30

$12,000 XL Retro Mystery Bounty 55

$55

$12,000

18:00

$5,000 XL Retro #20 - PLO 6-Max

$109

$5,000

18:30

$1,500 XL Retro #21 - Mini PLO 6-Max

$33

$1,500

Thu 20.10

16:00

$6,000 XL Retro Big Shot 11

$11

$6,000

16:30

$12,000 XL Retro PKO Rumble 22

$22

$12,000

17:30

$12,000 XL Retro Mystery Bounty 55

$55

$12,000

17:00

$500,000 XL Retro #27 - Main Event (day 1)

$250

-

18:30

$20,000 XL Retro #22 - Crocodile PKO 8-Max

$320

$20,000

19:00

$500,000 XL Retro #27 - Main Event (day 1)

$250

-

21:00

$500,000 XL Retro #27 - Main Event (day 1)

$250

-

23:00

$500,000 XL Retro #27 - Hyper Turbo Main Event (day 1)

$250

-

Fri 21.10

16:00

$6,000 XL Retro Big Shot 11

$11

$6,000

16:30

$12,000 XL Retro PKO Rumble 22

$22

$12,000

17:30

$12,000 XL Retro Mystery Bounty 55

$55

$12,000

17:00

$500,000 XL Retro #27 - Main Event (day 1)

$250

-

19:00

$500,000 XL Retro #27 - Main Event (day 1)

$250

-

21:00

$500,000 XL Retro #27 - Main Event (day 1)

$250

-

23:00

$500,000 XL Retro #27 - Hyper Turbo Main Event (day 1)

$250

-

Sat 22.10

16:00

$6,000 XL Retro Big Shot 11

$11

$6,000

16:30

$12,000 XL Retro PKO Rumble 22

$22

$12,000

17:00

$500,000 XL Retro #27 - Main Event (day 1)

$250

-

17:30

$12,000 XL Retro Mystery Bounty 55

$55

$12,000

18:00

$45,000 XL Retro #23 - Volcano

$1,050

$45,000

19:00

$500,000 XL Retro #27 - Main Event (day 1)

$250

-

21:00

$500,000 XL Retro #27 - Main Event (day 1)

$250

-

23:00

$500,000 XL Retro #27 - Hyper Turbo Main Event (day 1)

$250

-

Sun 23.10

18:00

$30,000 XL Retro #24 - Turbo Mega Deep PKO

$109

$30,000

18:00

$150,000 XL Retro #26 - Super High Roller 8-Max

$2,100

$150,000

18:00

$500,000 XL Retro #27 - Main Event (day 1)

$250

-

18:30

$20,000 XL Retro #25 - Mini Mega Deep PKO

$33

$20,000

20:00

$500,000 XL Retro #27 - Main Event (day 1)

$250

-

22:00

$500,000 XL Retro #27 - Main Event (day 1)

$250

-

00:00

$500,000 XL Retro #27 - Hyper Turbo Main Event (day 1)

$250

-

Mon 24.10

14:00

$500,000 XL Retro #27 - Turbo Main Event (day 1)

$250

-

16:00

$500,000 XL Retro #27 - Turbo Main Event (day 1)

$250

-

17:30

$500,000 XL Retro #27 - Hyper Turbo Main Event (day 1)

$250

-

19:00

$500,000 XL Retro #27 - Main Event (day 2)

-

$500,000

Tue 25.10

19:00

$500,000 XL Retro #27 - Main Event (FT)

-