On Sunday, May 30, the inaugural XL Spring Series kicked off on 888poker. The festival will run through June 6, comprising 25 events with buy-ins ranging from $5.50-$250. In addition, the series will offer more than $1 million in combined guaranteed prize pools.
On the first day of play, four tournaments took place, including the following –
The $55 buy-in Event #1: $50,000 Opening Event, a tournament that attracted 986 players who rebought 367 times.
The 1,353-entry field cruised by the $50K guarantee by generating a $67,650 prize pool. The top 180 finishers each received a piece of the prize money.
Team888's Vivi Saliba Takes Her Shot
One player to make the money was 888poker Ambassador Vivian "vivi.888." Saliba. According to live updates by PokerNews, the Brazilian pro fell in Level 24 (3,500/7,000/875).
She had moved all-in for under 10 big blinds from the hijack with the 6♥5♥ and was called by "U.E.N.O.".
They woke up with pocket sixes in the big blind. The 3♥4♠J♥ flop gave Saliba both straight and flush draws. But she missed when the 8♣ bricked the turn, followed by the 9♦ on the river.
Saliba earned a min-cash of $135.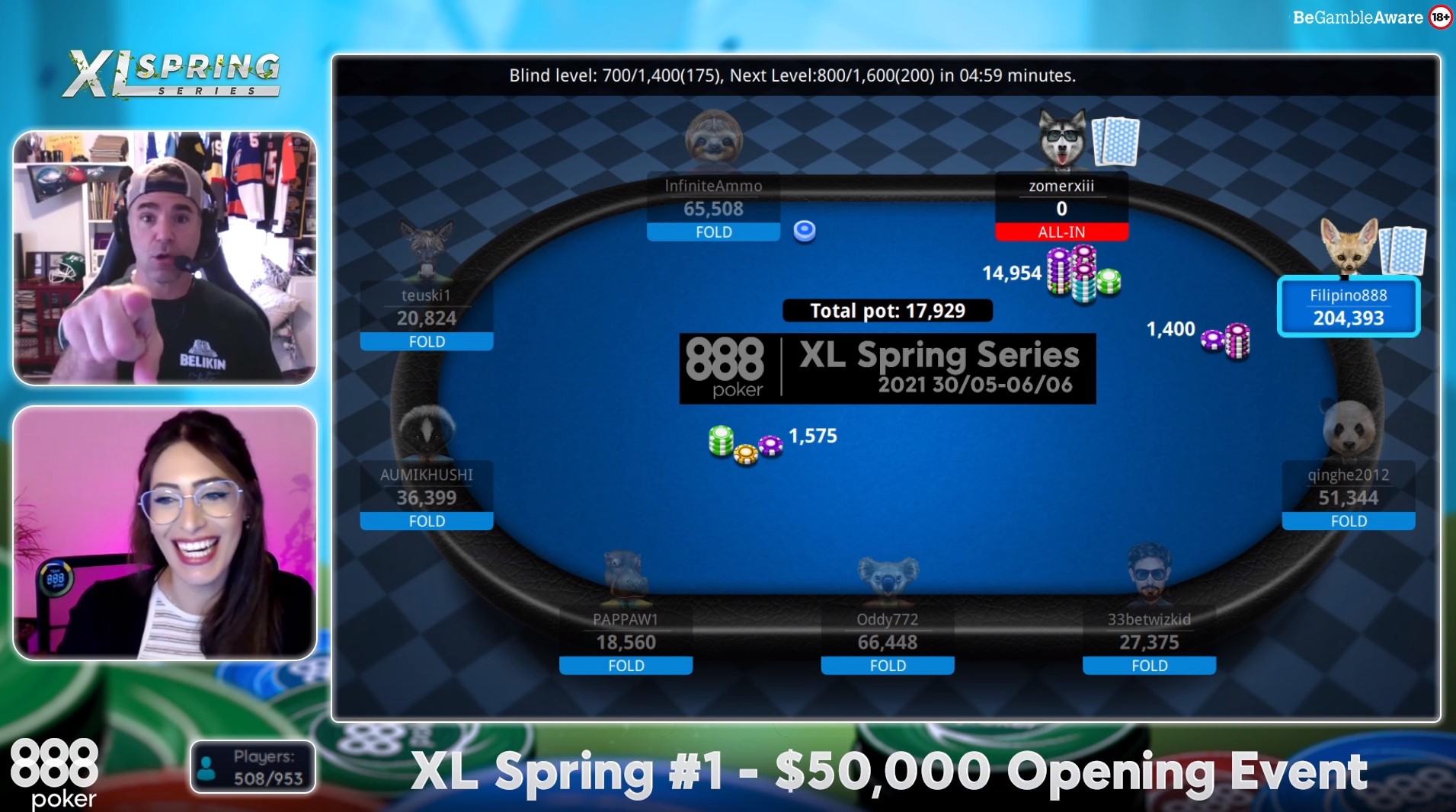 UK's "MAKKAPAKKK" Wins It All
After "ShagalovMax" fell in 10th place for $724, the final table was set with Christopher "MAKKAPAKKK" Johnson holding a healthy chip lead.
Despite going wire-to-wire, Johnson only scored three eliminations at the final table on the way to victory.
The first came when "jonahindi" got their short stack in with jack-eight suited. But he failed to get there against Johnson's Big Slick.
"jonahindi" finished in seventh place for $1,617.
With three left, Johnson dispatched "JacobMitro" in third place for $5,311. He then took a 2:1 chip lead into heads-up play against Andorra's "Panxetillo".
The final hand of the tournament took place in Level 43 (100,000/200,000/25,000).
"Panxetillo" four-bet jammed holding the A♠J♠ and was up against the Q♣Q♥ of Johnson. The 5♣J♣10♥ flop paired "Panxetillo", and the A♦ turn gave them the lead with two pair.
Unfortunately, the K♥ spiked on the river to give Johnson a winning Broadway straight. "Panxetillo" was eliminated in second place for $7,225.
Event #1: $50,000 Opening Event Final Table Results
1st – Christopher "MAKKAPAKKK" Johnson (UK) … $9,884
2nd – "Panxetillo" (Andorra) … $7,225
3rd – "JacobMitro" (Canada) … $5,311
4th – "Vimtefeedar" (Brazil) … $3,903
5th – "LazBanker" (UK) … $2,889
6th – "flockystern" (Russia) … $2,151
7th – "jonahindi" (UK) … $1,617
8th – "Isitaskes" (Lithuania) … $1,224
9th – "AcidAccorbic" (Brazil) … $934
XL Spring Side Event Action
Also taking place on Sunday was the $16.50 buy-in Event #2: $25,000 Mini Opening –
It drew 1,150 players who rebought 370 times.
The 1,520-entry field meant the $25,000 prize pool was paid out amongst the top 180 finishers.
After more than 10 hours of play, it was Ukraine's "Sultanhcik" coming out on top to win the tournament for $3,652.50.
Meanwhile, the $5.50 buy-in Event #3: $10,000 Micro Opening attracted 1,269 players.
They rebought 466 times, which resulted in a 1,735-entry field.
The tournament, which offered up a $10,000 prize pool, ended in a three-way deal that saw the following chop –
Brazil's "lourimar" claimed the title and $1,221.16 in prize money.
Russia's "dimdaf" second for $926.08
Romania's "darioboss23" took third for $982.76.
Finally, the $33 buy-in Event #4: $15,000 Late Opening saw 378 players rebuy 103 times.
The 481-entry field offered up a $15,000 prize pool to the top 72 finishers.
After seven hours of play, the UK's "godfatheR2AA" emerged as the last player standing. He laid claim to the title and accompanying $2,743.50 first-place prize.
What's Coming Up
The XL Spring Series runs through Sunday, June 6, and there are plenty of excellent events on the schedule. Those tournaments include the following –
$320 buy-in Event #8: $50,000 High Roller at 6 p.m. GMT on Wednesday, June 1
$109 buy-in Event #11: $30,000 PKO at 6 p.m. GMT on Thursday, June 2
$250 buy-in Event #23: $500,000 Main Event at 5 p.m. GMT on Sunday, June 6
Click here for a look at the full schedule.
XL Spring Winners Thus Far
Date

Tournament

Buy-in

Entries

Prize Pool

Winner/ Country

Prize

Sunday,

May 30

Event #1: $50,000

Opening Event

$55

1,353

$67,650

Christopher "MAKKAPAKKK" Johnson (UK)

$9,884

Sunday,

May 30

Event #2: $25,000

Mini Opening

$16.50

1,520

$25,000

"Sultanhcik" (Ukraine)

$3,652.50

Sunday,

May 30

Event #3: $10,000

Micro Opening

$5.50

1,735

$10,000

"lourimar" (Brazil)

$1,221.16

Sunday,

May 30

Event #4: $15,000

Late Opening

$33

481

$15,000

"godfatheR2AA" (UK)

$2,743.50