Back in March, legendary footballer Denílson became 888poker's first celebrity ambassador in Brazil, which made sense given the huge surge of popularity poker in the South American country.
Born in Diadema, a small town near Sao Paulo, in 1977, Denílson started playing football for a local club in his hometown called Ouro Verde at age 11. Six years later, he joined Sao Paulo, one of the biggest clubs in Brazil.
Once the world's most expensive player – he got paid $32m (£21.5m) for his 1998 move from Sao Paolo to Real Betis -- Denílson, was renowned for his technical ability and skills during his entire football career, which spanned from 1994 and 2010. During that time, Denílson, a 2002 FIFA World Cup winner (he thought Rivaldo was the best player in 2002 World Cup, not Ronaldo), won numerous trophies including the Brazilian League, Copa America and Copa del Rey in Spain.
Big Regrets, Bigger Interests
Denílson, who admits his biggest regret when playing football, is not having renewed his contract when playing for Bordeaux (FRA), is now retired and enjoys spending time with his dogs while cheering for his favourite football team, Palmeiras. Of course, he will be filling some of his free time with his new favourite hobby – poker.
"All my friends started to play poker, and so I got more and more interested in the game," Denílson said of entering the poker world. "Many of the qualities you need to be a successful footballer can help you improve your poker game. 888poker is one of the biggest and best poker platforms in the world, so I am very proud to join the 888poker team, I hope it will help develop my own pokers skills as well as encourage new players to get involved in this exciting game."
We sat down with Denílson – who joins the likes of Bruno Foster, Bruno Kawauti and Nicolau Villa-Lobos as 888poker ambassadors from Brazil -- to ask a few questions regarding his foray into poker.
Poker Versus Football
When and how did you start playing poker? How do you want to improve your game?
Denílson: I started playing poker at the end of last year when I was in big 888poker event in Belo Horizonte. I intend to improve my game the most fun way possible: practising with friends.
What is your greatest achievement in poker and football?
As I said, I joined the world of poker recently, so, unfortunately, I have not had any great achievement. Now [in] football [it] was certainly the World Cup 2002.
Many soccer players play poker. Do you think this is good for them?
I think this great relationship, poker is an incredible sport – a fun, mind[sport], that's entertain[ing]. About what they tell me, is that the more I learn to play, [the more I] will like [it].
When you played football, did you have any colleagues who played poker?
Wow, now you got me. I really do not remember if they played poker, but I remember that there was always at least one card game being played.
For you, what are the similarities between a professional poker player and a professional football player? What can you bring from football to poker?
Undoubtedly, patience and concentration. In both sports, these characteristics are essential if you accelerate a situation, you can lose everything.
Who are currently your favourite poker and football players?
Bruno Foster for me is the best in poker. Besides being my coach he is among the best in the world. And as a football player, Neymar, who, in my opinion, it won't take long to be elected the best in the world.

Who are The best players you played alongside during your career?
Marcos, Cafu, Aldair, Juan, Roberto Carlos, Mauro Silva, Juninho Paulista, Ronaldinho, Rivaldo, Romário e Ronaldo.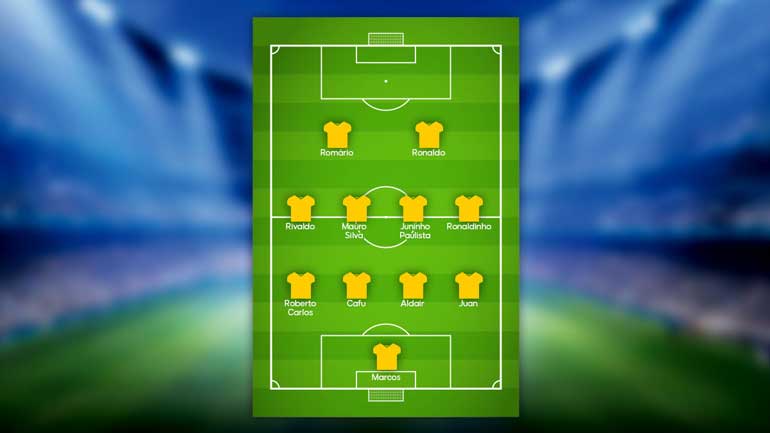 The best squad for brazilian national team today?
Allison (Roma),
Dani Alves (Barcelona),
Marcelo (Real Madrid),
Marquinhos (PSG),
Thiago Silva (PSG),
Luiz Gustavo (Wolfsburg),
Hernanes (Juventus),
Willian (Chelsea),
Douglas Costa (Bayern),
Neymar (Barcelona),
Ricardo Oliveira (Santos).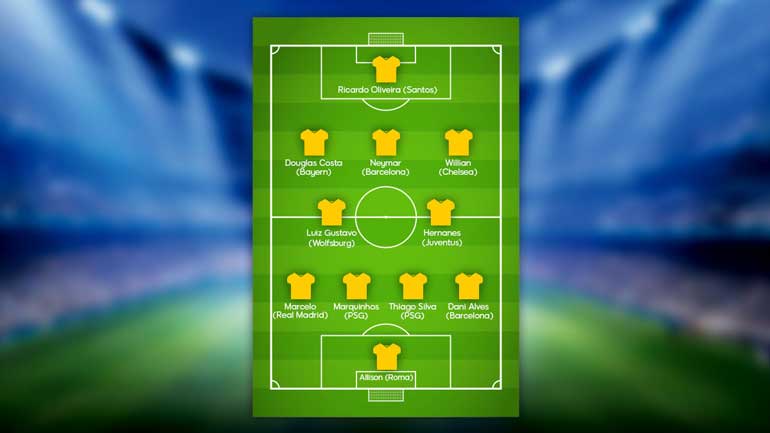 Poker Versus Football Strategy
What would you prefer: to win the WSOP Main Event or return to the field again to play for Brazil against Argentina?
WSOP win is something that has not even crossed my mind; I'm just starting in the sport. Just as I started my career as a player, living day after day, I live poker. As I lived a Brazil vs. Argentina I prefer, perhaps, to play and win the WSOP [laughs].
When you bluff in poker and succeed, it feels good! But how is the feeling to dive in the penalty area, bluff the football referee and get a penalty that did not exist?
They are different sensations! In poker bluffing is part of the game and it is almost essential. When you win with a bluff, the feeling is just, "Wow."
Do you remember any particular match that you decided that this is your game and went all-in?
I do not remember; there are many games. But I remember suffering penalties in the end converted and won. In poker, I have not had this feeling.
On the field, you always stood by irreverence. Do you also intend to implement this style with the cards?
Of course, I think that my style can help me a lot.
You had some kind of strategy while playing football. Will you have one for poker?
Each game asks a strategy. In both sports, you depend on the opponent. Each has a style of play, and I'll be trying to figure out the strategy for all of them.
Individual Sport
If you were not having a good day in football you had other companions to help you, but now, with poker being individual, how do you think you will act? Will you prepare differently?
The best part about poker is that you can start the game with bad cards and in the end; depending on your knowledge about the opponents, end up winning. I will try to stay calm and focus on strategy, regardless of my cards.
In football, you had the ball at your feet. Now, in poker, you will have the cards in your hands. What are the similarities and differences between football and poker?
The main similarity is thinking about what decision to make! Now, the difference in football is that you need to quickly decide what to do; in poker, depending on your position at the table, you have time to think and study the opponent.
Quick Hitters
Do you any superstitions in football you want to take to poker?
No, I never had superstitions playing.
Which hand do you prefer AQ or JJ?
AQ
Who is your favourite player on a Brazilian team?
Lucas Lima (Santos)
What is the best team you ever played for?
2002 Brazilian National Team, which won the World Cup.
What is the one thing you can't live without at the poker table?
Headphones.