Personable, intelligent, charming, and plenty of talent – that's the description among many for poker star Liv Boeree. The English player has become one of the most popular in the game. She brings plenty of skills to the table and beyond.
Her resumé includes the following achievements –
Several significant scores at the tables
A poker sponsorship deal
Commentating duties
Television appearances, and more
She's become a role model for many women players looking to advance in the game as well.
Beyond poker, Boeree also brings a background in science and has become a multi-talented media personality.
Table of Contents
Out of This World Poker
Boeree took a unique path to the poker felt. She grew up in Kent, England and earned a degree in astrophysics at the University of Manchester. Her first foray into poker came in a 2005 British television show with Phil Hellmuth, Annie Duke, and Dave "Devilfish" Ulliot as coaches.
Their efforts must have paid off, and she became hooked on the game's mathematical intricacies.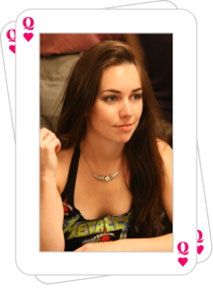 By 2008, Boeree had vaulted onto the major tournament scene. Her first significant score came in a European Ladies event, where she took the win for $30,000.
She began playing in more events, with her first breakthrough win in 2010 – in a big way and on a massive poker stage.
Boeree won the $5,300 EPT Main Event in Sanremo, Italy, for $1.7 million after qualifying via a satellite.
"I remember walking there on day six just so nervous," she told PokerListings in 2015. "I hadn't really slept much the night before. The nerves were really intense, but it was more of just the pressure of being at the final table."
After sitting down at the final table, Boeree was able to put that behind her. Poker fans began taking note.
In 2014, Liv finished runner-up in a £1,100 UKIPT event for another $97,057. Another massive score came her way in 2015.
Boeree took third in a £25,500 EPT Barcelona for $449,383.
In 2017, the poker pro chalked up another crucial bullet point. Liv scored a World Series of Poker bracelet after teaming with boyfriend Igor Kurginov in the $10,000 Tag Team Championship and took home $136,982.
Boeree told Cardplayer magazine simply after the win: "My mind is blown."
Boeree now has $3.9 million in live tournament winnings at the tables but has become much more than a poker player.
A Life in Science and Speaking

Liv has a deep passion for science and an ease in front of the camera. So, it's no surprise that Boeree has had many opportunities for a career beyond poker.
She's appeared in several science-related programs for the Weather Channel, Discovery, and Red Bull TV.
Boeree also appeared in the BBC documentary The Joy of Winning to discuss game theory. As a poker pro, she's had plenty of experience in that regard. Other television appearances have followed.
Boeree has a unique background in science and poker. So, she has also been a sought-after speaker through the years. In 2018, she presented a TEDx Talk in Manchester about probability.
She presented another TED Talk a month later in Vancouver, Canada. "Lessons on decision-making from a poker champion" was the topic.
In 2020, Boeree ramped up her speaking and coaching even more. She joined the PepTalk startup, which offers app users a roster of speakers and coaches with varying backgrounds.
She joined a group of poker players including, Fedor Holz, Maria Ho, Maria Konnikova, Jamie Gold, and others.
"We know poker principles apply effectively to business and other parts of life, and I'm looking forward to sharing those with PepTalk's customers," she told PokerScout about the new partnership. "My background includes speaking and writing on science, logic, math and philosophy, and I'll be bringing all of that to the table – no pun intended!"
The occasional poker tip might be part of her work with the company. But overall, Boeree hoped to give users some winning insight and motivation.
"In these times when we can't necessarily interact in-person," she said. "I hope to have a positive impact on people's lives when they need a boost."
What's Ahead
Boeree seems to have dialled back her poker playing in recent years. But she still plays in some live and online events. She's embraced her speaking and television roles and has even done some writing.
The latter has included pieces for Vox, Vice, The Independent, and Nature.
More of that seems in the works for the multimedia sensation. In 2021, Liv presented a discussion on "decision making and actionable insight" for the Riverbed Technology group.
Building her brand seems to have become a significant part of Boeree's professional life. She has 178,000 Twitter followers, where science and game theory are regular topics.
Her interest in science has expanded even more on Boeree's YouTube Channel. She has more than 33,000 subscribers and hosts videos related to all things science.
Topics can range from being a NASA astronaut to supercomputers to the physics of waterslides.
She even took a waterslide plunge herself for that last one, teaching viewers about the energy generated by heading down a slide.
Poker fans won't be disappointed with her YouTube content either. One of her videos tells viewers how to improve their poker faces, a fitting topic for a player known as "The Iron Maiden."
In her videos, the host comes across with a genuine interest in each topic. She's personable and fun. That's part of what has earned Boeree fans in poker and outside the industry. She's even added some poker commentating duties to her list of accomplishments.
Suppose the game needs multi-faceted players and offer a broader appeal beyond the tables. If that's the case, this Englishwoman undoubtedly fits the bill.
It seems likely Boeree will continue playing poker, but she still has many interests outside the game.
Boeree has carved out an interesting niche for herself and remains a player to watch.