888 Live Local London Main Event continued at Aspers Casino in Stratford on Friday 2nd March with Day 1b attracting 195 entries representing 173 unique players and 22 re-buys. This was an increase on Day 1a numbers, which attracted 168 entries (143 unique and 25 re-buys).
The £220 buy-in, £50,000 guaranteed Main Event kicks off the 2016 Live Local event series and is part of a 12-month series of events at the 888 branded poker room in a modern casino located at Olympic Park in London.
888 Partnership with Aspers Sees Huge Prize Pool
The poker room at Aspers has recently entered into an agreement with us, branding their spacious 34 table poker room as an 888Live poker room. John Scanlon, Head of Poker at Aspers Casino, explained how it really was a mutually beneficial arrangement.
"It's a twelve-month partnership we've agreed to cross promote live poker with online poker. Because of how strong 888 are in the UK market it made sense to do the partnership with them. There are a lot of synergies between Aspers and our mindset in how we see poker developing in the future. "
"There is going to be a full calendar of events, varying from this live local level which is £220, going up to maybe even higher than £880, so there will be something for different levels of players. We're going to make it as aspirational as possible. We run lots of satellites and promotions. One of the other things that really attracted us to 888 is how they promote to their players and keep them engaged."
"It's been a very busy month of poker in the UK. There have been lots of different events up and down the country, and the response that we've had has been excellent so I would expect tomorrow, Saturday, would be the busiest day. We're well over the guarantee, and I definitely expect us to exceed twice the guarantee, so I'd expect a prize pool of over £100,000."
Online Qualifiers Live the Game
Day 1b saw 14 players who had qualified online at 888poker.com enter the tournament getting a goody bag of branded merchandise before getting patched up and taking their seats.
Jay Beavers was one such qualifier who battled through the snow on his drive down from Manchester. He qualified for the tournament through a freeroll that gave him a ticket to the $30 qualifier where he then won his seat. This was Beaver's first live event, and he more than held his own on a table that included Team888 Ambassador Kara Scott for a large part of the day.
Even more qualifiers are expected tomorrow for the final Day 1c before the survivors play down to a winner on Day 2 on Sunday.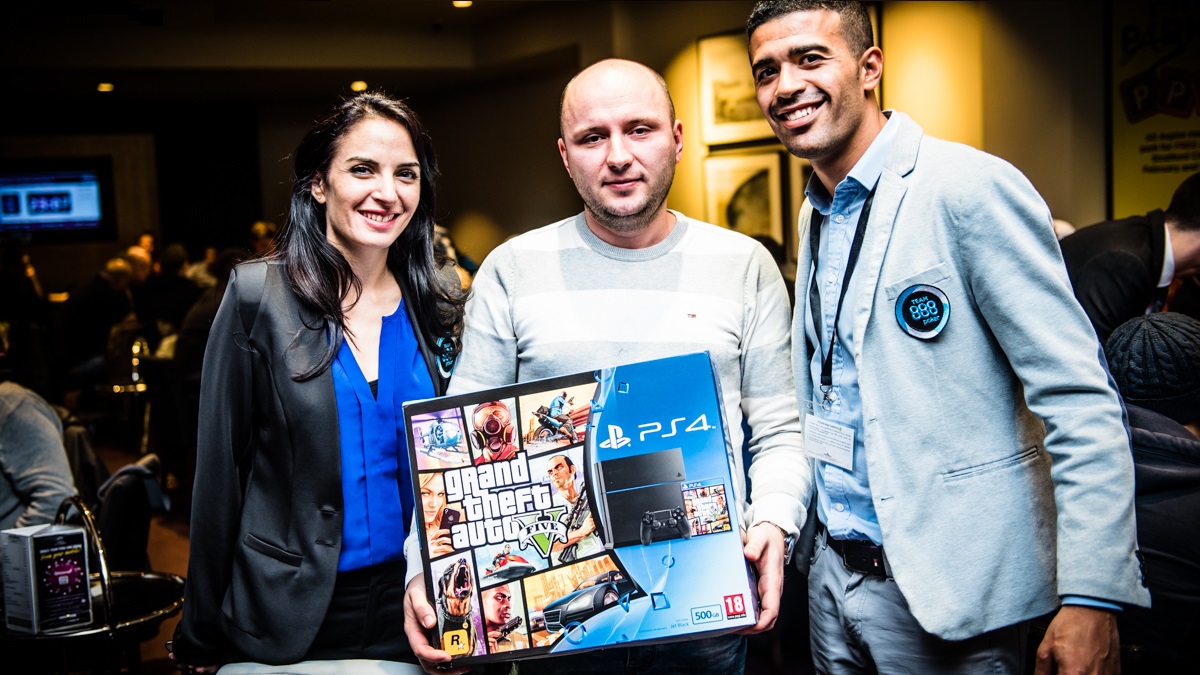 Photo by: fabfotos
So Close...
A PlayStation 4 was won yesterday by Adrian Binisan Petru, who hit a full house better than eights-full. But, the iPhone 6 Plus prize for the first royal flush of the tournament remained unclaimed.
Although, Eaamon Gavin was desperately close to winning the prize as he hit a straight flush but, unfortunately, not a royal flush. The good news was that his opponent had an ace high flush and Gavin doubled up to around starting stack.
All the Eights
Team888 ambassadors Kara Scott were back again after busting Day 1a, and both ran up above average stacks late into the tournament.
Lovgren was involved in a hand deep into level 8 where her opponent, Braz Junior, check-called a bet of 3,500 on the turn of a board reading 7d 9d 10s 8d. When the 8s hit the river Junior checked and faced a bet of 10,000, which represented half his remaining stack. He agonised over the decision for a while before pushing his cards away, but was delighted with his fold when Lovgren showed him her pocket 8c 8h for quads.
Enzo Del Piero was an early chip leader when he took a chance and knocked three players out holding 8h-7c. Del Piero was up against one player's 6c-5c, another's Ah-2h and a Kh-10h.
All the chips went in preflop, and a board of 4s4h-8d-Kc-8s gave Del Piero the magic 888 full house to grab a big pot and make himself a thorn in the side of his tablemates for several levels.
Final Chance Saturday
Action resumes tomorrow at the earlier time of 2pm with Day 1c with the final chance to make it through to Day 2 on Sunday and the shot at a monster pay day.
There were 21 survivors from Day 1a which saw chip leader Keith Richards bag up an impressive 651,000, which was miles ahead of Carlo Hassan, who ended the day in second place with 355,500.
The eventual winner on Sunday will be crowned the new 888Live Local London Champion, and also be awarded a beautiful trophy to go with their big cheque. On top of all that, they will get a special $2,200 Las Vegas experience package at this year's World Series of Poker (WSOP), sponsored by 888 for the second consecutive year.