The New Year is upon us, and we're proud to reveal to you the upcoming schedule for 888poker Live events. From London to Sao Paulo and Berlin to Las Vegas, we are ready to take the world by storm in 2018!
2018 888poker Live Schedule
The new season will kick off in February with our £440 buy-in 888poker LIVE 2018 Kick-off Event, which will take place at Aspers Casino from Feb. 2-11. We'll also host local events at the same venue in June, August, and November.

Click here for more info on the 888poker LIVE 2018 Kick-off Event.
Also, in February is the 888poker LIVE Bucharest, which will run at the Marriot Hotel from February 28 through March 4. That stop will highlight a two-day €220 buy-in Opening Event, which will feature a €50K GTD and award the winner a package to 888Live Local London. The tournament will take place Feb. 28-March 2.
From March 1-4, there will also be a four-day, €888 buy-in Main Event, offering two starting flights, a €288K GTD, and a WSOP Crazy 8's package to the winner. Oh, we'd be remiss if we didn't mention the stop's single day €88 buy-in Ladies Event, where the winner will receive an 888poker Live Barcelona package.
January saw the WPTDeepStacks European Championship Berlin, which was sponsored by us at 888poker, the event took place at Casino Spielbank Berlin. From January 10-15, a €1,500 buy-in Main Event was held, that featured a whopping €1 million guaranteed prize pool.
From February 6-11, we'll host the 888poker LIVE London Mini Festival, and then on April 1st, we're partnering up for the WPT500 Easter at Aspers inside the 888poker room. That'll be followed up with the 888poker LIVE Festival Barcelona at Casino Barcelona from May 23 through June 4.
Over the summer, we'll once again be in Las Vegas to join forces with the World Series of Poker for both the Crazy 8's and Main Event. The former, Event #62: $888 Crazy Eights NLHE 8-Handed, will feature four starting flights beginning on Saturday, June 30th at 10 a.m. Flight 1B will take place the same day at 5 p.m., while flights 1C and 1D will take place at the same times on Sunday, July 1. The winner of the tournament, which is unlimited re-entry, is guaranteed a first-place prize of $888,888.
As for the 11-day $10,000 WSOP Main Event, the tournament will offer three starting flights beginning with 1A on Monday, July 2 at 11 a.m. Flights 1B and 1C will take place at the same time on Tuesday, July 3 and Wednesday, July 4 respectively.
In autumn, we'll have 888poker LIVE Festival stops in Sao Paulo, Brazil in September, Aspers Casino in London from November 23 through December 2, and in Portugal from Dec. 11-16.
For those wondering, we'll also be continuing the use of the "Action Clock" for all our Main Events and High-Rollers, which was first introduced in the October LIVE event in London.
Tonkaaaa & Nitsche Weigh In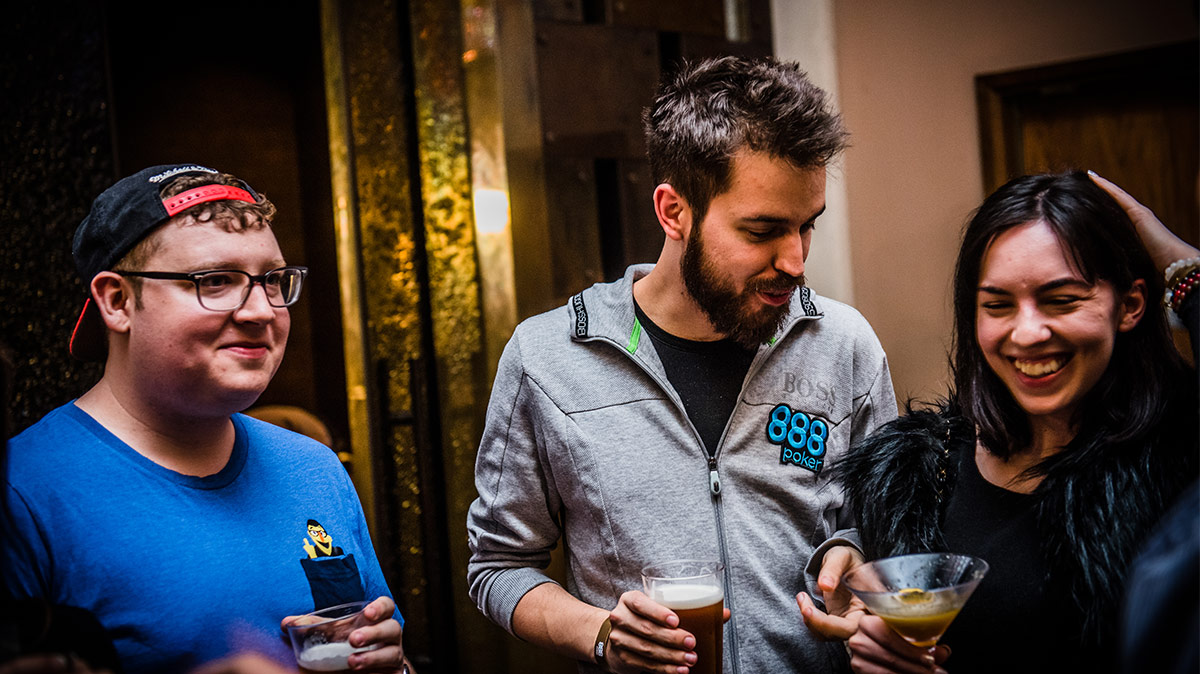 We caught up with both 888poker Ambassadors Dominik Nitsche and Parker "Tonkaaaa" Talbot to get their take on 888poker LIVE events, the new schedule, and more.
What 888poker LIVE events are you most looking forward to in 2018 and why?
Nitsche: I look forward to going back to London. I definitely look forward to playing in some of the juicy live cash games there.
Tonkaaaa: My number one event of the year, as always, is the WSOP Main Event sponsored by 888poker. I love this tournament, and the $888 Crazy 8s is also a huge event. I think I fired three bullets this year. Hopefully, I can get in for only one in 2018, but the tournament is so damn awesome that I'll fire as many times as need be.
What are some of your favourite 888poker LIVE events from the 2017
season? Nitsche: London: Simply because it's where all of the 888 Ambassadors got together. It felt like we were playing a home game. I also have to mention Barcelona as I got a chance to go to one of the best restaurants in the world while we were out there. It's called Tickets, and I can't wait to go back.
Tonkaaaa: My favourite was the 888poker LIVE London Aspers Main Event. I made a deep run in 2017 and fell short in 15th place, and although I love the casino and doing commentary, it was especially awesome running deep in the Main. Hopefully, I can top it with a final table in 2018!

What makes 888poker LIVE Events different and better than other live events you play?
Nitsche: For me, personally, there is a lot less focus on actually playing poker. Sure, I still play a few events but it's still much more casual. I don't take it super serious as the stakes don't mean very much to me. I play almost entirely to win one of those really cool trophies. I just really want to get one of those to put on my desk.
Other than that, there is also a much more casual and friendly vibe around the event. People are there to have fun and come up to me and chat all the time. I enjoy that. Sometimes the big high roller tournaments can feel stressful and serious, and that makes it hard for me to have a good time at the table. I don't have that pressure in 888 events.
Tonkaaaa: 888poker LIVE events are different because they're not only new and exciting but all Main Events have the shot clock. I really think more and more tournament series are going to adopt the shot clock, and I'm psyched 888 is the first to truly employ it.
What advice do you have to any poker players looking to play 888poker LIVE Events for the very first time in 2018?
Nitsche: That's an easy one. There are plenty of satellites online, so you should obviously be looking to take advantage of those. It's always better to get into an event for cheap. If you have qualified and this is your first time playing a major tournament, try to remember that this is still the same game as it is online. Try to play well and most importantly remember that you will probably lose. After all, it's a poker tournament. Try to have fun and look at it as a learning experience.
Tonkaaaa: My advice for anyone playing 888poker LIVE events in 2018 is just to enjoy, and to get onto 888poker.com and play some satellites to get in for pennies. This is always the best way to play live events, by first satelliting in! So, strap on those boots, fire up 888 and get grinding.
Following Up a Strong 2017
In 2017, we hosted nine different 888poker LIVE events across the globe. We catered to 11,503 entrants and awarded $3,857,782 in prizes.
Our biggest tournament of the year was November's 888poker LIVE Local London Main Event, which drew 787 entries. Other big turnouts included January's 888poker LIVE King's Festival Opening Event (783 entries), 888poker LIVE London Festival Opening Event (771 entries), September's 888poker LIVE Sao Paulo Festival Main Event (757 entries), and May's 888poker LIVE Barcelona Festival Opening Event (720 entries).
Among 2017's winners were Catalin Pop (2017 888poker LIVE Rozvadov Main Event champ for €80,000), Krzystof Pregowski (2017 888poker LIVE Easter Edition London champ for £21,118) and Luigi Shehadeh (888poker LIVE Poker Festival Barcelona champ for €110,000). Others making the grade were Haroldo Silva (888poker LIVE Poker Festival Sao Paulo champ for R$200,000), and Tom Hall (888poker LIVE Poker Festival London for £78,888).
In 2017, we also had partnerships with the most prestigious events and companies in the poker world including the World Series of Poker, World Poker Tour DeepStacks, Super High Roller Bowl, and with Poker Central. We look forward to continuing those partnerships in the new year.
Goals for 2018
In the new year, we're aiming to continue our quest of bringing fun back to the tables, which includes taking on a new 888poker Ambassador - Sweden's Martin Jacobson. In 2014, Jacobson topped a field of 6,683 players to win the WSOP Main Event for a smooth $10 million.
"888poker has shown a rare willingness to listen to the players to improve their product and services," said Jacobson. "With my years of experience and understanding of the poker landscape, I will be able to help them achieve their goals with much better accuracy."
He continued: "After a few years on the down low, poker is finally booming again. With this partnership, we will both be able to accomplish our shared mission of growing the game to its full capacity and making sure that everyone gets the best experience possible."
Click here to read the full announcement on Jacobson's signing.
"888poker and I have a mutual interest to make poker great again in taking back the game," says Jacobson. "888poker's goal is to host prestigious events with huge guarantees affordable to anyone by providing a wide range of buy-ins along with satellites to all tournaments."
To kick things off, the XL Blizzard, our first online series of the New Year, will play out on 888poker from January 18-28. From must-play events such as the $50,000 Crazy 8, $250,000 High Roller, and $1,000,000 Main Event, to brand new promotions, this is one online festival you're not going to want to miss.
For full details, click here.