For many poker fans, Maria Ho has become one of the most recognisable players in the game. Whether running deep in a major tournament or hosting and commentating on a big tournament, Ho is a major talent.
She has become a force in the game.
Originally born in Taiwan in 1983, Ho's family later moved to Arcadia, California, located just outside Los Angeles. She grew up speaking Mandarin and English, and like many players, Ho found her love of poker in college.
With $4.2 million in live tournament winnings, Ho is capable of making a deep run in any tournament she enters. That's included some major scores on some of poker's biggest stages.
Here's a look at her poker story.
Table of Contents
Early Life in the Game
While studying communications at the University of California-San Diego, she began playing poker. That pastime later blossomed into a full-time career. A background in communications would also pay off in the coming years after launching into poker full time.
2005 marked Ho's first registered tournament score at the live poker tables – a sixth-place finish in a $345 tournament for $2,945. It was a decent start, and many more would follow.
That included a deep run in the World Series of Poker Main Event in 2007. She finished as the last woman standing, taking 38th place for $237,865.
She'd also be the last woman standing three more times – once in Las Vegas and twice in the WSOP Europe Main Event. The best of those three came in Europe in 2017, when she finished sixth for $202,875.
As the poker boom continued in the 2000s and into the 2010s, Ho was building quite a poker resumé. And those in the poker world were undoubtedly taking notice.
Taking the Mic as A Commentator
Life in poker has also meant plenty of broadcasting and television appearances for Ho. She'd originally pictured herself as more of a poker player, but opportunities began opening up behind the microphone.
Her pleasant presentation and attitude, and deep knowledge of the game have made Ho a sought-after host and commentator.
Her first moves into the broadcasting arena came in 2013 with the Heartland Poker Tour, where she served as an analyst for two years. Ho then moved on to CBS Sports for a show called The Final Table before landing at ESPN for coverage of the World Series of Poker from 2017-19.
Ho has also regularly lent her voice to events on PokerGO and has logged some analyst duties with the World Poker Tour. Her skills in the analyst booth even earned Ho Broadcaster of the Year honours at the Global Poker Awards in 2019.
"It feels really good because it's been 15 years since I graduated," Ho told WPT.com in 2019 about receiving the award. "I didn't necessarily know that I would be going down that path after the first five or ten years passed.
"I just thought, 'Okay, well, I guess my parents have a right to be mad at me forever.' But it's nice to have it come full circle. It feels like the right thing that I've always wanted to be somewhere in that direction. So, I feel like I landed where I should be."
Outside of poker, Ho has also appeared on various television shows. In 2009, she teamed up with friend and fellow poker player Tiffany Michelle to appear on The Amazing Race. She also served as a celebrity contestant on Deal or No Deal in 2019.
Ho's not the only person in her family who's attracted some media notoriety. Her sister, Judy Ho, is a clinical and forensic neuropsychologist and motivational speaker.
Judy has appeared on many television shows. She has also authored one book and several articles for magazines and other publications.
For the Ho sisters, success runs in the family.
Scoring On the Poker Felt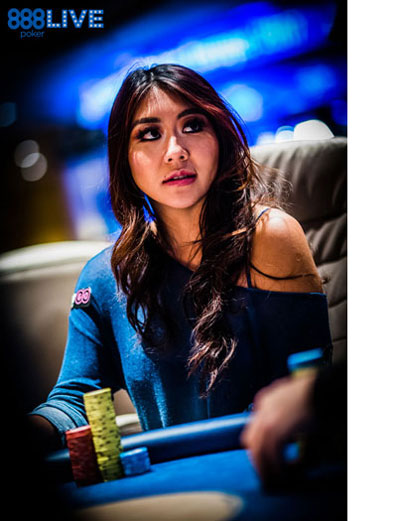 After some big performances at the WSOP, Ho seemed on a comfortable trajectory. But she was still searching for that one massive win or finish.
In 2011 at the WSOP, that massive score finally came her way. While she didn't quite earn her first bracelet, Ho took runner-up in a $5,000 No-Limit Hold'em event for $540,020.
More deep runs and final table appearances would follow. A nice win came in 2013 in a $5,000 event in Oklahoma in the U.S. for $101,220.
The WPT has been a favourite spot for Ho. She has several big finishes there as well, with more than $1 million in winnings. In 2016, she finished sixth in the WPT Bay 101 Shooting Star for $179,930.

In 2018, Ho added a solid bullet point to her poker record by winning a WPTDeepstacks title in Johannesburg, South Africa, for $68,885. O
In the Main Tour, she finished third in 2019 at the WPT Seminole Hard Rock Poker Showdown for $344,960.
An eighth-place finish followed the same year at the Gardens Poker Festival for $44,525.
Ho has been a regular in major tournaments in recent years and doesn't seem to be slowing down. She won a $25,000 high roller event at the Commerce Casino in 2019 for $276,690. She's also had some rewarding appearances on televised poker games like Poker After Dark.
When accepting her Broadcaster of the Year award in 2019, Ho spoke about how much the award meant.
She also elaborated on how she keeps challenging herself as a player and a broadcaster.
"I know that when I got into poker, something that I always told myself was that I'm going to continue to make sure that I'm challenging myself," she said. "And making sure that I grow in my chosen profession."
What's Ahead for Maria?
This poker shark and popular broadcaster shows no sign of slowing down. Beyond poker, Ho has other opportunities she's taken advantage of in recent years.
In 2020, she became one of the featured speakers for the startup company PepTalk. The service and app allow users to speak with industry experts for one-on-one motivation – a pep talk, as the name implies.
The company's speakers include entrepreneurs, writers, authors, adventurers, athletes, and more. Ho joined a roster of poker players including Fedor Holz, Liv Boree, Jamie Gold, Maria Konnikova, among others.
Her role goes beyond simply offering poker strategy and tips. When working with those on the platform, Ho uses her experience at the table to motivate and discuss decision-making, among other topics.
"I've always been very interested in sharing my experiences and knowledge with others in a meaningful and impactful way," she told USPoker. "PepTalk works with individuals as well as corporate groups.
"So, I plan to be giving larger talks with teams and inspiring them with poker principles. How the skill set I have cultivated through the game can be applicable in other ways and industries."
Beyond that, fans can expect more poker at the live and online tables as well as poker commentating duties. Ho even began appearing on CNBC offering some market picks and was bullish on Bitcoin and Amazon stock in 2020.
Well, @timseymour stole our pick with #Bitcoin but I'll die on this hill of cardboard boxes. ? #cnbcstockdraft https://t.co/Vy2Zkj6FaO

— Maria Ho (@MariaHo) April 29, 2021
Whether calling the action or raking big pots, Ho remains one of the most popular players in poker. When it comes to her two main occupations, poker and broadcasting, which does she prefer the most?
It's a tricky question for her to answer.
"To be honest, I enjoy both of them in such different ways," she told WPT.com. "But I probably wouldn't be as good of a broadcaster if I wasn't playing a lot of poker. I think being at the tables helps me inform with a lot of the strategic side of my commentary. I really do love both."