The music we listen to says a lot about our personality. We each have favourite artists and songs appropriate for different moods and activities which help us relax, concentrate or dance to. So, when it comes to something as quick and attention-grabbing as gaming, the tracks we listen to can make a big difference.
Whether you're dominating the battlefield in a first-person shooter, outmanoeuvring your opponents in online poker, or going on a fantastical adventure in your favourite RPG, you'll want music to match your mood. With this in mind, we wanted to find out which songs and artists are the most popular on Spotify for gamers who use music to get in their gaming groove.
We've searched hundreds of Spotify playlists made specifically for gamers, and are excited to reveal the best gaming music out there by popularity.
The top ten artists for video gamers
The results are in! Here are the artists that made the most appearances on gamer playlists: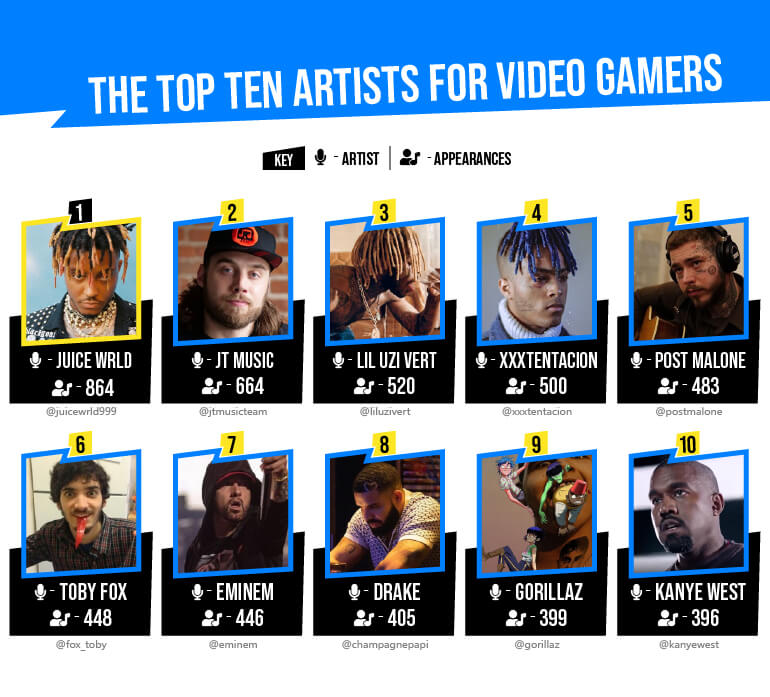 1. Juice WRLD - 864 appearances
The most popular artist by some way is Juice WRLD, with 864 appearances. With one of the most-streamed songs on Spotify, Lucid Dreams, being listened to over 1.5 billion times on the platform, Juice WRLD's music is appreciated across the world. Since his unfortunate passing in 2019, Juice WRLD's music is as popular as ever and will continue to influence other artists for many years to come.
2. JT Music - 644 appearances
In second place with 644 appearances, we have JT Music. Creating songs around the topic of video games, JT Music have built a huge following on YouTube and is very popular among the gaming community. Their first rap about Halo 3, "The Greatest Ever", kick-started their popularity, with the video amassing over 144,000 views.
3. Lil Uzi Vert - 520 appearances
Taking bronze is the Philadelphia-born rapper Lil Uzi Vert, with 520 appearances on gamer playlists. Sometimes described as a low-fi rapper, with his music being termed "emo rap" by some audiences, regardless of how you classify his sound, Lil Uzi Vert has proven that it's a sound people want to listen to.
Having won "Song of Summer" at the 2017 MTV Music Awards with his track "XO Tour Llif3", Lil Uzi Vert has been nominated for a total of ten other music awards, a number that will undoubtedly increase with future releases.
The top ten gamer songs on Spotify
These are the most popular songs for gamers: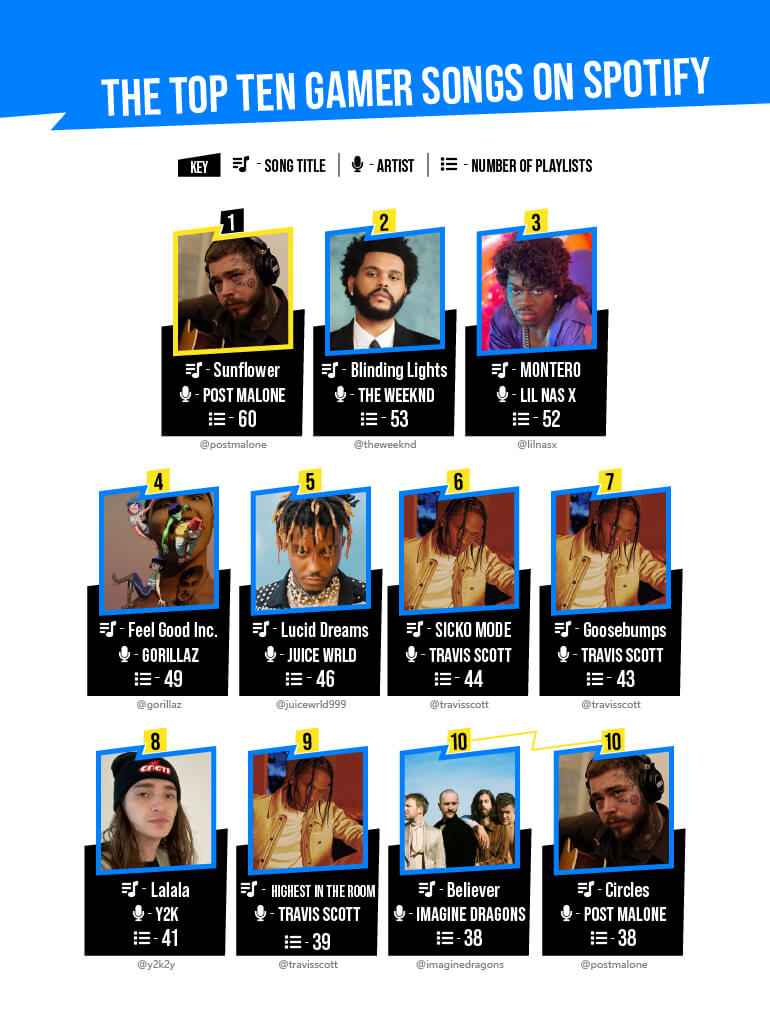 1. Sunflower - Spider-Man: Into the Spider-Verse - Post Malone - 60 Appearances
The song that gamers like to listen to the most while they're taking names online is Sunflower - Spider-Man: Into the Spider-Man by Post Malone, with 60 appearances on gamer playlists. Recorded for the aforementioned animated Spider-Man movie, Sunflower quickly became popular with audiences that hadn't even seen the film, with the release of Marvel's Spider-Man: Miles Morales on PS5 in 2020.
2. Blinding Lights - The Weeknd - 53 Appearances
The second most included song on gamer playlists is Blinding Lights by The Weeknd, with 53 appearances. This track has been met with international acclaim, receiving eight music awards and many more nominations. If you're not familiar with The Weeknd, then giving Blinding Lights a listen is a great way to start.
3. MONTERO (Call Me By Your Name) - Lil Nas X - 52 Appearances
Coming third with 52 appearances is MONTERO (Call Me By Your Name) by Lil Nas X. Widely acclaimed by music critics, this song's queer themes and explicit depiction of homosexual acts led to some criticism from conservative groups in the United States. However, this did little to dampen the popularity of what is an incredibly catchy song with a message of inclusivity and pride.
Most popular BPM to game to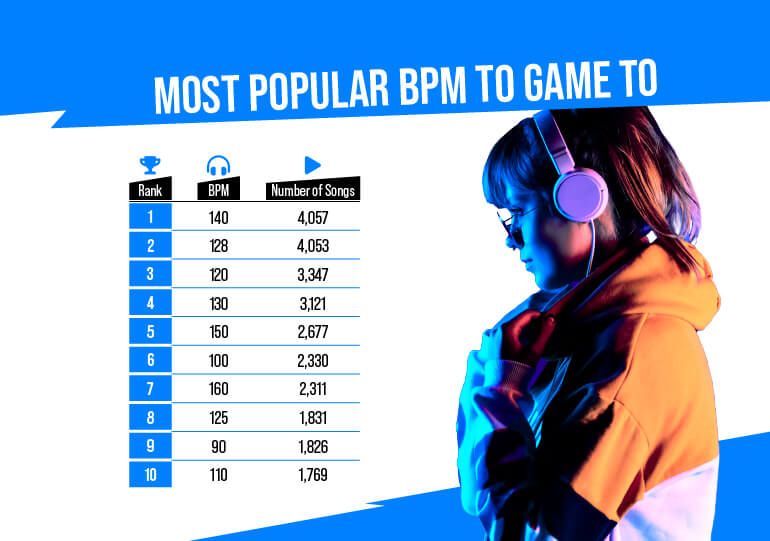 The most popular BPM in gaming playlists is 140 beats per minute, with 4,057 appearances in the hundreds of gamer playlists we looked at. This is closely followed by songs with 128 BPM, which appeared 4,053 times. In fact, the five most popular BPMs all fell within the 120 - 150 bracket, showing that songs with a speed and tempo in this region make the best accompaniment video gaming.
Top 50 songs for gaming
Top 100 artists for game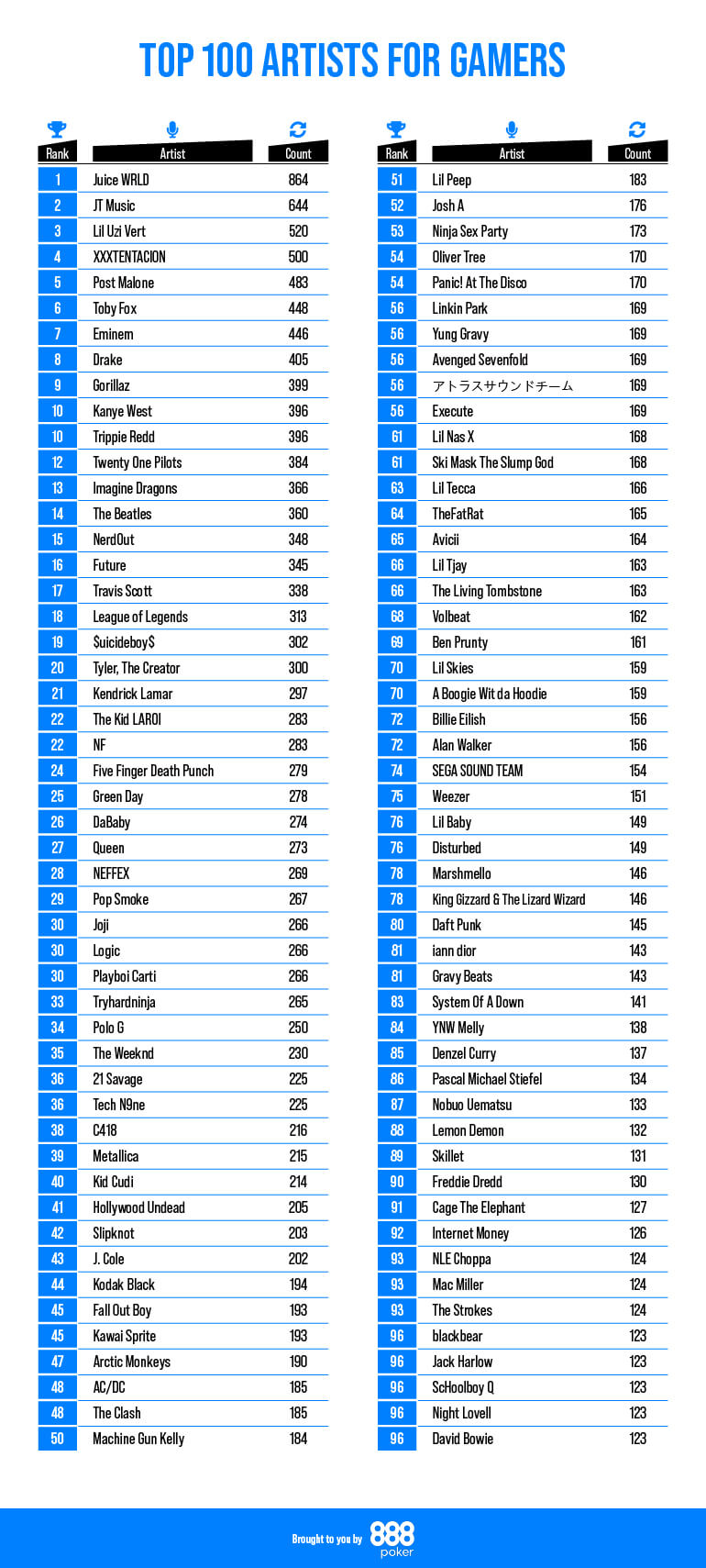 Methodology
We wanted to find the songs and artists that are the most popular among gamers, and which could be a great choice for people to listen to while gaming. We found hundreds of playlists on Spotify with "gamer" in the title and compiled them into several larger playlists. We then combined all the tracks into one dataset where we counted the number of times each song was included and how often each artist appeared.
This allowed us to see which songs and artists feature the most often in playlists for gamers, making them the most popular choices. We were also able to see the BPM of each song and counted which BPM speeds were the most common when it came to gamer tracks.