Las Vegas, July 2015: German player - Alex Turyansky - is sitting in the WSOP Main Event.
10 players remain, and there's just one more knockout to go until play pauses for four months when the remaining 'November Nine' will return - all millionaires - to battle it out for the title.
Turyansky - gunning for his biggest ever live result and with the weight of the German nation on his shoulders - raises to 850,000, and American Joe McKeehan, who's been a picture of aggression for days, pumps up the action to just over 2 million.
The German moves all-in for 8.8 million and McKeehan makes the call.
It's a close fight, as Turyansky turns over A-K versus McKeehan's pocket queens. But the dealer won't be making Turyansky the first German to final-table since Pius Heinz in 2011, as the board runs out 7-6-5-8-J.
The players and their supporters go wild, Turyansky sinks to the floor, and aided by some close pals marches off disconsolately with $756,897 bulging his bank account.
A Hotbed of Talent
If Turyansky had made it to the November final, it would have marked another remarkable result for the Germans.
As WSOP Executive Director, Ty Stewart, said when Berlin was unveiled as the 2015 host for the World Series of Poker Europe:
"Germany is truly a hotbed for poker talent.
"As home country to our reigning Player of the Year and 2011 World Champion [Pius Heinz], we look forward to discovering new names ready to perform on poker's biggest stage."
It's frightening to think what a hotbed the WSOPE will be this autumn, as the World Series makes its first-ever stop in Germany.
But why should we be looking forward to a Berlin World Series, and are the signs that it will beat the 2014 Cannes event that clear?
The Rise of the German Poker Pros
It's fair to say Germany is doing well in poker right now.
The GPI (Global Poker Index) calculates the world rankings of poker players based on buy-in, placing and prize money. German players have secured 1st or 2nd for the last three years in the worldwide rankings.
German players also snapped up 2nd and 3rd place on the 2014 WSOP Player of the Year list, with George Danzer (2nd) and Ismael Bojang (3rd) only finishing behind Daniel Negreanu last year.
Indeed, Germans have performed well abroad too, with Pius Heinz's triumph in the 2011 World Series of Poker Main Event and Marvin Rettenmaier's WPT World Championship win a year later.
Four of the final 27 players at this year's WSOP Main Event in Las Vegas were German and German players came fourth in the league of Countries by Earnings on $5,472,745.
Germany players also made 196 cashes at this year's WSOP in Las Vegas, up from 154 last year.
At the 2013 EPT Berlin, meanwhile, the last time a major tournament was held in the city, five of the final eight were German, and in 2012, three of the final table were German.
Whether the tournaments are home or abroad, German players, like Brits and Americans, do well.
"Unemotional, Calm, Efficient..."
Dominik Nitsche is one of Germany's best young pros, with $5 million in tournament earnings to his name.
According to the 888 pro, Germany's tight-knit poker community is a major factor why Berlin 2015 will be a success.
"Germany has a big poker community. Even though we haven't had a major poker tournament [in Germany] there are so many places for us that are easy to go to like Rozvadov [in the Czech Republic].
"I don't think we will be out of practice."
As in the USA, young Germans - denied a truly free online experience at home - are moving abroad to get their fix. And, as Nitsche says, German poker pros have - believe it or not - the stereotypical traits of being "unemotional, calm, cool, and efficient".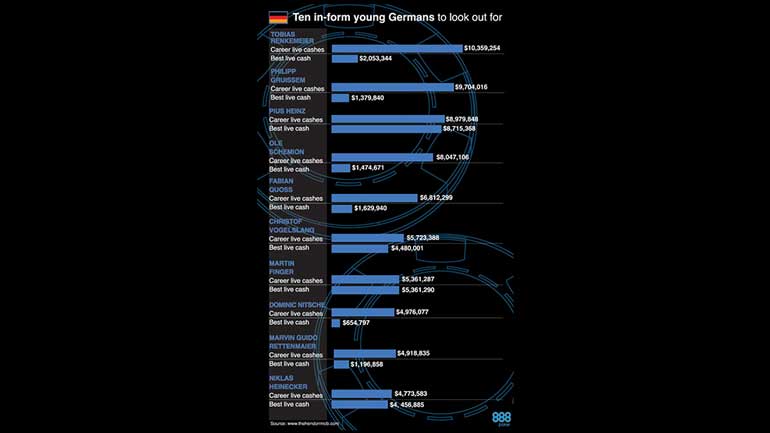 Can Homegrown Talent Prevail?
So, could German talent do well on home soil this autumn?
Let's compare results from past WSOPEs to see if the location affects the demographics of the winners.
In 2007, a single Brit came 2nd in the Main Event - John Tabatabai - to mark the country's best ever Main Event showing.
In 2009, meanwhile, JP Kelly secured a bracelet for the home country, marking a 1-on-4 event title success for Britain. A year later, Brits won two bracelets, including a first Main Event triumph by an Englishman in the form of James Bord.
When the WSOPE moved to Cannes in 2011, French players did perform better than ever, securing seven final table placings across the festival.
A year later, France would secure 17 cashes (including two runner-up spots) plus a bracelet winner. And in 2013, French players won two bracelets and secured 13 final tables and three runner-up spots.
Based on those figures, we predict 15 final table appearances, and at least one bracelet.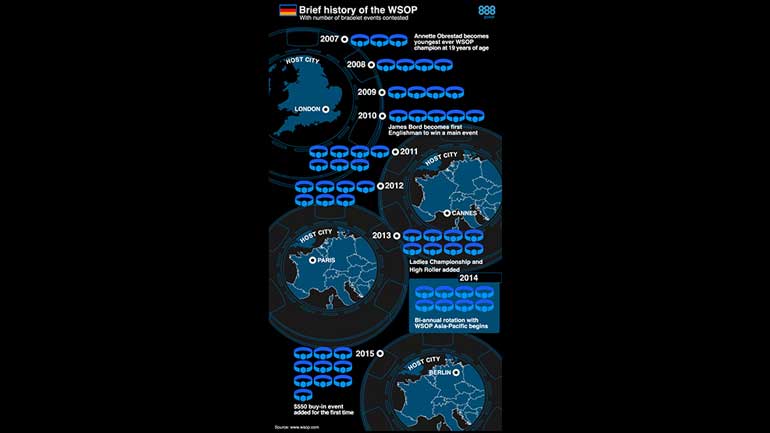 Why Germany Now?
"Berlin became a logical choice city for WSOP Europe given its proximity to all of Europe, the experienced management team at Spielbank, and the gap of time since a major poker tournament has come to the city," said Ty Stewart in May.
"We believe this truly will be the best organized and contested WSOP Europe ever."
In 2007, the first WSOPE was hosted in London following a buyout of the World Series by Harrah's. Poker had broken through the confines of its traditional US heartland and had been carried for some years by the Internet to new markets keen to embrace the Texas Hold'em craze.
Although the EPT had given European players the chance to win serious prizes on home soil, the WSOPE was the first time the coveted gold World Series bracelets were given away outside Las Vegas.
While the Spielbank Casino might not be a household name outside Germany, it's actually been around since the time of the Wall and will celebrating its 40th anniversary this October.
The fall of the Berlin Wall gave the Spielbank the chance to move from its West Berlin base to larger premises at Potsdamer Platz. Renowned for donating millions of Euros to various sporting promotion projects, it will be the world's top poker players looking for a piece of the pie, come this autumn.
Germany's Turn To Shine
And after four years in London and two successful stops in Cannes, it's now Germany's turn to host.
Berlin will stage the 2015 WSOPE this October for the first time. And if, as expected, the various Teutonic stars align, it should be a cracker.
When Ty Stewart talked about "a hotbed of talent", it was just one of the reasons why Germany deserved its chance to host.
As well as a host city on the rise since the reunification of east and west in the early 90s, poker is growing in Germany. Although 7-card Stud was introduced to the country by American G.I.s in the war, the Texas Hold'em boom has taken hold just as in other major European countries.
Despite attempts to hold back the tide of online poker in the country, Germany remains one of the biggest markets in Europe for poker on the Internet. And the young players are taking to the game like naturals.
In Pius Heinz, Germany has its first WSOP Main Event champion (2011), while Marvin Rettenmaier became the first German WPT World Champion when he triumphed in 2012.
Meanwhile, this summer, a handful of German players reached the last 27 of the WSOP Main Event, one or two coming tantalisingly close to the November Nine.
But why else should we be looking forward to the 2015 WSOPE? How prepared are the German pros, and why could we see more German success in October?
10 Reasons Berlin 2015 Could Be a Big Success
A first WSOP in Germany

History in the making as Germany gets its first chance to host a World Series of Poker.

Lots of Homegrown German talent

Germany now boasts a WSOP and WPT World Champion in the past three years, and they'll have "home advantage".

Close proximity to European countries

Berlin is centrally located for most Europeans and accommodation is cheap. Plus, WSOPE numbers, in general, have been growing.

A strong German economy

A booming German economy means there will be more Homegrown players with disposable cash. Accommodation in Berlin is also cheap, with thousands of apartments to rent within the city.

More bracelets and lower buy-ins

The 10 bracelets on offer is a record for a WSOPE. And following in the footsteps of 2015's 'Colossus' in Las Vegas, the Oktoberfest will offer a €550 buy-in bracelet event. Could it get as many entrants as the Colossus?

Plenty of online satellites from the likes of 888poker

888poker are running a range of online satellites into the WSOPE, quite a change from the original WSOPE in 2007. The Spielbank Berlin will also run its own live satellites and side events.

Players can play from 18 years old

US players making the trip can take advantage of the lower legal gambling age.

Increased cash game action

The Spielbank Casino will be providing two floors of cash games during the festival.

Timed with Oktoberfest

Who can turn down a stein of beer after poker? The WSOPE is timed to coincide with Munich's world-famous Oktoberfest beer festival which takes place from September 19th to October 3rd.

It will be televised

The 2015 WSOPE is set to be televised, ensuring more big names on the roster than ever.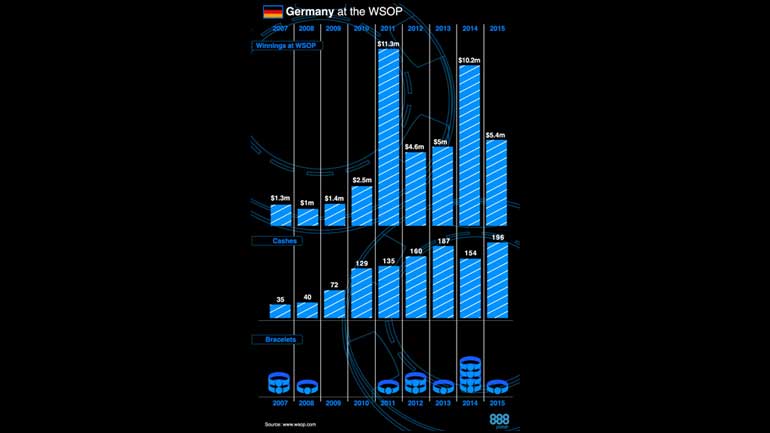 The WSOPE 2015 Lowdown
The WSOPE in Berlin will see 10 bracelet events being held. The Six-Handed No Limit Hold'em event kicks things off, with Oktoberfest vying to become the biggest WSOPE event ever held.
The Deep- Stack gets its requisite place in the tournament line-up, as the 'Monster Stack' takes place on October 12.
There's no H.O.R.S.E. event this year, with only Hold'em and Omaha genres making up the numbers, but the €25,600 High Roller event should attract some big names, and keep the TV producers happy.
More Bracelets = More Players
As you can see from our first graph, the WSOP Europe has made tentative growth from its humble 2007 beginnings.
More bracelets have been added - from just 3 in 2007 to 10 this year - and there are some interesting additions for the more recreational players.
In 2011, the move to Cannes obviously had a positive effect on numbers. 771 runners turned up for the €1,100 No Limit Hold'em event, up from 582 the year before in London, and 626 competed in the same event a year later.
Meanwhile, Main Event numbers jumped when the competition moved to the continent. Despite the expensive Cannes playing host, Main Event numbers grew to 593 in 2011 and 420 in 2012 [see Graph].
This year, for the first time, a €550 buy-in event will be held at a WSOPE. Organisers are obviously hoping for some 'Colossus'-style rub-off in Berlin.
In Vegas this summer, 22,373 players turned out for the biggest WSOP event ever held.
The low buy-in of $565 was largely responsible for that turnout, and it will be interesting to see how many turn out for the 'Oktoberfest' tournament in Berlin this autumn. With another central Europe location and more events, we should expect bumper turnouts.
Will Berlin 2015 Be A Success?
So what does this tell us about WSOPE 2015?
That Germans will final table in numbers, we may see at least one bracelet winner, and the 550-Euro Oktoberfest could well break the record for a European live poker event.
"There hasn't been a big tournament in Germany since the EPT Berlin in 2013," says former WPT World Champion, Marvin Rettenmaier.
"Plus, Berlin is a great place with a lot to offer and a lot of international players are going to use the opportunity to play Berlin and pay the Munich Oktoberfest a visit. It's perfectly timed."
Nitsche concurs.
"People can't wait to go bracelet-hunting in Berlin and I can't wait to be there, showing all my friends around Berlin.
"For me it's more than a poker tournament; it's about showing the poker world Germany again.
"It's been far too long since we had a major poker tournament. My prediction? That Germans are going to destroy the WSOPE for years to come.
"This is the kind of tournament all of poker Germany has been waiting for!"