Whether it's high-profile footballers or poker players competing on the world's biggest stages, professional athletes are paid to compete. This income plus sponsorships, television deals and social media campaigns have made sports careers more lucrative than ever before.
But how wide does the gap get when you break these sky-high salaries down by the amount of time the athletes earning them actually spend playing? Are Lionel Messi, Tyson Fury, and LeBron James really as well paid as they seem?
Investigating on behalf of 888poker, we wanted to find out which athletes earn the most money per minute played in the world's most popular sports.
Our Aim
Within this research, we included poker players and athletes across nine sports, including:
All players from Europe's top five football leagues and Major League Soccer.
The NBA and the NFL.
The highest earners in MMA and boxing.
The 500 highest-earning poker players in 2022.
Auto racing, baseball, golf, and tennis.
Our analysis divided players' salaries down into weeks, days, hours, and minutes. We multiplied the latter by recorded minutes of gameplay to establish their earnings solely for the total time played. Due to a lack of data, we ranked poker players using tournament earnings from 2022 and NFL players using an average match length of 60 minutes.
In each sport, earnings are based on the most recent year or the 2022/23 season.
The highest earning poker player per tournament
Since 1973 when CBS aired the first World Series of Poker Tournament, the sport has grown in popularity, with professional poker players winning millions of dollars every year.
Since poker has become such a lucrative sport, we've evaluated which poker players have kept the straightest face and closest hand to earn the most money from tournaments in 2022/23.
With an average wage of £2,434,124 per tournament, Adrian Attenborough ranks first with a total income of £4,868,248($6,002,773). Prior to 2022, Attenborough earned just over $1.4 million, so, his rise to the top is impressive.
It's worth noting that Attenborough's earnings aren't the only eye-popping figure: Samuel Stein, who came in tenth, earned only £377,696 ($465,717) for one tournament, compared to Attenborough's £2,434,124 ($3,001,387).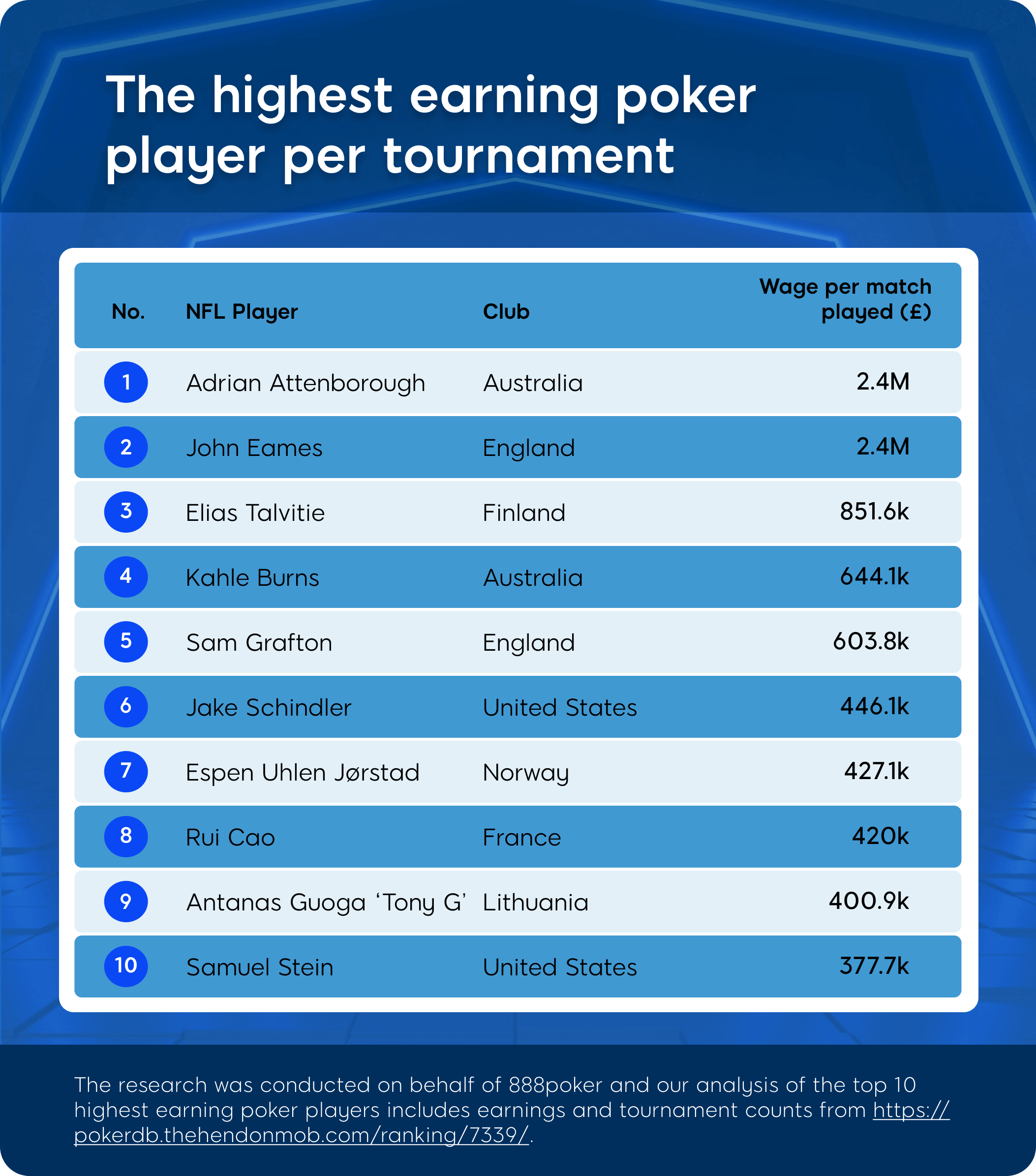 Which Premier League player earns the most per minute?
From the game-changing magic of Kevin De Bruyne to Harry Kane's record-breaking goal-scoring, the Premier League is packed with some of the best footballers in the world.
Players with this level of pedigree earn millions of pounds every year, but who in the Premier League takes home the most from the total minutes of football they play?
With a 6-year contract worth £117 million, Manchester United's David de Gea became the highest-paid goalkeeper in the world in 2019. He tops our Premier League ranking, earning £56,920 per game minute across the 1,530 he played in the 2022/23 season.
De Gea's Man United team mates also joined the rankings with Bruno Fernandes and Carlos Casemiro ranking sixth and tenth, respectively.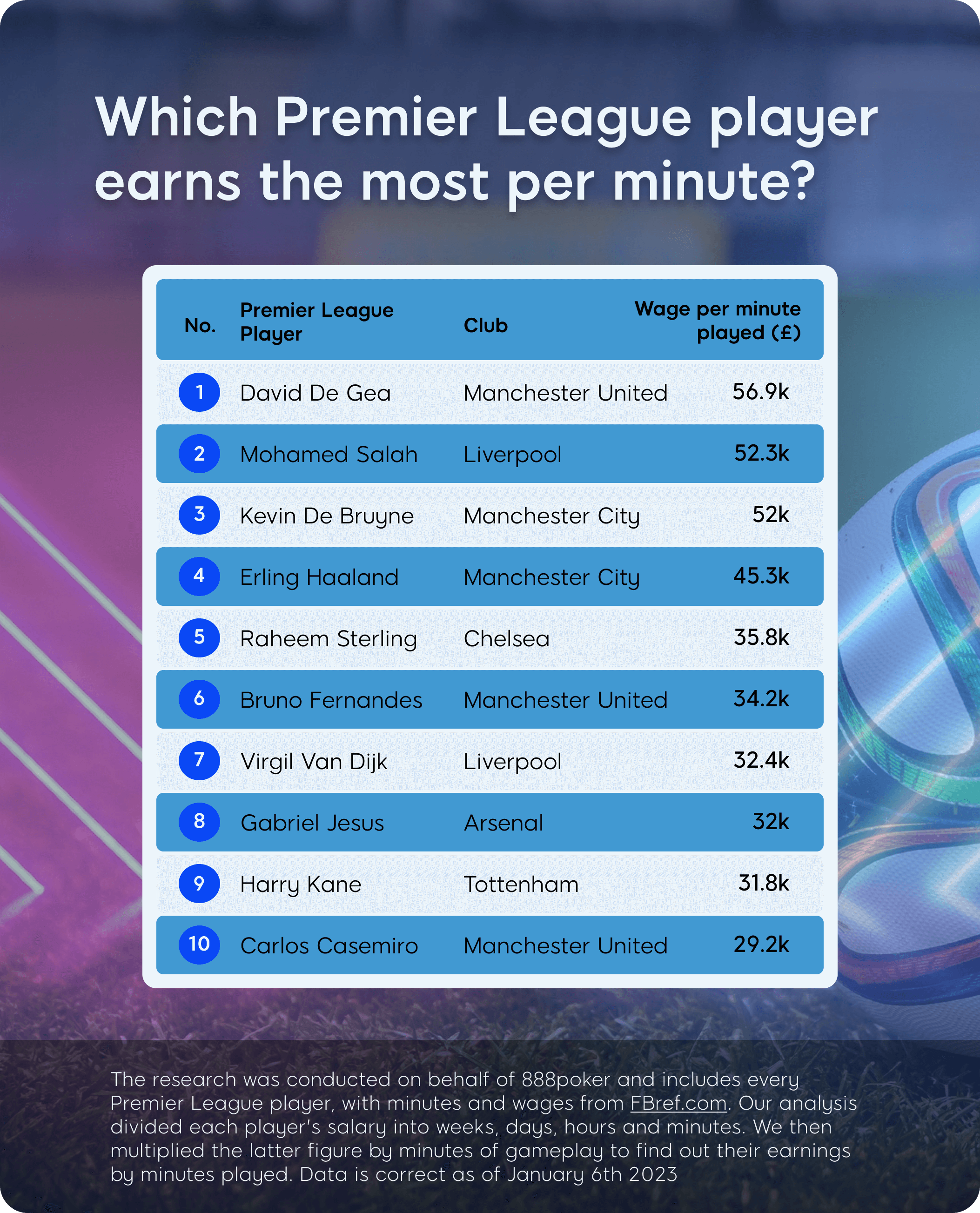 The highest earning footballer per minute from Europe's top 5 leagues
Most people can name at least a handful of the best paid football players in Europe's top five leagues (Premier League, Ligue 1, La Liga, Serie A, and the Bundesliga); including those who have won numerous trophies and accolades, such as the Ballon d'Or.
Kylian Mbappé is probably one that springs to mind, and he comes top as the best paid player. With 1,322 minutes played in the 2022/23 season, Mbappé earned £156,728 per minute of gameplay.
Representing Paris Saint-Germain, Mbappé isn't the only teammate getting a good return on his time on the pitch — Lionel Messi and Neymar take the second and third spots too. But, as the club is owned by Qatar Sports Investments, it's no secret PSG has ample funding available to purchase and pay players of this calibre.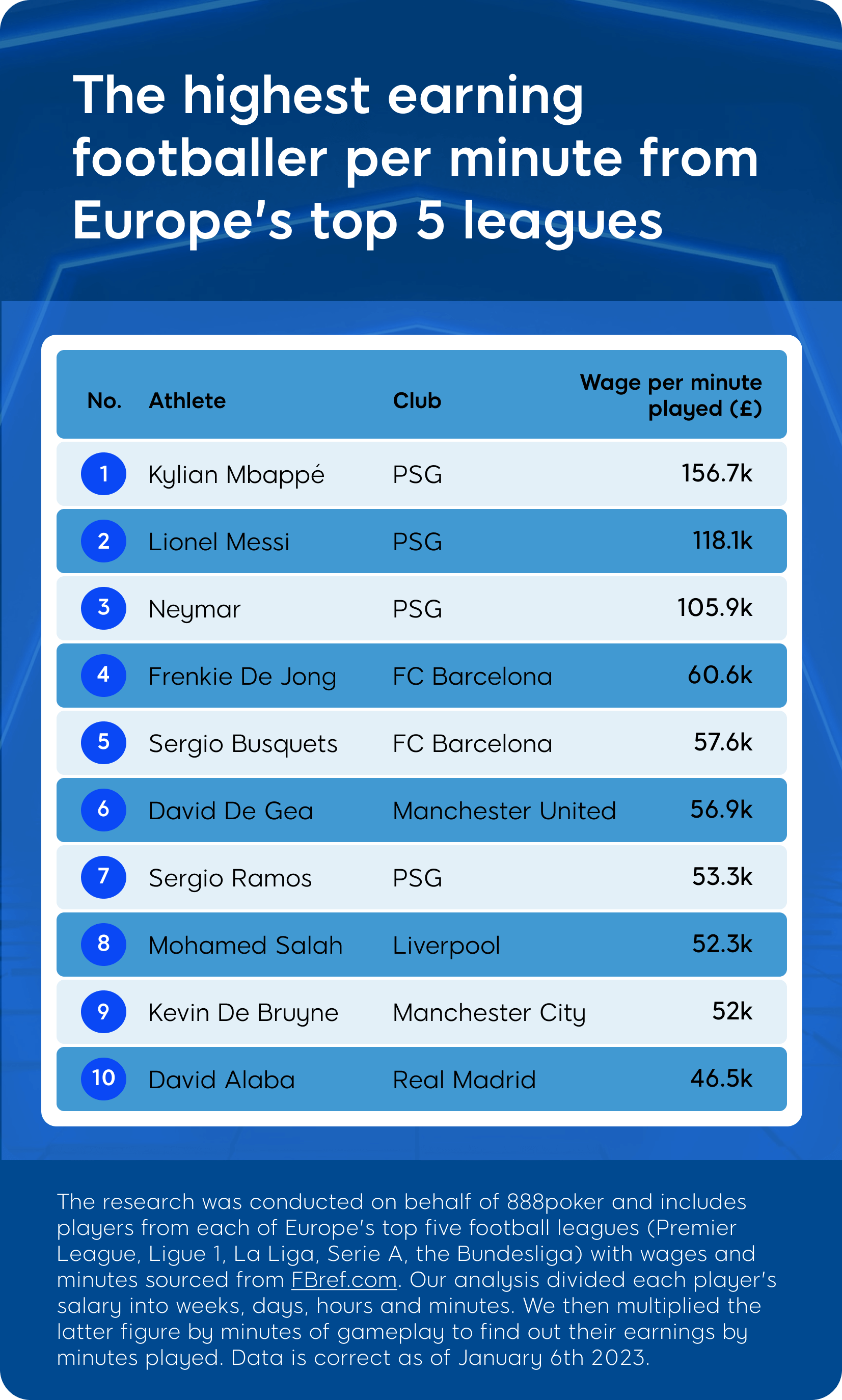 Which NBA player earns the most per minute?
The NBA has seen legends like Kobe Bryant and Michael Jordan emerge throughout its history and, in more recent years, NBA superstars' salaries have skyrocketed as the game has grown in popularity.
We found the highest-paid NBA player per minute was Kevin Durant, forward for the Brooklyn Nets. Earning £102,304 per minute played during the 2022/23 season.
The fact that stars such as LeBron James and Russell Westbrook rank lower than the Brooklyn Nets' player may surprise some fans. Although they earn higher yearly salaries, when this is broken down into minutes and applied to our methodology, it means Durant earned more per minute played, as they participated in less gametime throughout the 2022/23 season than him.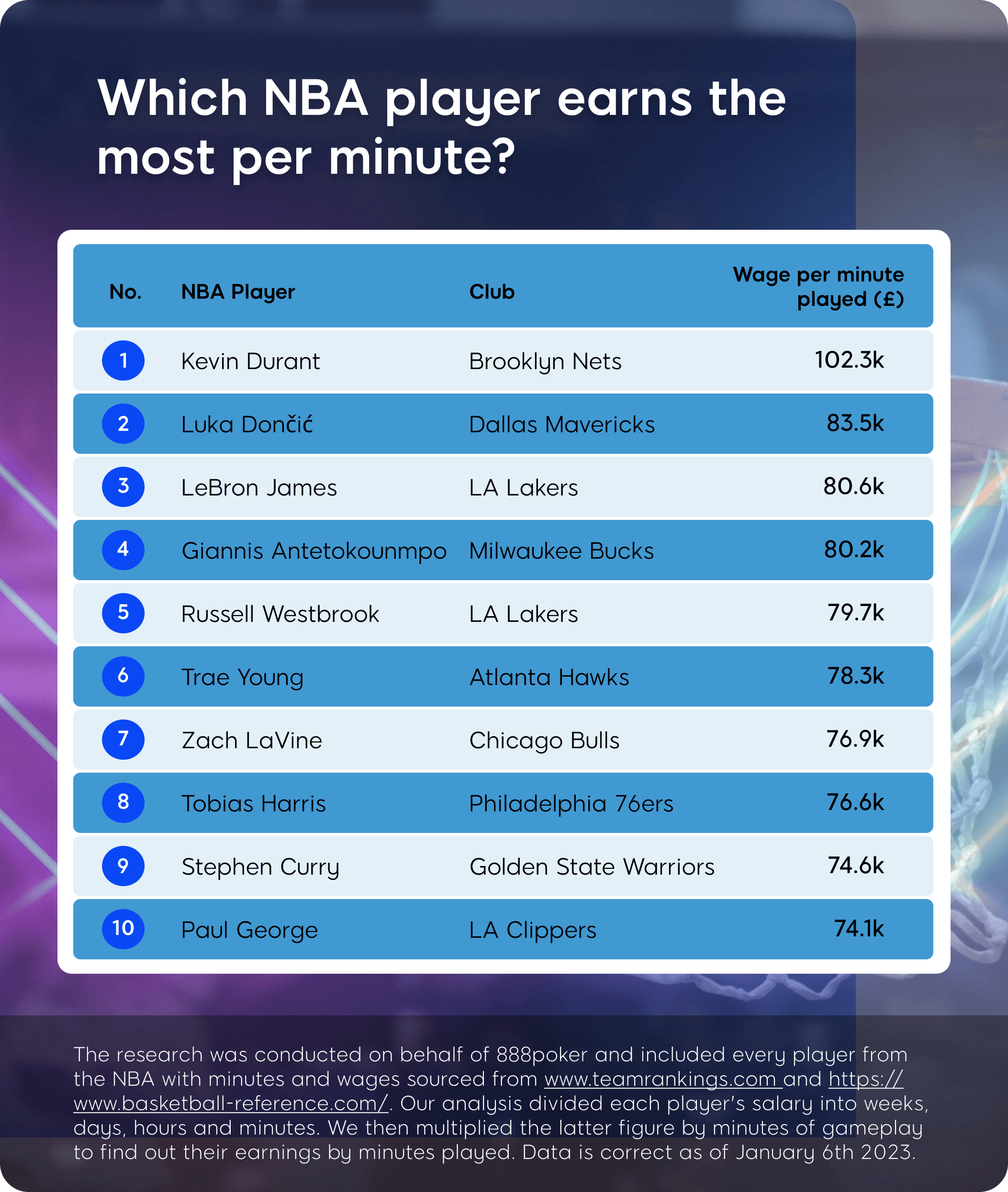 Which NFL player earns the most per minute?
The NFL is a franchise loved around the world and home to some of the most famous athletes of all time such as Tom Brady and Russell Wilson. But which NFL players are earning the most money per minute in the current season?
Our study found Jamal Adams is the highest earner per minute of gameplay, despite being one of the lowest-paid players in the NFL. He earned £198,123 ($240,667) per played minute, as he only played one match due to injury
While Matthew Stafford takes home the highest salary of the top 10 overall, he ranks third, having played 540 minutes of gametime and earning £93,773 in total ($133,889).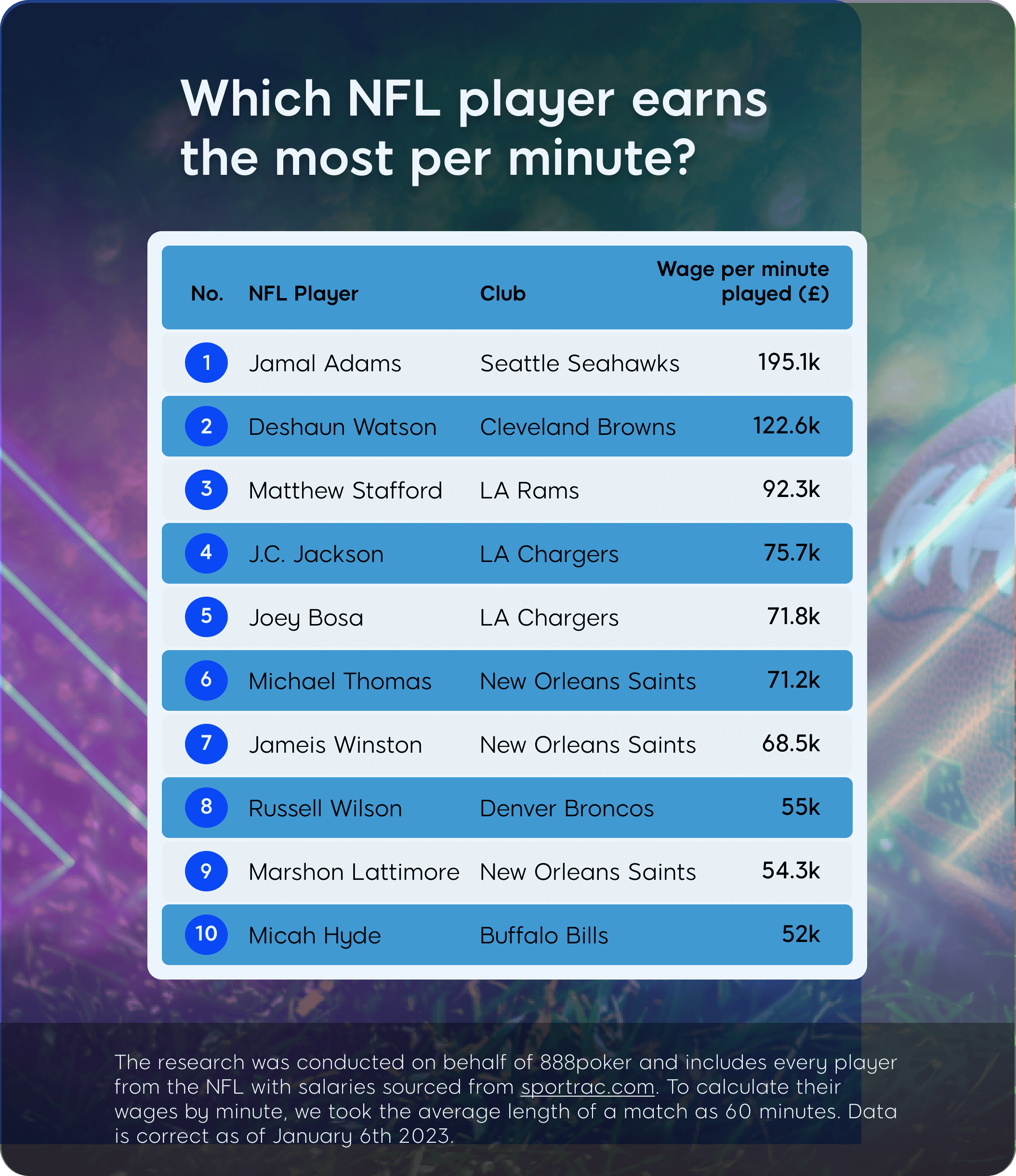 The highest earning athletes per match
In addition to identifying the most highly-paid athletes per minute in European football, the NBA, and the NFL; we also examined the highest-paid athletes per 'match' in other popular sports including auto racing, baseball, boxing, golf, poker, and tennis.
A staggering £35,101,600 in earnings puts 17-time boxing champ Canelo Alvarez at the top of our rankings despite only playing two matches. Tyson Fury placed second with £24,777,600 in earnings, finishing a substantial £10,324,000 behind Alvarez.
Three of the ten highest-earning athletes are professional poker players, including Adrian Attenborough, who earned the most over two matches with £2,479,295.
Methodology
To discover the highest paid athletes per minute played, our analysis includes all players from each of Europe's top five football leagues and the MLS, the NBA, the NFL, MMA fighters, boxers, and the 500 highest-earning poker players in 2022.
Our research also included which athletes earned the most money per match in auto racing, baseball, boxing, golf, and tennis.
After analysing the data, we ranked the top players in each category, for football, NFL and the NBA we divided their weekly earnings in order to calculate what they earned per minute, then multiplied this by the amount of minutes played. For the remaining sports we divided their yearly earnings by the amount of matches played.
As there isn't always a lot of live play time or minutes recorded in sports like the NFL, we took the average length of a match as 60 minutes.
For minutes and wages of footballers, we looked at FBref.com; while two different sources were used for NBA minutes and salaries. ​​Our NFL salaries were sourced from sportrac.com and our poker winnings and tournament counts came from pokerdb.thehendonmob.com.
For the top 10 highest earning athletes, we included athletes and their salaries from Sportico and Forbes. All data is correct as of January 6th, 2023.