Professional video gaming, more commonly referred to as eSports, is one of the fastest-growing markets in the world with projected 2016 revenues of more than $500 million. Not only that, it has one of the largest audiences with reported 226 million people watching in 2015.
Last year, Forbes published an article highlighting the similarities between eSports and online poker. Both have major players/celebrities, are surrounded by betting cultures, and often require the same characteristics for success, such as patience, willingness to take risks, and the ability to focus for long periods of time. There's also the matter of playing for money, though online poker has more up for grabs.
Given the similarities, there has been a lot of crossover between the two industries. Some poker pros have tried their hand at eSports with varying degrees of success, while some eSports superstars have ventured into the poker world in the hope of using their skills to win some cold hard cash.
So how can such games leverage their gaming skills to make money playing poker?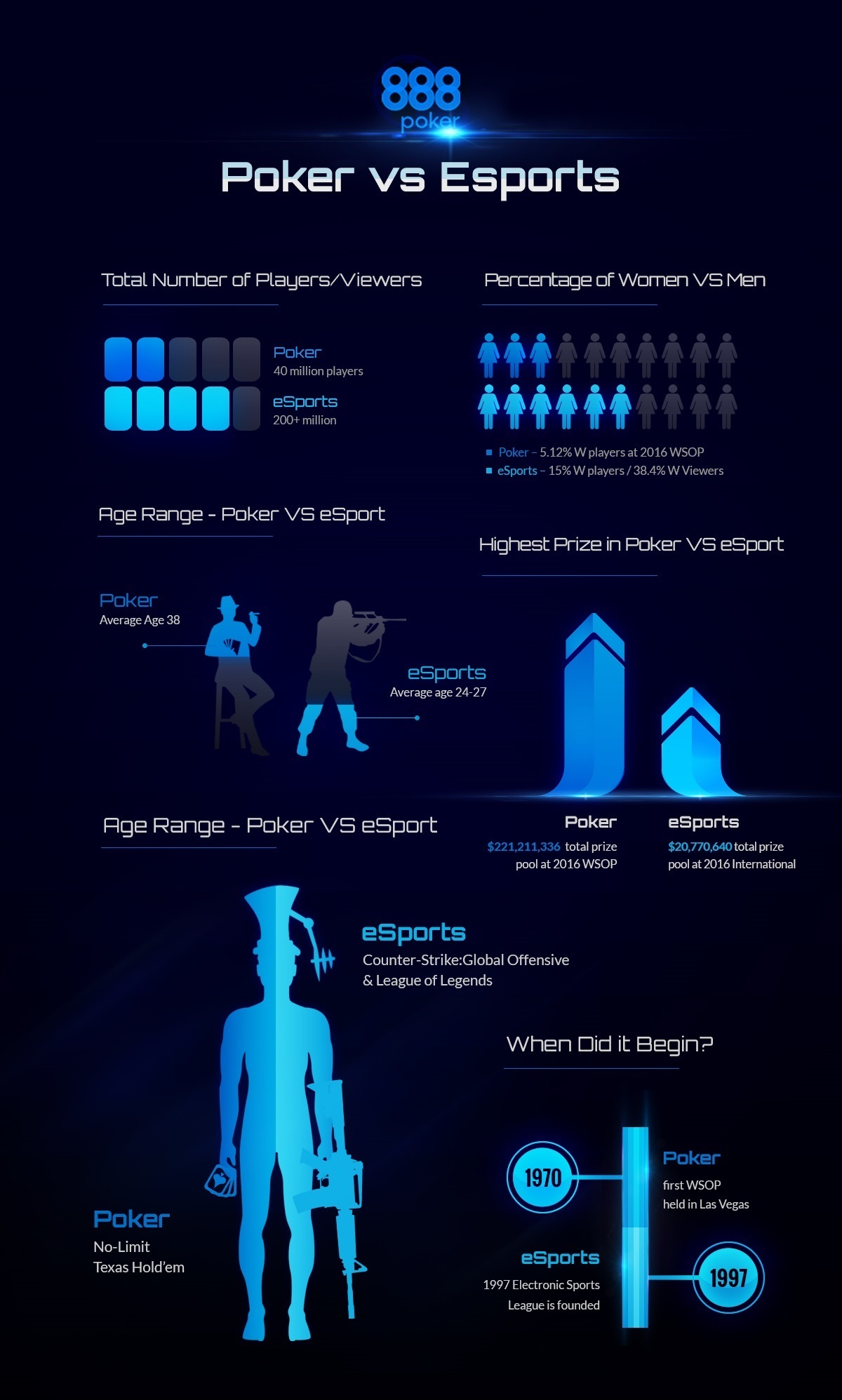 Table of Contents
FlowEsports Set Their Sights on Poker
In December 2016, 888poker joined forces with FlowEsports, which is comprised of Hearthstone pros Daniel "C4mlann" Märkisch, Tobias "TwoBiers" Graap, Vetle "Xzirez" Stubberud, and Johannes "JonnyStoneHS" Steindl. Hearthstone has over 40 million users and has a lot of parallels to poker, such as using cards to reduce an opponents' resources. As such, it's no surprise to learn that, with the exception of Stubberud, everyone on the team has some poker experience.
Steindl, born and raised in Vienna, was a poker pro before venturing into eSports. After studying commercial informatics for a time in college, he spent a year as a clerk in a sports betting pub before discovering poker. He soon quit his job to become a full-time poker pro, and between 2006-2014, he amassed $62,854 in live tournament earnings.
"After over 10 years of playing poker professionally, things got a bit boring," said Steindl. "Becoming a Hearthstone Pro as soon as I got an opportunity to do so was a logical step for me."
In addition to Hearthstone, Steindl had devoted time and effort to several other games including StarCraft Broodwar, Counter-Strike 1.6, World of Warcraft, Diablo 2+3 and Civilization IV-VI 4.
As for Märkisch, who lives in Kassel Germany and has a twin brother, he spent seven years teaching at four different universities before leaving his career behind to become a pro-gamer. Interestingly, the change was inspired by something that revolutionised both the eSports and poker industry a few years back – Twitch.
"I was looking for an interesting subject for my PhD streaming crossed my path," said Märkisch. "After a short time my streams attracted a lot of attention, so I decided to become a streamer. I became a better player due to streaming and the time I put into streaming Hearthstone. One day a friend of mine showed me Hearthstone, and I liked it from the beginning. I did well mainly because I played Magic the Gathering in my childhood, which also gave me an edge in Hearthstone.This led to playing the game on the highest competitive level."
Having played games for more than 25 years – his personal highlight is hitting the top 10 in the world in "Dark Age of Camelot" – it was only a matter of time before Märkisch discovered poker. In November 2016, he notched his first and so far, only cash when he placed 20th out of 851 entries in the World Series of Poker International Circuit Rozvadov for $10,320.
Finally, there's Graap, who plays poker recreationally. The youngest of seven children, Graap is a college drop out who played a lot of League of Legends and Yu-Gi-Oh!-Online. After watching teammates play in between matches at tournaments, Graap decided to take up Hearthstone as well. That was over two and a half years ago.
"I started to play many open tournaments," said Graap, who also played War Rock. "One day I streamed on Twitch at a house with a friend of mine and it was a great success. So, I bought a better PC and started streaming myself."
What Does It Take to Be a Successful eSports Streamer?
In poker, there are dozens of different poker games to choose from with Texas Hold'em being by far the most popular. While the best all-around poker players in the world are good at every game, some specialise on focusing on a single game. It's similar in the world of eSports.
"In order to be a professional e-gamer it highly depends on the game you are playing," says Steindl. "Overall dedication, hard work and talent will get you there as in any normal sport like tennis or football."
Märkisch echoes those sentiments: "It depends on what game you play. For example, a good basketball player isn't necessarily a good soccer player. Also, a good League of Legends player is not necessarily a good Hearthstone player. Good tactical and strategical thinking helps in all kind of games. It is also very important to keep learning and getting better every time you play."
All three also recommend living a healthy lifestyle that includes eating healthy, exercise, and stepping away from the game from time to time.
"I think it's important to have some hobbies that don't require you sitting in front of your computer all day," said Steindl. "I personally play table tennis competitively."
"Drink a lot of water. Otherwise, you will dehydrate, and your brain won't work as well," Märkisch added. "I try to sleep a lot before a large tournament although I never succeed in doing so. Healthy food is getting more and more important as well, although I am not the best example myself, as I order pizza on stream all week long!"
You might not know it, but you could copy and paste the above eSports wisdom and apply it to online poker. In fact, what Graap has to say next about being a successful eSports gamer could have come straight from the mouth of the most successful online poker players in the world.
"You should love the game you play," he says. "You should try to get better every day; there is always room for improvement. You need high goals you want to reach. Don't play too many games; you need time to focus on just one game. A clear mind is always necessary because some games can be really tilting. Never give up, always go on."
How Do eSports Skills Translate to Poker?
Perhaps the most interesting perspective from FlowEsports is, Steindl who was a poker player first and transitioned into video gaming instead of the other way around.
"There are a lot of skills which carry over well from poker to ESports," says Steindl, who had solid cash game results for the better part of a decade. "The main ones for me are tilt resistance/self-control, ability to focus under pressure, mind-gaming your opponent, and willingness to grind countless hours. The only thing poker has that really isn't important in eSports is bankroll management. Other than that, I think any expert in one area can certainly excel in the other."
But what about the other way around? How do video gamers without much poker experience make the transition?
"Poker has a lot of similarities to Hearthstone," says Graap, whose poker experience is comprised of home games with friends. "You can bluff your opponent at a really hard level because if someone is really good in Hearthstone, they start to read hands and give false information. You can take risks if you are behind and you can play towards your outs. Patience is really important like it is in poker, and you must adapt your play style towards your opponents."
As for Märkisch, he was hesitant to take up poker for fear he had missed out on the game's "Golden Years." However, when 888poker sponsored his team and invited Steindl to the WSOP Circuit Main Event at Rozvadov, he tagged along and played his first-ever poker tournament. He figured he'd be out in an hour, but little did he know he was destined to make a deep run due in no small part to his gaming skills.
"For me, the basic math/strategy behind the game felt quite intuitive," he says. "My advantage was that I got up to four people I could easily read at every table. Focusing on the behaviours of every player at the table and how they reacted to actions of other players gave me a huge edge."
Märkisch continues: "Poker is a game like chess and computer games. Being a complete poker 'noob' I can only guess what deeper mysteries the game provides after playing it for quite some time. In Hearthstone, you have to calculate your outs in order to win, which is the same in poker. In chess, you have to find the best strategy which means 'when I do this, my opponent will do that and then I will do this' and so on. Mindset and mind games are very important here. Being patient seems to be a good skill in poker, too."
The crossover between eSports and poker isn't going anywhere anytime soon. Players from each will continue to stream their exploits on Twitch, and when it comes to Team FlowEsports, you can bet 888poker will be keeping tabs on them as they look to leverage their gaming skills to achieve poker success.