In licensed and regulated jurisdictions around the world, sports fans have the opportunity to enhance their viewing experience by betting on games. Like fantasy sports, this helps turn casual fans into invested viewers. After all, by putting their hard-earned money on the line, couch potatoes and armchair QBs suddenly have some skin in the game.
If you've ever put money down on the outcome of a match, you know exactly what we're talking about. Whether it's a $10 bet amongst friends or plopping down more than your husband or wife would approve; once you back a side with cold-hard cash, you have a strong rooting interest in how things unfold.
Sporting events are as old as human history, so it suffices, despite the moral and legal ambiguities, that betting on those events has existed just as long.
Of course, any sort of bet wouldn't be possible without odds makers, defined as the person who calculates or predicts the outcome of a contest and sets betting odds. A simple example is setting a -3 line for the home team in an NFL game, but believe us when we say there are odds for everything.
Here are three examples of how odds makers have enhanced the sports-viewing experience by offering non-traditional bets.
Tailored MMA Bets Can Change the Way You Watch a Fight
Betting on one man, or woman, beating the crap out of another may seem primitive, but it's long been a part of sports betting lore. For years, it centred around boxing matches, but nowadays fans are more likely to toss down a bet on a mixed-martial arts (MMA) contest.
Not only can you bet on the outcome of a match, such as the highly-anticipated Stipe Miocic vs. Junior Dos Santos rematch coming up in June's UFC211 – Miocic is a -185 favourite by the way – you can bet on "props," which are fun side bets.
For example, in the above fight, you can bet on things such as "Fight is a Draw," "Santos Wins by Decision," and "Over 1 ½ Rounds," just to name a few. Such bets are harder to predict, but often lead to a bigger payday when they hit.
MMA is just one sport in which you can tailor your bet to customise your viewing experience.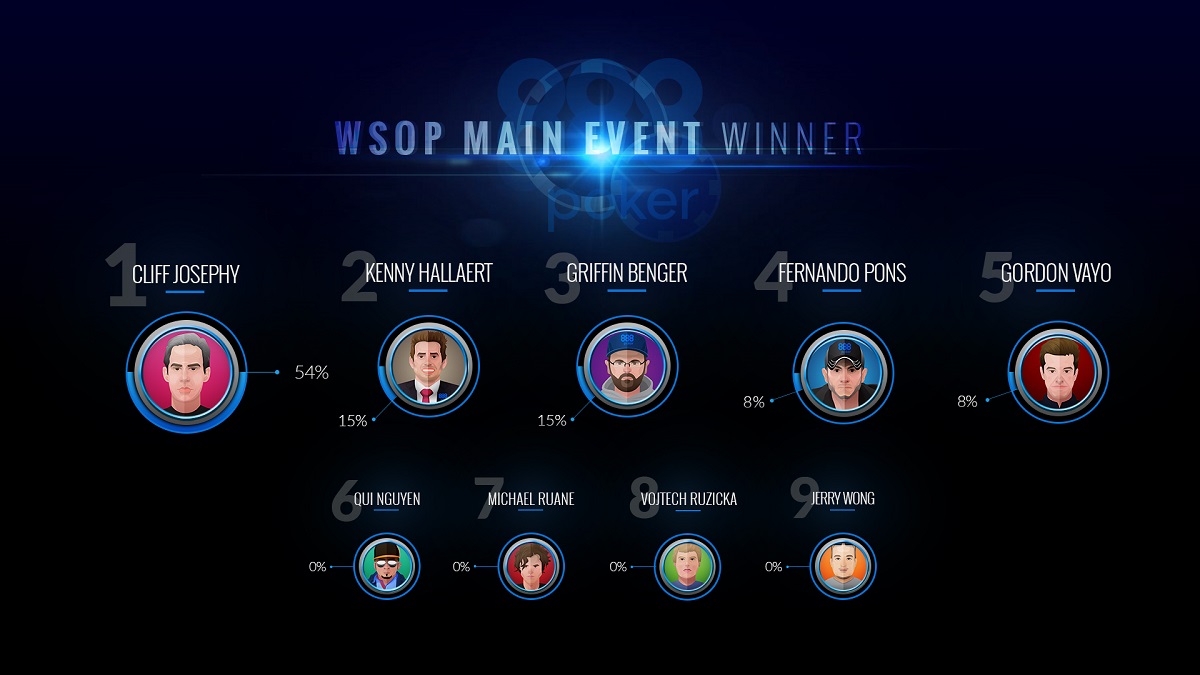 Piggyback on a Poker Player's Fortune
Every year since 2008, the $10,000 buy-in World Series of Poker Main Event, which typically draws 6,000-8,000 players, pauses in July once the final table of nine is reached. Those players then go on a hiatus until November when they return to play down to a winner; hence, the nickname the "November Nine."
Given poker is all about odds – you check out the 888poker Odds Calculator to see how certain hands stack up against one another – it's no surprise odds makers established a betting market around the WSOP final table.
It's hard to predict odds for such a matchup considering players can alter the way they play during their time off, but odds makers do their best by considering history, chip stack, and position at the table.
For instance, in last year's November Nine, chip leader Cliff Josephy was the 21.81% favourite to win, while shorter stacks Griffin Benger and Fernando Pons, who had both qualified via 888poker satellites, were 11.05% and 1.56% respectively.
According to Advanced Poker Training, who ran simulations leading up to the final table, Qui Nguyen was the favourite after winning 26 of 100 simulated matches (more than any other player). According to most odds makers, Nguyen had a 16.58% chance of winning (second only to Josephy), and as fate would have it, the simulations proved true as Nguyen emerged victorious to win $8 million.
The point is, an outsider betting the odds on a poker matchup ensures they care about the turn of every card when watching it on TV. Talk about intense.
Wide Variety of Super Bowl Bets
The NFL Super Bowl is considered by many to be the biggest sporting event in the world, and believe us when we say there are a tonne of ever-changing betting opportunities surrounding it.
From betting on the opening kickoff – in 51 Super Bowls it's come up tails 27 times and heads 24 – to the over/under on how long the National Anthem will last (this year Luke Bryan brought it in at 2:04, which was under the 2:15 line set by odds makers), there's no shortage of things to bet on.
For real, here are some wilds odds and bets from this year's Super Bowl between the New England Patriots and Atlanta Falcons:
-140 first turnover would be a fumble. It was as LeGarrette Blount lost the ball in the second quarter.
8:1 Devonta Freeman would score the game's first touchdown, which he did.
According to the Caesars Palace sportsbook, $20,250 was wagered on their "Will a PAT or field goal hit the goal post?" $20,000 of that was on "No" at -600 odds.
There was a "Skin to Win" bet that Lady Gaga would show cleavage during the halftime show (-210). She didn't.
Betting $100 the game would go into overtime, something that's never happened in the history of the Super Bowl, would pay off $750. History was made and a lot of people got pair.
Even if you don't enjoy football, such a wide variety of betting options might even make you an invested viewer.