Some say poker is as American as apple pie. However, while it's played throughout the United States, poker really is a worldwide game. Online poker aside, most associate with gambling destinations like Las Vegas and Macau. While places like those certainly host the biggest cash games and tournaments, you can actually find poker games across the globe.
Poker is regularly played on every continent except Antarctica, though it's even been played there too! Here are five curious places where you can find poker action if you look for it.
Poker Around the World
Poker in Brazil
If you've paid attention to the poker industry, then you know few markets have grown as much in recent years as Brazil. In fact, you could say the game is booming in South America's largest country.
Beginning around 2013, poker began to permeate mainstream media in Brazil. Unlike in many other countries, it wasn't portrayed negatively, but instead presented as a game of skill. In fact, the Brazilian Ministry of Sports has recognised poker as a "mind sport." That's a good thing considering casino games are illegal in Brazil, which outlawed traditional casinos way back in 1946.
There are a handful of "casinos" in Brazil, though they don't include traditional casino games. Instead, they focus on horse racing and lotteries. There's a push for gaming expansion, and such efforts have made it deep in the legislative process (proposed laws include 442/91 and 186/2014). According to Instituto Jogo Legal research, gambling in Brazil could be a $17.6 billion business.
With Brazil in a recession, gambling proponents hope to keep players from spending their money in locales such a Paraguay and Montevideo. However, the biggest hurdle has been winning over a public that often associates gambling with corruption. Fortunately, as stated above, poker has been presented in such a way that most Brazilians don't view it as gambling.
While you might not find casino poker in Brazil, there are still plenty of opportunities to play. Cash games are prohibited, but legal loopholes have allowed for tournaments. In recent years, Brazil has hosted several perfectly legal events, most that draw hundreds and even thousands of players. Such events include the Brazilian Series of Poker (BSOP), the World Series of Poker Circuit Brazil, and even an 888live Local event in Belo Horizonte, which was held in Mineirão Stadium.
Poker in Brazil is so big that 888poker even has a Twitter account @888poker_br devoted to the country. Not only that, several 888 Ambassadors hail from the country including Bruno Politano (the first Brazilian to make the WSOP Main Event November Nine back in 2014), Nicolau Villa-Lobos, and Bruno Kawauti, as does their first-ever celebrity ambassador in Brazilian football legend Denílson.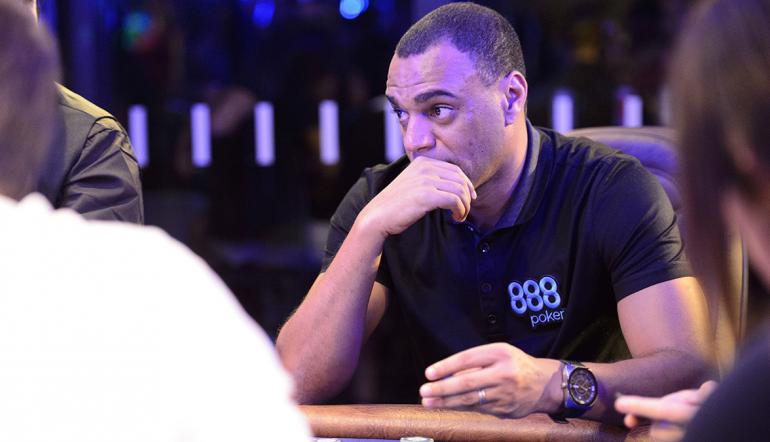 The star of the 2002 FIFA World Cup championship team, Denílson enjoyed a 16-year-long career where he played for 10 different teams across four continents. Now, he's helping grow poker throughout Brazil.
"Many of the qualities you need to be a successful footballer can help you improve your poker game. 888poker is one of the biggest and best poker platforms in the world, so I am very proud to join the 888poker team. I hope it will help develop my own pokers skills as well as encourage new players to get involved in this exciting game."
Another former Brazilian footballer promoting poker is Ronaldo, who believes it can become as popular as the game he once played.
"Poker is still growing, and I think it has the potential to become like football," he famously said in 2015.
Players and experts agree, Brazil is, and will continue to be, a burgeoning poker market.
Poker in India
You would think the second-most populated country in the world -- India has 1.252 billion people and is behind only China, which has 1.357 billion -- would be a hotbed for poker. In reality, it's a market in its infancy, though with great potential.
Here's the deal with gambling in India. The central law governing gambling is the Public Gambling Act of 1867, which for the most part prohibits it on the mainland. That said, each state has the power to pass its own laws, and offshore states like Goa and Sikkim do offer legal gambling. In fact, 90 percent of legal gambling in India takes place in those two states.
Meanwhile, other states, such as West Bengal, have excluded card games such as Bridge and poker from being classified as "gaming and gambling." As such, those games can be organised by obtaining the proper permits. Of course, there are those states, such as Orissa and Assam, that have prohibited all forms of gaming. All told, three Indian states recognise poker as a game of skill (Karnataka, West Bengal, and Nagaland).
"When you see universities like Harvard and MIT include poker as a course, one understands that if it has been recognised as a skill-based game on a global level, it's a matter of time before India acknowledges it too," Delhi-based female poker pro, Nikita Luther, told India Times.
As for online gaming, there is no law making it illegal, so many sites do cater to Indian players like Aditya Agarwal, who is perhaps the country's most prolific online player. He also has $648,617 in live tournament earnings, which puts him fourth on India's all-time money list. Those above him include Taha Maruf ($666,257), Nipun Java ($1,788,354), and Vivek Rajkumar ($4,427,667).
Speaking of live poker, India does offer several options. The most notable is probably the India Poker Championship (IPC), which is India's biggest and most popular tournament poker event. The brainchild of Peter Abraham and Sameer Rattonsey, the IPC has operated on the offshore casinos of Panjim, Goa since March 2010. Their mission is simple – to provide Indian poker players with a world-class poker experience.
More recently, renowned poker veteran and serial entrepreneur Praven Dwarkanath launched Poker Ninja in November of this year. He did so by partnering with the Gold Coast Poker Room in Bengaluru.
"The international poker circuit is a very good reference of how a poker tournament and player experience should be," Dwarkanath told PokerGuru.in. "Keeping that in mind, we intend to provide the best playing environment at Gold Coast and a platform for players to put their poker skills to test and yet enjoy the experience of the state-of-art gaming arena."
Poker in India continues to expand, and there's no end in sight. The Economic Times recently reported that Indian online poker startups are worth $110-$120 million with more than 50,000 people playing on a regular basis.
Here's a great graphic courtesy of economictmes.indiatimes.com on where you can play poker in India:
Poker in Lebanon and Israel
Finding poker games in the Middle East isn't easy, especially in Islamic nations where sharia and secular law prohibit gaming of any kind. However, like most places where poker isn't legal, you can often find games if you look hard enough. In the Middle East, there are a couple of countries with thriving underground poker scenes.
In Lebanon, there are a couple of gambling facilities including the Hippodrome Du Parc De Bevrouth in Beirut and the Casino du Liban in Maameltein. The latter is the larger of the two and had 56 table games, hundreds of slot machines, and six poker tables.
You might also be surprised to learn that several of poker's top pros come from Lebanon. Freddy Deeb, who now resides in the U.S., is the country's all-time money leader with more than $8.5 million in lifetime earnings. Others include Nicolas Chouity ($3.2 million), Fadi Kamar ($2 million), and Walid Bou Habib ($1.3 million).
In Israel, poker is illegal after being designated a game of luck as opposed to skill. Still, that hasn't stopped a bustling home game scene from springing up. That's in spite of operators running the risk of three years in jail and players as much as a year. For one particularly interesting home game story, check out Avi Rubin's blog about his year in Israel.
While poker is currently limited to home games, that could change as a new casino initiative may result in casinos in the city of Eilat, which currently runs gambling cruises (by playing on the high seas they're outside Israel jurisdiction).
"Tens of thousands of Israelis play poker recreationally anywhere from once a month to many times a week with their friends and colleagues," Robbie Strazynski previously wrote on Cardplayer Lifestyle. "To that end, shops selling sets of poker chips as well as other poker supplies are practically ubiquitous. And of course, there are also plenty of Israeli poker forums online where local fans of the game discuss their favourite hobby."
While poker might not be prevalent in the Middle East, it does exist. This fact is evidenced by the sheer number of players from the region who've found success on the international circuit.
For example, there's the late Amir Vahedi, who if you recall made the WSOP Main Event final table the same year Chris Moneymaker won. Vahedi still holds the top spot on Iran's all-time money list with $3,276,428 in earnings. Speaking of Iran, 1992 WSOP Main Event champ, Hamid Dastmalchi was born and raised there until relocating to the U.S. at age 19. There's also Iraq's Mohamed Namir (No. 1 with $111,522), the United Arab Emirates' Shams Ahmad (No. 1 with $168,139), and Jordan's Fuad Serhan (No. 1 with $588,727).
Poker in Africa
When it comes to poker in Africa, the Casino de Marrakech in Morocco jumps to mind. They've held some major events including World Poker Tour Nationals, WSOP Circuits, and even WPT Main Events. Most recently in March, it played host to the 2016 Marrakech Poker Open, a tournament that drew 220 entrants and saw Portuguese poker pro, Henrique Pinho, emerge victorious to capture a €35,880 first-place prize.
While Marrakech is a hotbed for poker, it's far from the only game in Africa. According to World Casino Directory, ten different groups operated casinos on the continent in 2014 with Sun International operating the most in such places as Botswana, Lesotho, Namibia, Nigeria, and South Africa. Other countries where it's popular to gamble are Egypt, Cameroon, Ghana, Zimbabwe, and Uganda.
While casinos, horse racing, and sports betting have been around since the 1950's, it hasn't been until this decade that they really began to experience growth. When it comes to poker, South Africa is the go-to place outside of Morocco.
"I think the best casinos to play at are probably in Johannesburg and have cash games and MTTs running pretty much every day," noted African poker pro, Ahlee de Lange, previously told PokerNews. "My favourite place to play is probably in Cape Town. It's a beautiful city, the people are friendly, and the casino looks pretty sweet. I think my favourite casino is probably the Monte Casino in Johannesburg. It has an array of nice restaurants and shops, as well as great MTTs and cash games. I would recommend if you want to come to South Africa for poker, go to Johannesburg. However, if you want to go for some holiday and a nice scenery, Cape Town is your city. It features the most awesome nightlife in South Africa and the people are generally very friendly."
Not surprising, the top three on Africa's all-time money list all hail from South Africa. 2007 WSOP Main Event third-place finisher Raymond Rahme tops the list with more than $3.5 million, while Jarred Solomon sits second with just over $1 million. Right now, they're the only two players with seven-figures in winnings, though Darren Kramer is not far behind with $982,052.
Other notable African poker players include Warren Zackey ($833,434), Greg Ronaldson ($755,024), and Farid Yachou, who earlier this year won the inaugural WPT Tournament of Champions for $381,600.
Not only have some tough players come from Africa, but many top pros are known to visit the continent. In 2014, Dylan Wilkerson won the WPT Emperors Palace Poker Classic for $145,836, while fellow American pros Faraz Jaka and Mclean Karr both won side events at the same stop. In addition, online poker legend Dan "Jungleman" Cates won $500,000 at the same venue when he took down the 2016 WPT Alpha8 Johannesburg.
It's not just the juicy poker action that appeals to the pros, but also the offerings off the felt attract them to Africa. Many take the opportunity to either see the sites or go on a safari, while others go a bit more extreme. In late 2014, poker pros Shannon Shorr and Jesse Yaginuma summited Mount Kilimanjaro; a feat replicated earlier this year by Fedor Holz.
Poker in Kazakhstan
When you think of Central Asia, poker is probably one of the last things that come to mind, especially in Kazakhstan. However, the former Soviet Republic, which extends from the Caspian Sea in the west to the Altai Mountains in the east, has emerged as a great place to play poker.
According to World Casino Directory, there are five cities with 10 total gambling facilities in Kazakhstan. By law, all casinos must be located near the country's two largest cities (Almaty and Karagandy). Kapchagay, which is located just outside Almaty, houses six facilities, including the country's largest casino, Casino Altyn Alma. That property offers 44 table games along with 150 gaming and video poker machines.
Gaming in Kazakhstan has become so big that in 2015 Wynn Resorts CEO Steve Wynn met with President Nursultan Nazarbayev to discuss possible cooperation on joint projects. Coincidentally, the meeting came at a time when major plans for casino development were made public.
Kazakhstan, the largest landlocked country on earth, has plans to build an international airport that would be within a five-hour plane ride of half the world's population (it helps that both China and India are nearby). In addition, there are plans for a new superhighway and high-speed rail system. As you can see, there's potential for Kazakhstan to become a major player in the gaming space.
Regarding poker, there are reportedly over 60 poker tables across the country. One of those properties is Bombay Casino, which in 2015 hosted the WPT National Kazakhstan. That tournament attracted 106 entrants and saw Russia's Kamil Isabekov walk away with a $42,225 first-place prize.
The Eurasian Poker Tour (EAPT) is another tour that often hosts stops across the country. In April of this year, the EAPT held a stop at Cashville Casino in Astana. That Main Event attracted 150 entries and surpassed its advertised $100K guarantee by creating a $130,500 prize pool. Ukraine's Shklyar Iaroslav emerged victorious in that tournament to win $33,330.
As far as players from Kazakhstan are concerned, Aidyn Auyezkanov tops the country's all-time money list with $531,719 in earning. Nearly all of that came in May 2016 when he finished third in the EPT Monte Carlo Super High Roller, which helped put Kazakhstan on the poker map. Other players from Kazakhstan who've won six figures include Asan Umarov ($396,780), Darkhan Botabayev ($179,958), Ivan Arbatsky ($157,004), and Ismail Salmanogly Babaev ($146,946).
With no online restrictions and an eye toward gaming expansion, Kazakhstan is primed to become a major player in the poker world.
In Conclusion
Poker can really be found in all corners of the world. Your best bet at finding a game is to consult Google, but if that doesn't do the trick, don't be afraid to ask poker players. Reaching out on social media can be a great way to learn about the poker scene at your destination, and might even lead to an invite or two.