Every sport or competition has at least one controversial star. Dennis Rodman became the NBA's, after donning a white wedding dress on the court. And, who can forget when boxing's Mike Tyson infamously bit off the ear of Evander Holyfield during a bout. The list goes on and on.
When it comes to poker, the game has a new controversial star – Will Kassouf.
The former attorney from the UK made waves in the poker world last summer during the 2016 World Series of Poker Main Event. Kassouf was one of 6,737 players to pay a $10,000 buy-in to play in poker's most prestigious tournaments. With ESPN cameras rolling, Kassouf bantered, bullied, and bruised his way to a 17th-place finish for $338,288.
Others would say he chatted, charmed, and entertained his way there.
Kassouf's antics at the table divided the poker world. Then, in December, Kassouf won a High Roller event in Prague after offering his opponent more money in exchange for the title. It was a controversial move, especially given he was down 4-1 in chips at the time, that shook the poker world.
Kassouf is not only one of the year's breakout stars, but he is also one of the most divisive figures in the history of the game.
Breaking the Rules or Just Bad Poker Etiquette?
What was so controversial about Kassouf? Simply put, he talked to his opponents incessantly, annoying both them and other players at the table. The problem was, he wasn't breaking any rules.
For example, on Day 5 of the 2016 WSOP Main Event, there was 630,000 in the pot and a board reading 5♦3♥2♣8♥10♠ when Kassouf moved all in holding the 9♥6♣ and Stacy Matuson, who had 490,000 back, had to decide what to do with her Q♠Q♦. That is when Kassouf launched into his highly controversial speech play.
"You don't want to bust out with a whole camera crew watching, yeah? This would be embarrassing," said Kassouf. "You don't put me on this hand."
The problem was it didn't come off as friendly table chatter. It's hard to put a thumb on what it is about Kassouf that rubs people the wrong way, but there's something.
Kassouf went on to finish 17th in the Main Event for $338,288, and his antics continued throughout, even testing the patience of well-known and respected poker professionals Griffin Benger and Cliff Josephy.
Even after Kassouf busted the Main Event, his presence has lingered. His catchphrase "nine high like a boss" has entered the poker lexicon, as did his other popular saying "coconuts."
"It has to be '9 high like a Boss,'" Kassouf responds when asked which of his catchphrases has proven most popular. "It's been heard in hundreds of cardrooms around the world, and it's the catchphrase I've been most associated with since WSOP."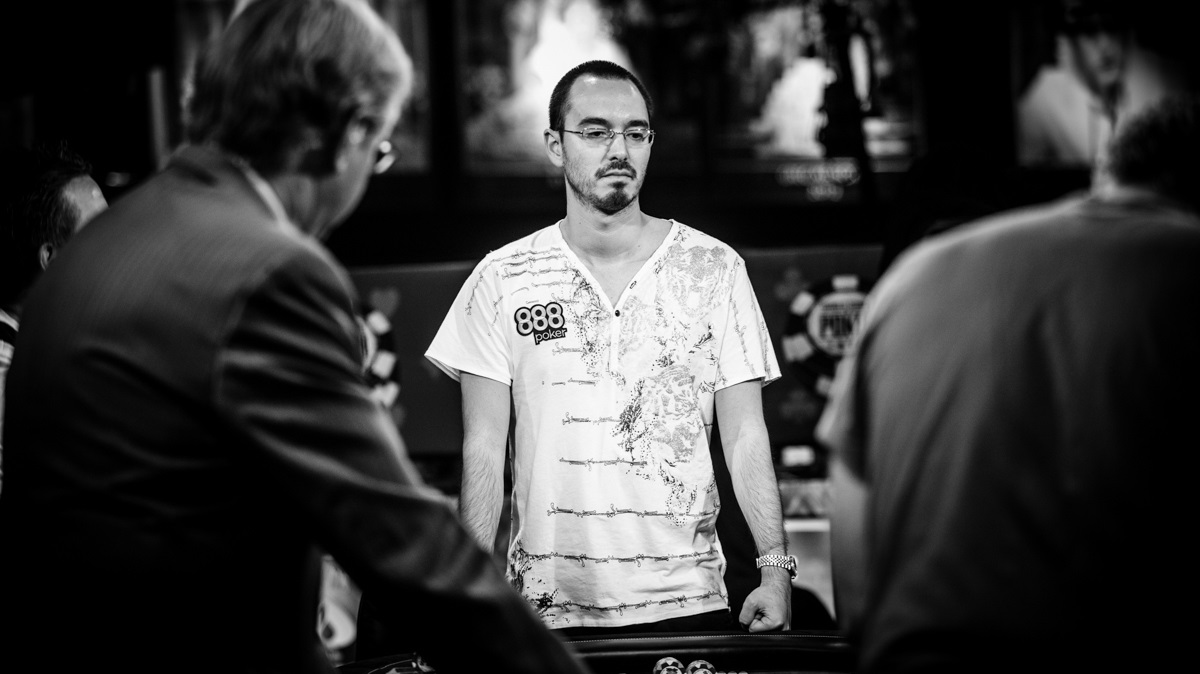 A Rising Star
In December, Kassouf's hot streak continued when he won a €10,000 High Roller Event in Prague for $555,619, the largest score of his burgeoning career. It was a significant win for Kassouf as it showed the poker world he is here to stay.
Love him or hate him, there's no denying that Kassouf has carved out a place in the poker world. He's getting press, taking selfies with fans, and even getting invited to poker events around the world, including the World Poker Tour Bay 101 Shooting Star where he will be one of 50 celebrity bounties.
While the majority of those bounties have had more success than Kassouf, the boisterous Brit is more recognisable to the masses. Unless you're a hardcore poker fan, you might not know who Pat Lyons is even though he won both a WPT title and the Arizona State Poker Championship last year. Or Tyler Patterson, who also won a WPT title and has $2,306,422 in tournament earnings. They're great players no doubt, but not yet household names. However, there's a good chance anyone who watched the WSOP on ESPN this past fall is familiar with Kassouf.
"I've done several interviews and podcasts with major media channels and top pros," Kassouf says of life in the past six months. "It's the fans that have made the ['9-high like a boss' and 'Coconuts'] t-shirts themselves so far. I may look into making some myself, but I'm focusing on my poker and continuing to get results for now."
It goes to show you the power of television combined with a controversial figure.
Controversial Sports Figures
That combination has minted more than one legend. We already mentioned Rodman and Tyson, but how about tennis' John McEnroe, the World No. 1 tennis player of all time from the United States. The seven-time Grand Slam Singles Champion would often rant at officials and throw tantrums. Sounds an awful lot like Phil Hellmuth, AKA the "Poker Brat."
Then there's MMA fighter Jason Miller, known for his showboating ways and displaying little to no respect for his opponents. Remind you of Tony G? Speaking of which, there are a lot of similarities between Kassouf and the "G." Both are outspoken, polarising, and entertaining.
Tony G, now in the Lithuanian parliament, did it years ago, and subsequently spun his fame into a business empire fuelled by catchphrases like "on your bike" and "bring the trike, he can't ride a bike." Kassouf would be wise to follow in the footsteps of Tony G.
Meanwhile, in baseball, Ty Cobb was not only known for setting records, but also his erratic behaviour and short temper. You just never knew what he was going to do or who he was going to do it to. Poker has an equivalent, and his name is Matt Marafioti.
Or how about former NFL wide receiver and six-time Pro Bowl selection Terrell Owens? He had an ego that often got him in trouble and put him into direct conflict with teammates including Donovan McNabb. Forgetting to check their ego has led to many poker players getting in hot water, just ask Jared Bleznick, who had the gall to tear up cards at the WSOP. He received a lifetime ban for the offence, though, that was lessened to just one day when his high-profile poker friends lobbied for him.
Finally, there's Pete Rose, who was banned from Major League Baseball and the Baseball Hall of Fame for betting on games. There's nothing too controversial about that, at least in the poker world, as sports betting is a favourite past time among players.

Kassouf's Place in Poker History
So, where does Kassouf fit in? It's hard to say, but he does have a favourite athlete, albeit not one a very controversial one.
"Thierry Henry for his massive contribution to Arsenal Football Club scoring 228 goals for the team, being Arsenal's all-time leading goal scorer, and being a huge inspiration for those that have followed in his footsteps," Kassouf says.
Henry, who played from 1994-2012, may not have been controversial, but he did manage to use his skill and celebrity to secure some lucrative endorsements such as Nike, Gillette, and Pepsi, just to name a few.
Only time will tell if Kassouf can leverage his own image into something more, but one thing is for sure, poker business should be looking to sign him. Whether it's to represent a poker room in London, or to sport an online poker patch, Kassouf is a hot commodity in the poker world right now and likely will remain so at least through next year's WSOP.
That means exposure for whoever aligns with Kassouf. It could also lead to new players coming to either a live or online poker room, because there are plenty of players who want to play with Kassouf.
"All I know is someday I need to be on his table," said recreational player Stiv Gustav. That's a sentiment poker rooms would be foolish to ignore.
Kassouf's Impact on Poker
The list of reasons why some people don't like Kassouf is long. Many find his talking to be an annoyance, while others just hated how long it took him to act. Then there's those that just flat out disliked the guy.
"I think ESPN portrayed me as a villain to make the viewing more interesting," he says. "I don't see myself as a villain as all those that know me and the vast majority of people that have played with me enjoy the banter and speech play on the tables."
On the flip side, there are those who found Kassouf entertaining and endearing. Even the haters admit he made for good TV, and now some of his fans are emulating him using table talk to gain an edge.
"The reaction has been immense," says Kassouf. "I've received thousands of messages of support since the ESPN coverage. I've received a few messages from random haters, but the vast majority have loved and respected my game and said I've been a huge inspiration to them, so that's great."
What's in Store for Kassouf in 2017?
Since finishing 17th in the WSOP Main Event for $338,288, Kassouf hasn't slowed down. In December, his hot streak continued when he won a €10,000 High Roller Event in Prague for $555,619, the largest score of his burgeoning career. That also made him a poker millionaire with $1,275,105 in live tournament earnings entering the New Year.
Fittingly, it was a controversial win for Kassouf, who struck a deal with second-place finisher Patrick Serda. As part of the arrangement, Serda got more money, $750,216 to be exact, while Kassouf took a lesser amount in exchange for being declared the winner. It's not an uncommon practice in poker, but certainly one that is frowned upon, especially when it happens in what is supposed to be a prestigious event.
To draw an analogy, it's like when New York Giants' defensive end Michael Strahan sacked Green Bay Packers' quarterback Brett Favre in a game on Jan. 6, 2002 to set the NFL single-season sack record of 22.5. If you watch that play, you might be tempted to think Favre laid down and gave him the record. Does that cheapen it? Some certainly think so.
Anyway, Kassouf is currently busy travelling the poker tournament circuit and kicked off the year with a trip to the Bahamas.
"I've already been invited to some big poker festivals around the world, which I feel honoured to be a part of," he says. "I will strive to have a successful 2017 although it will be hard to beat the results I had last year, but I'm determined to achieve bigger and greater things, so onwards and upwards."
On February 2, he'll head to the largest cardroom in Europe, King's Casino Rozvadov, where he'll take part in the 888Live Kings Festival. It's also there that'll he be engaged in a best-of-three heads-up grudge match against Matuson.
The 888Live Kings Festival runs from January 26th through February 6 and will offer over €600,000 in guaranteed prize pools. There will be more than a dozen events including a €5,000+€300 High Roller and €888 Main Event, the latter of which will offer two starting flights and a €300,000 guarantee.
For more information on that event, click here.