"F**k...."
It's possibly the most over-used phrase in poker: that fish hits his one-outer on the river, or your expert all-in bluff is weeded out in a second.
But perhaps, that most British of resignations has never been so poignant as it was at the 2007 WSOPE in London.
At the Empire Casino in Leicester Square, an unknown online pro from Norway is sitting at the biggest poker game in Europe and eyeing up a first prize of £1 million. In her way is Welsh youngster John Tabatabai.
What is so momentous is that not only is Annette "Annette_15" Obrestad just 18 years old, but that a woman is about to take down poker's biggest prize.
With both players all-in, the Norwegian teen - who had steamrollered some of the biggest names in poker for a week to get here - flips over 7h 7s for top set on a board of 7c 6c 5h.
Tabatabai sheepishly turns over 5s 6d before uttering his perfectly-timed four-letter expletive.
The top set wins it for Obrestad, and she sits motionless in her chair, allowing the sense of history to wash over her. For the first time in a week, a tear rolls down her cheek: she's changed poker forever.
Table of Contents
The Rise of Women in Poker
While Obrestad's success was phenomenal, it was a sign that two things were happening.
First, more youngsters were starting to get into the game generally, and doing well, and poker's accessibility meant women no longer had to venture into casinos to try the game out.
Indeed, Obrestad had for years practised online (hence her 'Annette_15' alias) to build up experience and the grow her hand history.
True, women were already taking up the game when Obrestad became the youngest ever Main Event champion. Top US female players had already been on TV playing for high stakes and taking down bracelets.
But her win marked a sea of change: more women were taking up the game, they were getting younger, and they were more online-savvy to boot.
So, what has led to more women taking up the game, and is it a trend that is set to continue? Let's explore some of the reasons why women could be poised to achieve more greatness at the tables:
More accessible poker games in pubs and clubs
More women taking down big cashes and titles
More poker advertising on television
Mainstream role models and sponsored female pros on TV

A 'Man's Game'?
Once upon a time (and really not that very long ago), poker was a man's preserve, a game played by road gamblers. They weren't largely welcoming to women, save one or two who frequented the early WSOPs like Barbara Enright and Terry King.
However, the poker boom of the early 2000s led to poker entering the mainstream. Poker became much more accessible online, there was no need to enter a casino to play, and the stakes were friendly.
Players like Annette_15 and former 888poker pro, Xuan Liu, took to their laptops and college dorms to kill a few hours. They could discuss hands and improve their games without the need to mix it up with a table full of sweaty guys.
Meanwhile, US names like Jennifer Harman, Vanessa Rousso and Hollywood actress Jennifer Tilly were busy being snapped up by the networks on shows like High Stakes Poker. For some women, like Rousso and Annie Duke, poker led to mainstream breakthroughs in reality shows Stateside.
Duke starred in the US version of The Apprentice, while Rousso rocked up in Celebrity Big Brother. And, success at the tables has led to more women proving that it's not just a man's game.
The Changing Legal UK Landscape
Poker itself has become more accepted.
Millennials, now coming of age, live in an era when online gambling is the norm, not the exception. Black Friday in the US was over four years ago, and legalised poker sites have popped up in Nevada, New Jersey and Delaware.
Live poker games continue to flourish, with the wallet-friendly Colossus at this year's WSOP attracting over 22,000 runners.
Over in the UK, the Gambling Act 2005 has paved the way for low-stakes games to be played in pubs. Now, it's perfectly legal to play games with a £5 entry down your local pub. Those changes came in 10 years ago, and the thirst for recreational poker that attracts women and men sees no sign of abating.
"Poker is definitely a social thing for our players, both men and women," says Richard Couch of Redtooth Poker.
"Our games are one night a week, it's cheap [games are £5 to enter], and there's a chance of qualifying for bigger prize tournaments. Overall, it's not about aggressive games; it's a friendly way of getting out there and playing poker."
Recent changes in gambling law in the UK have led to gambling being more accepted, and that has led to a rise in women playing games. Poker can now be played in British pubs up to a maximum prize pool of £100, while compulsory membership at offline casinos has largely been lifted.
More women are gambling in general too, according to Gambling Commission figures. This is particularly true online, where female participation in the UK increased from 7.8% in 2008 to 12.8% in 2014.
Social gaming is on the rise as well, with online social poker games on Facebook jumping 22% in 2013 compared to the year before. The rise of online 'glam-blers' has been led in no small part by a relaxation of TV advertising for casinos and online betting sites. You're as likely to see TV ads for poker sites on primetime TV, and even daytime shows in the UK as you are for food, cars or beauty products.
It's not just in online bingo and casinos where the casual novice is being targeted, either. With moves by the big poker rooms to outlaw Heads-Up Displays and weight raking towards casual players, poker is now appealing to a new generation of newbie.
Take the amazing story of British player, Anna "DuckRatMe" Duxbury. Anna took up poker online in her 20s when she fell pregnant with her second child. Attracted via social games like Zynga Poker and watching televised poker, she took to the online tables and hasn't looked back.
Doin' It For Themselves - The WSOP
While amateurs are taking to their laptops and the pub to play, what's happening with the pro game? Does the growth of women players cross over to the professional side of the game?
We nearly - nearly - got two women to a WSOP Main Event final table in 2012. Gaelle Baumann, a cash player from France, and Norwegian waitress Elisabeth Hille busted agonisingly close to the November Nine that year.
For the first time in 12 years, two women had reached the last 20 players at a WSOP Main Event. Baumann would go out in controversial circumstances on the final table bubble in 10th, while Hille bust out 11th. Both players secured sponsorship deals following the Main Event.
Even if one of those players had reached the final table - with all its media coverage and ESPN footage - who is to say how it could have affected the numbers of women entering the Main Event the following year? Certainly - and let's be honest here - both players were photogenic enough to warrant a portion of anyone's marketing budget.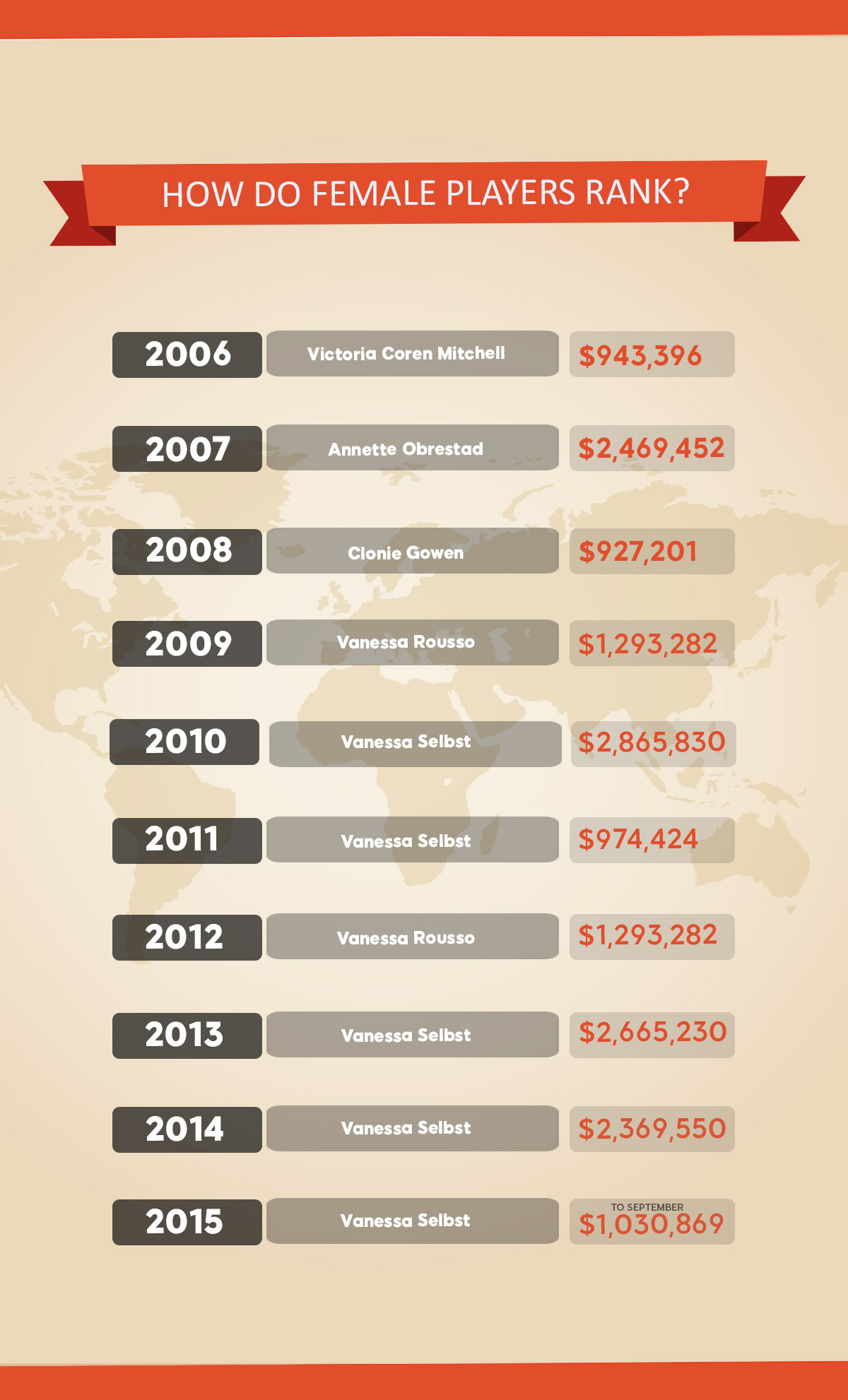 Female Numbers Still Low
But, there's a word of caution after that momentous year. What happened in 2012 is perhaps a false positive for what is still a pretty slow increase of women playing WSOP Main Events. In 2014, of the 6,683 Main Event entrants, there were still substantially more men than women, with women making up just 3.9% of runners.
This year, the Colossus was introduced - a unique $565 buy-in event that attracted over 22,000 runners. But, despite a supposedly 'recreational-friendly' player pool, only 6% of the entrants - around 1,500 - were women.
888poker pro, Jess Dawley, says that, despite "a big untapped market" [of women players] it is still common to see intimidation and sexist comments at the tables from men.
Outside the Main Event, however, bracelet numbers among women - and cashes in general - are on the rise.
Our second infographic shows that the top female cashers are bagging more each year than ever before, while the number of cashes among women is increasing. At the same time, the average age of women cashing at the WSOP is coming down, from around 48 in 2006 to 38 in 2015.
Similarly, on tours away from the WSOP, like the EPT, Victoria Coren-Mitchell has become the first ever person to win two EPT titles, while stars like Liv Boeree also have EPT titles to their name.
Is There a Role For Ladies Events Anymore?
Are Ladies Championships the answer then? A women-only tournament where girls can get together and play in a more relaxed environment?
Ladies Championships have been held since the first WSOP events - the 1977 World Series featured a $100 Ladies Seven Card Stud tournament - and more amateurs are playing.
In the meantime, Ladies Championships have even been televised, most notably the 888.com Women's Poker Open - which still exists today. It is the largest poker event exclusively geared towards female players.
Lizzy Harrison headed up the 888poker content team at the 2015 WSOPE. For her, there's no reason why more women shouldn't be competing on the big stages.
"The game has certainly continued to grow for women as more get involved each year," she says. "[Using women] for poker marketing is a solid idea [to attract more female players]. It makes other females that may be hesitant to get involved see that it is a unisex game."
Harrison adds a note of caution for the marketing departments, though, "I think women are too sexualized, and it would make sense to tone that down in order to make poker a more approachable game. The ads that objectify women are mainly aimed at men, not women."
US pro, Maria Ho, has no issue with poker being dominated by the men but believes more can be done to encourage women who show an interest in getting involved.
"I think the game of poker and some of the skills required aren't innately feminine, or something that necessarily interests the broad spectrum of women, and that's okay," she says. "I don't think that poker needs to try to 'attract' more women who maybe aren't showing an interest in the game. However, for those ladies who do have the desire to play, I think it definitely starts with making them feel welcome and comfortable in such a male-dominated arena.
"From what I have seen, the way women are treated at the tables is still somewhat archaic. However, I do think it's slowly becoming more of a norm to see women in the poker field, and those women are definitely climbing the ranks, winning bracelets, breaking records and finding more consistent success than in years past.
"Poker marketing is clearly male-centric simply because, from a business point of view, men comprise over 90% of the customers. What company isn't going to target their majority demographic? I don't think it's a negative thing, although the numbers of female players could grow tremendously if this industry found new ways to make this game and its environment more appealing to women as a whole."
Here Come The Girls
Poker has come a long way since fearsome road gamblers made poker rooms a no-go area for women. While the game is undoubtedly still male-dominated, it's also more accessible now for women to play and there is even a specialist website focused solely on women in poker.
Major online poker rooms are taking on women players as spokespeople and ambassadors. 888poker's trio of female players include Sofia Lovgren, Kara Scott and Jackie Glazier. Kara Scott – one of the industries most respected personalities – has always been a powerful advocate for women players, as has Sofia and Jackie.
With well-known female players becoming ambassadors, more opportunites are being opened up for player/presenters like Tatjana Pasalic. She recently hosted the 888Live Austria event.
In an interview in between hitting the tables and hitting the slopes, Team888's Sofia commented on how some players underestimate her poker skills because she is a woman:
"It's sad but true that many men still believe that they have an edge over women players just because they're male.
"Men always underestimate girls, in general, when it comes to playing poker. And, if you're smart enough to overcome that prejudice, you can surely turn it into a profit!"
Despite the somewhat outdated attitudes of certain players, with cheap social games available in pubs and amateur tours more women are being attracted to the game. Meanwhile, online poker offers a safe and hassle-free place to play at home.
Could future WSOPs yield more cashes and bracelets for the top female pros? Don't bet against it.