For 50 years now, most poker players have been dreaming of one trophy – a gold bracelet from the World Series of Poker.
The event has grown in prominence since debuting at Binion's Horseshoe half a century ago, with the gold bracelet becoming the biggest trophy in the game.
The first World Series began in 1970 with only a handful of players. However, the event continued growing in subsequent years, adding preliminary events. Looking for some added prestige to his new poker series, Benny Binion introduced championship gold bracelets in 1976.
Each winner, and also those from previous years, strapped on some shiny jewellery to take home.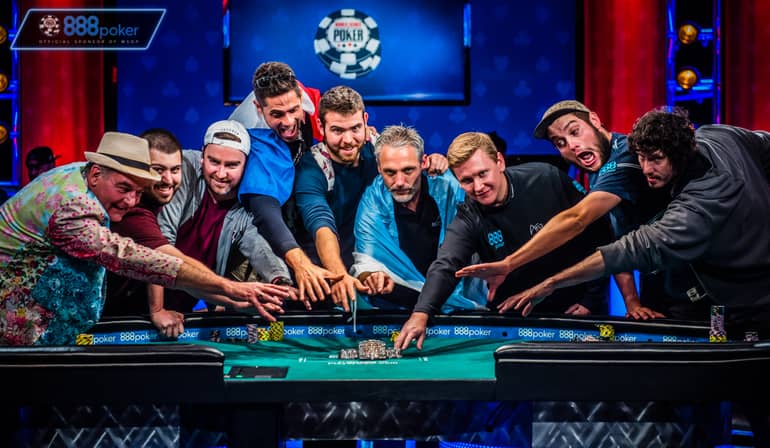 Table of Contents
Bracelet Early Beginnings…
Gold was valued at about $134 an ounce that year, $601.82 in today's dollars. That's nearly half of today's gold price, but still not a bad prize to go along with a big cash haul. Binion viewed the jewellery as some extra prestige for winning, and he might be surprised how sought-after they've become and how big the WSOP has grown.
That piece of bling has become the biggest trophy in poker.
Those early bracelets were simple enough – a gold piece with the name of the event and year. At that time, a bracelet had a value of about $500.
"The band looked like gold nuggets kind of hammered flat," Benny Binion's daughter Becky Behnen told the Associated Press in 2006.
That general look continued even into the 1980s and 1990s before more jewels began being added to larger pieces of jewellery. By the 2000s, winners could expect sturdier designs with crisper and more modern-looking lettering. Just like Super Bowl rings have become more and more big and bold, so too have the WSOP bracelets.
How the WSOP Bracelets Have Changed!
Many 888poker players probably already know Ambassador Martin Jacobson's story from poker-playing college student to eventual Main Event champion in 2014. He topped a field of 6,683 players for a $10 million payout and his own Main Event gold bracelet.
That trophy is a massive piece of jewellery making liberal use of diamonds with black and gold accents. Martin boasted a huge smile after taking the title and lifting that hulking winner's booty over his head.
While the bracelet may be highly sought after, they occasionally do come up for sale. A quick eBay search will find some available on occasion. In May 2019, a $2,500 Limit Omaha bracelet was available for purchase for $50,000 (or best offer). That event was won by Tom Franklin.

In 2013, Jamie Gold's 2006 Main Event bracelet was sold in an online auction for $65,725. It had more than seven carats of diamonds and 120 grams of white and yellow gold. Gold wasn't selling just for the money, he explained.

"It's a legal issue that I can't talk about, but what I can say is that I am not selling it," Gold told Card Player magazine. "I would never do that. It's really unfortunate what has been happening. It is out of my hands, but it's not something I wish was happening. I'm not purposefully selling; I'm not involved in the auction and will not be making $1 if it does end up being sold."
Four years later, another Main Event bracelet was available for sale. Tom McEvoy listed his 1983 Main Event bracelet on eBay. It's not known if a buyer and the champion reached an agreement on a deal.
While some players may covet a bracelet for winning an event, when a winner might need some money, apparently a bracelet seems like an opportunity to cash in.
Big Names, Bigger Hardware
A bracelet sale may occur occasionally, but most players see them as marking a personal high point. In 1989, Phil Hellmuth became the youngest player ever to win the Main Event for $755,000. That became his first piece of WSOP hardware with many more to follow.
"It was an amazing feeling," remembers Hellmuth, who released his autobiography 'Poker Brat ' in 2017. "My dad flew out to support me, just on the chance that I won it. It was the first time he ever attended any tournament. Embracing him after winning the 1989 WSOP was one of the sweetest moments of my life. Winning the Main Event was my number one life goal. Luckily, I pulled it off early in my career."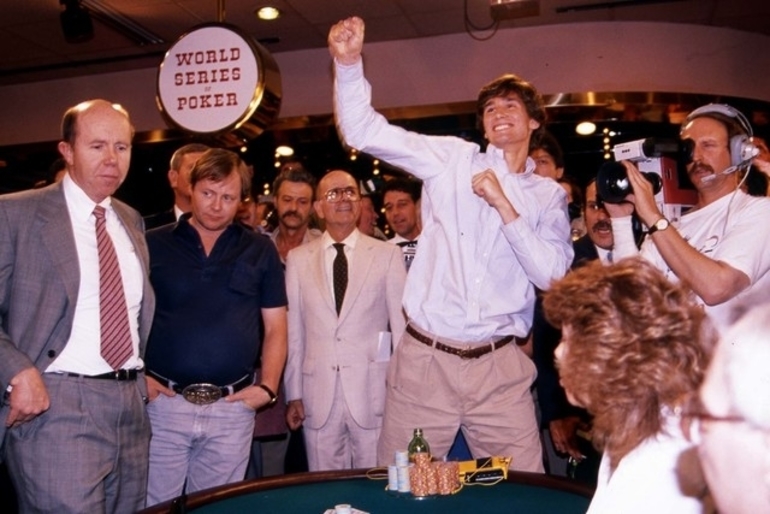 Phil Hellmuth, WSOP 1989
He now leads the pack with 15 bracelets and added a WSOP Europe Main Event bracelet in 2012 to become the only player to win the Main Event in Las Vegas and Europe. Second to Hellmuth are three players with 10 bracelets each: Doyle Brunson, Johnny Chan, and Phil Ivey.
Today's bracelets, especially the Main Event, have become the ultimate in bling. A WSOP bracelet offers a player plenty of bragging rights. Winning one is the apex of poker success, and usually inspires a player to try and make more.
The 2016 Main Event edition won by Qui Nguyen serves as an example of where the Main Event bracelet has been headed over the last few years – very big and very shiny. Nguyen's was designed and produced by the Jostens company, a major American jewellery design company.
The company's artisan jewellery team gave the bracelet a bold look, put together from over 40 uniquely-cast pieces with 427 grams of white and yellow gold. The bracelet links are assembled to look like playing cards linking a diamond- and ruby-encrusted band to the stylish centrepiece with "WSOP" in rubies punctuated on all sides by a row of black diamonds.
The centrepiece is backdropped by rows of white diamonds. In total, this poker hardware features:
1,356 white diamonds (25.5 carats)
626 black diamonds (14.8 carats)
194 rubies (3.8 carats)
The bracelet opens up like a locket, and the brilliant centrepiece offers something unique and special – a hidden compartment designed to house the winner's two final cards that brought the ultimate victory. That feature has continued over the last few years.
The Most Expensive Trophy in Sports
WSOP officials consider this the most expensive trophy in sports. And if a number had to be put on its value, the WSOP usually estimates at least $500,000 for some of the modern pieces – some excellent added value. Jostens again designed the 2019 bracelet, and a big and bold design should be expected this year as well.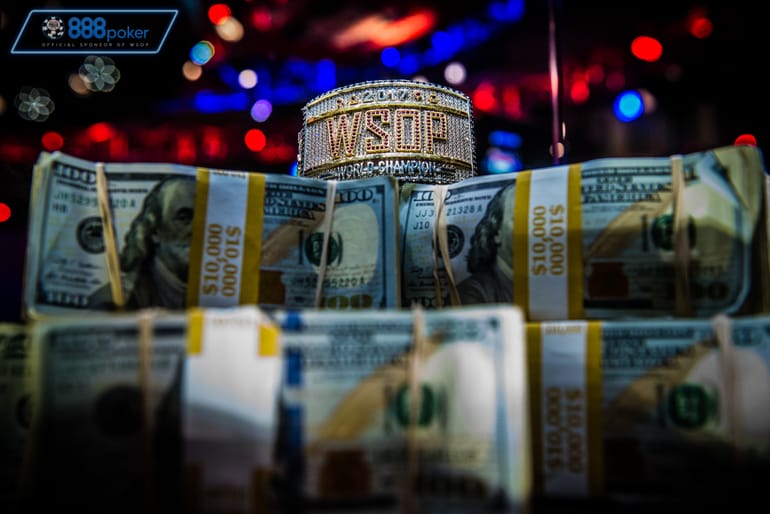 "The value is priceless as you can't buy one, you must win one," says Seth Palansky, Caesars vice president of corporate communications. "They have been fairly consistent as far as design the past several years. Everyone who gets one is always very pleased."
While each of the 89 tournaments this year offers a bracelet to the winner, not every event is the same in the WSOP these days. A piece differs a bit depending on the tournament. Some contain more bling than others, with bigger events fetching bigger hardware.
"There are different ones for different events, so diamonds, gold, and design vary," Palansky says.

Each summer bracelet hunting remains the biggest season in the poker world with players across the globe hoping to raise one in victory and then strap some gold around their wrists. As the 50th WSOP played out in 2019, there looked to be no slowing down in the battle for a bracelet.