This week's usual $109 buy-in Main Event was altered to a $100,000 Mystery Bounty Kickoff at the same price point. To say it was a success would be an understatement. The guarantee was blown out of the water with a massive 1,430 players rebuying 457 times.
The event boasted a $188,700 prize pool with the top 240 finishers in the money.
The big prize was a $10,000 bounty, which went to Brazil's "brubsb", who also finished in 89th place for $291.27. In addition, they had $98.87 in other bounties for a total payout of $10,390.14.
Also up for grabs were two $3,000 bounties. These went to two players from Lithuania in "Eg1D1" and "rupuziokas".
Others to cash the tournament but fall short of the final table were the following players –
"tratorpoker" (57th place for $332.88 + $299.43 in bounties)
"avidiu_maciu" (35th place for $416.10 + $49.44 in bounties)
"NL_sport" (22nd place for $582.54 + $1,346.03 in bounties)
"frittsson47" (13th place for $1,081.86 + $694.91 in bounties)
final table bubble "Kanadskifish" (10th place for $1,414.74 + $49.43 in bounties)
Mystery Bounty Final Table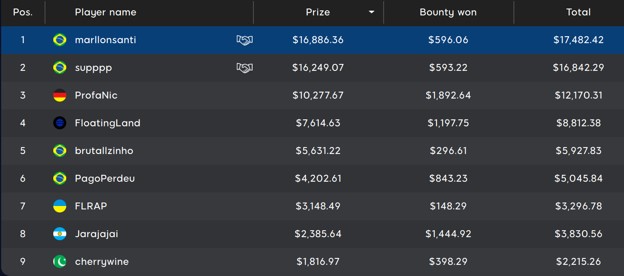 The final table of nine players, comprised of four Brazilians, went on an overnight hiatus. Two players – "supppp" (8,889,875) and "PagoPerdeu" (4,564,143) – were sitting atop the chip counts.
On the flip side, the other two Brazilians – "brutallzinho" (1,784,982) and "marllonsanti" (1,562,969) – were among the short stacks. However, the shortest stack was 888poker regular "cherrywine" (679,549).
With so many Brazilians at the final table, it was fitting that two made it to heads-up play. But they probably weren't the two you imagined.
Chip leader "supppp" got there. But "PagoPerdeu" made a surprise early exit in sixth place for a total payout of $5,045.84.
Instead, it was "marllonsanti" not only spinning up their short stack to make the final two but also claiming the title and most money as a part of a heads-up deal.
"marllonsanti" received $16,886.36 in prize money, which along with $596.06 in bounties, brought their total payout to $17,482.42.
Meanwhile, "supppp" received $16,249.07 to go along with $593.22 in bounties for a score of $16,842.29.
Åstedt & Jacobson Cash the Big Shot High Roller
Sunday's $2,100 buy-in Big Shot High Roller saw 20 players rebuy a dozen times. The 32-entry field resulted in a $64,000 prize pool. Among those to compete but fall short of making the money were "Panxetillo", "420SilentBob", and bubble boy "feerofeero".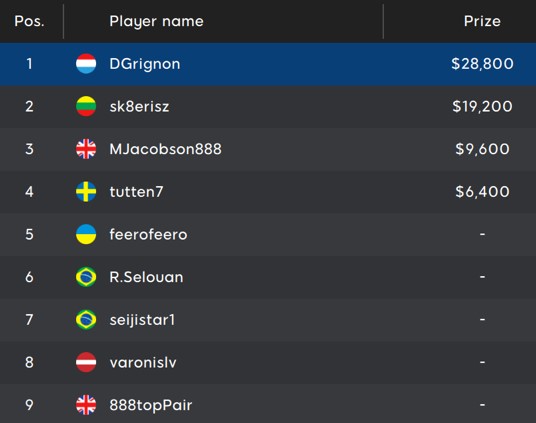 Two well-known players cashed - Niklas "tutten7" Åstedt (4th - $6,400) and 2014 WSOP Main Event champ Martin "MJacobson888" Jacobson (3rd - $9,600)
But after 5 hours and 22 minutes of play, it was the Netherlands' "DGrignon" besting Lithuania's "sk8erisz" in heads-up play to win the title and $28,800 top prize.
Saturday's Big Shot 1,050 Nearly Doubles Guarantee
On Saturday, the $1,050 buy-in, $40K GTD Big Shot 1,050 blew away its guarantee as 46 players rebought 27 times to create a $73,000 prize pool. That was reserved for the final table of nine players, including the following three –
Justin "LappyPoker" Lapka (7th - $3,358)
"sraitakkkkk" (5th - $5,621)
"Kabousu69" (4th - $7,519)
After Canada's "Zebest7r" bowed out in third place for $10,293, the title came down to a pair of Ukrainian players. They opted to strike a deal that saw "SpielerKind" take second place and $17,813.98 in prize money.
"feerofeero" won the title and $18,686.02 in prize money.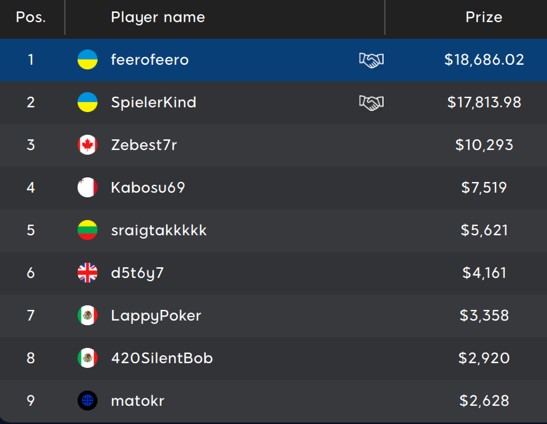 UK's "sheeeeeeeeet" Victorious in New Big Shot 215
Sunday's newest tournament – the $215 buy-in, $20K GTD Big Shot 215 –squeaked by its guarantee. Seventy-nine players rebought 22 times to create a $20,200 prize pool. That was reserved for the top 15 finishers, including -
"nlfreddie" (11th - $474.70)
"algsxr" (9th - $525.20)
"NL_sport" (7th - $717.10)
"1PPeneus1" (3rd - $2,626)
It took 5 hours and 45 minutes of play before the UK's "sheeeeeeeeet" dispatched Malta's "dmnln" in second place. The latter earned $3,636 for their runner-up performance, while the former claimed the $5,029.80 first-place prize.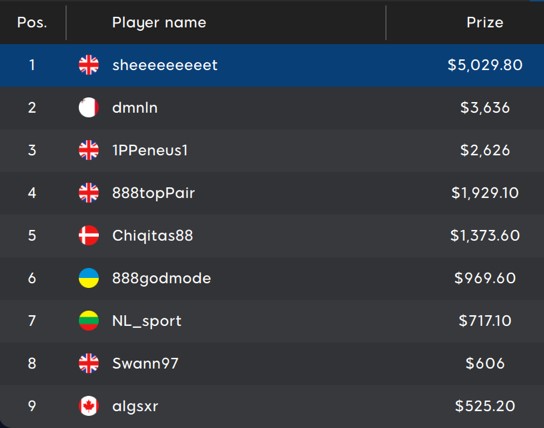 Denmark's "bagedag" Binks $40,000 Big Shot 525
Another big tournament on Sunday was the $525 buy-in, $40K GTD Big Shot 525. This tournament drew 68 players who rebought 27 times, helping surpass the guarantee with a $47,500 prize pool. The top 12 finishers were paid.
Some familiar names to earn a payday were the following players –
"kellerassel0" (11th - $1,187.50)
"AUTISPOSTI" (7th - $2,018.75)
"matokr" (5th - $3,325)
Martin "MJacobson888" Jacobson (4th - $4,560)
After nearly six hours of play, Denmark's "bagedag" defeated Canada's "Reggie_Degen" in heads-up play to win the tournament for $13,300.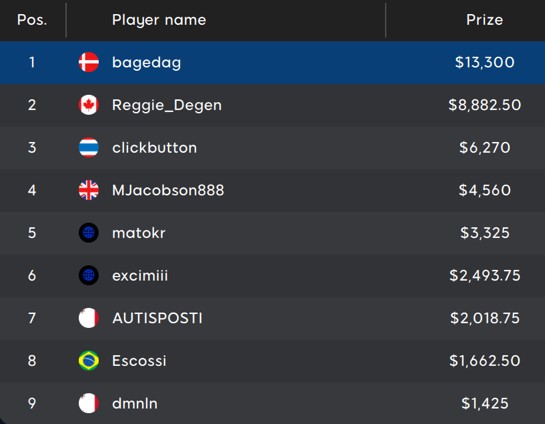 In Other 888poker News - Battle of Malta
From 5-12/10/22, 888poker will host the Battle of Malta - The biggest event in Europe boasts a massive €1M GTD Main Event!
This event is a very-affordable €555 buy-in and has a wide array of side events for newbie players and pros alike.
As part of the BOM schedule, 888poker will run a special side event - The 888 Made To Play with a €200 buy-in.
888poker is offering players the chance to win a luxury package to Malta, including a coveted seat to the Battle of Malta Main Event ticket – for as little as 1 cent via satellites!
For full information, click here.