The Millions Superstorm on 888poker completed its third week on Sunday. The series began on September 10 and will run through October 11. It has already awarded millions of dollars, but there are still millions more to be won.
That includes the Day 2 of the $320 buy-in, $1 million guaranteed Main Event on Sunday, October 11. (Daily Day 1 flights for the ME are happening now.)
In last week's recap, we highlighted the big storylines and winners from Week 2 of the series. Now we're going to do the same from the third week of action.
Recent winners hail from countries that include (among others) –
Argentina
Malta
Belarus
United Arab Emirates'
Cambodia
Ukraine
Denmark
Brazil
Canada
Armenia
"nagidh" Captures Largest Prize of 888Millions Thus Far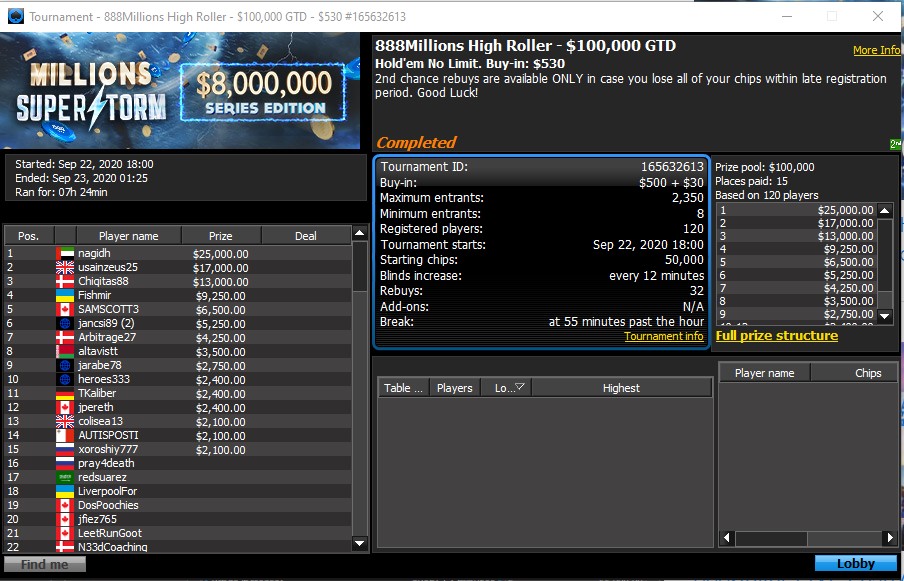 On Tuesday night, the 888Millions $530 buy-in High Roller attracted 120 players who rebought 32 times. The $100,000 prize pool was paid out to the top 15 finishers. Some players to cash but fall short of the final table were "AUTISPOSTI" (14th - $2,100), "jpereth" (12th - $2,400), and "heroes333" (10th – 2,400).
After 7 hours and 24 minutes, it was "nagidh" of the United Arab Emirates emerging victorious! He captured a $25,000 top prize, the largest first-place prize of the series thus far.
The win surpasses the $23,000 Russia's Maksim "MAMOHT_T" Mamonov who won in the high roller the week before.
Interestingly, Belarus' "altabistt" finished eighth in the high roller. And they also topped a 499-entry field to win the $55 Mini High Roller - $30,000 GTD for $5,757.
High Roller Final Table Results
1st – "nagidh" (United Arab Emirate) … $25,000
2nd – "usainzeus25" (UK) … $17,000
3rd – "Chiqitas88" (Denmark) … $13,000
4th – "Fishmir" (Ukraine) … $9,250
5th – "SAMSCOTT3" (Canada) … $6,500
6th – "jancsi89" (N/A) … $5,250
7th – "Arbitrage27" (Denmark) … $4,250
8th – "altavistt" (Belarus) … $3,500
9th – "jarabe78" (N/A) … $2,750
"Creative." Wins 2nd Title, Nearly Captures 3rd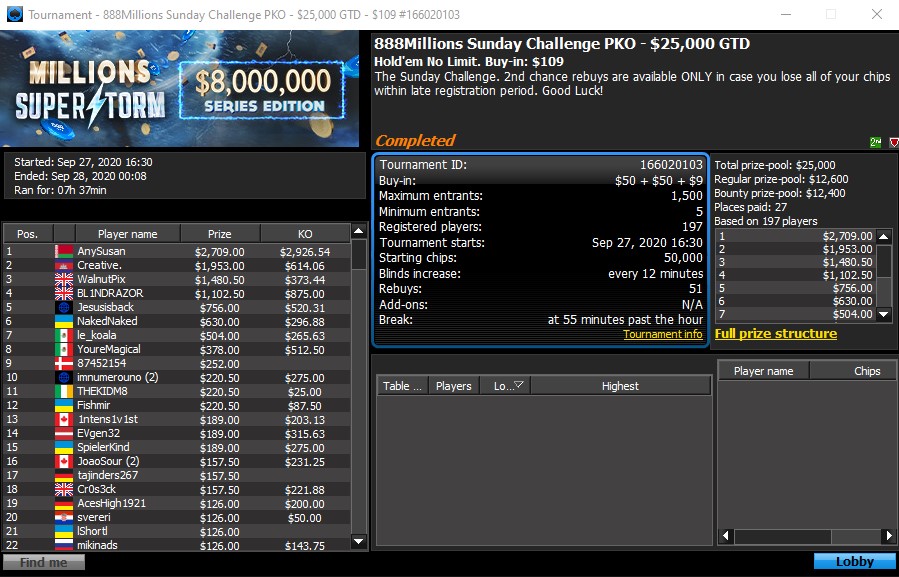 In the first week of the series, Cambodia's "Creative." topped a 794-entry field to win the $109 Sunday Mega Deep for $18,890. This past week, they captured a second title.
They bested a 108-entry field in the $88 PKO 8-Max - $10,000 GTD for a $1,547.80 top prize. They also received a $1,641.25 progressive bounty for a total payout of $3,189.05.
As if winning two titles wasn't enough, "Creative." almost made it three! They finished second in a 248-entry field in the 888Millions Sunday Challenge PKO, good for $2,567.06.
Denying him the win was Belarus' "AnySusan", who won it for a $2,709 top prize plus the $2,926.54 progressive bounty.
"iVolsh" & "morphineS8" Each Win Two Titles in a Day
Winning two titles is impressive. But to do it in a single day pushes the accomplishment over the top. Amazingly, two players did it this week!
On Wednesday, Ukrain'es "iVolsh" navigated a 312-entry field to win the 888Millions $16.50 PKO - $5,000 GTD for $1,074.51. He then proceeded to best 861 entries and win the $7.50 PKO 8-Max - $6,000 GTD for $1,091.54.
Meanwhile, Sunday proved a profitable day for Armenia's "morphineS8". He first topped a 429-entry field to win the 888Millions $22 PKO - $8,000 GTD for $1,670.49. He then bested 193 entries to win the $55 PKO 6-Max - $10,000 GTD for $2,513.93.
It's also worth noting that "Jesusisback" almost accomplished the feat as well. But his two title wins – both in the 888Millions $109 Mega Deep – came in back-to-back nights.
On Wednesday, he topped a 97-entry field to win it for $3,600. On the following night, he came out on top of a 110-entry field to win an additional $3,300.
Ukraine's "yarik1903" Wins Sunday Special for $19,350
Sunday was special. The aptly titled $215 buy-in Sunday Special was live reported by PokerNews. It was also live-streamed on 888poker's Facebook and YouTube channel.
The tournament saw 345 players rebuy 113 times, which meant the top 45 finishers got paid. Among those to cash were "ErwannP" (38th - $600), Sam "sammygrinder" Grafton (16th - $1,000).
Our very own 888poker Ambassador, Dominik "888Dominik" Nitsche finished a respectable 12th for $1,500.
At the final table, Ben "xLIVEPROx" Warrington was the first to fall. He lost a race with ace-king against the pocket jacks of "Holdababy".
One big hand that helped propel "yarik1903" to the win came with six players remaining. That is when both "TKaliber" and "KToFTW" got their chips in preflop against the eventual champ.
"TKaliber": 6♥6♣
"KToFTW": Q♦Q♠
"yarik1903": A♥K♠
The board ran out 4♠J♦7♠8♠9♠ and "yarik1903" four flushed with the king of spades to score the elimination.
"yarik1903" went on to face "Holdababy" in heads-up play. In the final hand of the tournament, the former shoved holding the K♠8♠ and the latter called off with the 2♥A♦.
The board ran out 8♦J♠8♥9♠6♥ and "Holdababy" had to settle for second place and a $14,500 payday.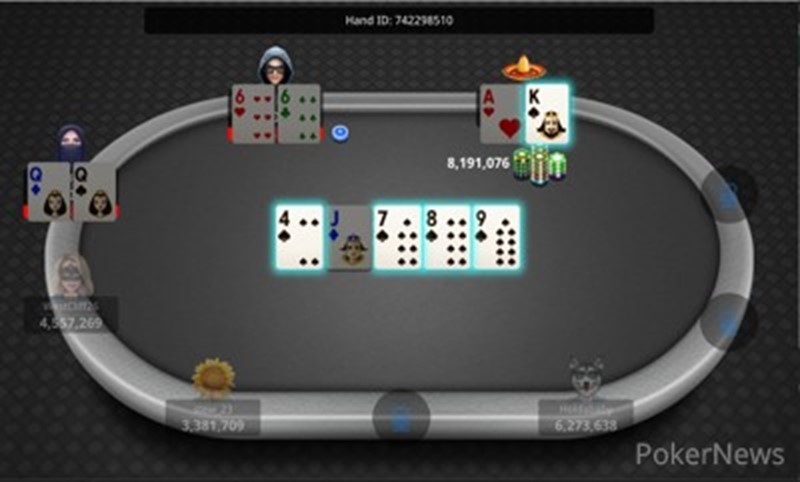 "yarik1903" has more than $2.5 million in lifetime online earnings (including $250,000 on 888poker). He finished fifth in the 2018 XL Blizzard $250K High Roller for $17,500.
Sunday Special Final Table Results
1st – "yarik1903" (Ukraine) … $19,350
2nd – "Holdababy" (Germany) … $14,500
3rd – "WestCliff26" (N/A) … $11,000
4th – "stew_23" (UK) … $8,250
5th – "KToFTW" (Malta) … $5,700
6th – "TKaliber" (Germany) … $4,400
7th – "AUTISPOSTI" (Malta) … $3,400
8th – "kiskutya23" (Hungary) … $2,400
9th – Ben "xLIVEPROx" Warrington (UK) … $1,750
Live Streaming of Millions Superstorm Series
We will live stream the following upcoming events in the series:
Sunday, Oct 4 - 888 Millions Sunday Special - $100,000 GTD
Tuesday, Oct 6 - 888 Millions High Roller - $100,000 GTD
Sunday, Oct 11 - 888 Millions Superstorm ME - $1,000,000 GTD (DAY 2)
Follow our facebook.com/888poker and youtube.com/888poker channels for coverage.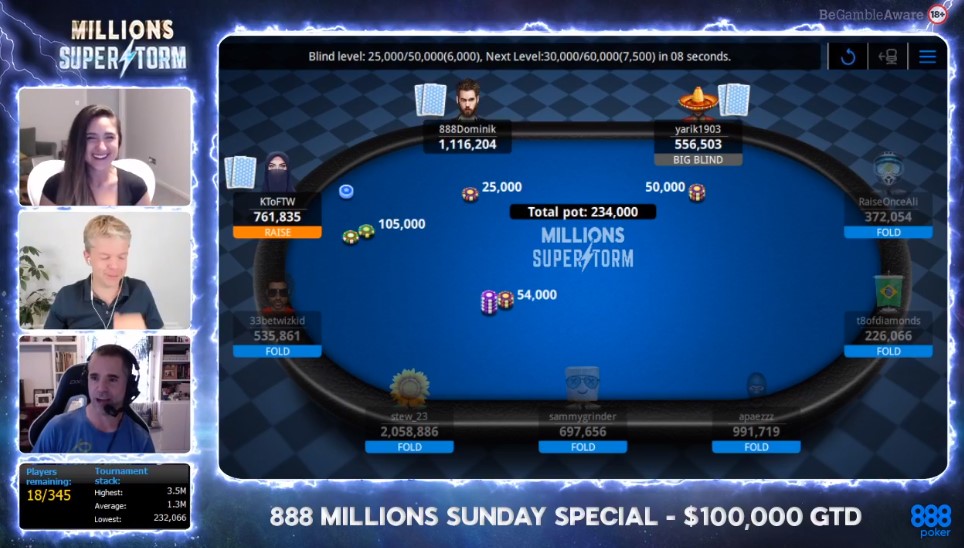 The incomparable David Tuchman and Nick Wealthall are providing the commentary. Additionally, special guests, including 888poker ambassadors, will be joining them during the stream.
888 Millions Superstorm Winners
The month-long 888 Millions Superstorm will run through October 11. So, there are still plenty of opportunities to win.
Click here for more details and a look at the entire schedule.
In the meantime, here's a look at some of those who've captured 888 Millions Superstorm titles in the latest week of action:
Event

Entries

Prize Pool

Winner

Country

Prize

888Millions $88 PKO 8-Max -

$10,000 GTD

133

$10,640

HyperX.

UK

$2,807.77

888Millions $109 Monday

Mega Deep - $12,000 GTD

141

$14,100

Zdamian

.

$2,906.84

888Millions $55 Monsoon -

$12,000 GTD

237

$12,000

JoaquinRuiz

Argentina

$2,580

888Millions $88 PKO 8-Max -

$10,000 GTD

117

$10,000

Wellberg

Belarus

$2,705.32

888Millions $55 PKO 6-Max -

$10,000 GTD

162

$10,000

catpg

Malta

$2,389.37

888Millions $530 High Roller -

$100K GTD

152

$100,000

nagidh

UAE

$25,000

888Millions $55 Mini High Roller -

$30,000 GTD

499

$30,000

altavistt

Belarus

$5,757

888Millions $88 PKO 8-Max -

$10,000 GTD

108

$10,000

Creative.

Cambodia

$3,189.05

888Millions $16.50 PKO

- $5,000 GTD

312

$5,000

iVolsh

Ukraine

$1,074.51

888Millions $7.50 PKO 8-Max -

$6,000 GTD

861

$6,027

iVolsh

Ukraine

$1,091.54

888Millions $55 PKO 6-Max -

$10,000 GTD

164

$10,000

tinitun14

Belarus

$2,592

888Millions $109 Mega Deep -

$12,000 GTD

136

$13,600

N33dCoaching

Denmark

$3,740

888Millions $55 DeepStack -

$30,000 GTD

529

$30,000

Mr.Poker14

Canada

$5,757

888Millions $55 PKO 6-Max -

$10,000 GTD

199

$10,000

LeoEstrella

Brazil

$2,696.68

888Millions Saturday $109

Mega Deep - $12,000 GTD

101

$12,000

heroes333

.

$3,300

888Millions $109 6-Max -

$30,000 GTD

299

$30,000

Laukins

Canada

$6,900

888Millions $22 PKO -

$8,000 GTD

429

$8,580

morphineS8

Armenia

$1,670.49

888Millions $55 PKO 6-Max -

$10,000 GTD

193

$10,000

morphineS8

Armenia

$2,513.93

888Millions $109 Sunday Challenge

PKO $25K GTD

248

$25,000

AnySusan

Belarus

$5,636

888Millions $215 Sunday Special -

$100,000 GTD

458

$100,000

yarik1903

Ukraine

$19,350

888Millions Sunday Mega Deep -

$100,000 GTD

858

$100,000

Msea_13

Canada

$18,890