The Millions Superstorm on 888poker features $8 million in guarantees over 480 events kicked off on September 10. The series includes a $320 buy-in, $1 million guaranteed Main Event on Sunday, October 11.
Daily Day 1 flights for the ME are happening now!
888poker has already crowned over a hundred winners and awarded a million plus in prize money.
In last week's recap, we highlighted the big storylines and winners from Week 1 of the series. Now we're going to do the same from the second week of action.
Recent winners hail from Belarus, Malta, Mexico, Romania, Russia, Germany, Denmark, and Brazil, among others!
Maksim "MAMOHY_T" Mamonov Wins High Roller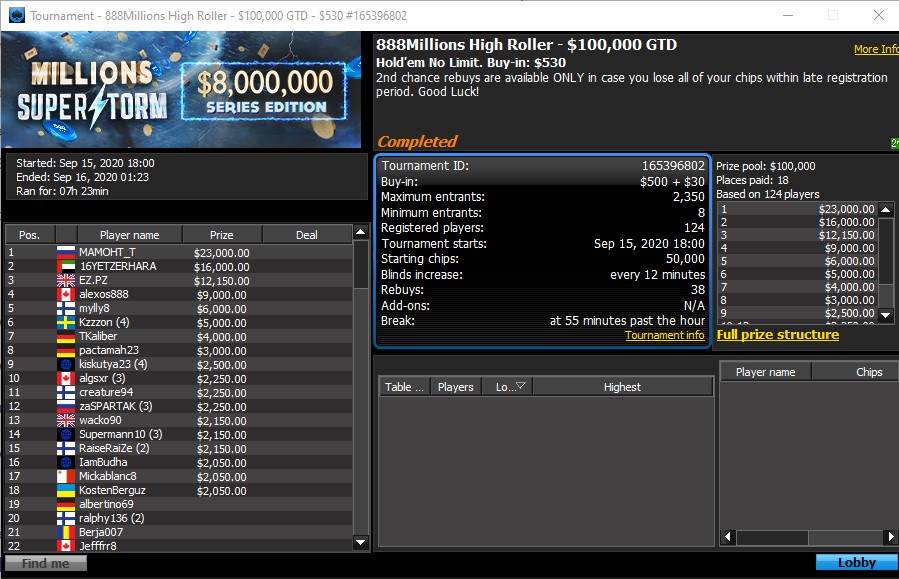 The biggest first-place prize awarded in the series thus far was $23,000. Russia's Maksim "MAMOHY_T" Mamonov won the 888Millions High Roller. That tournament that drew 124 entries and offered up a $100,000 prize pool.
Mamonov currently ranks 15th in the Worldwide online rankings with nearly $9 million in online lifetime earnings. It took him 7 hours and 23 minutes to seal the deal after besting "16YETZERHARHA" in heads-up play.
Others to make deep runs but fall short of the final table were "KostenBergus" (18th - $2,050), "RaiseRaiZe" (15th - $2,150), and "algsxr" (10th - $2,250).
With six players remaining, the blinds were at 35,000/70,000/8,750. 888poker Ambassador guested on the live stream as "mylilly8" raised to 180,000 under the gun.
Mamonov defended his big blind to see a 6♦8♠Q♣ flop. Mamonov checked and "mylilly8" continued for 120,825. Then Mamonov check-raised all in for 385,521.
"mylilly8" called with the A♥J♥ and Mamonov was looking to hold with the Q♠9♦.
Neither the 4♣ turn nor Q♦ river changed a thing and Mamonov shipped the double in what proved a key hand on his way to victory.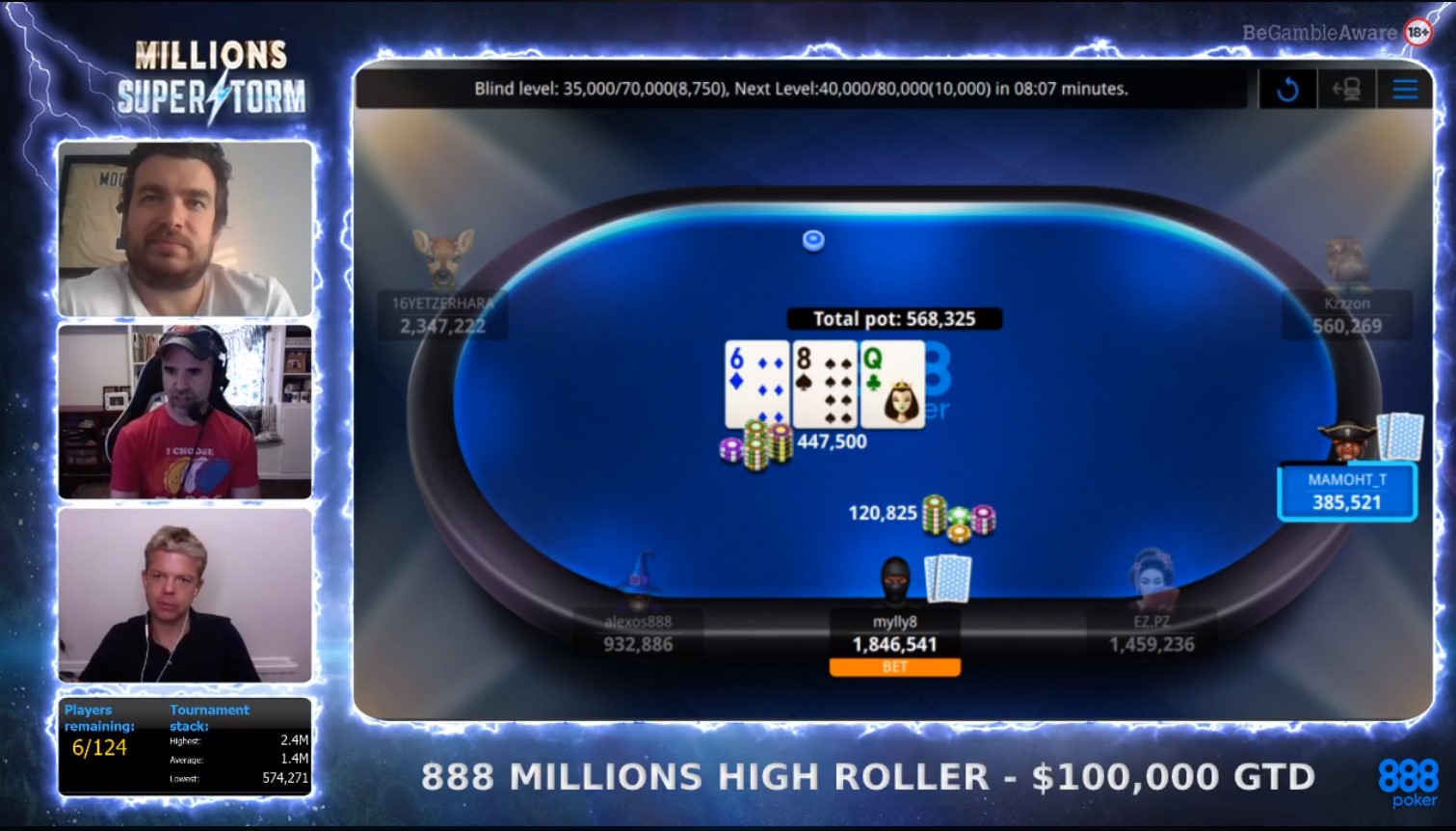 High Roller Final Table Results
1st - Maksim "MAMOHY_T" Mamonov (Russia) … $23,000
2nd – "16YETZERHARHA" (United Arab Emirates) … $16,000
3rd – Feargus "EZ.PZ" Murphy (Ireland) … $12,150
4th – "alexos888" (Canada) … $9,000
5th – "mylly8" (Finland) … $6,000
6th – "Kzzzon" (Sweden) … $5,000
7th – "TKaliber" (Germany) … $4,000
8th – "pactamah23" (Germany) … $3,000
9th – "kiskutya23" (N/A) … $2,500
A Trio of Two-Time Winners
One player on a heater over the past week was "heroes333", who won two titles. First, they took down the 888Millions $22 PKO - $8,000 GTD on Wednesday for $857 plus $901 in bounties. Then the following day, they won 888Millions $160 PKO 8-Max - $50,000 GTD for $4,909 plus $5,098 in bounties.
Another two-time winner was Romania's "OP3rEyT0R08". He first topped a 204-entry field to win the $55 PKO 6-Max - $10,000 GTD for $2,589.17 ($1,173 + $1,416.17 in bounties).
He then bested a 129-entry field to win the $88 PKO 8-Max - $10,000 GTD for $2,557.95 ($1,264.20 + $1,293.75 in bounties).
Finally, Ireland's Feargus "EZ.PZ" Murphy, who you see above finished third in the high roller, also laid claim to two titles. They both came in $55 PKO 6-Max- $10,000 GTD tournaments.
In the first, he bested a 206-entry field to win $2,922.92 ($1,236.08 + $1,686.84). In the other he overcame a 210-entry field to win an additional $2,205.75 ($1,207.56 + $998.19).
"777ibi" Claims Sunday Special for Romania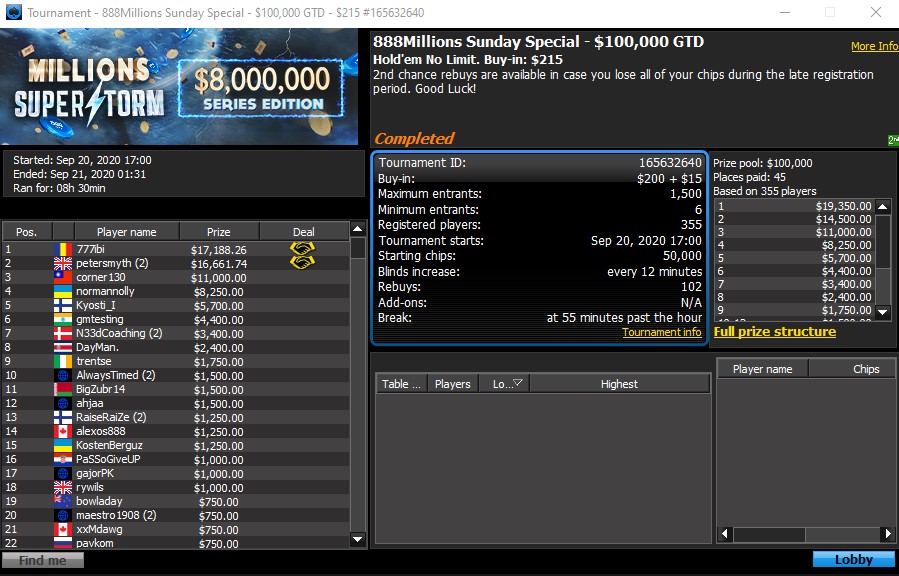 The $215 buy-in 888Millions Sunday Special had 355 players rebuy 102 times. The $100,000 prize pool would be distributed amongst the top 45 finishers.
Among those to cash were –
"Hateeeeem" (38th - $600)
"cherrywine" (29th - $650)
"popsnpoker" (24th - $750)
"KostenBerguz" (15th - $1,250)
"AlwaysTimed" (10th - $1,500)
"gmtesting" (6th - $4,400)
"normannolly" (4th - $8,250).
After "corner130" bowed out in third place for $11,000, the final two players made an ICM deal.
"777ibi" lock up $17,188.26 and "petersmyth" $16,661.74. The two then played it out for the title in a fast and furious heads-up match with "777ibi" ultimately coming out on top.
Sunday Special Final Table Results
1st – "777ibi" (Romania) $17,188.26
2nd – "petersmyth" (UK) $16,661.74
3rd – "corner130" (Taiwan) $11,000
4th – "normannolly" (Ukraine) $8,250
5th – "Kyosti_I" (Finland) $5,700
6th – "gmtesting" (India) $4,400
7th – "N33dCoaching" (Denmark) $3,400
8th – "DayMan." (Costa Rica) $2,400
9th – "trentse" (Ireland) $1,750
Live Streaming of Millions Superstorm Series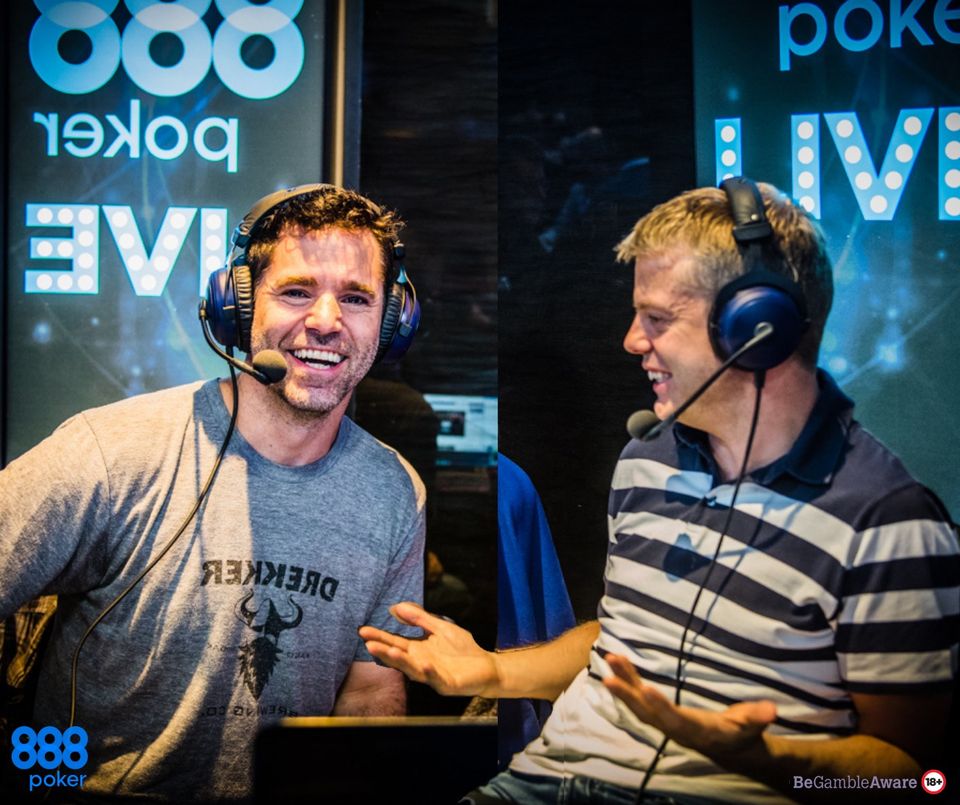 We will live stream the following upcoming events in the series:
Sunday, Sep 27 - 888 Millions Sunday Special - $100,000 GTD
Sunday, Oct 4 - 888 Millions Sunday Special - $100,000 GTD
Tuesday, Oct 6 - 888 Millions High Roller - $100,000 GTD
Sunday, Oct 11 - 888 Millions Superstorm ME - $1,000,000 GTD (DAY 2)
Follow our facebook.com/888poker and youtube.com/888poker channels for coverage.
The incomparable David Tuchman and Nick Wealthall are providing the commentary.
Additionally, special guests, including 888poker ambassadors, will be joining them during the stream.
888Millions Superstorm Winners
The month-long 888Millions Superstorm will run through October 11. So, there are still plenty of opportunities to win.
Click here for more details and a look at the entire schedule.
In the meantime, here's a look at some of those who've captured 888Millions Superstorm titles in the latest week of action:
Tournament

Total Entries

Prize Pool

Winner

Country

Prize

888Millions $55 Monsoon -

$12,000 GTD

231

$12,000

SmithStudent

Russia

$2,580

888Millions R&A -

$25,000 GTD

459

$25,000

s4lb31p3st0

Germany

$4,837.50

888Millions $16.50 BIG Fish -

$15,000 GTD

884

$15,000

Imyaibragim

Belarus

$2,812.50

888Millions $5.50 BIG Fish -

$7,000 GTD

1,107

$7,000

MaxChe

Russia

$1,284.50

888Millions $88 PKO 8-Max -

$10,000 GTD

128

$10,240

le_koala

Mexico

$2,830.02

888Millions Tuesday

Mega Deep - $12,000 GTD

155

$15,500

AUSTIPOSTI

Malta

$3,875

888Millions High Roller -

$100,000 GTD

162

$100,000

MAMOHT_T

Russia

$23,000

888Millions Mini High Roller -

$30,000 GTD

567

$30,000

DaMisters

UK

$5,757.00

888Millions $5.50 BIG Fish -

$7,000 GTD

1,301

$7,000

slkshoota

UK

$1,260

888Millions $55 PKO 6-Max -

$10,000 GTD

204

$10,200

OP3rEyT0R08

Romania

$2,589.17

888Millions $88 PKO 8-Max -

$10,000 GTD

129

$10,320

OP3rEyT0R08

Romania

$2,557.95

888Millions $109 Wednesday

Mega Deep - $12K GTD

118

$12,000

Dallmad

Belarus

$3,300

888Millions $55 PKO 6-Max -

$10,000 GTD

206

$10,300

EZ.PZ

UK

$2,922.92

888Millions $109 Thursday

Mega Deep - $12,000 GTD

160

$16,000

FedorFolds

Malta

$4,000

888Millions $16.50 BIG Fish -

$15,000 GTD

863

$15,000

YetiCara

Brazil

$2,812.50

888Millions $109 Friday

Mega Deep $12K GTD

118

$12,000

N33dCoaching

Denmark

$3,300

888Millions DeepStack -

$30,000 GTD

480

$30,000

Jpiernik

UK

$5,364.71

888Millions $55 PKO 6-Max -

$10,000 GTD

210

$10,500

EZ.PZ

UK

$2,205.75

888Millions Sunday Challenge

PKO - $25,000 GTD

272

$27,200

Zdamian

(N/A)

$5,428

888Millions Sunday Special -

$100,000 GTD

457

$100,000

777ibi

Romania

$17,188.26